These Best Soft and Chewy Snickerdoodles are soft little bundles of perfect sweetness. Equal parts sugary, cinnamony, buttery — you won't be able to have just one of these melt-in-your-mouth, delicious cookies.
If you love cookies as much as I think you do, then you'll also definitely want to make my Double Chocolate Peppermint Bark Cookies, my Cookie Butter Chocolate Chip Cookies, and my Peanut Butter Oreo Stuffed Chocolate Chip Cookies.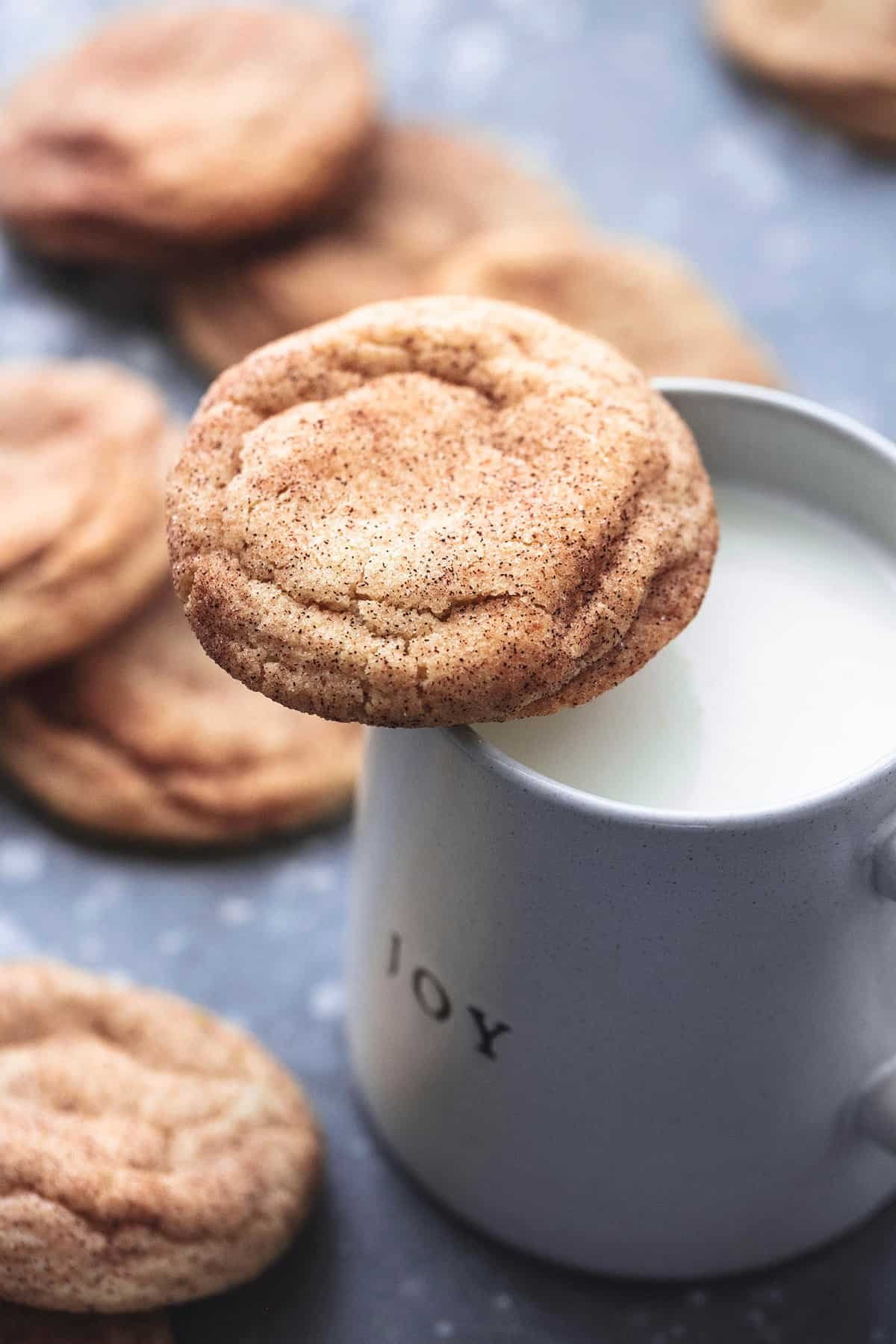 It's cookie-baking season! I've made snickerdoodles a million different ways (okay five, but I will say, these Pumpkin Snickerdoodles are super good,) but I can't believe I didn't have a plain, original snickerdoodle recipe on the blog. Sometimes I have to remind myself that I need to step away from the fancy and start with the basics. It's a "learn to crawl before you can walk" kind of thing. I just get SO EXCITED when I'm baking sweets that I tend to go all-out. Not that anyone's complaining! 
Snickerdoodles are, at their heart and soul, a sugar cookie all dressed up with a yummy cinnamon and sugar topping. No muss, no fuss, no frills… probably lots of spills (if you bake like me) though. They are amazing right out of the oven. They are amazing two days later (if you have any left to eat two days later). They are well-loved by just about everyone. Have I convinced you to make these yet? Skip to the ingredients if you can't wait any longer and get baking!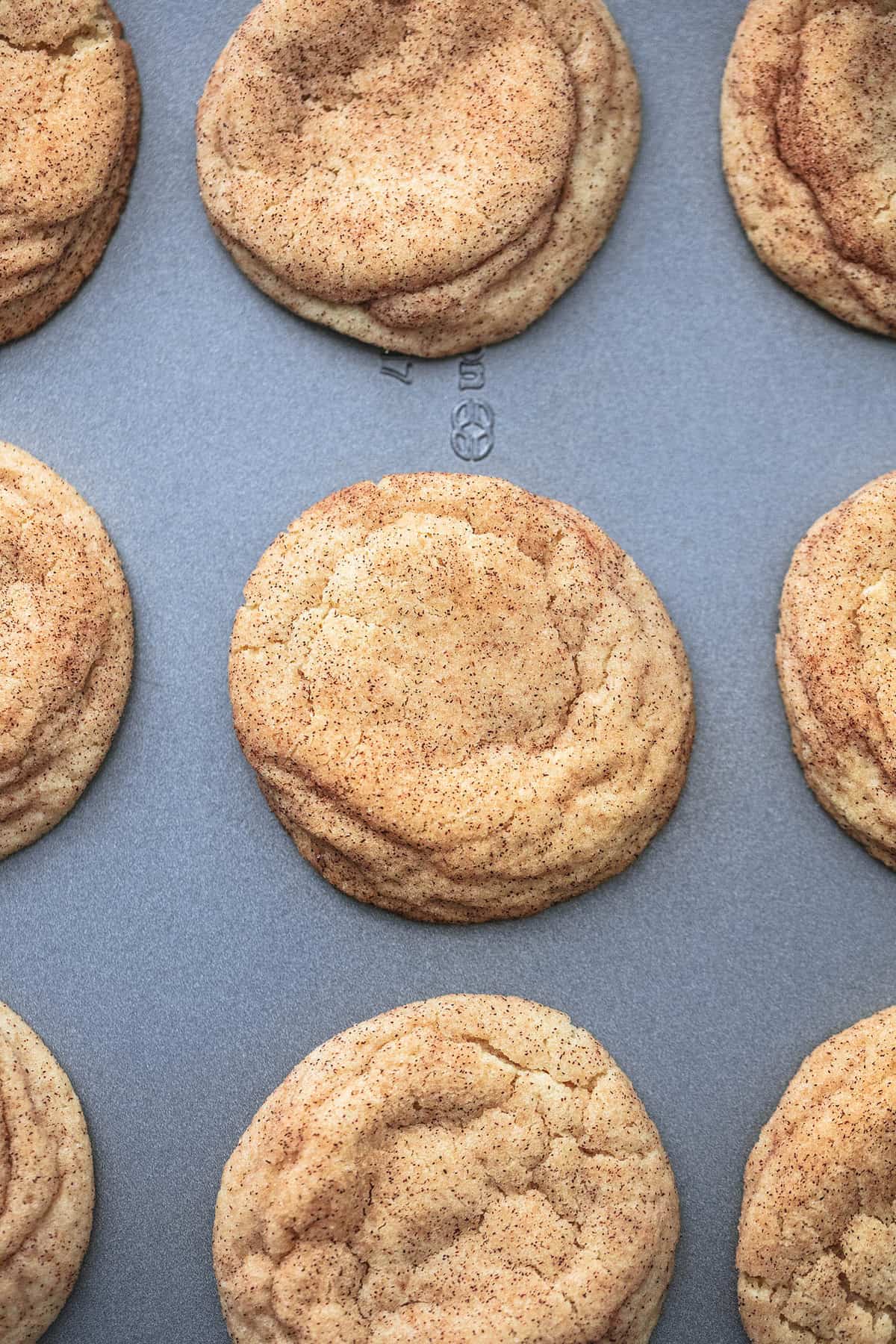 WHAT IS A SNICKERDOODLE?
Like most things passed down through the ages, the exact genesis of the snickerdoodle may be lost forever, but most sources are in agreement that a Snickerdoodle is German in origin.
The name "snickerdoodle" is probably one of those early word sandwiches mashed together from the German word for snail dumpling (gross): "schneckennudeln." Or possibly it's from another German word, "schnecke" or maybe it's from the Dutch word "snekrad" — both of which refer to a "snail shape." This leads me to believe maybe these cookies were rolled and cut like pinwheels originally.
No matter where they came from, let's all agree they are delicious and we're happy they made it this far in the annals of baking.
DO SNICKERDOODLES HAVE NUTS?
No, snickerdoodles are not historically made with nuts. I suppose you could add some chopped walnuts, pecans, or almonds to the mixture if you like, but snickerdoodle purists would disagree.
If you're wondering if the store-bought ones could have nuts for allergy purposes, it's best to always read the ingredients and allergy warnings on the package. When in doubt, make them yourself, that way you know they will be nut-free.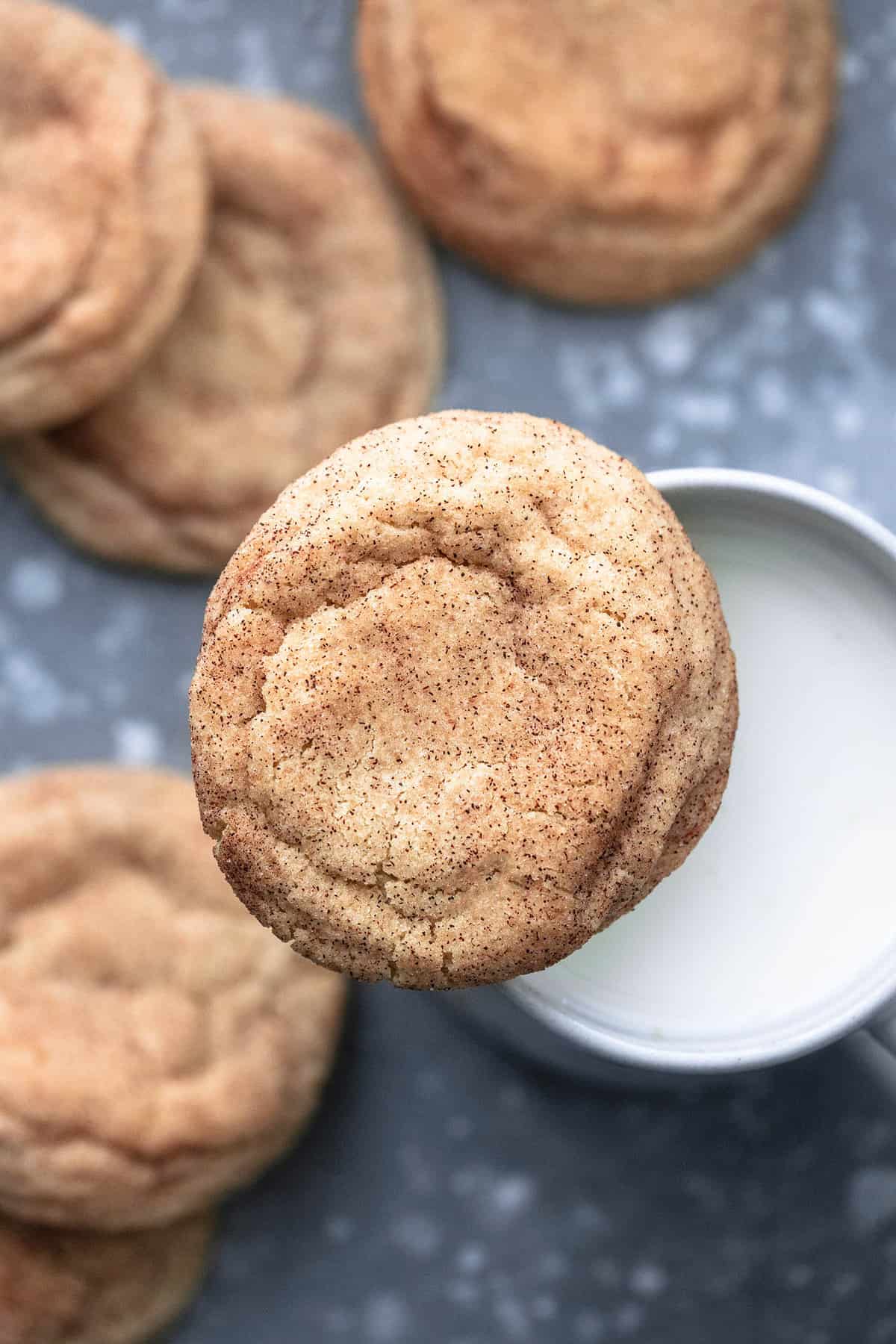 HOW DO YOU STORE SNICKERDOODLES?
They are best right out of the oven or at least slightly warm. You can keep them in an airtight container for a up to five days if they are kept in a cool, dry place. If you think they are going to last longer than that (what?!) then you can put that airtight container into the fridge. If they are hard when you get them out of the fridge, you can warm them in the microwave for about 10 seconds to soften.
CAN YOU FREEZE SNICKERDOODLES?
I am a big fan of making large batches of cookies and freezing them for future occasions (and also so I don't eat four dozen in one sitting). Once they are cooled off, I'll stack them (with wax paper between each cookie) into an airtight container and then right into the freezer.
Baked and frozen snickerdoodles can last up to three months in the freezer. Thaw first before eating, and use that microwave trick on a thawed cookie if they are too hard.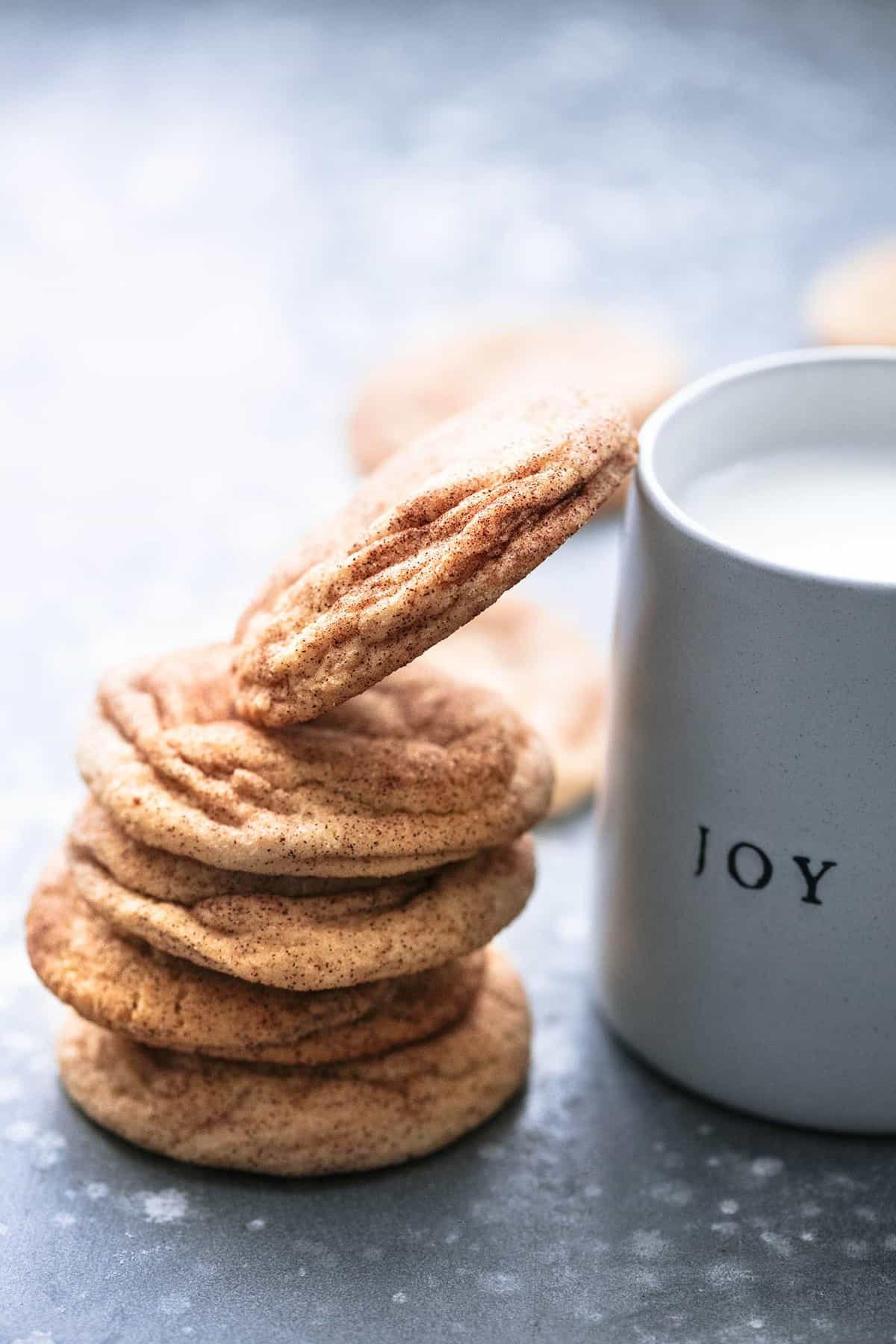 CAN I FREEZE SNICKERDOODLE COOKIE DOUGH?
Yes, if you would like to make the batter and freeze it for future use, then go ahead and do that. I do suggest that you roll the dough into balls and then freeze them so that you can simply thaw the balls and roll them in the cinnamon and sugar mixture, then bake as instructed.
CAN I REFRIGERATE COOKIE DOUGH OVERNIGHT?
If you'd like to make the dough one day and cook the next, that will work too. You can chill the dough overnight in an airtight container and then make as instructed the following day.
To save even more time, roll the dough into balls and then pop in the fridge in a single layer (if you have the fridge space) and then roll in the cinnamon and sugar mixture before baking.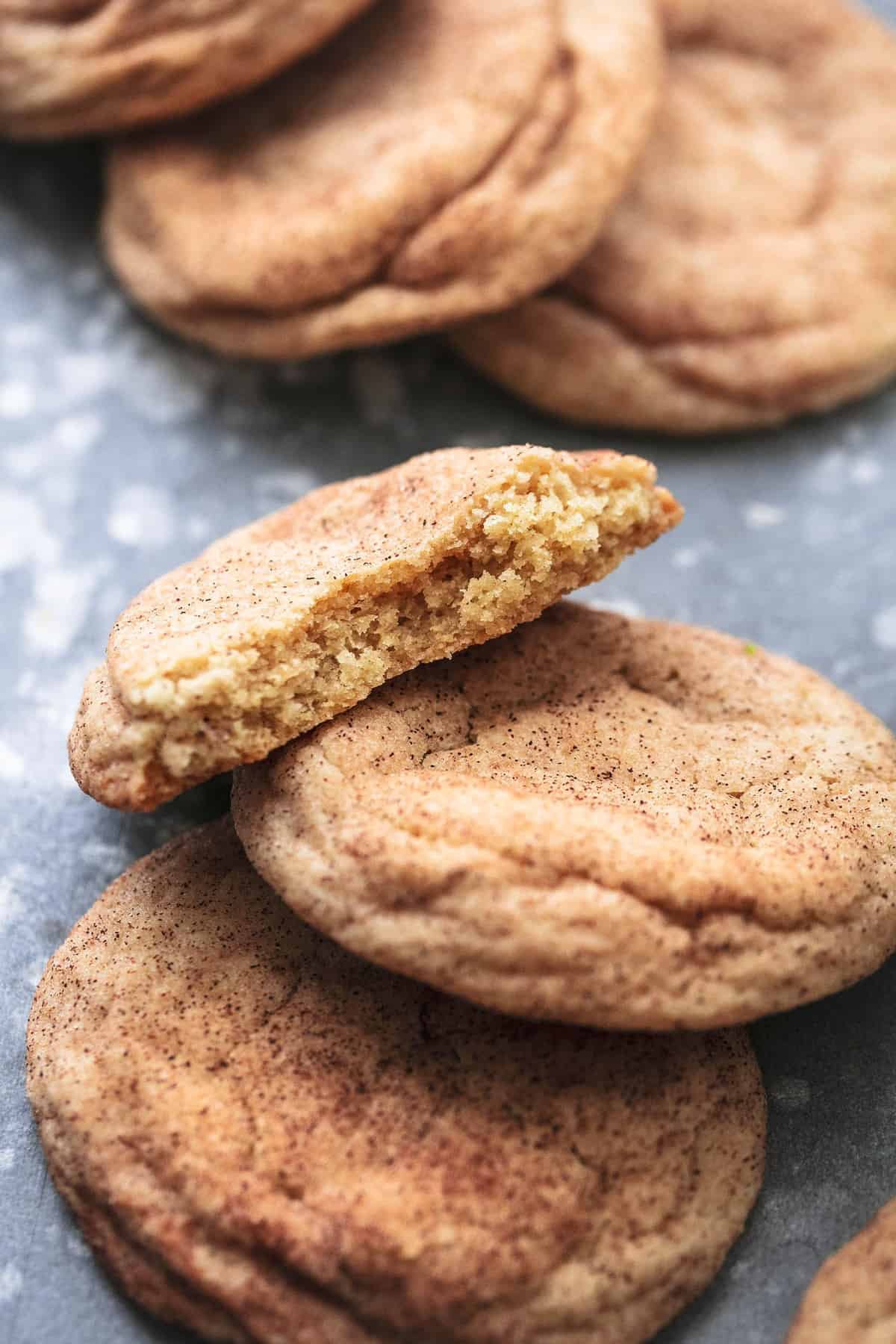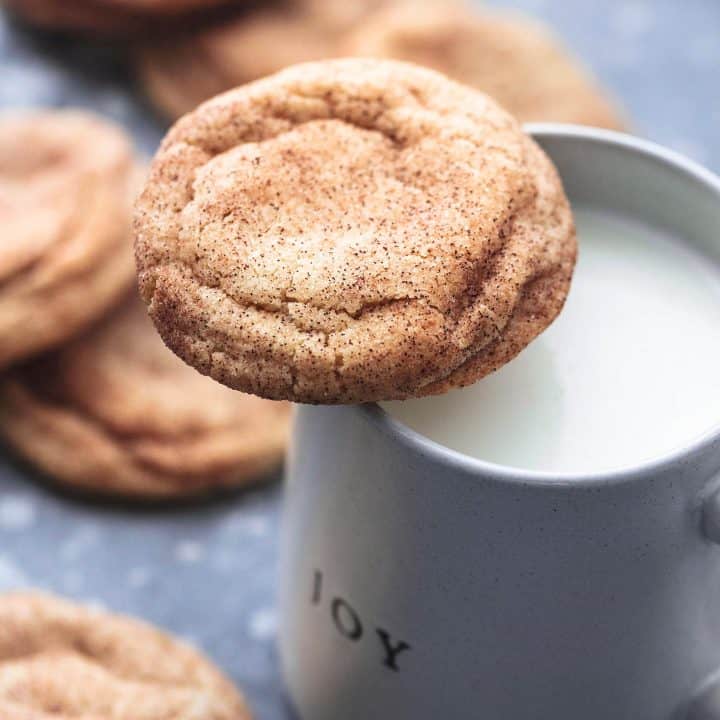 BEST Soft and Chewy Snickerdoodles
These Best Soft and Chewy Snickerdoodles are soft little bundles of perfect sweetness. Equal parts sugary, cinnamony, buttery — you won't be able to have just one of these melt-in-your-mouth, delicious cookies. 
Ingredients
cinnamon-sugar coating
¼

cup

sugar

3

teaspoons

ground cinnamon
cookie dough
1

cup

butter

-

softened

¾

cup

sugar

½

cup

packed brown sugar

2

large eggs

1

tablespoon

vanilla extract

2 ¾

cup

flour

1 ½

teaspoons

cream of tartar

1

teaspoon

baking soda

½

teaspoon

salt
Instructions
Preheat oven to 350 degrees and very lightly grease a baking sheet or line with a baking mat.

In a small bowl stir together 1/4 cup sugar and 3 teaspoons cinnamon and set aside.

To make the cookie dough, cream together butter and sugar for 2 minutes until very light and fluffy.

Add eggs, one at a time, mixing well after each. Blend in vanilla.

Add flour, cream of tartar, baking soda, and salt. Mix just until dough comes together and there are no more streaks of flour.

Use two scoops (with a cookie scoop or a tablespoon) to make one dough ball. Roll in the cinnamon-sugar mixture, then place on prepared baking sheet at least 3 inches apart.

Use your fingers to gently shape the dough ball so that it is taller than it is wide. *This is important to keep the cookies nice and thick and prevent too much spreading!

Bake for 8-11 minutes. (I like mine under-cooked a bit for a super soft and chewy texture and for me this is right about 9-10 minutes. They will continue to cook on the baking sheet while they are cooling!). Allow to cool for 5-10 minutes on the baking sheet before transferring to a cooling rack to cool completely.

Store at room temperature in an airtight container up to 5 days.
Notes
For even thicker cookies, you can cover tightly and chill the dough for 20-30 minutes before scooping. 
Nutrition
Calories:
178
kcal
,
Carbohydrates:
24
g
,
Protein:
2
g
,
Fat:
8
g
,
Saturated Fat:
2
g
,
Trans Fat:
1
g
,
Cholesterol:
14
mg
,
Sodium:
190
mg
,
Potassium:
63
mg
,
Fiber:
1
g
,
Sugar:
13
g
,
Vitamin A:
359
IU
,
Vitamin C:
1
mg
,
Calcium:
14
mg
,
Iron:
1
mg