Cheesy, crunchy Company Potatoes are easy to make, taste delicious, and make a large casserole to feed a crowd! The perfect holiday side dish.
Sides get me drooling way before entrees, just like these Roasted Lemon Garlic Broccoli and Cauliflower, Best Ever Easy Thanksgiving Stuffing, and Candied Sweet Potato Casserole.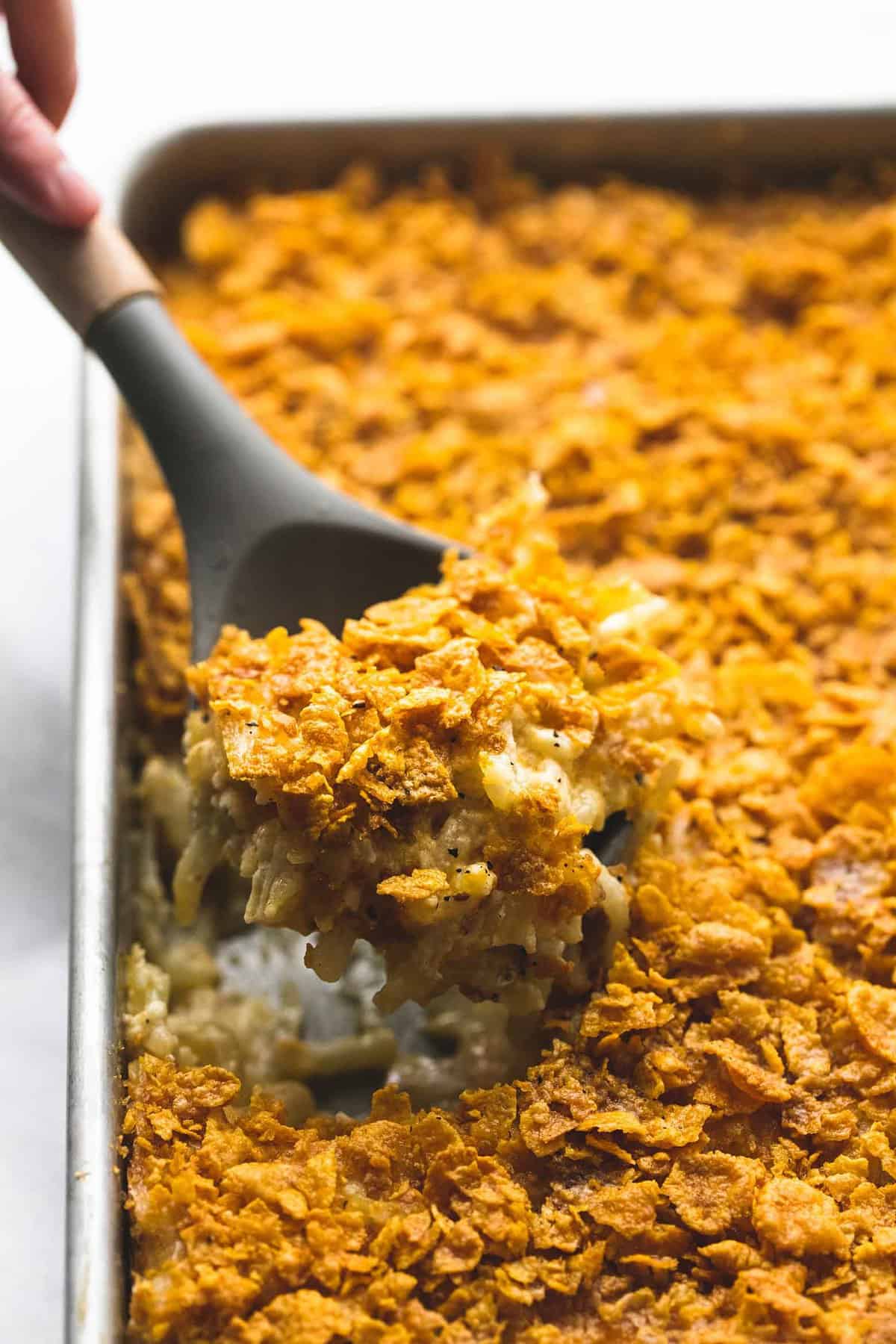 I grew up on these potatoes. Every big holiday or family gathering, at least one Sunday dinner each month, these potatoes were there and I was not one bit sad about it. These have always been my favorite potatoes! I mean we are talking right up there with mashed potatoes and my mom's version of mashed is the best that ever existed so that is saying something.
But when it came right down to it, every year on my Birthday Sunday Family Dinner when I got the chance to choose every detail of what we had for dinner, from the main dish to the sides and dessert… I always begged for Divine Potatoes.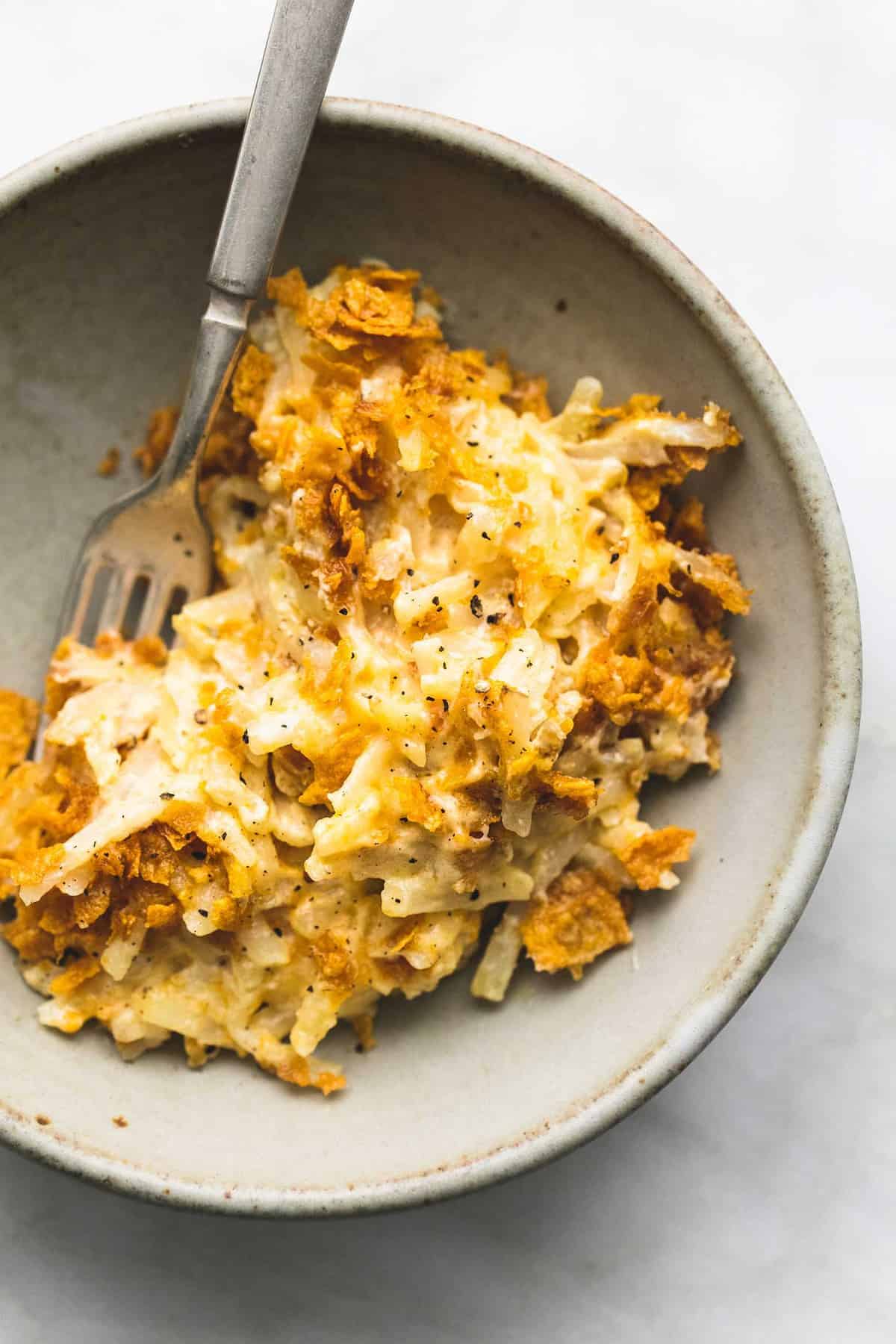 Wait, what? I thought you said these were called Company Potatoes…? I'll explain.
You may know them as "funeral potatoes", but growing up I only knew them as Divine Potatoes and that's still what my family calls them to this day. I don't know if it's a geographical thing or what but my family had never heard the term funeral potatoes until we moved from Southern California to Utah.
Nobody around here calls them Divine Potatoes but us, and no one has a clue what we are talking about, but I just can't get on board with naming these heavenly cheesylicious potatoes anything that has to do with a funeral. Funerals are all sorts of sad and these potatoes will make you 10 kinds of happy so for the purposes of sharing this recipe with you, I've renamed the whole darn thing!
I'm calling them Company Potatoes. I think we can all get on board with that, right? Because at the end of the day this is what you'll be making for every family gathering and every holiday dinner from now until the end of time.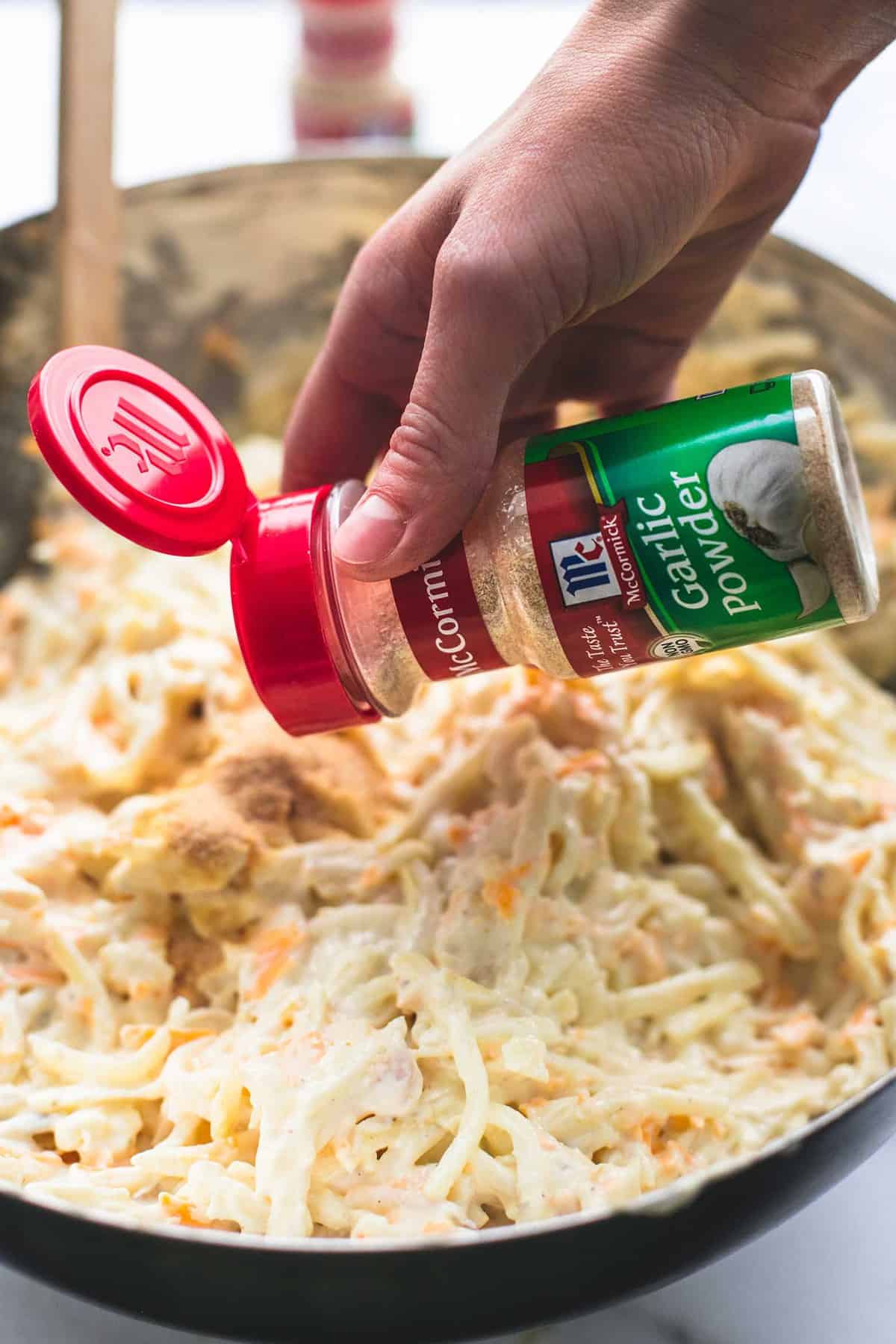 So what are company potatoes anyway?
These potatoes are a combination of grated hashbrown-style potatoes, sharp cheddar cheese, made-from-scratch cream of chicken soup (it takes five minutes, I swear it's easy!), sour cream (for richness!) and two important seasonings – McCormick Garlic Powder and McCormick Onion Powder. These two spices are the key to super flavorful company potatoes! There's a difference in quality when it comes to spices and that's why my mother always used McCormick red cap spices, and why I do too.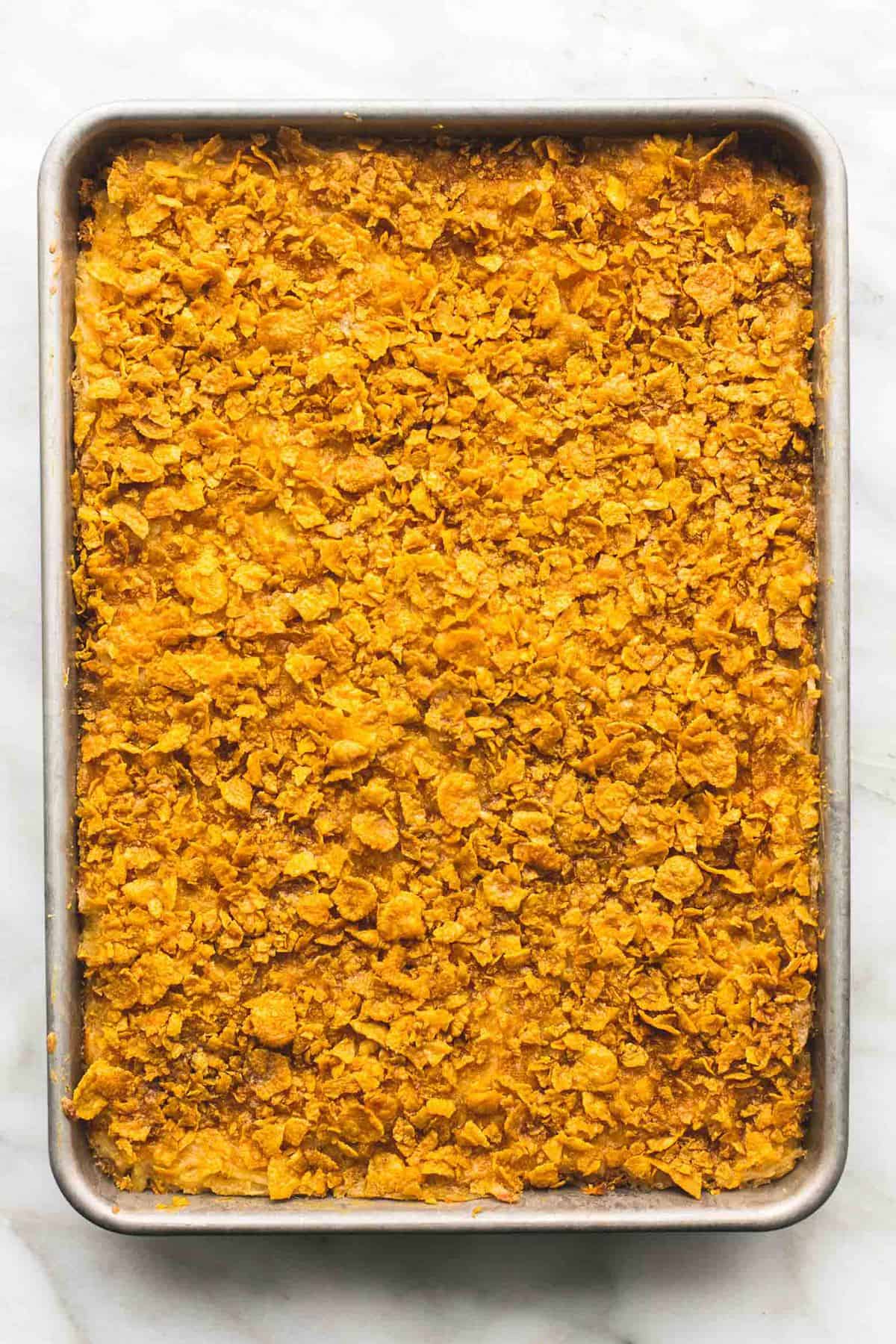 Thanksgiving dinner at my house just isn't complete without these potatoes and the only thing better than getting to have them once in November, is getting to have them twice! Hallelujah for Friendsgiving! Getting together with friends and sharing recipes from your home is what this holiday is all about and these Company Potatoes are what I'll be bringing this year and every year!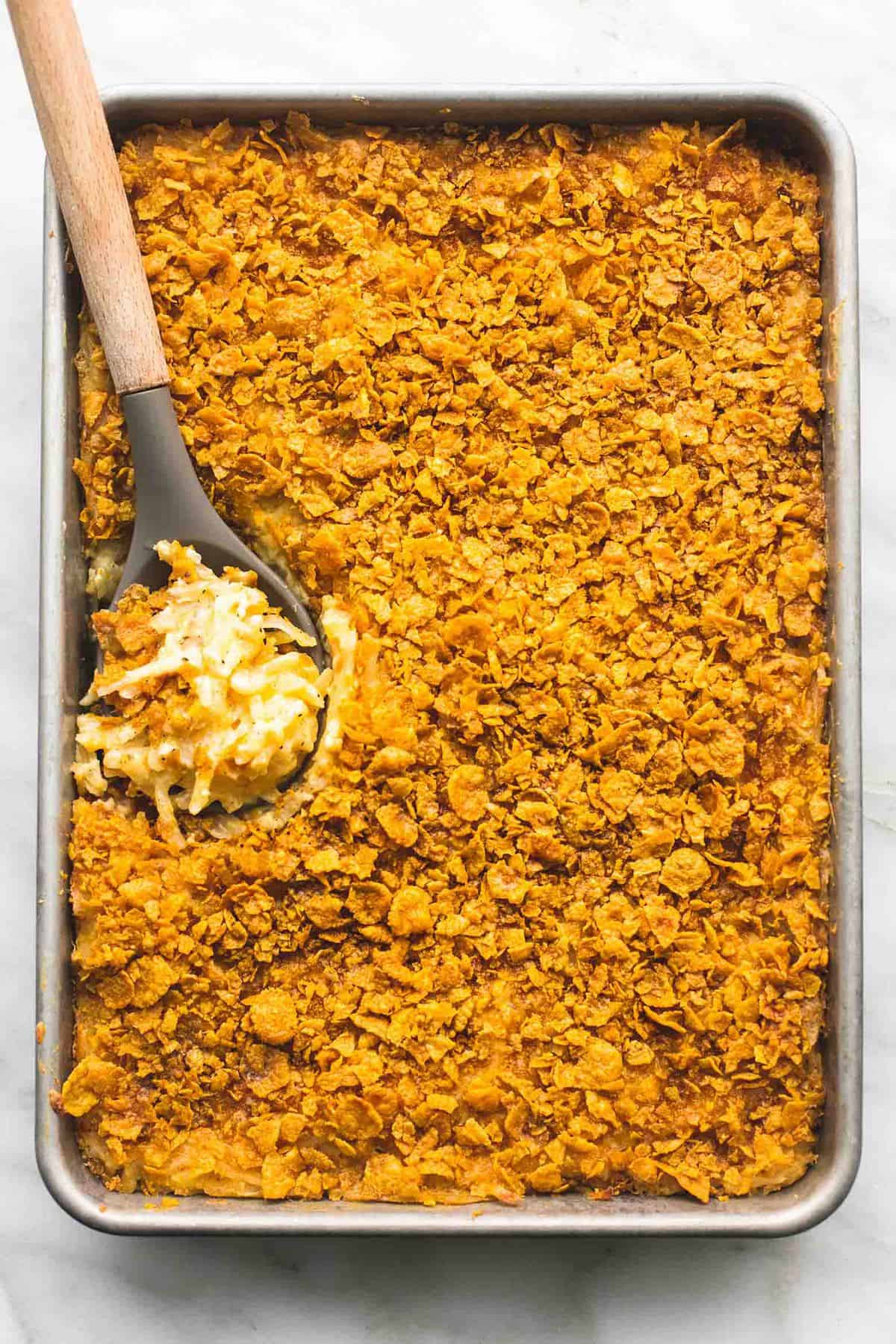 And now for the fun part – share your favorite Thanksgiving or Friendsgiving dish with the hashtag #NoFlavorLikeHome on Instagram for the chance to win a prize pack of McCormick spices. You can also enter here: http://bit.ly/2APfUF2
Be sure to tag Creme de la Crumb on Instagram or Facebook l when you post a picture of your favorite recipe you're making for your holiday meal (pst! I hope it's these Company Potatoes!) and use the hashtag #noflavorlikehome. Can't wait to see all of your tasty recipes!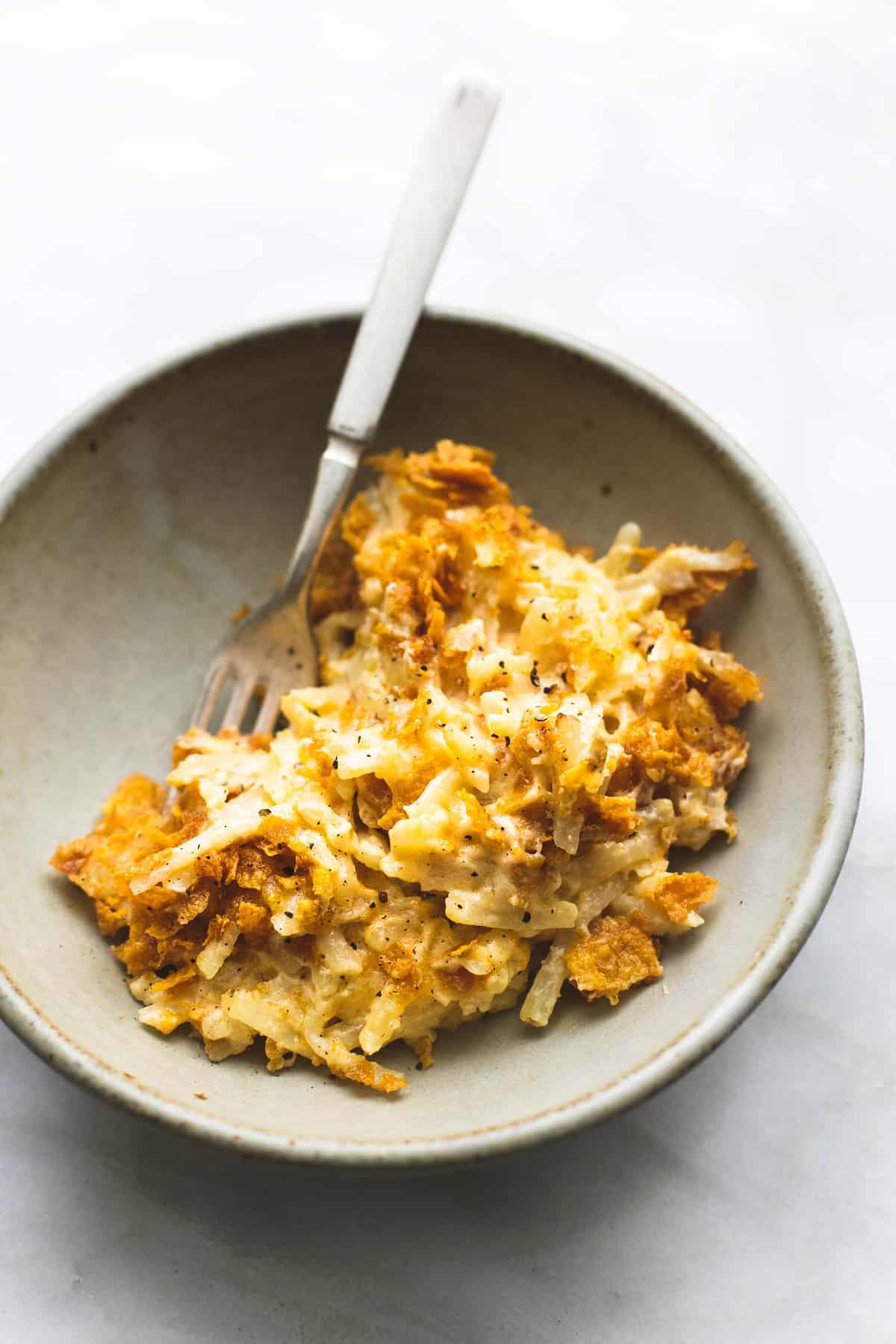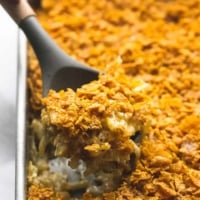 Company Potatoes
Cheesy, crunchy company potatoes are easy to make and always a crowd pleaser! This large casserole of creamy, cheesylicious potatoes feeds a big group – perfect for holidays!
Ingredients
2

lbs

frozen hashbrowns

-

thawed

2

cups

lowfat sour cream

-

(regular is okay too!)

3

teaspoons

garlic powder

2

teaspoons

onion powder

2

cups

shredded sharp cheddar cheese

2

teaspoons

salt

-

or to taste

½

teaspoon

pepper

-

or to taste

2

cups

cornflakes cereal

-

crushed

4

tablspoons

butter

-

melted
homemade cream of chicken soup
2

tbs

flour

6

tablespoons

butter

1

cup

chicken broth

-

(I use low sodium)

1

cup

milk

salt and pepper to taste
Instructions
To make the homemade cream of chicken soup, melt butter in a large sauce pan. Sprinkle flour into the pan and stir until mixture comes together. Gradually whisk in chicken broth and milk until incorporated. Bring to a boil and continue to stir until sauce thickens. Remove from heat.

Preheat oven to 350 degrees and lightly grease a 9×13 inch baking pan. In a large bowl combine hash brown potatoes, sour cream, garlic powder, onion powder, cheddar cheese, salt and pepper to taste, and cream of chicken soup, and mix well.

Spread mixture into prepared baking pan. Cover with crushed cornflakes. Drizzle melted butter over the cornflake topping.

Bake for 35-45 minutes until mixture is bubbly and cornflakes are golden brown on top. Allow to cool slightly before serving.
Notes
Make ahead: prepare this dish ahead of time, cover with foil, and refrigerate up to 24 hours before baking. If baking chilled, add 15-20 minutes onto the baking time. 
Nutrition
Calories:
281
kcal
,
Carbohydrates:
28
g
,
Protein:
11
g
,
Fat:
14
g
,
Saturated Fat:
9
g
,
Cholesterol:
43
mg
,
Sodium:
806
mg
,
Potassium:
469
mg
,
Fiber:
2
g
,
Sugar:
2
g
,
Vitamin A:
533
IU
,
Vitamin C:
11
mg
,
Calcium:
280
mg
,
Iron:
3
mg
This tasty recipe is in partnership with McCormick Spices. Be sure to check out more of their delicious holiday recipes like this Smoked Turkey or Cranberry Deviled Eggs and to follow them on Facebook (McCormick Spice) Instagram (@mccormickspice) Pinterest (@mccormickspice) and Twitter (@mccormickspices).