This Cheesy Mashed Potatoes Casserole will make every other potato casserole you've ever made look like just plain old boring potatoes. Stuffed full of delicious mashed potatoes, cream cheese, shredded cheese, sour cream, and garlic, this casserole is even in-law approved! 
For more potato goodness to make around the holidays or anytime, check out my recipes for Oven Roasted Dill Potatoes, Company Potatoes, or my Candied Pecan Sweet Potato Casserole.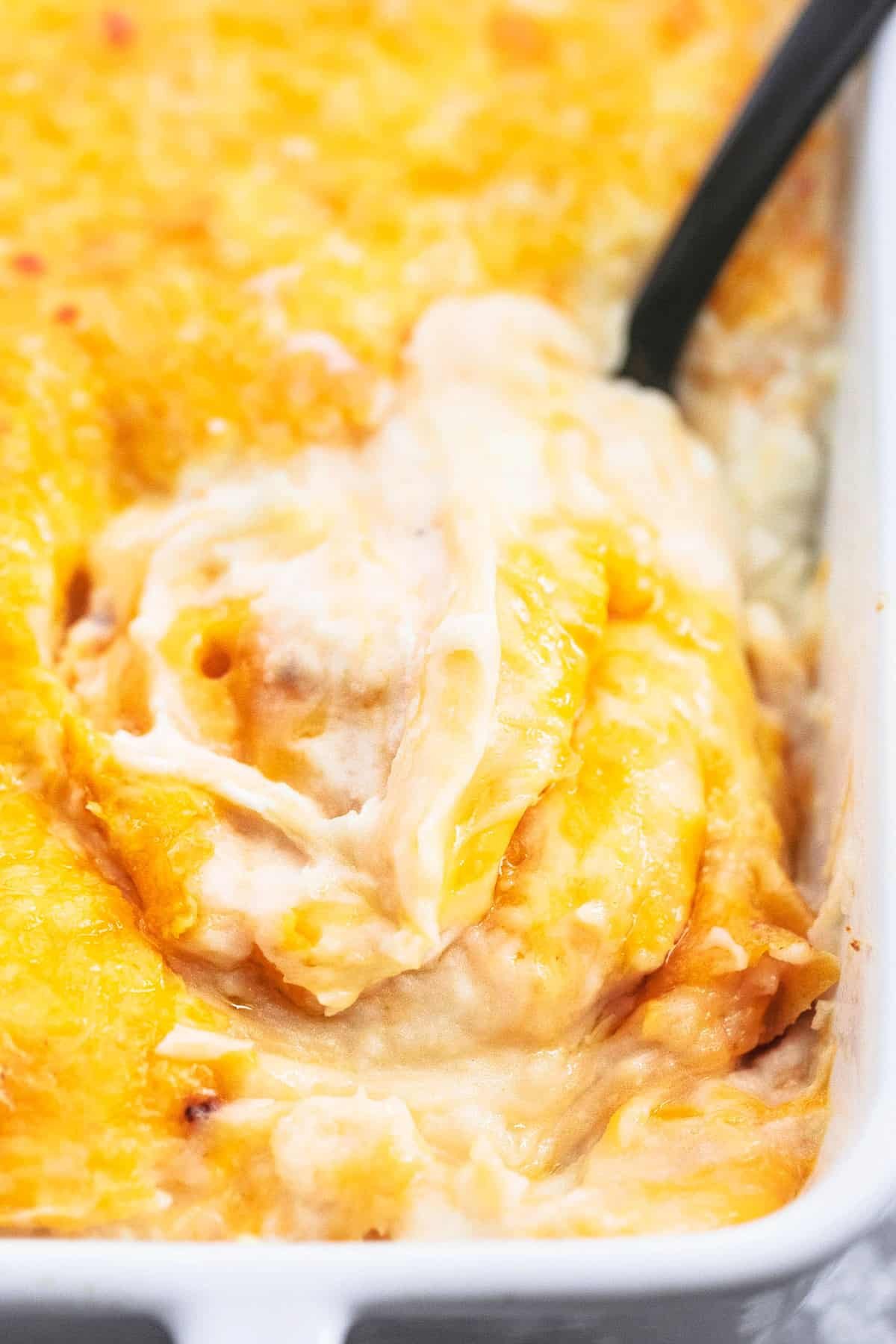 I don't know about you but I'm always on the lookout for another way to make mashed potatoes. I feel like I hit a wall sometimes, making them the same way over and over and then, inspiration hits. 
This time, inspiration hit me like a ton of potatoes…er, I mean bricks. I had some boiled and ready-to-be-mashed potatoes staring back up at me from their pot and they just begged for something…extra. But what? Then, it hit me. Why not make these like a twice-baked potato but instead of with baked potatoes, use mashed ones?
Makes sense right? I thought so. So now, the mashed potatoes are not only amazing because that's just their nature, but they are double, no triple amazing because they not only get mashed but they also get more flavor, cheese on top of cheese, and then baked another time until all that cheese is all bubbly and melted. Bam! (Are we still saying that?) The best mashed potatoes recipe on the face of the earth.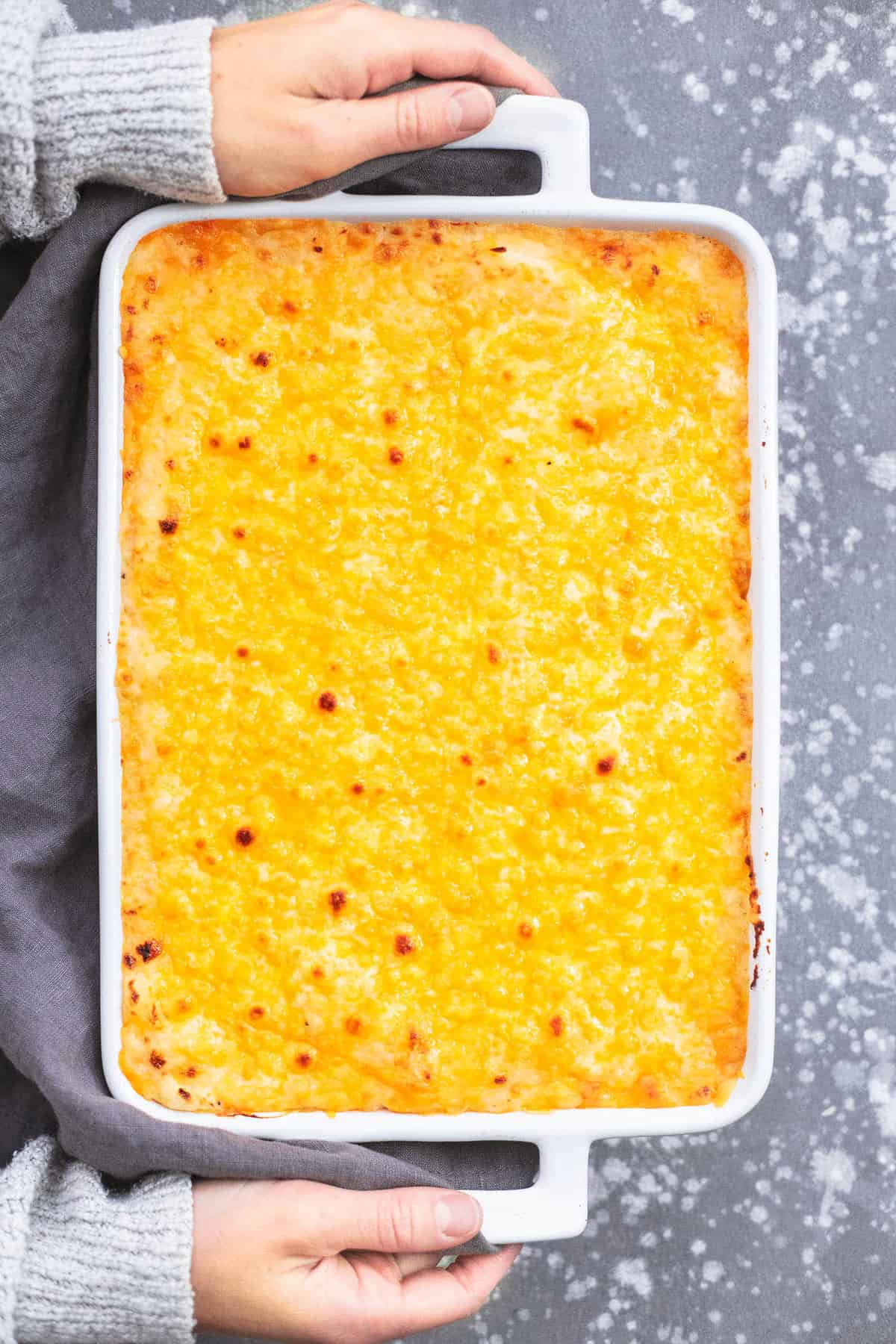 HOW CAN YOU CUSTOMIZE CHEESY MASHED POTATOES?  
The only thing better than making these mashed potatoes is making them your own. There are so many variations you can try, but these are my top 8:
Add bacon.

Cook up some a few bacon strips till they're nice and crispy, break them up, and sprinkle them over the top of the cheese before baking or add them inside the mashed potatoes when you're mixing or both! 

Give it a Mexican flair.

Make your potatoes caliente by adding a can of green chilies, chopped jarred pickled jalapenos, corn, and/or a half a cup of salsa while you're mixing them together. Top with Monterey jack cheese and add black olive slices and cilantro as garnish when it's done baking. 

Skins on.

Leave the sinks on the potatoes for a bit of texture and to give the mashed potatoes casserole more of a twice-baked taste. 

Change the spuds.

Mix up the flavor and texture of the mashed potatoes by trying out different varieties. Red or yellow potatoes or Yukon work well too. 
Italian style.

In addition to the onion powder and garlic powder, add in a teaspoon or two of Herbs de Provence, an Italian seasoning or a quarter teaspoon each of basil, oregano, thyme, and rosemary. Top with Parmesan cheese and garnish with parsley. 
Make them spicy.

Add in 2 diced chipotles and 1 tablespoon of adobo sauce to the mashed potato mix. Cover with queso fresco cheese and cilantro on top. 

Make them a little sweet.

Add in cooked, cubed sweet potatoes to the mashed potatoes right before covering with cheese and putting in the oven. There will be a little sweetness to every bite. 
French onion soup them.

Hear me out…add in one or two sliced, caramelized onions (depending on how much you like onions) and a half cup of beef broth to your mashed potatoes. Cover your mashed potatoes with thin slices of Swiss or Gruyere.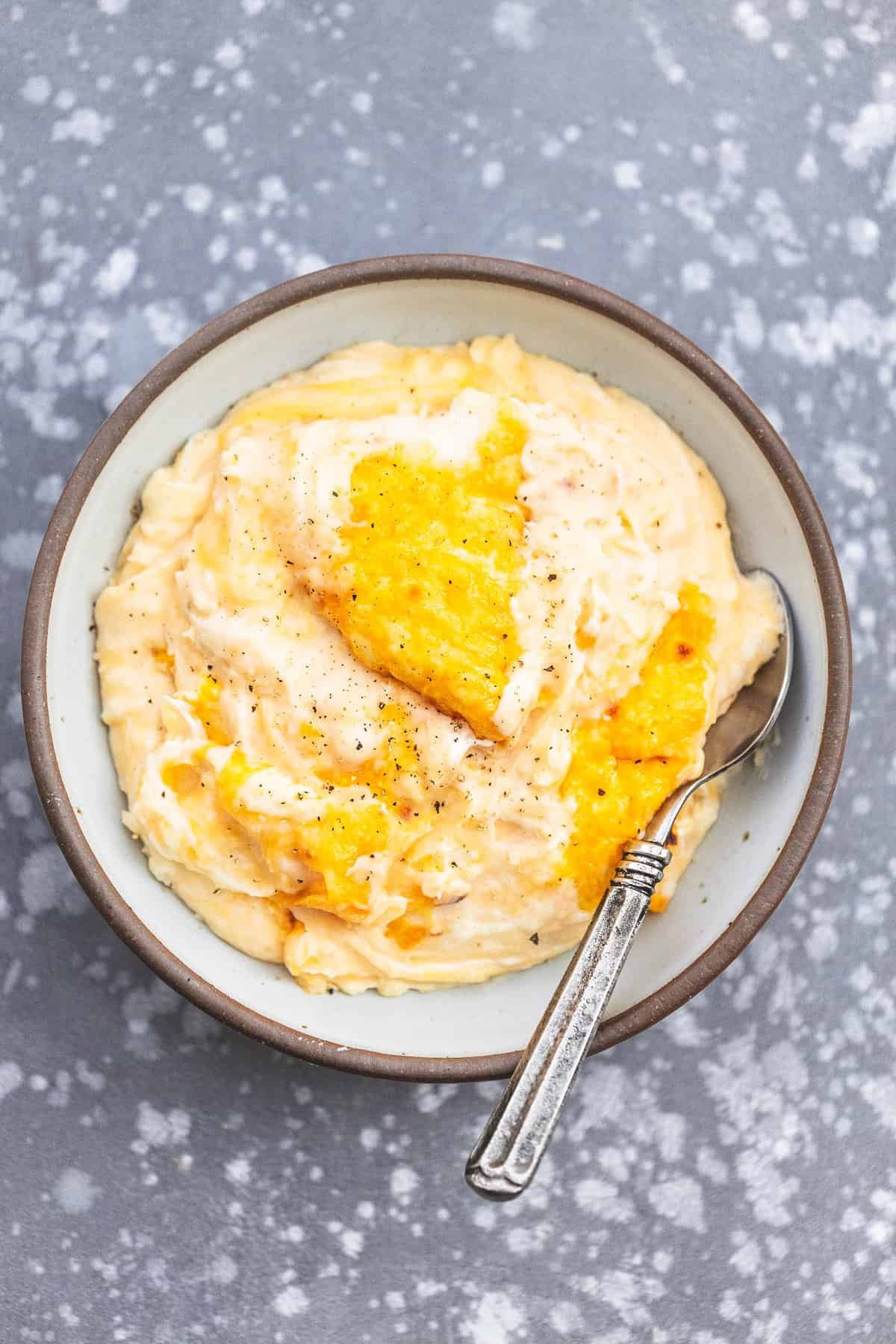 WHAT OTHER DISHES GO WITH MASHED POTATOES? 
If you're thinking holidays (like I have been since about, oh the 4th of July), then boy are you in for a treat. I have ALL the dishes you'd ever want to round out your holiday meal, mashed potatoes with cream cheese included. 
French Onion Scalloped Potatoes
WHY DID MY MASHED POTATOES GET GUMMY?
We've all been there — ready for a big spoonful of fluffy, cloudlike mashed potatoes only to find out they taste like the paste you maybe tried that one time in preschool. 

Why does that happen, when the last time you made them they turned out just perfectly? Well, it might just be that you overmixed them. That's right, the more you mix, the more pastey they can become. If you want to use a beater or mixer, that's fine just remember to stop when they are combined. A few lumps are fine! Otherwise, use a potato masher or even a food ricer to get your mashed potatoes the consistency that you prefer. No glue needed! 
HOW LONG WILL MASHED POTATOES KEEP IN THE REFRIGERATOR?
If you have any leftovers, cover the top of your casserole dish with plastic wrap or a tight-fitting lid. Or transfer your remaining casserole to another container that does have an airtight lid. You can store them in the fridge for up to 4 days.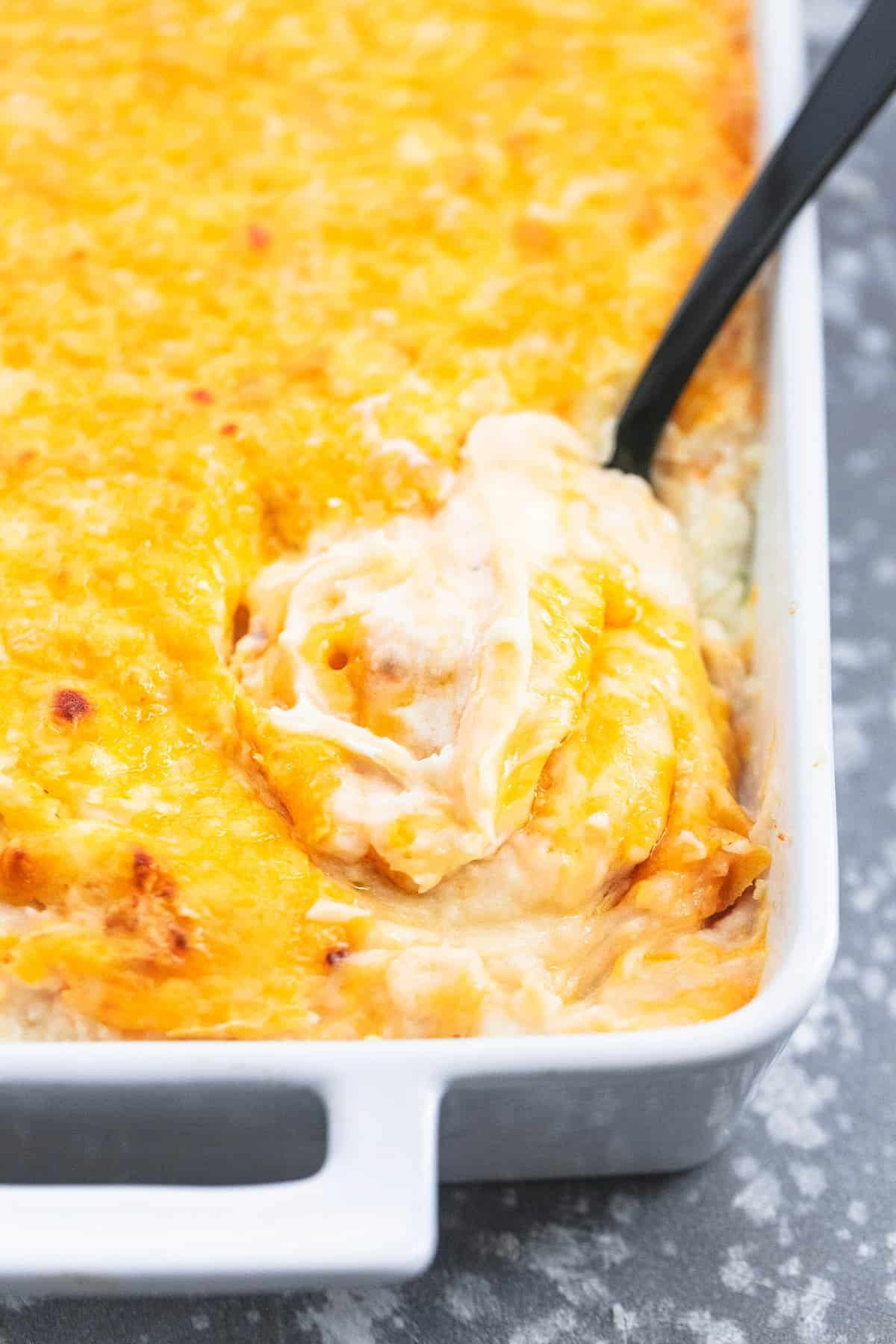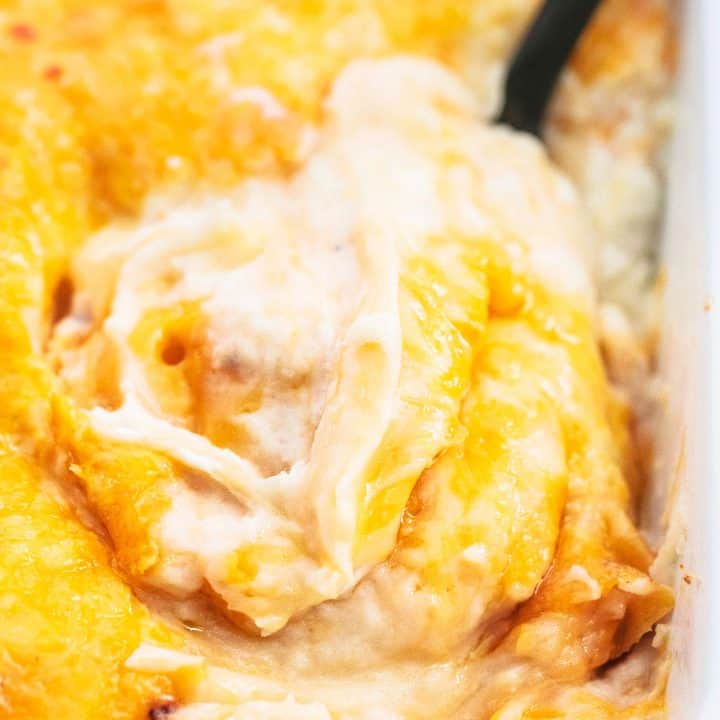 Cheesy Mashed Potatoes Casserole
This Cheesy Mashed Potatoes Casserole will make every other potato casserole you've ever made look like just plain old boring potatoes. Stuffed full of delicious mashed potatoes, cream cheese, shredded cheese, sour cream, and garlic, this casserole is even in-law approved! 
Ingredients
6

cups

prepared mashed potatoes

-

OR 6 large russet potatoes, peeled and chopped

8

ounces

cream cheese

-

softened, reduced fat is okay

1 ½

cup

shredded cheddar

-

or monterey jack cheese, divided

½

cup

sour cream

-

reduced fat is okay

1

teaspoon

onion powder

1

teaspoon

garlic powder

-

(omit if using prepared garlic mashed potatoes)

2

teaspoons

salt

½

teaspoon

black pepper
Instructions
Preheat oven to 350 degrees and grease a 2-quart baking dish.

If using prepared mashed potatoes, move ahead to step 3. If using russet potatoes, place potatoes in a large pot, cover with water, cover the pot and bring to a boil. Cook for 20-25 minutes until potatoes are very tender, drain the pot. Transfer potatoes to a large bowl and mash until smooth.

Combine potatoes with cream cheese, sour cream, half cup shredded cheese, onion powder, garlic powder (if using), salt, and pepper and mash/mix everything til combined and smooth.

Spoon potatoes into prepared baking dish. Top with remaining cheese.

Cover the baking dish and cook for 35-40 minutes. Switch to BROIL for 3-5 minutes longer (watch closely so the cheese doesn't burn). Allow to cool slightly before serving.
Notes
Be cautious not to over-mix your potatoes, this will lead to gluey potatoes. 
Nutrition
Calories:
284
kcal
,
Carbohydrates:
30
g
,
Protein:
10
g
,
Fat:
14
g
,
Saturated Fat:
8
g
,
Cholesterol:
43
mg
,
Sodium:
823
mg
,
Potassium:
741
mg
,
Fiber:
4
g
,
Sugar:
3
g
,
Vitamin A:
518
IU
,
Vitamin C:
31
mg
,
Calcium:
152
mg
,
Iron:
1
mg