Creamy candied pecan sweet potato casserole with marshmallows is easy to make and will leave your guests wanting more and begging for the recipe!
I hate to admit it now, but growing up, I didn't like sweet potato casserole AT ALL. It wasn't just this particular recipe — I just didn't like flavor combinations. Chocolate and fruit was a no-go and the same could be said for sweet and salty together. I just didn't think they worked. Sweet is for dessert and salty is for dinner. The end. Then, one fateful day, I accidentally ate some chocolate candy with my popcorn and, viola! a sweet-and-salty lover was born. The rest, they say, is history.
I'm so glad I stumbled upon that flavor combination, too, because the thought of not enjoying this Candied Pecan Sweet Potato Casserole is just too much to bear. (I'm not crying you're crying!)
You wouldn't think that it could get any better than your typical easy sweet potato casserole, but that's where I beg to differ. Adding in candied pecans is where it's at. Don't be put off by the title of this dish, either. I'm sure it sounds like it's a lot of work, but trust me, it isn't! In fact, half the work can be done by a slow cooker while you're busy doing other things (like making this easy Beef Broth Brown Gravy).
The best part is, you don't have to "pre-candy" your pecans, they candy-up all by themselves right in the pan! The other great thing is that you can put this dish in the oven while the turkey is resting. It should be served nice and hot so you're free to put this dish off to the last minute — really!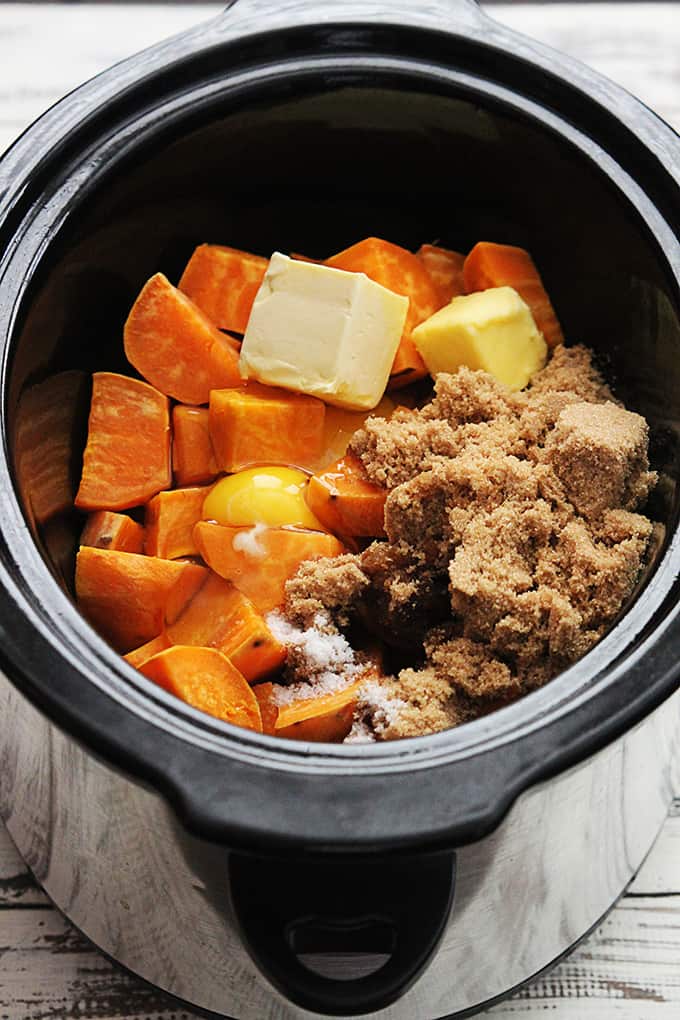 HOW DO I MAKE A SWEET POTATO CASSEROLE WITHOUT PECANS?
Wait. Are you sure you want to do that? Kidding. I know, I know, not everyone likes pecans, and some people can't eat them due to allergies. Pecans are an addition to the original easy sweet potato casserole recipe anyway, so they're as easy to take off as they are to put on. All you have to do is: Skip putting the pecans in. No, really! That's it! If you want to keep the streusel topping, go ahead and make that, and drop it by spoonfuls over the sweet potatoes. Bake, then complete through the directions for the marshmallows at the end.
CAN I USE CANNED SWEET POTATOES?
Yes you can use canned sweet potatoes if you like. They are already softened so you can skip the whole cooking the sweet potatoes step. You'll want to drain off any excess liquid first. Make sure to use the same amount of canned sweet potatoes that the recipe calls for.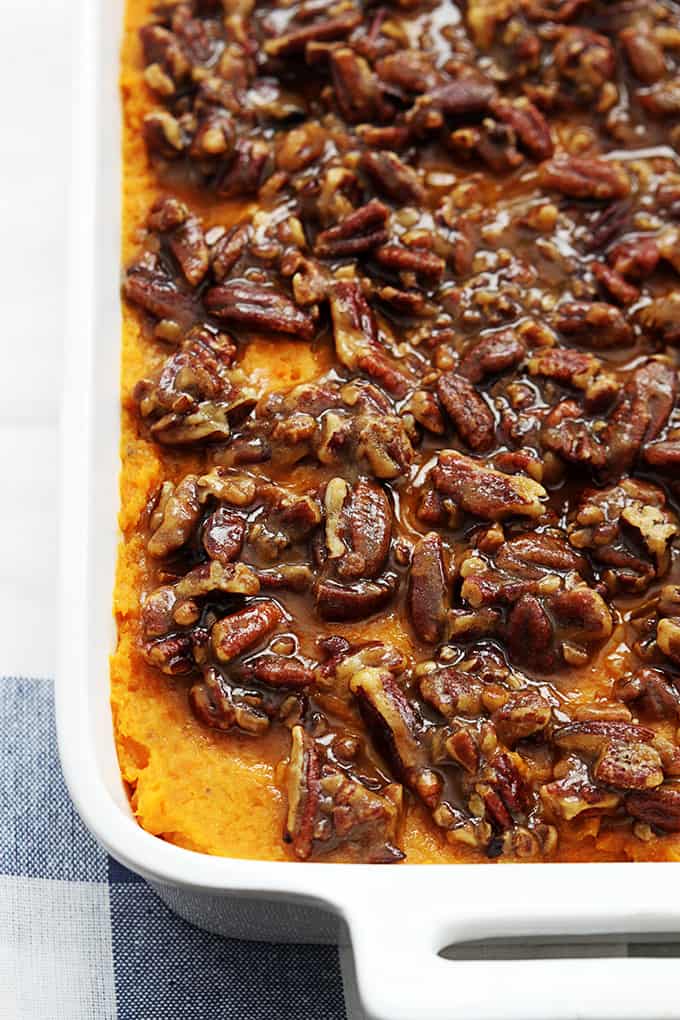 IS THIS THE SAME AS SOUTHERN SWEET POTATO CASSEROLE?
Yes! Southern sweet potato casserole IS sweet potato casserole. Whether you add the "Southern" or not is up to you. 🙂 But, the casserole originated in the South, so I guess the name stuck.
CAN YOU MAKE SWEET POTATO CASSEROLE AHEAD OF TIME?
There are days, like Thanksgiving, when you just cannot do everything at once. In those instances, it does help to make dishes of time, if possible. I think you can totally make this sweet potato casserole in advance. I'd do it one of two ways, though:
Cook the potatoes, and work your way through step 3. Then, let the dish cool and cover it and put it in the fridge for one to two days. When you're ready to serve it, pop it in the oven for 10-15 minutes to warm it back up, pull it out of the oven, and go ahead with adding the marshmallows and baking again, through step 4.

Make the entire recipe, marshmallows and all. Cover tightly (but don't let the marshmallows stick to the cover, plastic wrap, or foil) and then pull the dish out about 30-45 minutes before dinner is served. You will be serving the casserole at room temperature — and that is a-okay as well!
HOW DO YOU MAKE A HEALTHY SWEET POTATO CASSEROLE?
That is a loaded question. Even though this recipe uses sweet potatoes, it's not very healthy as-is, that I admit. If you want to slim down this Thanksgiving dish, try these ideas:
Skip the marshmallow topping or use half the amount of marshmallows.

Halve the butter or use a lower-calorie or fat butter option.

Eliminate the pecan topping all together and add only half the amount of marshmallows.

Make half the streusel topping for the pecans, and mix well. Add to the top of the sweet potatoes. Leave the marshmallows off.

Skip the topping ingredients except for the pecans and marshmallows. Toast pecans in a dry pan over medium heat for about five minutes until they release their nutty aroma. Add toasted pecans at the same time as the marshmallows and brown marshmallows according to directions.
What people are saying about this Candied Pecan Sweet Potato Casserole
"This was the best sweet potato casserole ever!!!! I've made others and I've tasted a few I thought were good, but this is hands down the best recipe! It was the star side dish of the night and one that we will talk about and make each year! Thank you." – Liz
"I have to tell you that my family and I enjoyed this Sweet Potato Casserole so much. Even my husband, who likes very few veggies, liked it. It is the absolute best I have ever eaten and I just wanted to tell you "Thank You" for sharing. I made it for the first time this Thanksgiving and I'm definitely making it again for Christmas!" – Kristi 
"I've made this several times for holiday crowds and it's always a major hit. I've always prepped it a couple days in advance since we do so much cooking the day of. The few tweaks I've made are adding some fresh orange zest and the tiniest pinch of cayenne pepper. Not enough to make it spicy at all (all the kiddos still eat it), just enough to add some "warmth" and it really elevated all of the other flavors." – Loretta
'This was the best sweet potato casserole we've ever had! So good. I made a half batch for just my family of four and we still have leftovers to go with the rest of the slow cooker glazed ham. My two year old called it candy potatoes. Thanks for the great recipe!" – Leslie
Candied Pecan Sweet Potato Casserole
Creamy sweet potato casserole with a crunchy candied pecan topping and toasted marshmallows.
Ingredients
5

pounds

sweet potatoes

-

peeled and cut into 2 inch pieces

1

cup

water

2

eggs

1

teaspoon

vanilla extract

½

cup

butter

-

melted

1

cup

brown sugar

2-3

teaspoons

salt

-

(or to taste)

½

cup

milk

-

or heavy cream
Topping
½

cup

brown sugar

½

cup

flour

⅓

cup

melted butter

1

cup

chopped pecans

-

(such as Diamond of California)

3-4

cups

mini marshmallows
Instructions
Potatoes can be boiled, drained, and then mashed OR cooked in a slow cooker. If using slow cooker, add sweet potatoes and water to slow cooker. Cover and cook on high for 4 hours or until potatoes are easily pierced with a fork. Drain slow cooker.

Preheat oven to 375. Mash cooked sweet potatoes. Add eggs, vanilla, 1/2 cup melted butter, brown sugar, salt, and milk (or heavy cream) and mix until smooth. (I like my potatoes to have a bit of texture so I don't whip them for too long).

Spread potato mixture in the bottom of a greased 9x13 baking dish. In a bowl combine brown sugar, flour, 1/3 cup melted butter, and pecans and mix well (with a spoon, not a mixer). Sprinkle mixture over potatoes (it's okay if potatoes aren't completely covered). Bake uncovered for 15-20 minutes until pecans are caramelized.

Spread marshmallows evenly over pecan mixture. Return to oven for another 5 minutes or until marshmallows are puffy and lightly browned. Serve immediately.
Notes
Instant Pot directions for potatoes: Instead of the slow cooker, you can cook the sweet potatoes in your pressure cooker/Instant Pot with 1 cup of water for 8 minutes on pressure cook/manual on high. Quick release, remove the lid, and drain and transfer to a bowl to mash and proceed with the recipe as written.  Make ahead directions: This recipe can be made the night before! Simply prepare the potatoes, spread in your baking dish, and add the pecan topping, then cover tightly with plastic wrap and refrigerate up to 24 hours in advance. Remove from the fridge about 2-3 hours before dinnertime. Remove plastic wrap before baking as written.  Fun flavor tip: After dropping pecan mixture over potatoes, sprinkle some coarse sea salt over the pecan layer - this will enhance that salty-sweet flavor combination!
Nutrition
Calories:
456
kcal
,
Carbohydrates:
82
g
,
Protein:
6
g
,
Fat:
13
g
,
Saturated Fat:
2
g
,
Cholesterol:
29
mg
,
Sodium:
207
mg
,
Potassium:
755
mg
,
Fiber:
7
g
,
Sugar:
43
g
,
Vitamin A:
27119
IU
,
Vitamin C:
5
mg
,
Calcium:
116
mg
,
Iron:
2
mg