Juicy Slow Cooker Glazed Ham cooked in a sweet and spicy brown sugar glaze.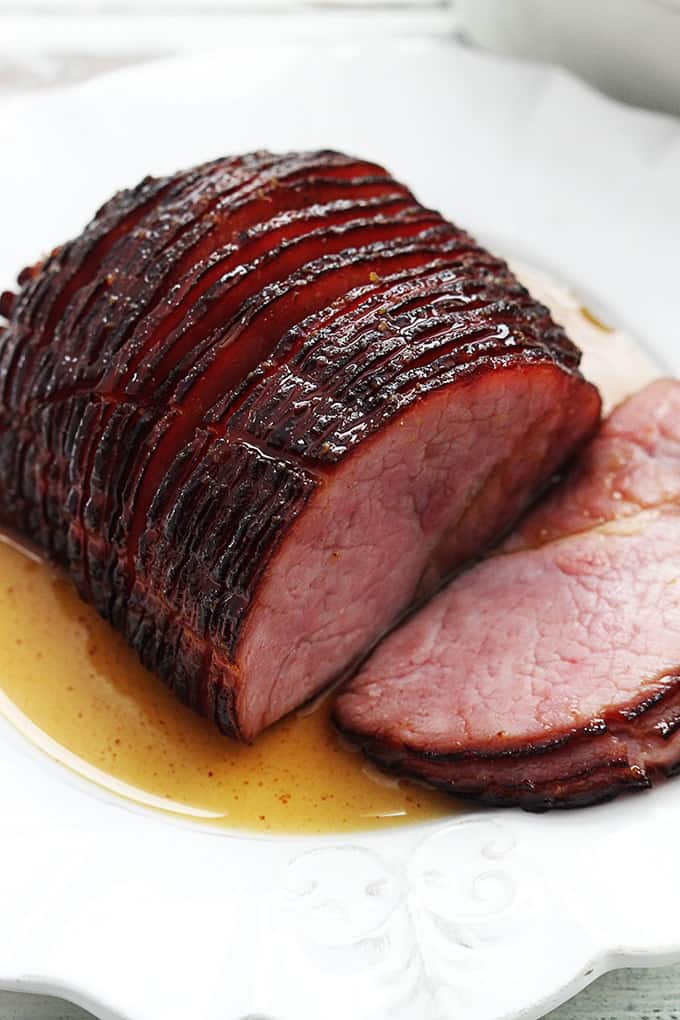 This is Thanksgiving In October recipe round #2. If you missed part one where I shared that really tasty looking Candied Pecan Sweet Potato Casserole peeking out of the corners of these photos, you should check it out – you'll never skip on the candied pecans again. Now to be perfectly honest, I'm not a real big turkey person, my husband actually agrees with me on that one so for Thanksgiving it's ham all the way at our house.
I'd be open to trying goose but, where do you even get one of those?? I mean we don't hunt, so….
Alright so this ham. Easy! Seriously. So easy. Just toss it into the slow cooker with a bit of water to keep it from scorching, then cover it and cook on low for about 6 hours. About an hour for serving you whip up the sauce, pour it over the ham, and let it cook for another 30 minutes. Then you just plate it, slice it, and spoon any remaining sauce right over the top so you get lots of that yummy flavor on every piece of juicy ham. Yummmm. That's all I can say. YUM.
What people are saying about this Slow Cooker Glazed Ham
"In prior years, for Christmas dinner, we purchased a Honey Baked ham. This year we purchased a ham from Costco to save some money. However, I didn't know the best way to make a ham. I found this recipe and thought it could save space in my oven for the rib roast that we were going to make. We followed the directions and the ham came out perfect. It was s flavorful and moist. I took pictures, but I can't seem to share them." – Kim
"This is SUPER easy and the ham came out DELICIOUS!! This is a keeper" – Sara
Slow Cooker Glazed Ham
Juicy slow cooker ham with a sweet and spicy glaze.

Ingredients
1

fully cooked ham

-

(any size will work as long as you have a slow cooker large enough for it)
Glaze
1 ¼

cups

brown sugar

¼

cup

honey

¼

cup

spicy brown mustard

¾

cup

Dr. Pepper

-

(half of a can)

¼

cup

maple syrup
Instructions
Score ham by using a sharp knife to cut lines into ham in a criss cross pattern. The lines only need to be about 1/8th of an inch deep. Fill slow cooker with about 1 inch of water. Place ham in slow cooker. Cover and cook on low for 4-6 hours.

1 hour before serving, prepare the sauce. Whisk together all sauce ingredients in a medium sauce pan. Bring to a boil, then reduce to a simmer and cook for 10 minutes. Remove from heat and allow to thicken for 5-10 minutes.

Drain water and ham juices from slow cooker. Pour sauce over ham inside the slow cooker, being sure to cover the whole ham. Cover and cook another 30 minutes. Place ham on serving dish. Carve/slice the ham and spoon the remaining sauce from the slow cooker over the ham. Serve warm. Enjoy!
Notes
*This recipe works for a very small ham (2 pounds) to a very large ham that will feel a big group. For large hams (over 7-8 pounds), double the sauce recipe. 
Nutrition
Calories:
878
kcal
,
Carbohydrates:
17
g
,
Protein:
72
g
,
Fat:
56
g
,
Saturated Fat:
20
g
,
Trans Fat:
1
g
,
Cholesterol:
207
mg
,
Sodium:
3991
mg
,
Potassium:
982
mg
,
Fiber:
1
g
,
Sugar:
17
g
,
Vitamin A:
2
IU
,
Vitamin C:
1
mg
,
Calcium:
38
mg
,
Iron:
3
mg