Quick and Delectable Easy Homemade Pumpkin Pie has perfect texture and flavor!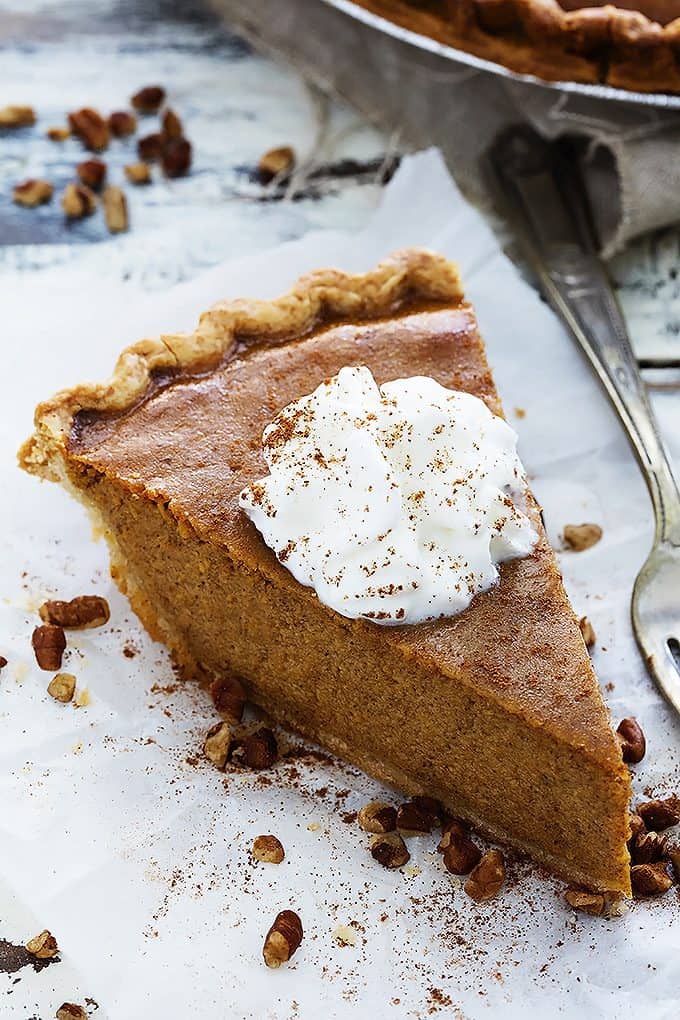 My mother is a classic over-do-er. Always has been. And bless her heart she really goes nuts when it comes to cooking. Every Sunday dinner is a huge affair. She prepares a main dish usually with not one, but two or three types of meat. You know, just in case someone is in the mood for fish or steak instead of chicken. And then there's the side dishes, usually four or five of them. Because veggies and rolls and potatoes aren't enough, you should also have a side salad.
But desserts. She really goes overboard with desserts.
Cake and cookies and brownies and ice cream, all in one night. She just wants people to have options. And I think she is incredibly indecisive. But hey, I'm not complaining because I'm totally on board with cake and cookies and brownies and ice cream.
But if Sunday dinners are overdone, it's nothing compared to the Holidays at my parents' house. The amount of food and number of dishes she makes easily doubles and there is quite literally a dessert table. Seriously, a whole table devoted to things that will satisfy your sweet tooth and at Thanksgiving that always includes at least one, maybe even two pumpkin pies.
If your holiday isn't complete without a pumpkin pie then this recipe is perfect for you – it's easy, foolproof, no-fuss and will leave you with just one bowl to clean up. And did I mention that the texture and flavor is absolutely dreamy?? You'll never need another pumpkin pie recipe!
Easy Homemade Pumpkin Pie
This classic pumpkin pie is incredibly easy to make and has perfect texture and flavor!
Ingredients
1 1/3

cups

pumpkin puree

1

14-ounce can

sweetened condensed milk

2

eggs,

slightly whisked

1 1/4

teaspoon

ground cinnamon

3

teaspoons

pumpkin pie spice

1/2

teaspoon

salt

1

homemade or store-bought refrigerated shortbread pie crust

optional toppings: chopped nuts, whipped cream
Instructions
Preheat oven to 425 degrees. If using homemade pie crust, prepare crust and press into pie dish. If using store-bought make sure the crust is thawed (not frozen).

In a large bowl mix together pumpkin, sweetened condensed milk, and eggs. Add cinnamon, pumpkin pie spice, and salt and stir well. Pour into prepared crust.

Place pie pan on a baking sheet. Bake for 15 minutes at 425 degrees, then change oven temperature to 350 and bake 35-40 minutes longer. Pie is done when the crust is browned and only the center of the pie jiggles when you lightly shake the pan.

Allow to cool on a cooling rack to room temperature or cover and chill up to 2 days. When ready to serve, allow to come to room temperature and serve with chopped nuts and whipped cream if desired.
Recipe adapted from here.