Pumpkin French Toast is a restaurant-quality breakfast dish made with pumpkin pie spice, cinnamon, brown sugar, milk, vanilla, eggs, and more for a seasonal, kid-friendly dish that's out of this world! 
Looking for more pumpkin breakfast dishes? Look no further than my Pumpkin Cinnamon Rolls, my Pumpkin Chocolate Chip Scones, or my Pumpkin Cream Cheese Streusel Muffins.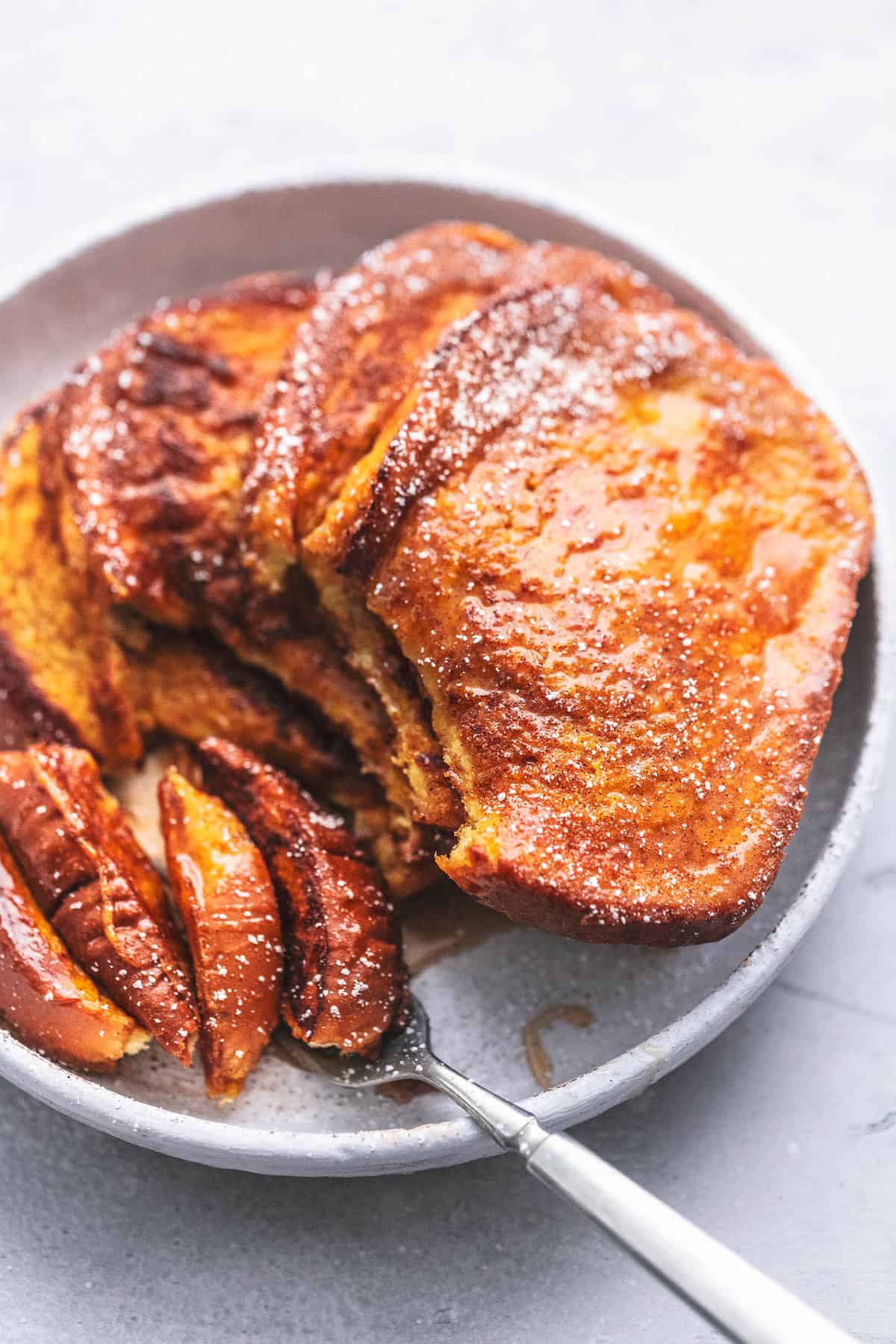 Are you ready for the best French toast story of your entire life? (I think no one in the history of…well, ever has uttered that sentence before.) 
Picture this: Little, 5-year-old Tiffany, sitting at the kitchen table, throwing a hissy fit because she was being forced to eat plain, old, ordinary French toast for breakfast. This is the morning after Thanksgiving and Tiffany had just gorged herself the whole week before on pumpkin everything and wasn't yet satiated. This was before pumpkin drinks, pumpkin muffins, pumpkin flavored everything. Needless to say, she was way ahead of her time. 
Anyway, so little Tiffany was less than pleased with the boring French toast she was being served. There was nothing special about it (unlike my Delicious, Easy French Toast Casserole Recipe) and she was clamoring for another slice of pumpkin pie or anything at all that was pumpkin flavored instead of what was put in front of her. 
Finally, because her mom is a wonderful human being, she was served French toast with leftover pie filling stuck in between two pieces of toast like some kind of yummy Frankensandwich. Her siblings all complained because she was getting special treatment. In true form, she stuck her tongue out and wolfed down her pumpkin French toast so no one else could have any. 
And that, my friends, is how I came to love the flavors of pumpkin for breakfast as well as lunch, dinner, snacks, and desserts. Except, over the years I was able to come up with something more elegant than basically pumpkin pie sandwiched between two pieces of French toast, you know, for more of a restaurant-quality French toast version.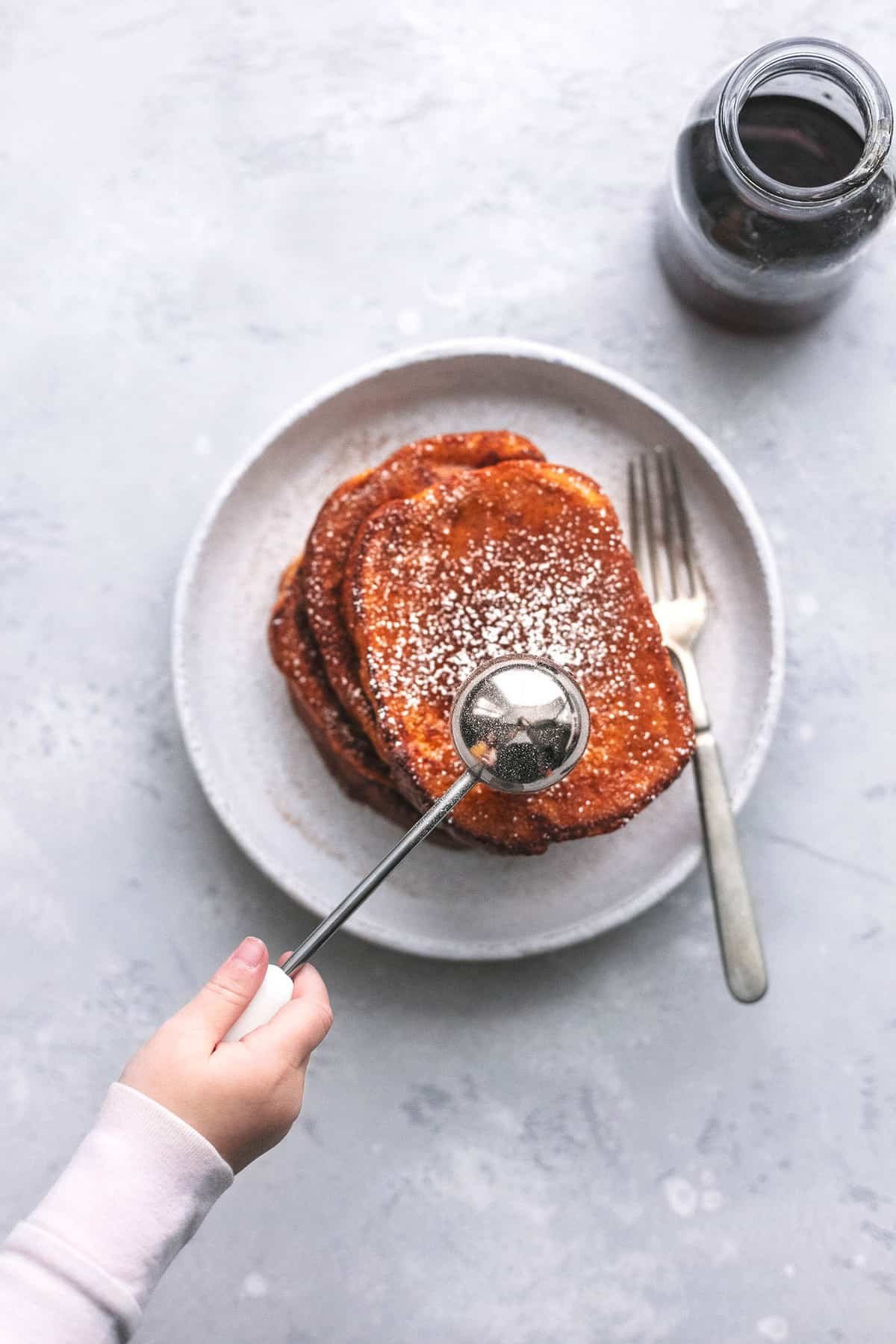 Why is it Called French Toast?
Like lots of things, we aren't too clear on reasons why this dish is called French toast. Did it originate in France? Some research I did suggests that lots of cultures were making versions of this dish all around the same time so who knows. 
I do know why it was popular though: It was simply a good way to use up stale bread the next morning. No one wanted to eat plain, stale bread, so they dipped it in eggs and spices and grilled it up into a tasty treat. 
The French actually called this dish "pain perdu" which means "lost bread." I guess people didn't want to call it either the French words or "lost bread" because neither really made any sense? So therefore it seemed easier to just say "French toast." That's what I'm going with anyway.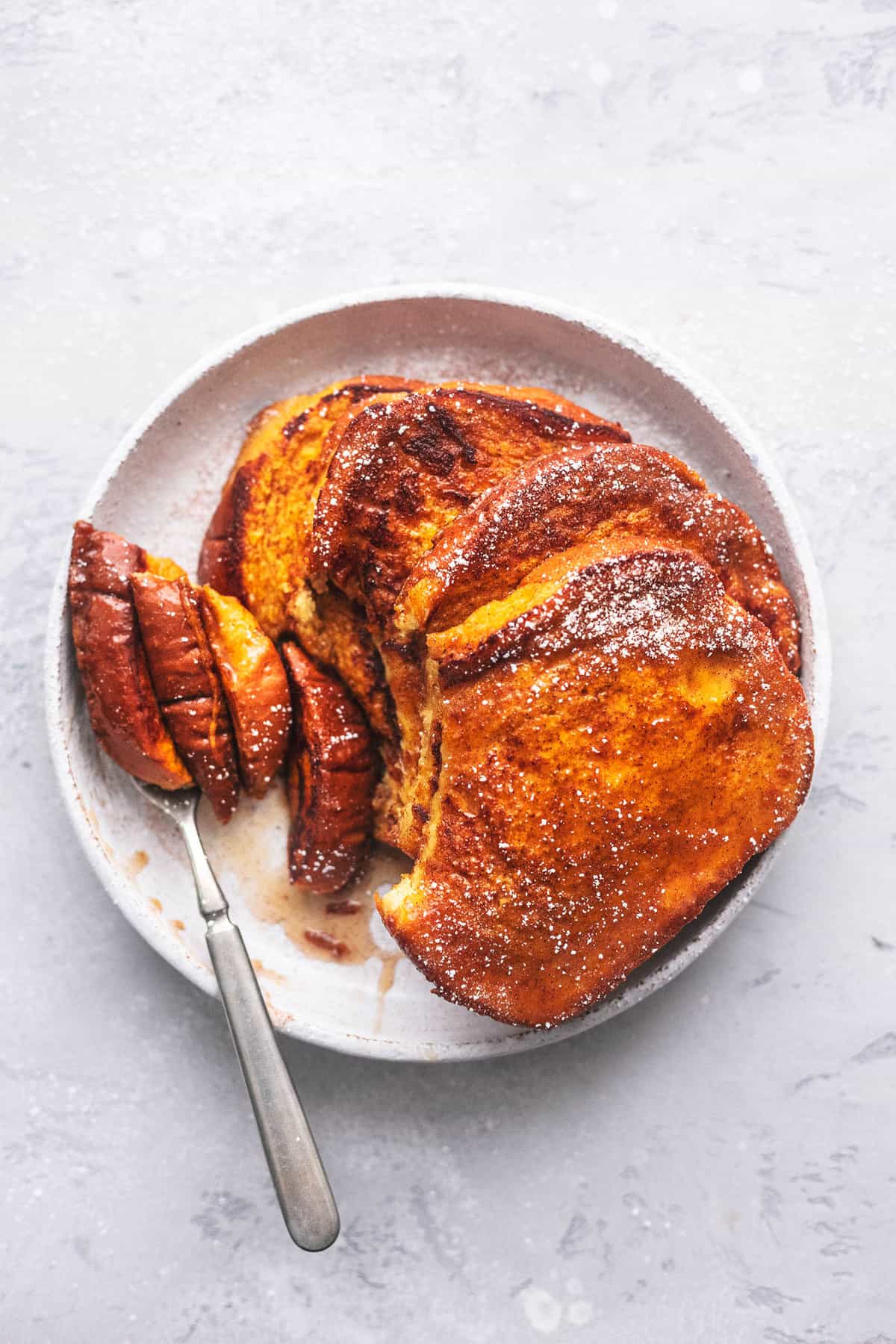 What Kind of Bread Works Best for French Toast?
Although you can use any bread you like for French toast, these are some of my favorites: 
Brioche.

It's a classic French bread that's made with lots of butter and eggs that holds up well when you dip it and grill it. 

French.

Because it's light and airy and has that nice outside crust already going for it. 

Sourdough.

Sourdough adds a little extra flavor to the French toast that lots of people just love. 

Challah.

Jewish-American people started using Challah in their French toast as a way to use up leftover bread from the Sabbath the night before. 

Sandwich.

Sometimes the easiest bread of all to make French toast with, because most of us have it on hand, and it's already sliced. Plus, it takes on the flavorings of whatever you're using in your spices and egg blend. 

How do You Make French Toast Sticks?
French toast sticks are a fun way to serve French toast, especially for kids. I simply make the toast as directed below and then slice each piece of toast up into four "sticks" and serve. It's especially fun to dip in syrup or jelly as well!
Why is My French Toast Soggy?
You might think more milk or sugar is a good thing. But adding more dairy or sugar will make your toast harder to cook and leave your bread too soggy to eat.

Ideally, your cooked French toast will feel dry to the touch on the top after you take it off the griddle. The edges should feel crispy. Add more sugar to your French toast at the end, in the form of a sweet dip or by dusting with powdered sugar, if desired.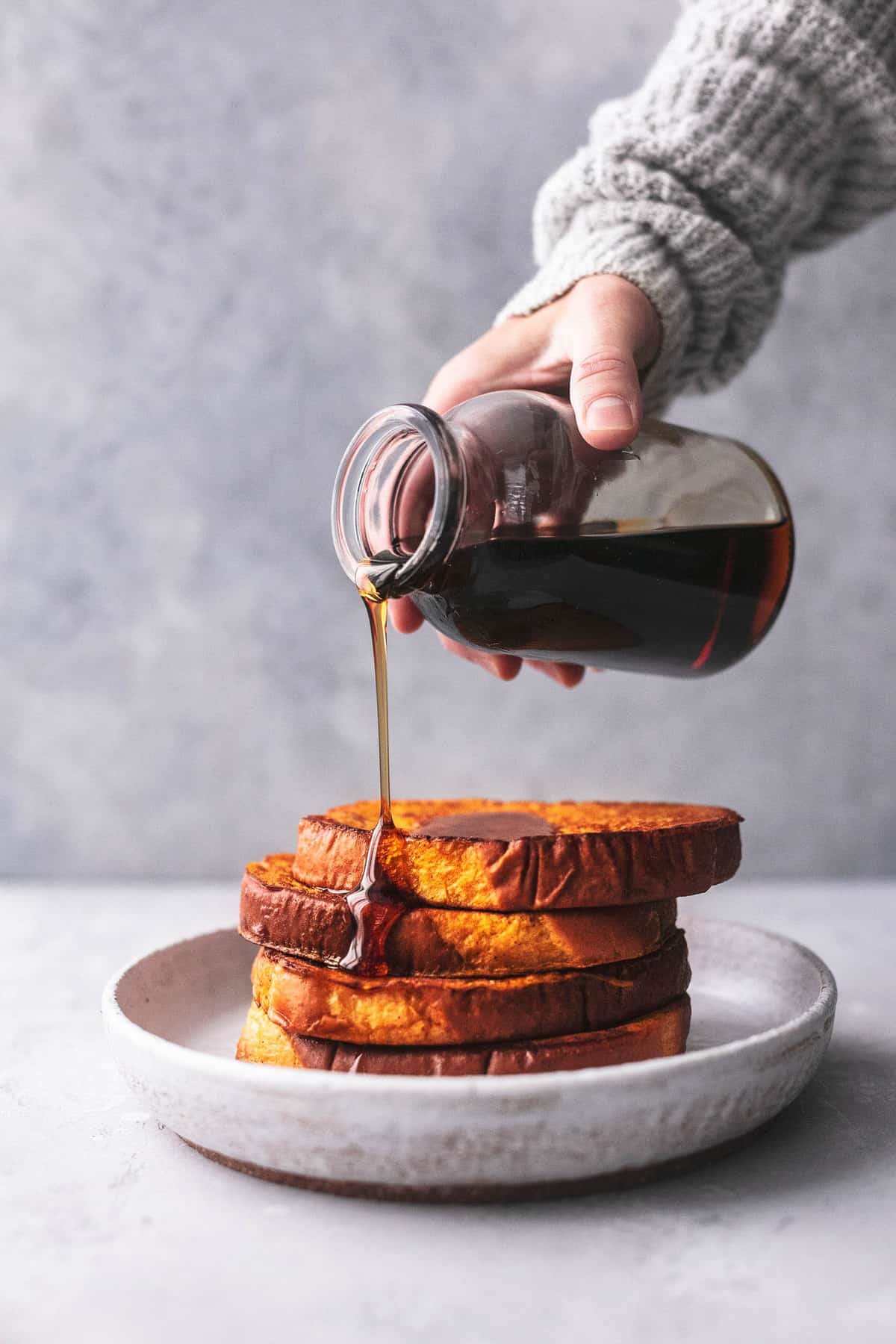 Best Breakfast Recipes
Did you make this recipe?? Please give it a rating below! 
Pumpkin French Toast
Pumpkin French Toast is a restaurant-quality breakfast dish made with pumpkin pie spice, cinnamon, brown sugar, milk, vanilla, eggs, and more for a seasonal, kid-friendly dish that's out of this world! 
Ingredients
4

tablespoons

butter

4

large eggs

1

cup

milk

1

teaspoon

vanilla

½

teaspoon

ground cinnamon

1

teaspoon

pumpkin pie spice

2

tablespoons

brown sugar

⅔

cup

pumpkin puree

-

(not pumpkin pie filling)

syrup, powdered sugar

-

or cinnamon-sugar, for serving

8

slices thick white bread

-

Texas toast or sliced brioche bread are my favorites
Instructions
Preheat a skillet or griddle to medium heat.

In a medium bowl whisk together eggs, milk, vanilla, cinnamon, pumpkin pie spice, brown sugar, and pumpkin puree.

Melt one tablespoon of butter on your preheated skillet/griddle and spread it out to cover as much of the pan as possible. While butter is melting, dredge a slice of bread in the pumpkin mixture, tossing to coat all sides.

Transfer soaked bread to the pan. Repeat with 1-2 pieces of bread (as much as you have room for in your pan). Cook each for 2-3 minutes, flip and cook another 2-3 minutes until golden brown.

Transfer to a plate, cover to keep warm, and repeat process until all of your bread/pumpkin mixture is used up. (Melt another tablespoon of butter between each batch)

Serve warm with syrup, cinnamon-sugar, and powdered sugar (I like to use all three!) as desired.
Notes
Makes about 8 pieces of french toast. My husband and I usually eat two each, and the kids eat one each, so it can feed 4-6 people depending on their appetites. 
Nutrition
Calories:
284
kcal
,
Carbohydrates:
38
g
,
Protein:
13
g
,
Fat:
8
g
,
Saturated Fat:
3
g
,
Trans Fat:
1
g
,
Cholesterol:
171
mg
,
Sodium:
354
mg
,
Potassium:
317
mg
,
Fiber:
3
g
,
Sugar:
14
g
,
Vitamin A:
6719
IU
,
Vitamin C:
2
mg
,
Calcium:
262
mg
,
Iron:
3
mg