Whether you're baking for a few or a crowd, this overnight baked French toast casserole is sure to wow. So thick, rich, delicious, and chock full of vanilla and eggy goodness, then topped with AMAZING cinnamon streusel and baked to golden perfection and served with syrup.
For more breakfast casserole ideas, head on over to my popular posts for my Apple Dutch Baby, my Biscuits and Gravy Casserole, and my Overnight Cinnamon Roll French Toast Casserole.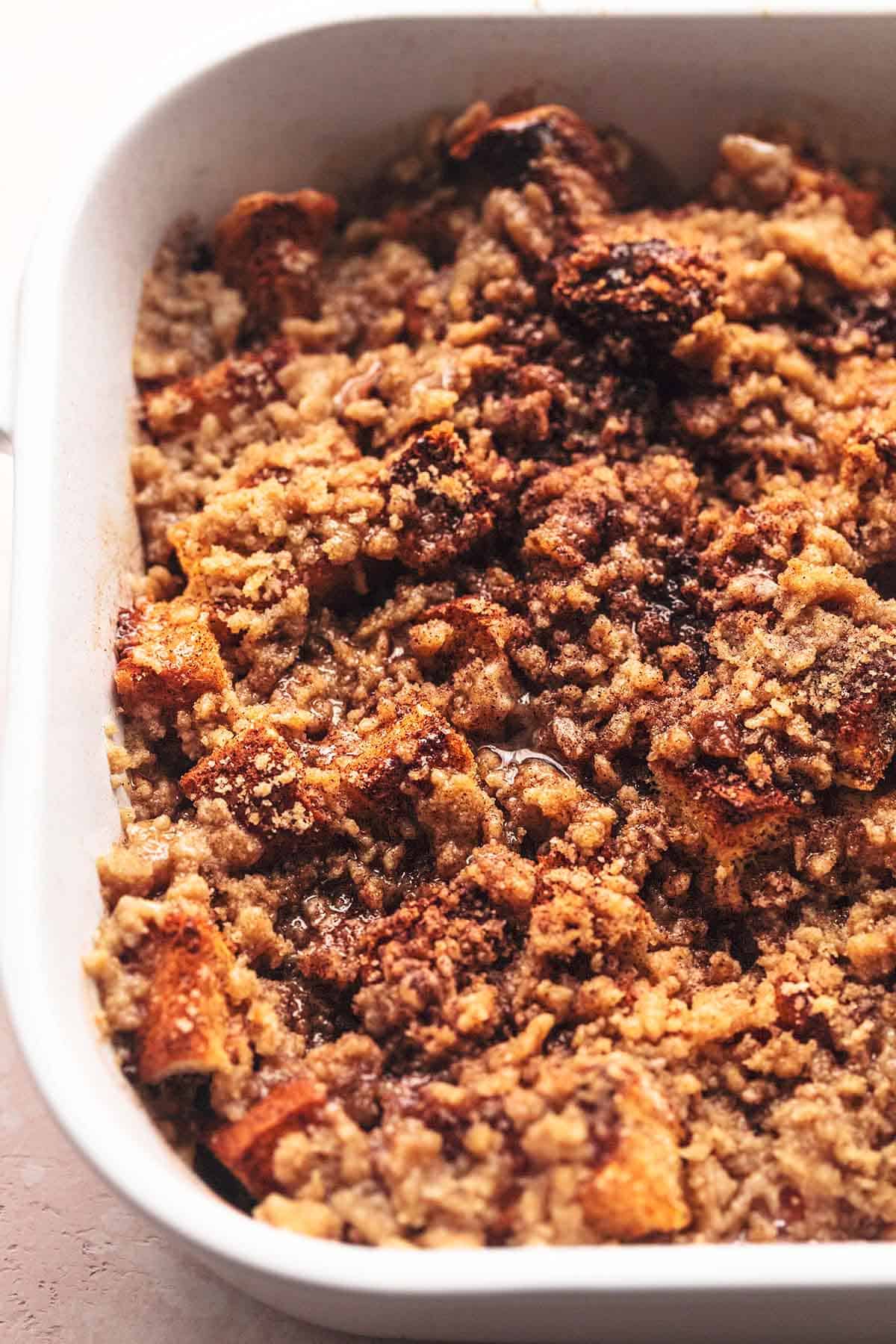 Even though we're all about tradition here at our house, I do like to try new recipes out over our holiday breaks from work and school, especially at breakfast time. It's kind of like Christmas morning every morning in that way, having my three little ones wake to the smells of something yummy baking in the oven.
They don't know it yet but this year they're going to be waking up to the cinnamon-sugar deliciousness of this French toast casserole recipe. It's all the things they love about French toast wrapped up in one easy-to-make casserole dish.
Ingredients You'll Need
Thick-Cut White Bread – I use Texas toast. If you can't find that, any thick-sliced bread will do, or purchase a whole loaf and cut it thickly (but evenly) yourself.
Fat Free Half and Half – I find that, with all the other ingredients, fat free half-and-half works great. But you can use whole milk or heavy cream, too, if you prefer.
Eggs – I use large eggs. If you only have medium, you might need 7 eggs because they are smaller.
Vanilla Extract – I prefer real vanilla extract over imitation whenever possible. I think the real flavor comes through more in pure extract, but you can use whatever you have on hand.
Sugar – Any refined, white sugar is good here.
Syrup – What's a breakfast French toast without maple syrup? Mmmm I love it but if you're not a fan, you can leave it off.
Powdered Sugar – I like to serve this overnight French toast with a dusting of powdered sugar right after I bake the casserole and before serving. Tasty and pretty!
Butter – Chill the butter and cut into cubes before using in the streusel. I prefer to use unsalted butter.
Flour – Any brand all-purpose flour works for the brown sugar cinnamon streusel topping.
Brown Sugar – Brown sugar in the cinnamon streusel tastes better than regular sugar. Any type of brown sugar will do (make sure it's not old and clumpy or hard though).
Cinnamon – Any well-known cinnamon brand works just great in this recipe.
Salt – Just a pinch of salt helps the flavors of all the other ingredients really stand out.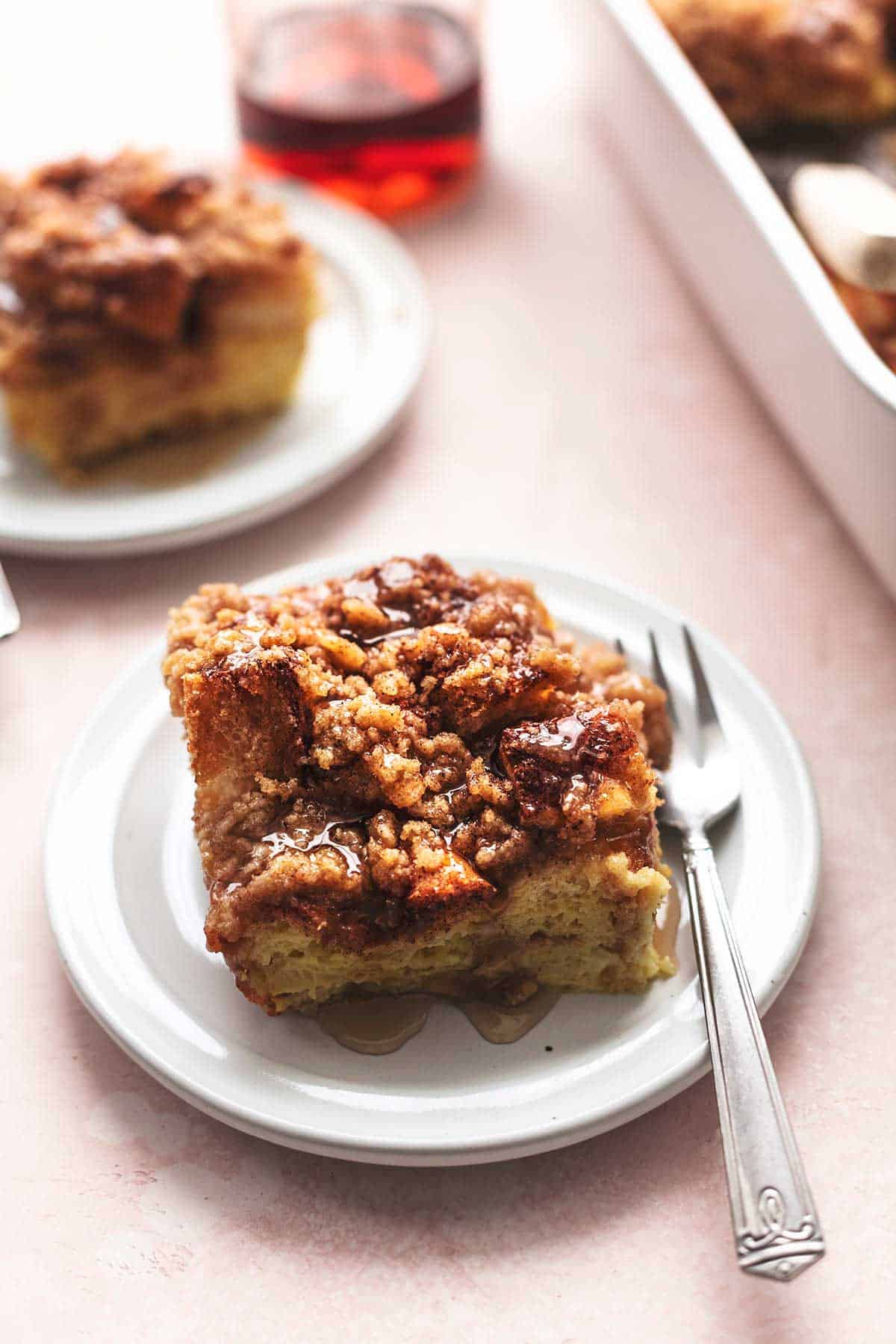 Why this Recipe Works
Texas toast — Sure, you can use any bread you want, but I think you'll enjoy this French toast bake more if you have some thick bread to soak up all the egg batter overnight.
Streusel — Guys, this cinnamon streusel takes French toast to the next level. It's all warm and crumbly and buttery and…BRB I have to wipe some drool from my mouth just thinking about it.
Overnight set — You really do need to let the bread soak up all the ingredients overnight or at the very least 4 hours for this cinnamon french toast casserole to truly work. It'll be worth the wait, I promise.
Leftovers — Unless you have a bunch of hungry breakfast monsters in your house like I do, you'll probably be lucky enough to have some leftovers. And let me tell you, this is just as amazing the next morning!
Step By Step Directions
Preparing the French toast
Use cooking spray to grease a 9 x 13-inch baking dish or casserole pan. 
Cut bread into 1-inch cubes, then add the cubes to the prepared pan or dish. 
Next, whisk together the milk (I used whole dairy milk), eggs, vanilla, and sugar in a bowl or large measuring cup. 
Pour this mixture over the bread cubes. Try to get them as evenly covered as possible so none of the bread is dry. Cover the pan with plastic wrap and put in the fridge.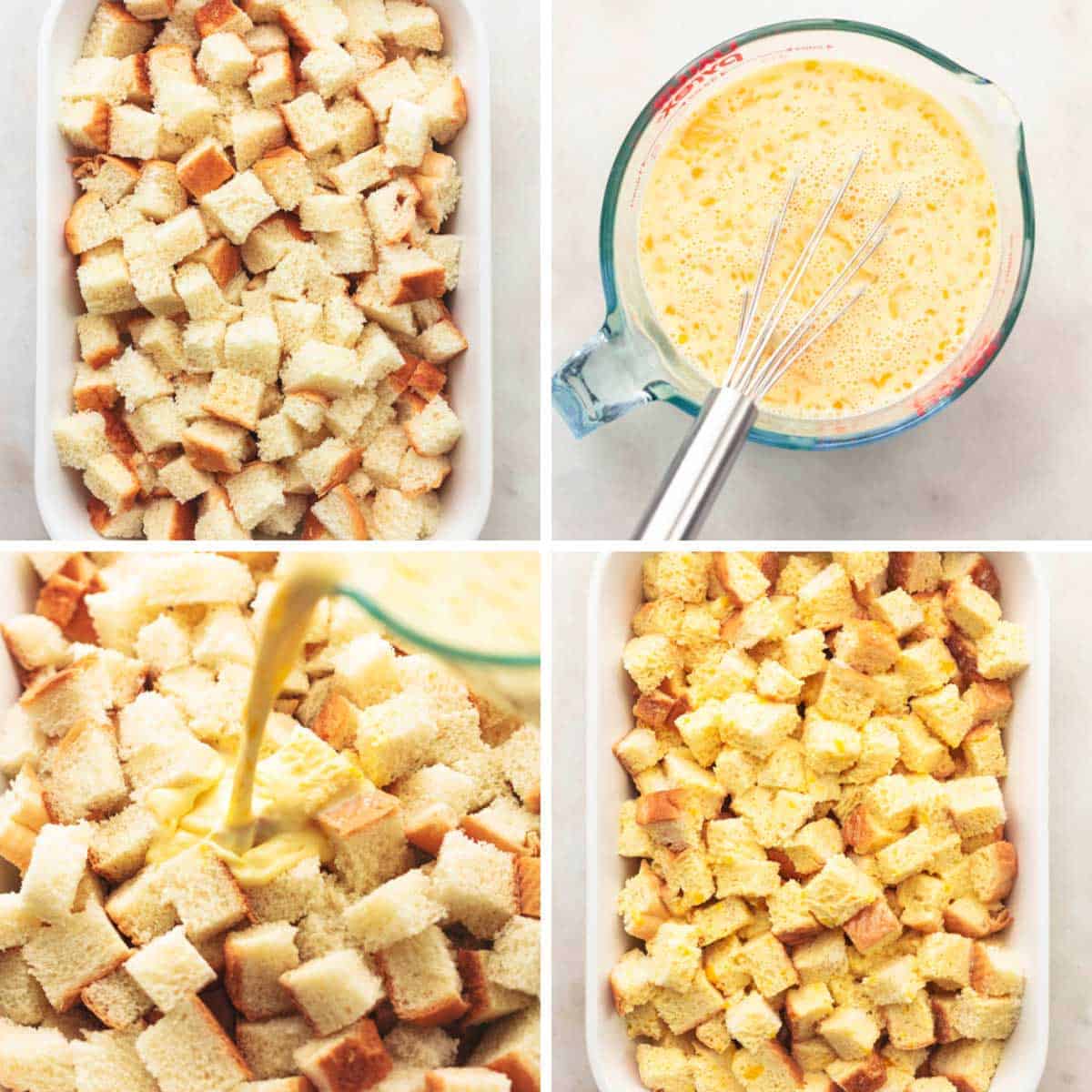 Preparing the Streusel
In another medium-size bowl, whisk together flour, brown sugar, cinnamon, and kosher salt. Using a fork or pastry cutter, cut the butter into the flour mixture. 

When the mixture starts to look like coarse crumbs, smoosh it with fingers to work the butter in just a bit more. 

Cover this bowl tightly with plastic wrap and pop it in the fridge alongside the casserole dish for four hours or overnight.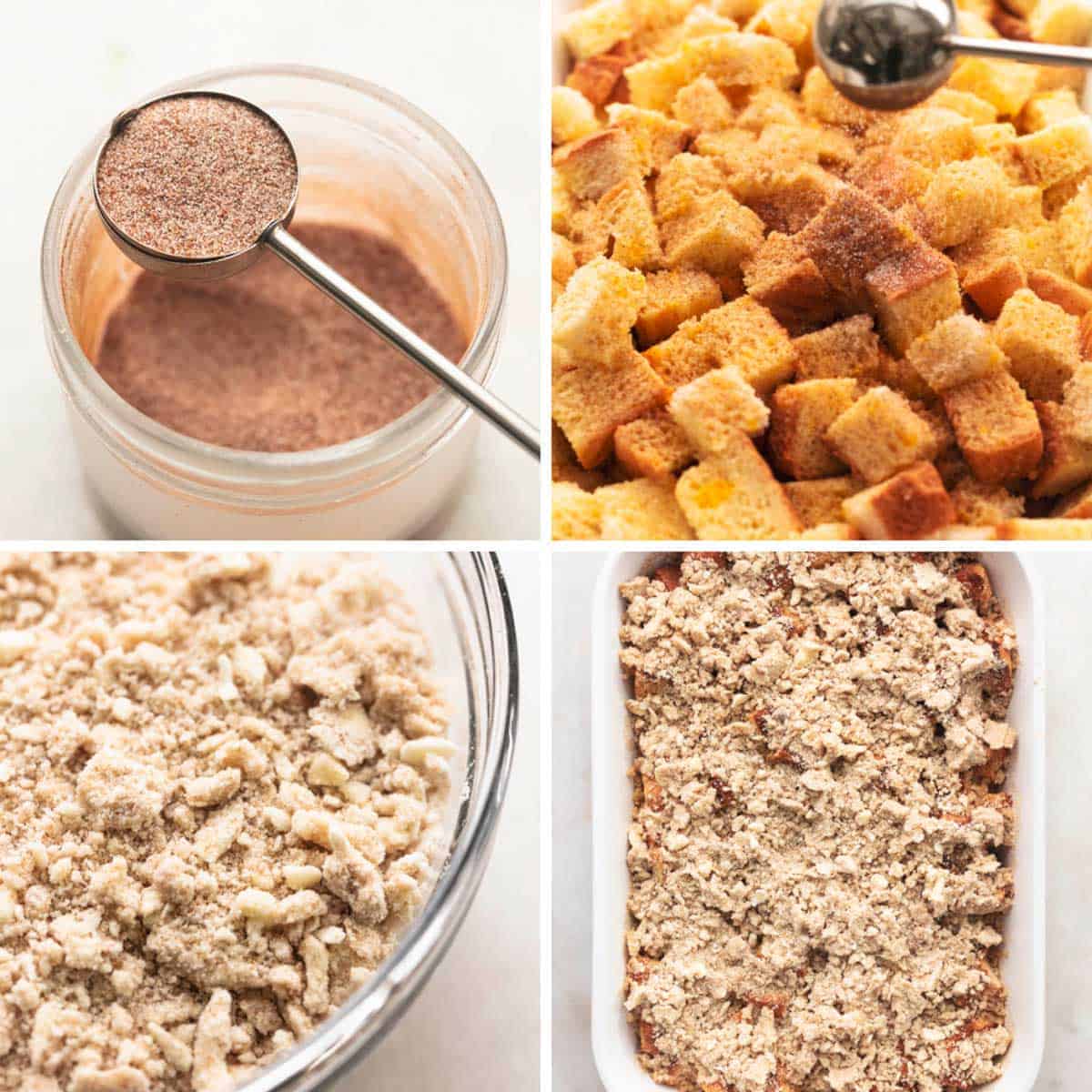 Putting it together
Preheat the oven to 350 degrees.
Take the plastic wrap off the casserole dish and cover it with foil.
Bake the bread mixture for 30 minutes, covered.
Take off the foil, and sprinkle the streusel mixture over the top. Pop it all back in the oven for another 20-25 minutes, or until the bread is cooked through to your desired doneness.
Drizzle the French toast casserole with syrup, cut, and serve!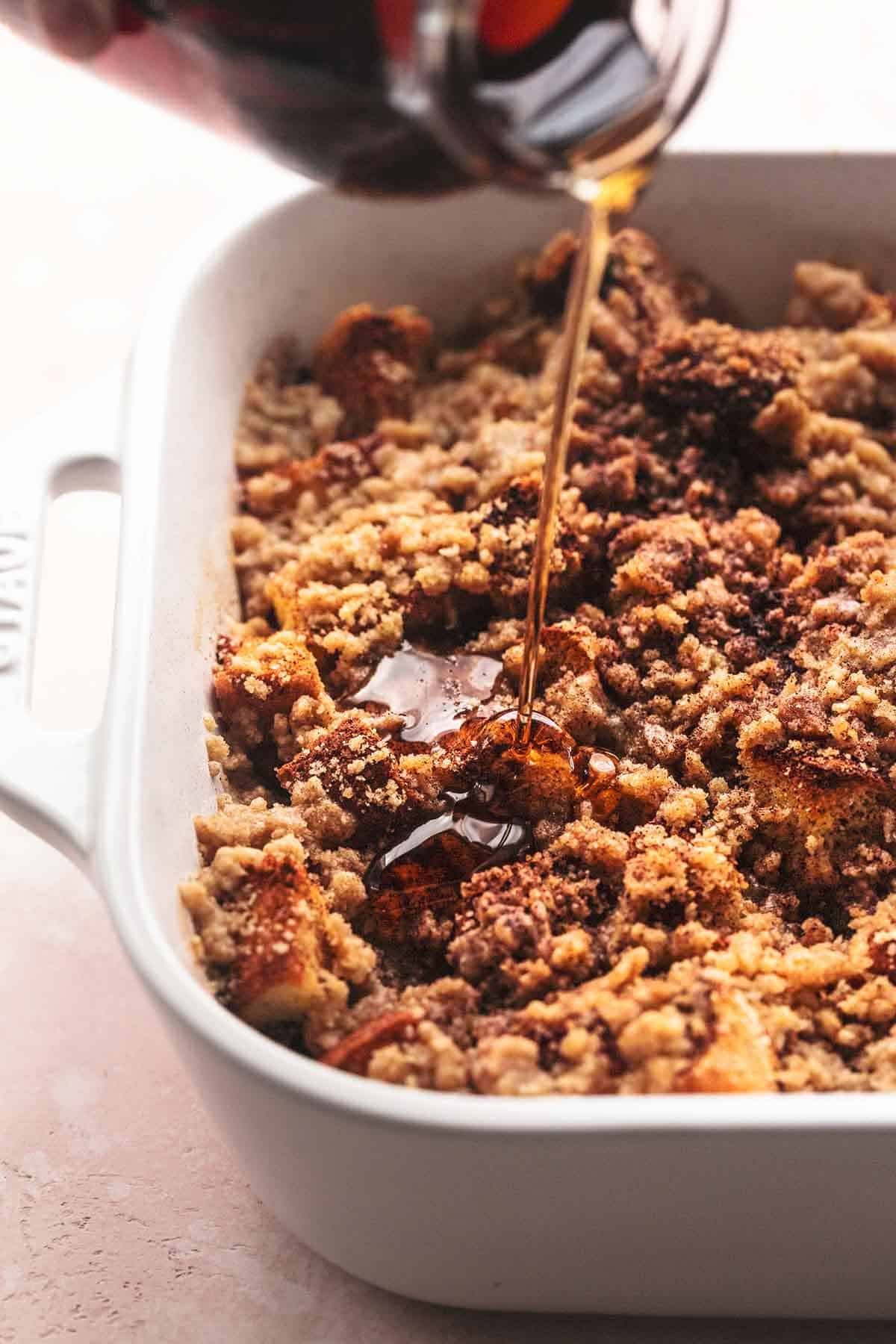 What Type of Bread is the Best?
The best type of bread for this French toast casserole is a kind I find at the grocery called "Texas toast." It's basically just a white bread baked in a square shape and cut quite thick. The thick bread helps hold the egg mixture without getting too soggy.
If you can't find Texas toast, any thick-sliced bread will do: From French bread to sourdough bread and from Italian to whole wheat. You'll cut the thick slices into bread cubes before adding egg mixture and getting it read to bake.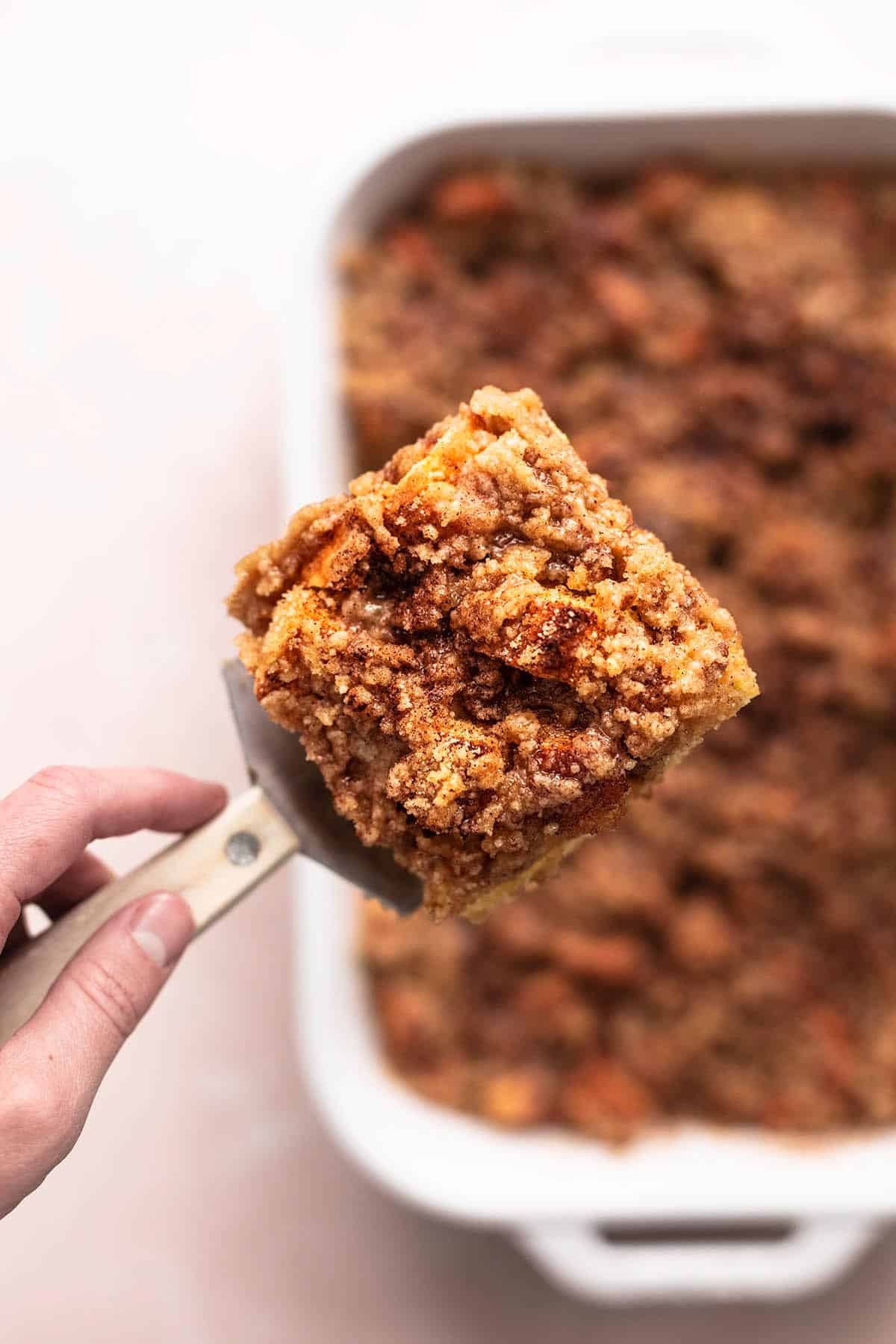 Expert Tips and Tricks
One of the most common complaints I hear about French toast bake is that it's too soggy. That's why I think thicker slices of bread work better here, to really absorb that egg mixture and bake up without getting soggy.
Also, be sure to really pour the egg mixture over the bread as evenly as you can, so that you don't end up with some overly soaked, wet pieces that won't bake as well as the drier pieces.
Another trick is to cover the casserole dish and bake it for a longer period of time. Bake the French Toast Casserole for 30 minutes covered with foil before removing the foil and baking for another 15-20 minutes. This ensures the bottom is fully cooked through by the end and you don't get soggy bread on the bottom and crisp bread on the top!
Finally, make sure you bake the bread for 30 minutes first before adding the streusel and baking some more.
Store leftovers

in the fridge, tightly wrapped or in a lidded container, for up to three days. Eat cold or warm in the microwave.

Let's talk bread

: While I always use "Texas toast" (thick-cut bread) for French toast, you can use any bread you like. I just think that thicker is better because it absorbs the egg mixture best and will hold up to cooking without getting too mushy. But regular bread or sourdough works great too!

I think it's easiest to

make the cinnamon streusel

while I'm making the French toast, but you could totally make it before you bake the casserole. If you do make it ahead of time, do refrigerate with the bread so that the butter remains cold before baking.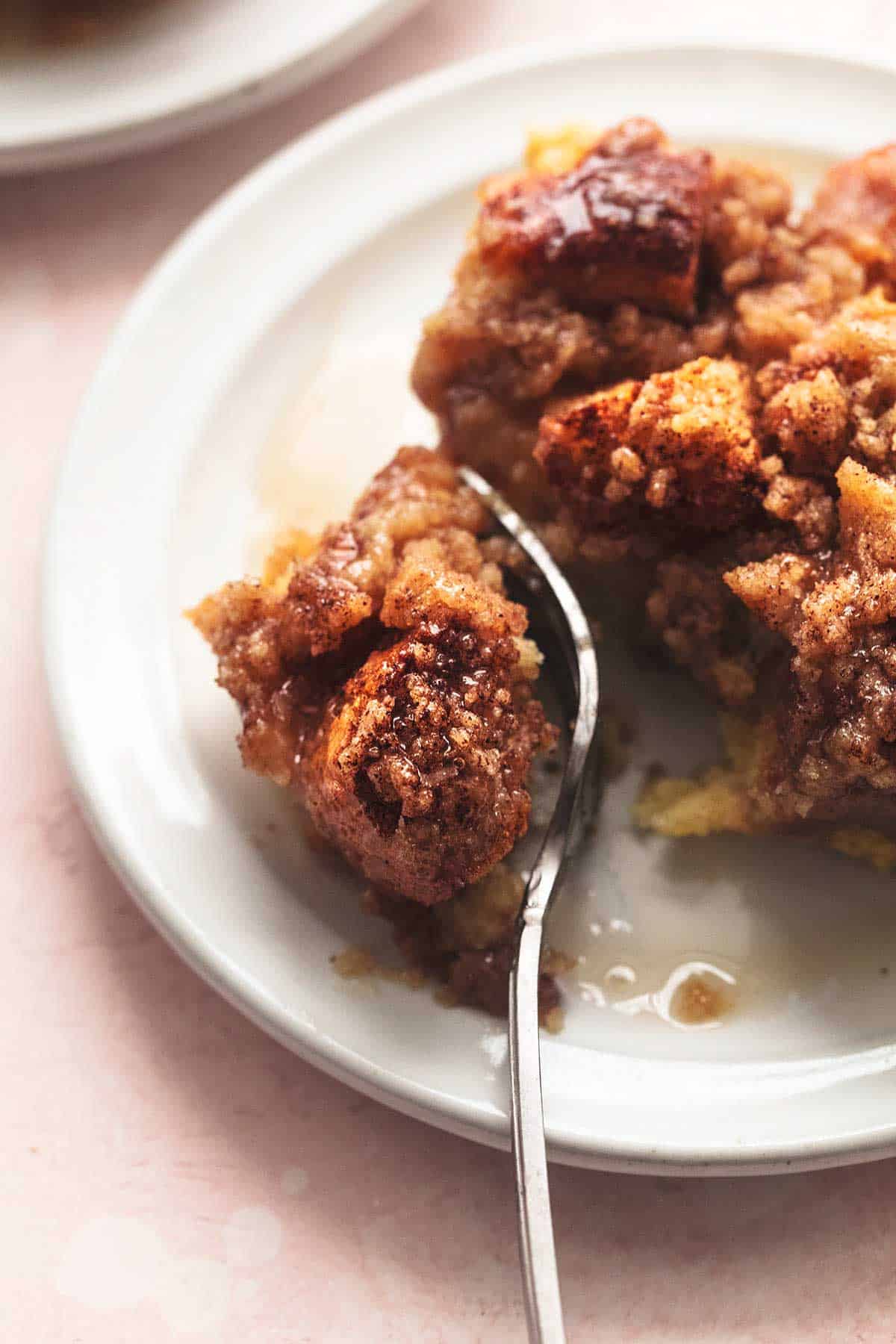 Storage Instructions
Yes, you can prepare this French toast casserole ahead of time and freeze. I bake it uncooked. So prepare the casserole up through step 6. After it's chilled in the fridge, seal it tight and put it in the freezer for up to 2 months.
When it's time to bake, first thaw in the fridge overnight then bake at 350 degrees for 30 minutes covered, then take the cover off and put back in the oven to bake another 20-25 minutes or until the bread is cooked through.
If you prefer to be baking French toast casserole before freezing, just know that it will be pretty dry after you reheat it.
More Amazing Breakfast Recipes
Did you make this French Toast Casserole recipe? YAY! Please rate the recipe below!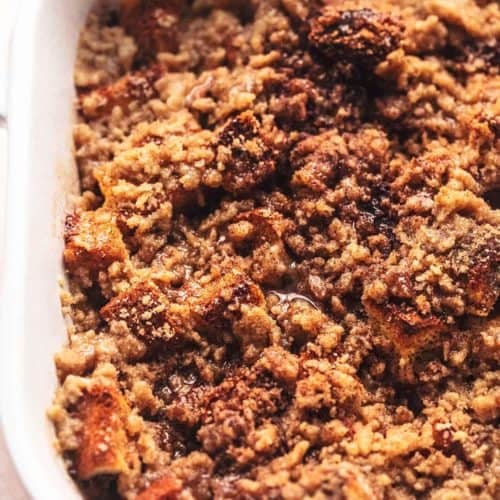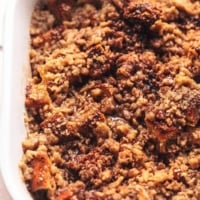 French Toast Casserole Recipe
Easy overnight French Toast Casserole topped with cinnamon streusel and baked to perfection. Serve with syrup and powdered sugar for the ultimate breakfast!
Ingredients
12

slices

thick-cut white bread

-

often called "Texas toast"

2

cups

fat free Half and Half

-

or whole milk

6

large eggs

1

teaspoon

vanilla extract

3

tablespoons

sugar

syrup and powdered sugar for serving
Cinnamon Streusel
8

tablespoons

butter

-

chilled and diced into small cubes

⅔

cup

flour

⅔

cup

packed brown sugar

1

teaspoon

cinnamon

⅛

teaspoon

salt
Instructions
Lightly grease a 9×13 inch baking pan/casserole dish.

Cut bread slices into 1-inch cubes. Fill prepared pan with the bread cubes.

In a large liquid measuring cup or bowl whisk together milk, eggs, vanilla, and sugar.

Slowly pour egg mixture over the bread cubes, making sure to get them all covered as much as possible so you don't have any dry bread showing. Cover pan tightly with plastic wrap and set aside.

In a medium bowl whisk together the flour, brown sugar, cinnamon, and salt for the streusel. Use a fork or pastry cutter to cut butter into flour mixture. Once mixture resembles coarse crumbs, smoosh it with your fingers to work the butter into the mixture a little more.

Cover bowl tightly with plastic wrap and refrigerate along with the casserole for at least 4 hours, or overnight. (See note)

Preheat oven to 350. Remove plastic wrap from the casserole dish and cover with foil.

Bake for 30 minutes, covered, then remove foil, sprinkle streusel mixture over the top, and bake for another 20-25 minutes until bread is cooked through to your liking (I like it baked through a little more and more "dry" throughout so I bake mine for 25-30 minutes).

Drizzle with syrup, cut into squares, and serve!
Notes
For the bread… I always use "Texas toast" for this casserole, it is a thick-sliced, soft white bread and it can be found with the regular loaves of bread in the bread aisle. You can also use a loaf of sourdough bread!
For the streusel… You can make this ahead, as written in the recipe, or just before baking the casserole. It does not necessarily need to be refrigerated before using, but if you are making it the night before I recommend leaving it in the fridge to keep the butter cold until you're ready to use it. 
Nutrition
Calories:
318
kcal
,
Carbohydrates:
55
g
,
Protein:
11
g
,
Fat:
6
g
,
Saturated Fat:
2
g
,
Cholesterol:
127
mg
,
Sodium:
348
mg
,
Potassium:
266
mg
,
Fiber:
1
g
,
Sugar:
28
g
,
Vitamin A:
228
IU
,
Vitamin C:
1
mg
,
Calcium:
209
mg
,
Iron:
3
mg