This easy recipe for Baked Garlic Parmesan Potato Wedges will blow you away with its simplicity and fantastic flavor! These make a great side dish or appetizer for parties!
Try these other side dishes with your favorite meals: Bacon Avocado Potato Salad, Best Ever Creamy Sweet Macaroni Salad, and Roasted Lemon Garlic Broccoli & Cauliflower.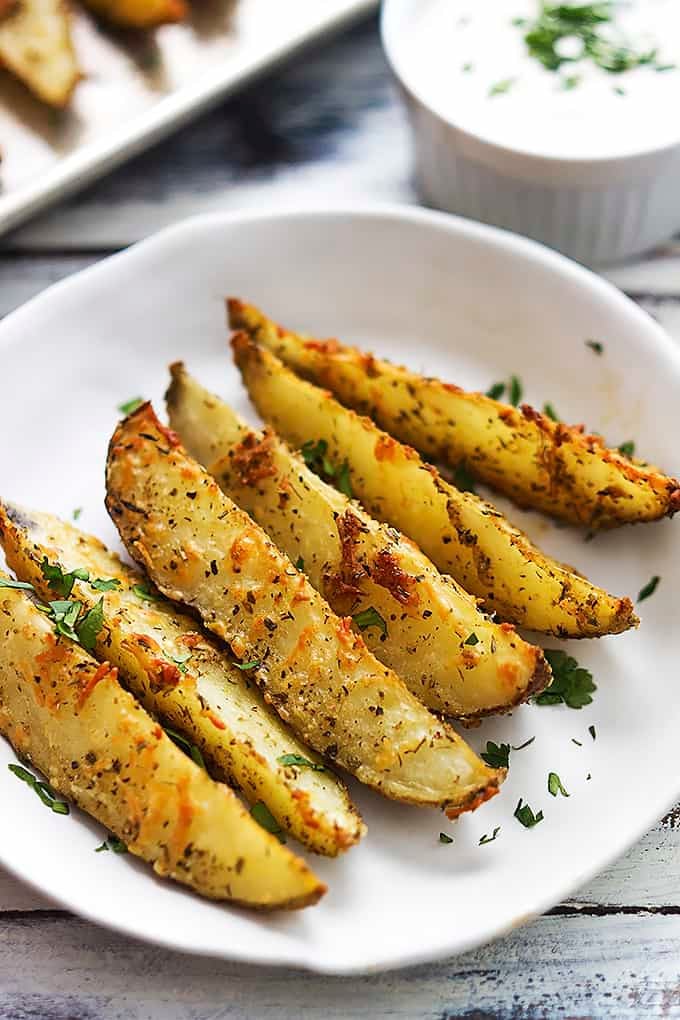 Fries are my weakness. Many a time my sky-high metabolism younger self and brother made midnight french fry runs to the local Wendy's/Carls Junior/Mickey-Ds/whoever is open at that unsightly hour. I've tried to get a handle on my addiction in my adult years by ordering fries on the side only here and there when eating out, instead of going with the fries-with-everything motto I endorsed for 20 years.
When my siblings and I went to iHop for breakfast, I ordered chicken strips and fries. Pancakes are great but they just can't win out over deep fried potatoes and ketchup.
These days, like I said, I try to order fries less frequently – for obvious health reasons. Often times I'll just share with the husband, he doesn't mind giving up a few. Or 60%. He's awesome like that.
And when I'm craving some variety of fry while at home in my sweats, I usually make my own instead of heading out for a to-go order.
"A medium fry, please".
"Yes, that will be all".
This latest semi french fry is sort of blowing my mind. So crispy and loaded with yummy garlic and Italian flavors. I could never turn down garlic and cheese. On french fries nonetheless!
I dipped these beauties in blue cheese dressing with freshly chopped parsley. Oh my heaven. Wendy's natural cut fries have nothing on these baked garlic parmesan potato wedges. And like I said, I'm a sucker for those. So when I say these are worth making, I really mean – GO MAKE THESE!
Like yesterday.
What people are saying about these Baked Garlic Parmesan Wedges
"Wow! These were amazing! I actually really don't like oven fries ever. But I still try and make them b/c they are healthier and cheaper than store bought frozen. These were SO good! I could totally see wanting to eat these, and only these, for a dinner or a snack! YUM!" – April
"These are awesome!!! I made these the other night and they came out amazing! I love french fries and these tasted like they were from a restaurant. They took a little longer to cook to get them crispy and I put them under the broiler for 1.5 minutes, otherwise I followed the recipe. My boyfriend loved them and said they were perfectly seasoned and salty and didn't sprinkle more salt on them (and he puts extra salt on everything)! Great recipe! Thank you!" – Tara
"Thank you so much for the potato and parmesan recipe! It was easy and my husband and two year old loved them and they are very picky! This will be a weekly staple!" – Sarah
"Made these for the first time last night for the family. My kids can be picky eaters, especially my 10 year old son. Not last night. Both kids wanted seconds and then argued about who would get the 6 left over fries for breakfast. These were fantastic and I can see them becoming a regular part of the rotation. Paired with some T-Bone steaks that were on sale. A little blue cheese for the fries, a little for the steak…" – Matt
Baked Garlic Parmesan Potato Wedges
Garlic and parmesan seasoned potato wedges oven roasted to golden tender perfection!
Ingredients
3-4

large

russet potatoes,

sliced into wedges

4

tablespoons

olive oil

2

teaspoons

salt

2

teaspoons

garlic powder

2

teaspoons

Italian seasoning

1/2

cup

shredded parmesan cheese

optional: fresh parsley (or cilantro),

ranch or blue cheese dressing for dipping
Instructions
Place potato wedges in a large bowl. Drizzle with olive oil and toss to coat. In a small bowl whisk together salt, garlic powder, and Italian seasoning. Sprinkle potato wedges with the shredded cheese, tossing to coat, then sprinkle with the seasoning mixture.

Place potato wedges on prepared baking sheet in a single layer with skin-sides-down. Bake for 25-35 minutes until potatoes are fork-tender and golden. Sprinkle with freshly chopped parsley and dressing for dipping.
More Popular Recipes
Easy Healthy Baked Lemon Chicken
One Pan Garlic Herb Chicken and Asparagus
Cheesy Garlic Parmesan Spinach Orzo