Garlic Parmesan Oven Fries – Easy and crispy oven baked fries with cheesy parmesan and garlic seasoning that the whole family will love!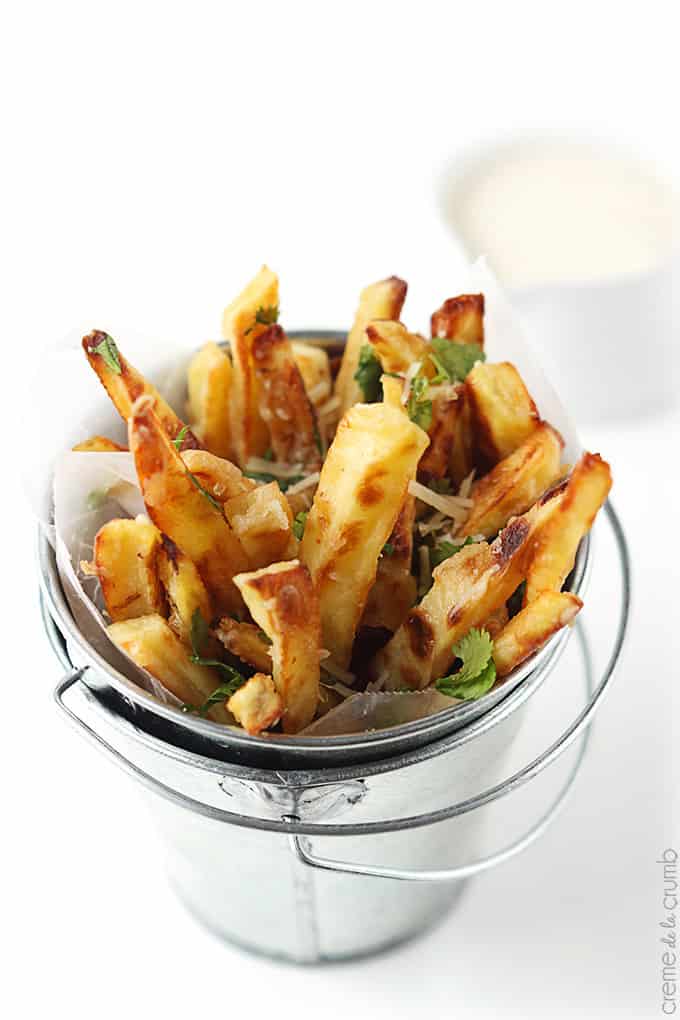 I'm such a sucker for fries. I like em all. Whether they are coated in garlic and parmesan cheese or cut into waffle shapes, I gotta have them. And not just with a burger. I'll eat them with anything. Fish, tacos, pancakes, it mattereth not. I shall eat them. All of them.
At one point I considered a professional French-fry-taste-testing career but, it's the darnedest thing – I couldn't get anyone to hire me. Weird. I mean, I really know my stuff. Sweet potato fries, steak fries, natural cut fries…. I'm something of a connoisseur you know. Eventually I let that dream go. But my craving still needs to be satisfied and I feel slightly guilty when I make a midnight run to the local Arby's so, I make my own. Today? Garlic Parmesan Fries.
(que the angelic choir)
These fries are great all by themselves, I'd take a bucket of these babies alone any day of the week. But I'm a dipper. So naturally, I dipped these in both blue cheese and ranch dressing. Both amazing. I highly suggest you get yourself some dipping sauce and give these fries a little dunk, you will not regret it.
And is anyone else petrified of deep frying? Anyone? I'm a stinking scaredy cat. It's an unrealistic fear, I know. But when I can make super crispy, perfectly seasoned fries right in the oven, I don't really feel the motivation to confront the deep fryer. I don't own one and frankly, I'm not sure that I ever will take that leap. My oven does the job! If it ain't broke, don't fix it.
These Garlic Parmesan Fries are sooooo easy to make. You toss the potatoes with a little oil and salt, roast them up in a 425 degree oven, sprinkle them with a little garlic seasoning and parmesan cheese and bam – crispy oven fries. And throwing a little bit of chopped parsley in the mix will make anything feel gourmet, even French fries, so these can be served up for a casual dinner at home with the fam, or a special occasion with guests! Either way, these are sure to impress!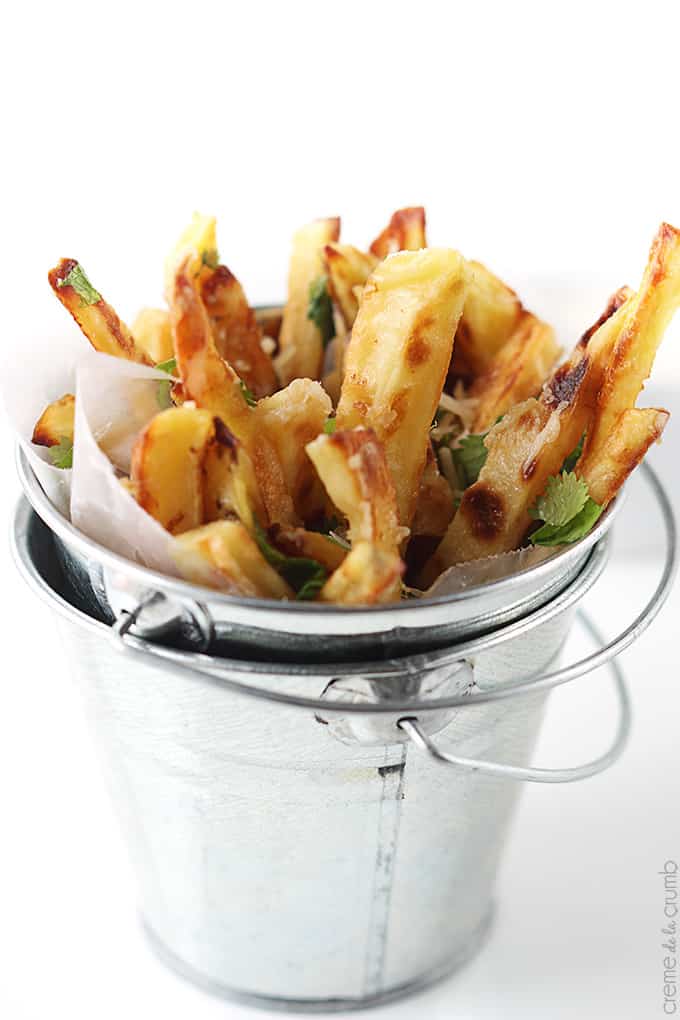 Garlic Parmesan Oven Fries
Crispy oven baked fries with cheesy parmesan and garlic seasoning!
Ingredients
2

medium

russet or idaho potatoes

-

peeled and cut into thin french fry strips

2

teaspoons

oil

1

teaspoon

salt

2

teaspoons

garlic powder

¼

cup

shredded parmesan cheese

2

tablespoons

fresh parsley

-

finely chopped

optional: ranch or blue cheese dressing for dipping
Instructions
Preheat oven to 425. Place cut potatoes, olive oil, and salt in a large zip lock bag. Seal and toss to coat. Spray a large baking sheet generously with cooking spray and spread potatoes out in a single layer on the sheet. Bake 15-20 minutes. Use a metal spatula to carefully flip fries over. Cook other side 15-20 minutes longer.

When fries are golden/brown and crispy remove from oven and transfer to a large bowl. Sprinkle with garlic powder, parmesan cheese, and chopped parsley. Toss to coat. Serve with optional ranch or blue cheese dressing for dipping. Enjoy!
Notes
Serve with your favorite dipping sauce – ketchup, blue cheese dressing, ranch dressing, or fry sauce (50/50 mayo + ketchup). 
Nutrition
Calories:
132
kcal
,
Carbohydrates:
20
g
,
Protein:
5
g
,
Fat:
4
g
,
Saturated Fat:
1
g
,
Trans Fat:
1
g
,
Cholesterol:
6
mg
,
Sodium:
685
mg
,
Potassium:
485
mg
,
Fiber:
3
g
,
Sugar:
1
g
,
Vitamin A:
225
IU
,
Vitamin C:
24
mg
,
Calcium:
86
mg
,
Iron:
1
mg
Recipe adapted from Cooking Light Comfort Food