Spicy, Baked Garlic Sriracha Fries baked to tender and crispy perfection right in the oven – no frier needed!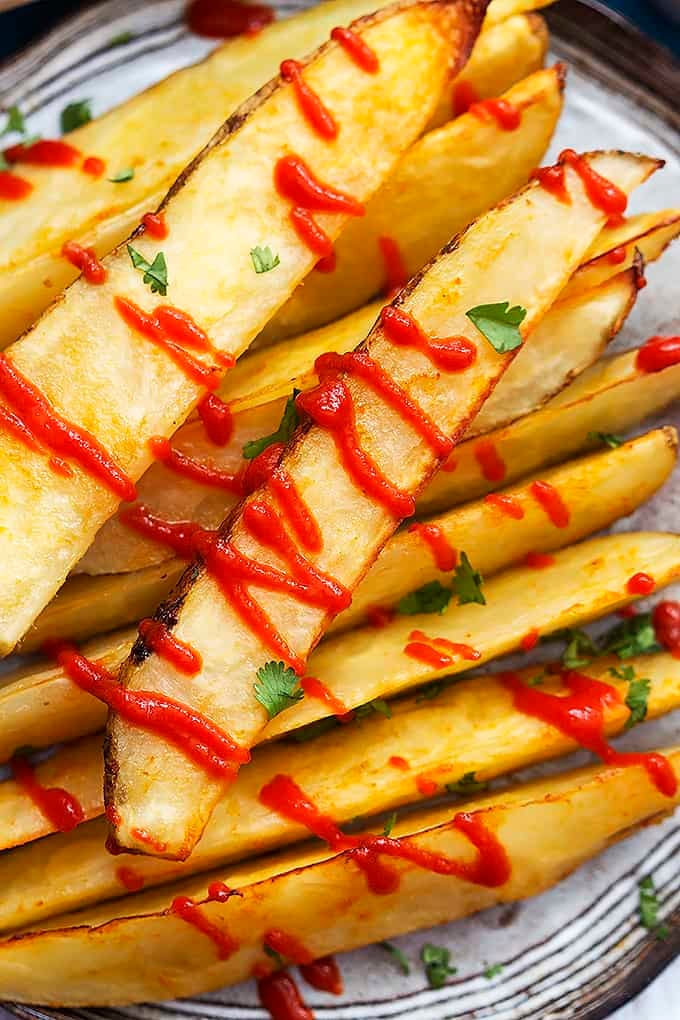 Welcome to Spicy Town everybody!!
Sometimes I get so excited about a recipe idea, and then I make it, and it's even better than I'd hoped it would be – which is 110% alright with me – but then I think of another really amazing recipe and I make it and it comes out incredible too and the cycle keeps going on and on and on and I get so caught up in dreaming up/taste-testing/perfect/yammering on about yummy food forget to share one of those recipes with you…
I really, truly, am sorry for when that happens. Even though you don't really know the difference, I still feel a tad bit guilty for hoarding such yumminess, however unintentional the hoarding may be.
You: "Just get to the point already!!!"
Me: Whoops! Here we go…. I made these spicy baked garlic sriracha fries about two months ago and sort of kind of maybe forgot about them. But not because they weren't delicious! Because oh… are they delicious. But mostly because I got distracted by my senior thesis for graduation (kind of important) and a family emergency (it happens) and going on my graduation cruise to the Carribbean (sorry-not-sorry!) and then last night I'm going through my recipes to see what I might share with you today and I think oh my gosh I never posted those mind-blowing baked garlic sriracha fries!!! will they ever forgive me???
Please say you will.
These babies are a hot-foodie-lover's dream. You sriracha addicts – I adore you – are in the right place because these fries are rubbed in a sriracha-oil-garlic mixture before they even go into the oven so they are saturated with sriracha goodness. Then if you really can't get enough, I suggest you drizzle a whole lotta extra sriracha right on top of those fries and dip them into creamy cool ranch or blue cheese dressing. Sound strange?
It's not, it's really really not. Promise.
Baked Garlic Sriracha Fries
Spicy garlic sriracha fries baked to tender and crispy perfection right in the oven - no frier needed!
Ingredients
4

medium

potatoes

-

cut into wedges, (I used russet potatoes)

6

tablespoons

oil

-

(vegetable, canola, olive, etc)

2

tablespoons

sriracha sauce

-

(hot chili sauce, found in the Asian section of grocery stores)

3

teaspoons

garlic powder

salt

-

to taste
Instructions
Preheat oven to 375 and grease a large baking sheet.

Place potato wedges in a large zip lock bag. In a small bowl whisk together oil, sriracha sauce, and garlic powder. Pour mixture into bag with potatoes, seal, and shake to coat well.

Arrange potato wedges (skin side down when possible) in a single layer on prepared baking sheet. Sprinkle with salt to taste.

Bake for 20-25 minutes until fork-tender and edges begin to brown. Serve warm with dipping sauces if desired. If you can handle the heat, drizzle with extra sriracha sauce!
Notes
Optional: additional sriracha sauce, ranch or blue cheese dressing for dipping, parsley for garnish
Nutrition
Calories:
362
kcal
,
Carbohydrates:
40
g
,
Protein:
5
g
,
Fat:
21
g
,
Saturated Fat:
2
g
,
Trans Fat:
1
g
,
Sodium:
184
mg
,
Potassium:
924
mg
,
Fiber:
3
g
,
Sugar:
1
g
,
Vitamin A:
13
IU
,
Vitamin C:
17
mg
,
Calcium:
30
mg
,
Iron:
2
mg