Super easy, crispy oven-baked BEST ever potato wedges with a savory-seasoned outside and fluffy inside, served with the most amazing two-ingredient sauce!
Looking for more tasty baked potato recipes? Check out my popular posts for Roasted Sweet Potatoes, Bacon Cheddar Potatoes in Foil, and 3 Ingredient Oven Roasted Potatoes.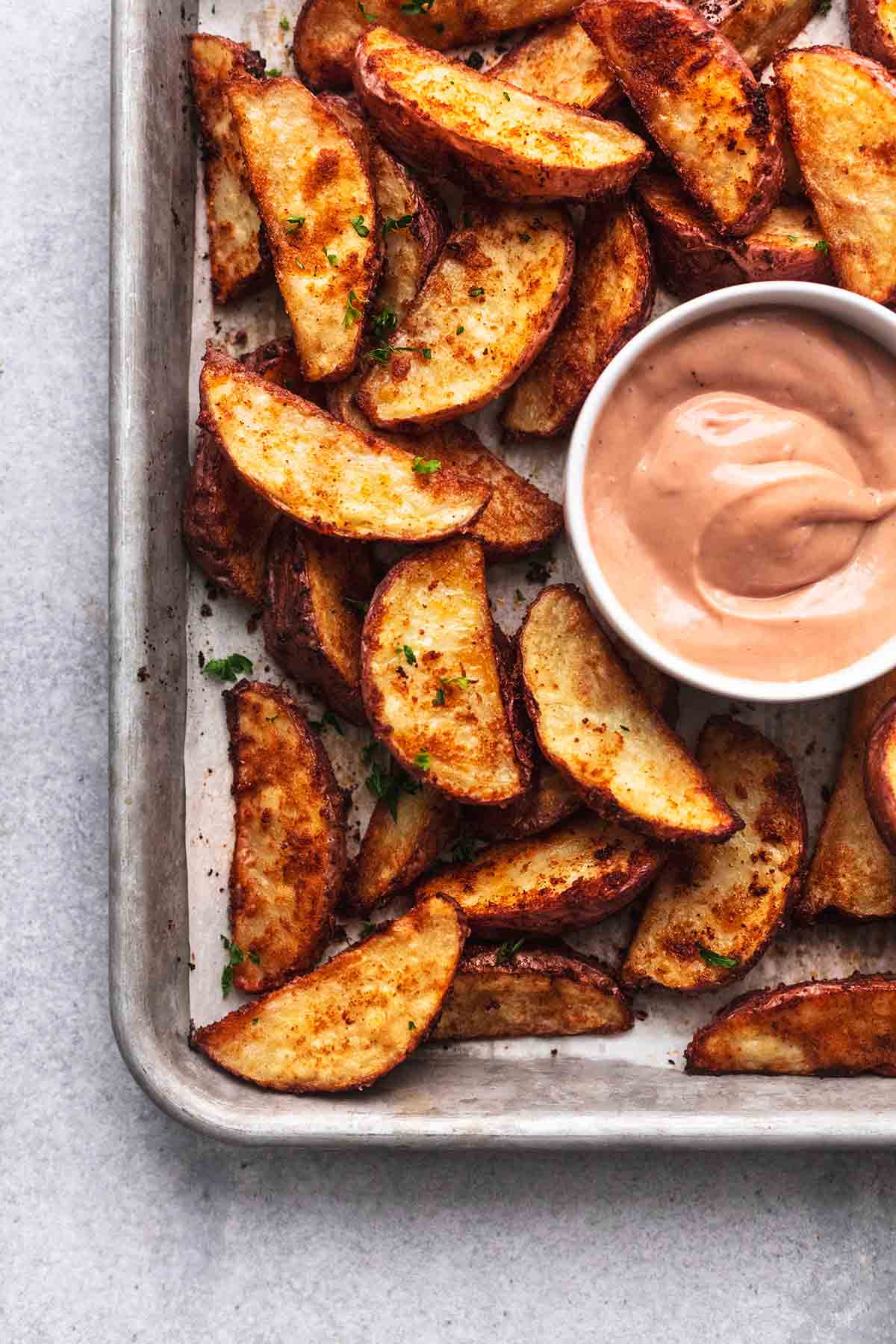 So, there I was, standing inside my pantry door, having a staring contest with a bag of red potatoes. I had been doing this off and on for the past couple of days, trying to think of the best preparation for them. Finally, it hit me: Why overthink this, when I know often that simpler is better? Plus, I needed a great complementary side for the grilled BBQ pork chops we were having for dinner.
So, I grabbed the potatoes and went to work. These easy potato wedges were done in 40 minutes, and easy to pop in the oven while I went outside to tend to the pork chops.
Why This Recipe Works
Red potatoes — While you can use any potato you want for these oven baked potato wedges, I have found that red potatoes work best. They are just the right size to cut down into 8 edges per potato (or more for those unusually big ones you sometimes get in your bag). Plus, they are super tender on the inside with a thin skin that crisps easily.
Simple dipping sauce — Dipping sauces don't get any easier than two ingredients! While some might say ketchup and mayo mixed together is the best sauce, I would say that mayo and barbecue sauce is where it's at! It's the perfect sauce for these baked potato wedges — trust me!
Dry potatoes — Okay I don't mean you find potatoes that are dry, I mean, you should make sure they aren't too wet after cutting and before baking. This ensures a crispy outside. More on how to achieve that in my "tips" below.
Simple ingredients — I've mentioned the TWO ingredient sauce, but the potatoes themselves are also super easy to season too with simple spices like onion powder, garlic powder, paprika, salt, and pepper.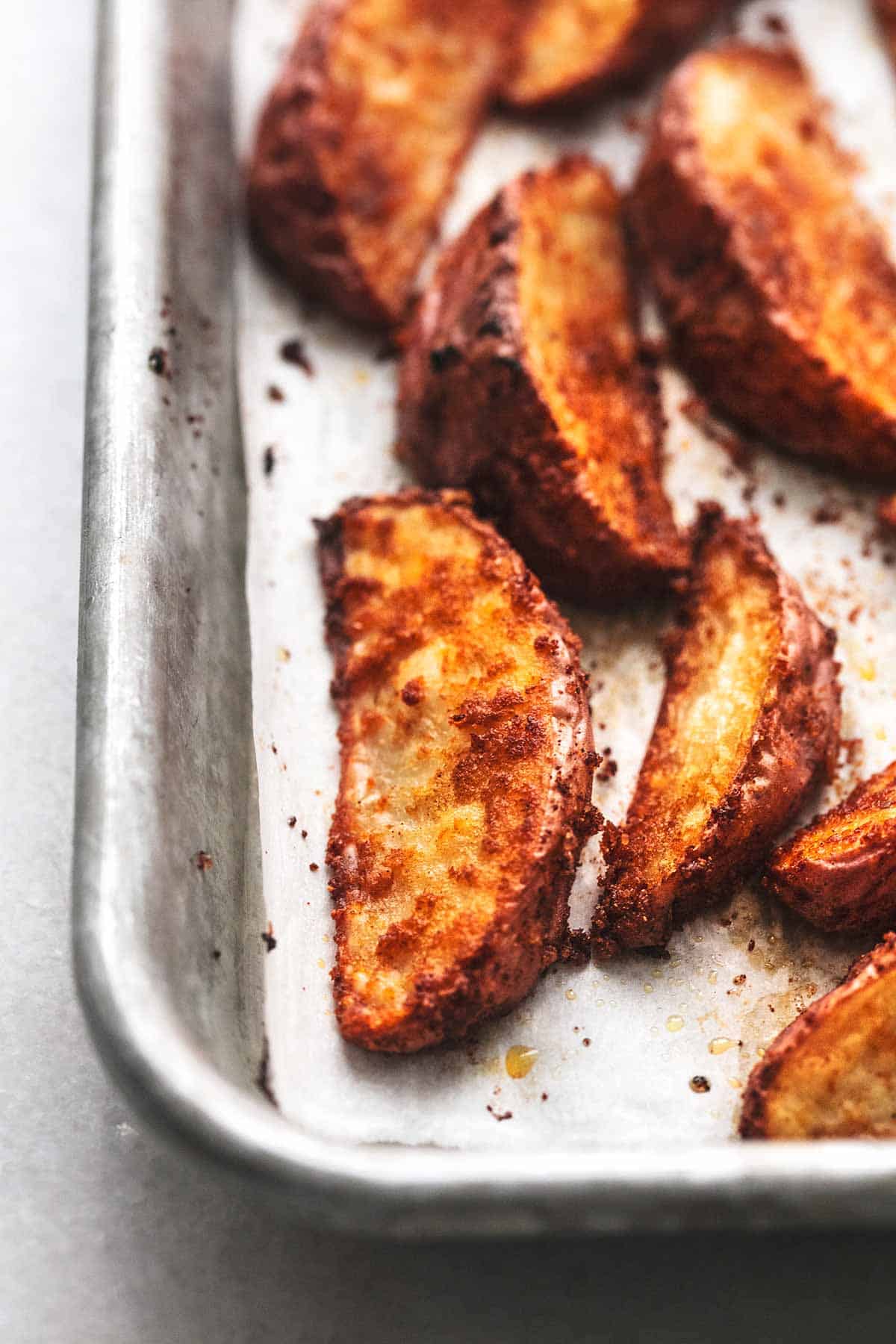 Here's How You Make It
Turn the oven on to preheat at 450 degrees. Then, line a rimmed baking sheet with parchment paper if you have it. 
While the oven preheats, cut the potatoes into about 8 wedges each, more if you have a very large potato. 
Pat the cut wedges with a paper towel to remove excess starch.  
Add the potato wedges to a large bowl with the oil, tossing to coat. 
In another, smaller bowl, stir together the spices, then sprinkle the spice mixture over the potatoes in the bowl. Toss to coat. 
Add the potatoes to the parchment-lined baking sheet, making sure they are all in a single layer and none are overlapping or touching (if possible). 
Put them in the oven for 15 minutes, then take them out, flip the potatoes over and put them back in the oven for another 15 minutes. 
Make the sauce while the potatoes are baking by stirring together the mayo and barbecue sauce. 

Potatoes are done when they are brown and crispy on the edges and fork-tender on the inside. 

Serve the crispy potato wedges with a side of sauce.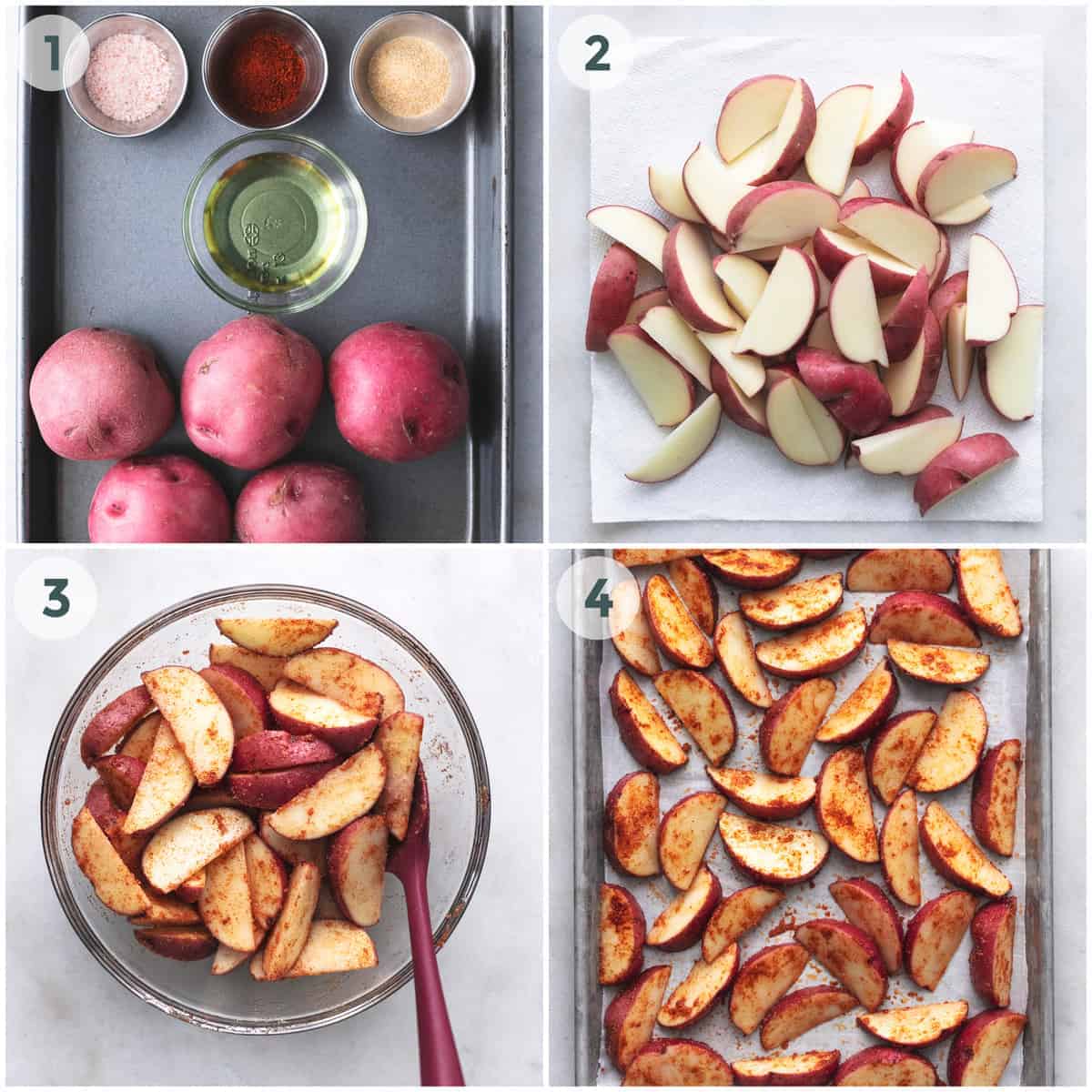 What Are Red Potatoes Called?
If you're on the hunt for red potatoes but don't see any at your grocery store simply called "red potatoes" that's because they may go by another name. They are often referred to as new potatoes because of their size. Or you may see them referred to as red bliss potatoes. Any way you see them named, you'll know to grab a bag so long as they are small, red (sometimes reddish-brown), and they have a very crisp, white flesh when cut into.
Expert Tips

This potato wedges recipe

serves 6

if you are serving as an appetizer, or 4 as a side dish. 

I use

parchment paper to line the baking sheet

before baking these oven-baked potato wedges because I've found it really helps your potatoes to have that crispy "fried" exterior without actually having to use a fryer. If you don't have parchment, it's okay, just spray your baking sheet with cooking spray before adding potatoes and baking. 

Use

paper towels to pat the potato wedges dry

on all sides before tossing in oil and then spices. Patting the potatoes dry soaks up the extra starch and is much easier than soaking the potatoes in water first, then patting dry. This step ensures crispy potato wedges. 

While I swear by my

2-ingredient dipping sauce

made from bbq and mayo, there are other alternatives if you don't like bbq. I have also used ketchup, ranch and blue cheese dressings, fry sauce, and

garlic aioli

. You can use these all plain or mix together with mayo or try two to make your own new favorite sauce.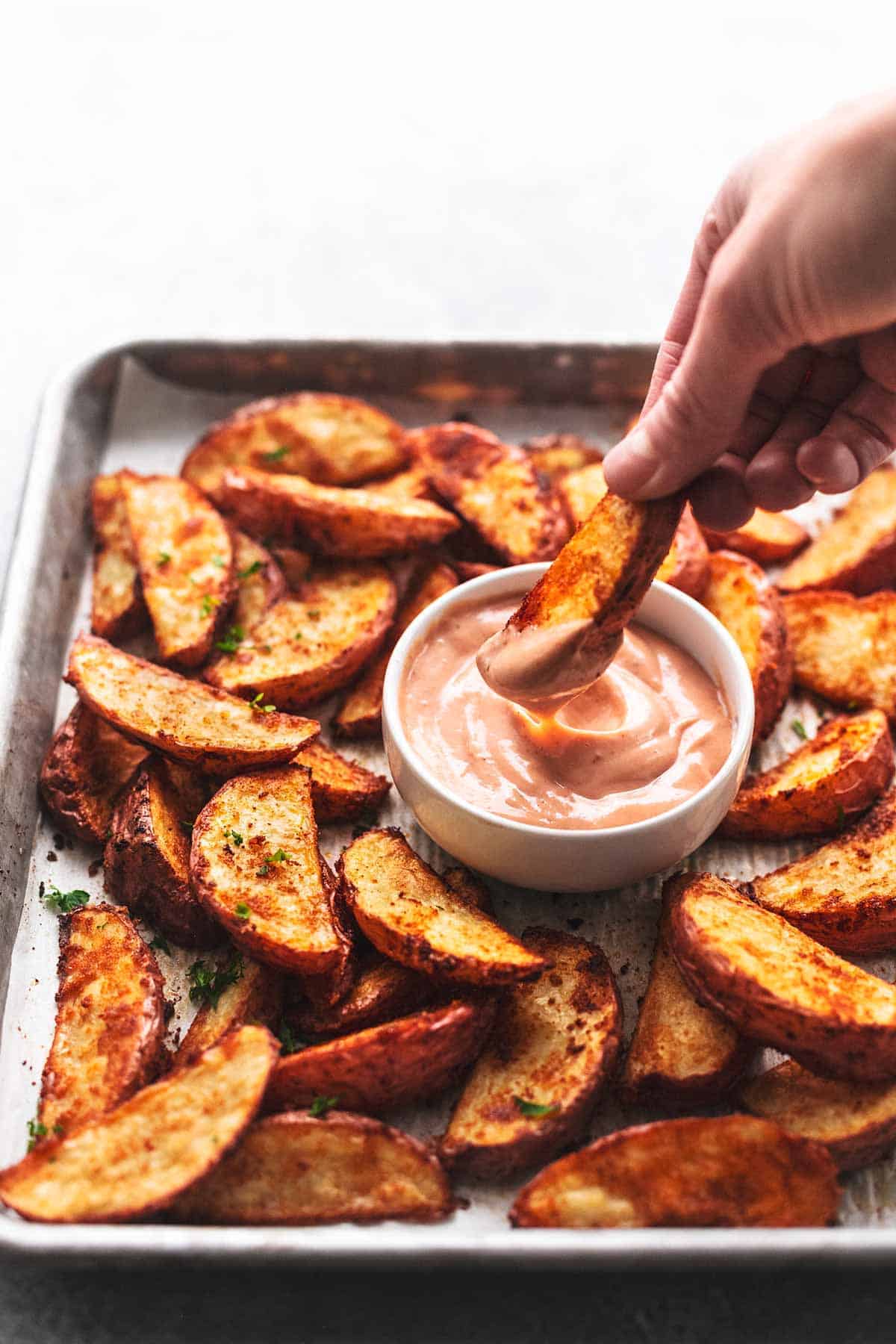 More Delicious Side Dish Recipes
Did you make this Best Potato Wedges recipe? YAY! Please rate the recipe below!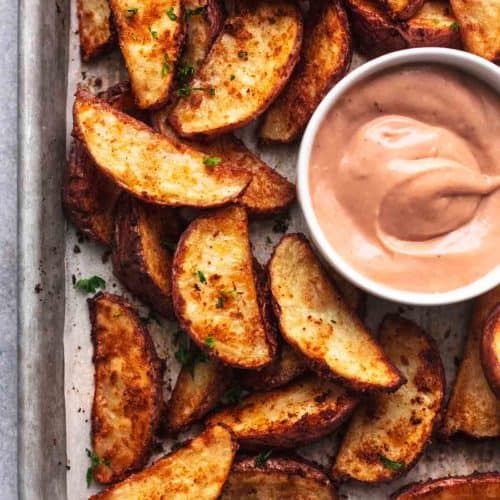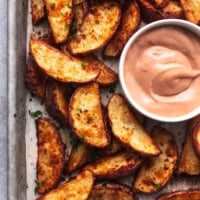 BEST Potato Wedges Recipe
Super easy, crispy oven-baked BEST ever potato wedges with a savory-seasoned outside and fluffy inside, served with the most amazing two-ingredient sauce!
Ingredients
2

pounds

red potatoes

-

about 6-8 potatoes

2

tablespoons

oil

1

teaspoon

salt

1

teaspoon

smoked paprika

-

may substitute regular paprika in a pinch

1

teaspoon

garlic powder

½

teaspoon

onion powder

pinch

black pepper
Dipping Sauce
⅓

cup

mayo

-

regular, or reduced fat

⅓

cup

bbq sauce

-

any favorite bbq sauce works
Instructions
Preheat oven to 450 degrees. Line a large, rimmed baking sheet with parchment. (See note)

Cut the potatoes into about 8 wedges (They should be less than 1/2 inch thick on the wide edge, if your potatoes are larger, cut any larger wedges in half again). Pat the potato wedges dry with paper towels to absorb excess starch. (see note)

In a large bowl, combine potato wedges and oil, toss to coat.

Stir together salt, paprika, garlic power, onion powder, and pepper. Sprinkle over potato wedges and toss to coat.

Transfer potato wedges to your prepared baking sheet, arranging them in a single layer so they aren't overlapping, and doing your best to have them not touching (it's fine if some of them are).

Bake for 15 minutes. Remove from oven, turn over the potato wedges with fork or tongs. Return to oven for 15 minutes. While potatoes are baking, stir together mayo and bbq sauce. Potatoes should be appear browned and crispy on the edges and be fork-tender. Serve with dipping sauce.
Notes
Serving size: Serves six as an appetizer, four as a side dish. My family of two adults and three kids almost always finish off this recipe when I serve it with our favorite meals!
Parchment paper: The parchment paper is key to achieving a really crispy, faux-fried exterior on the potato wedges. If you don't have parchment paper, don't stress! Simply lightly grease your baking sheet and proceed with the recipe, your potato wedges will be delicious! 
Paper towel trick: Many recipes suggest soaking your potatoes to rinse off the excess starch and then letting them sit out for a period of time to dry off after soaking. I've found this step to be unnecessary – I simply lay all of my wedges out on paper towels, then take a couple of extra paper towels and rub them across the cut sides of the wedges to wipe off excess starch. They come out super crispy every time with no soaking or drying time needed!
Alternate dipping sauces: This bbq-mayo dipping sauce is one I grew up eating and everyone I've served it to goes crazy for it. I've used many flavors of bbq sauce and can't say I have a favorite. Other sauce suggestions include ketchup, ranch dressing, blue cheese dressing, fry sauce (50/50 mayo and ketchup), or garlic aioli. 
Nutrition
Calories:
262
kcal
,
Carbohydrates:
31
g
,
Protein:
3
g
,
Fat:
14
g
,
Saturated Fat:
2
g
,
Trans Fat:
1
g
,
Cholesterol:
5
mg
,
Sodium:
658
mg
,
Potassium:
743
mg
,
Fiber:
3
g
,
Sugar:
8
g
,
Vitamin A:
218
IU
,
Vitamin C:
13
mg
,
Calcium:
23
mg
,
Iron:
1
mg