Love garlic aioli but hate how long it takes to get that roasted garlic flavor? Then you'll love this quick-hack version of classic garlic aioli. Just as delicious in half the time!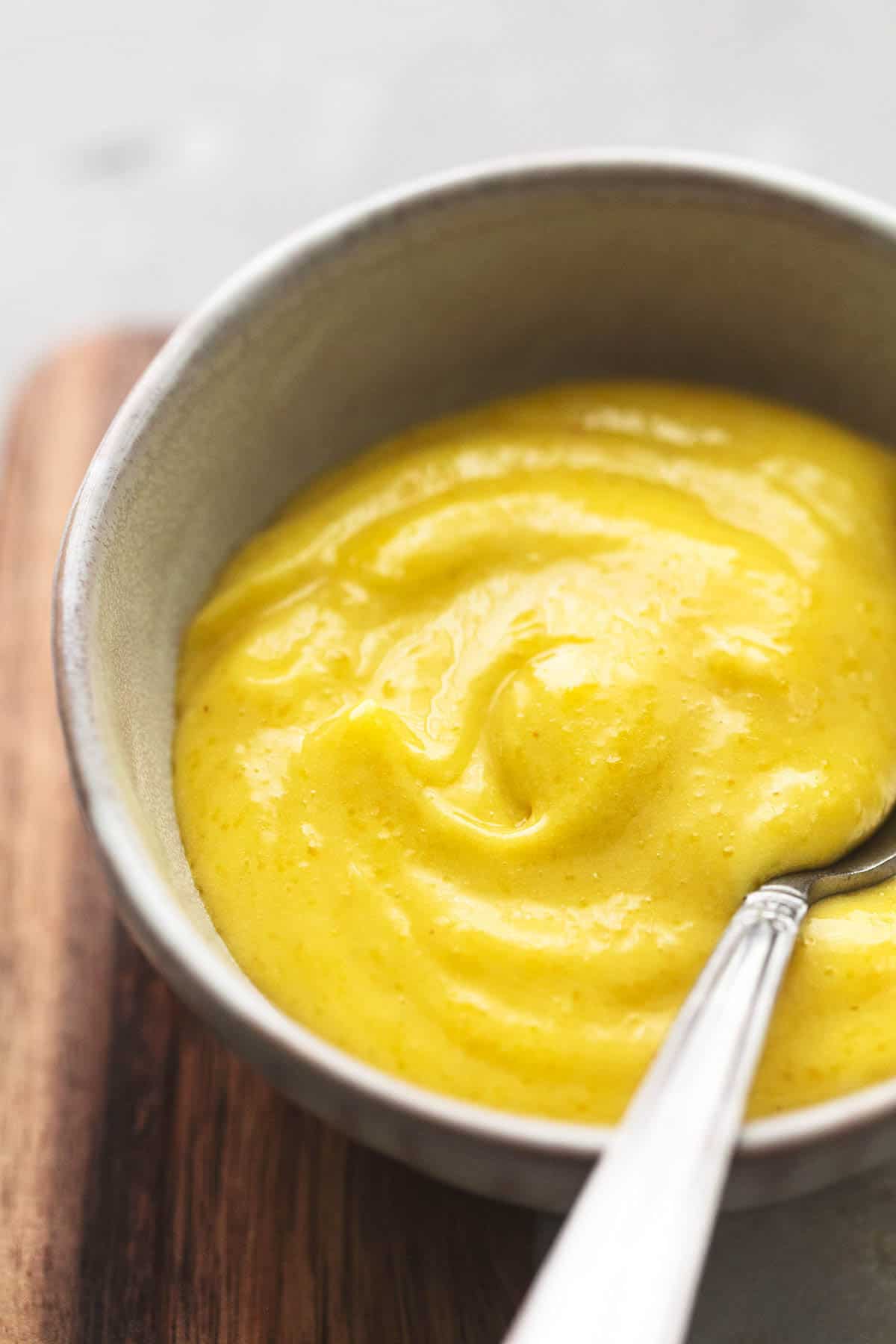 For more delicious dressings, check out my recipes for Cilantro Avocado Ranch, Creamy Tomatillo Ranch, and Fat Free Dijon.
Boy do I love the taste of garlic aioli! It's soooo amazing spread nice and thick on a grilled chicken sandwich, as a condiment with some roasted potato wedges, mixed into soups…I can think of about a million uses for this quick-and-easy aioli and all of them are delicious.
And, because you know that I love all the homemade sauces and dips and condiments but I also don't have all the time in the world (cuz, three little humans who are in constant need of their mama's attention), I found a lovely workaround that involves using garlic powder instead of roasting garlic for hours. Make this garlic spread once and you will wonder where it's been all your life.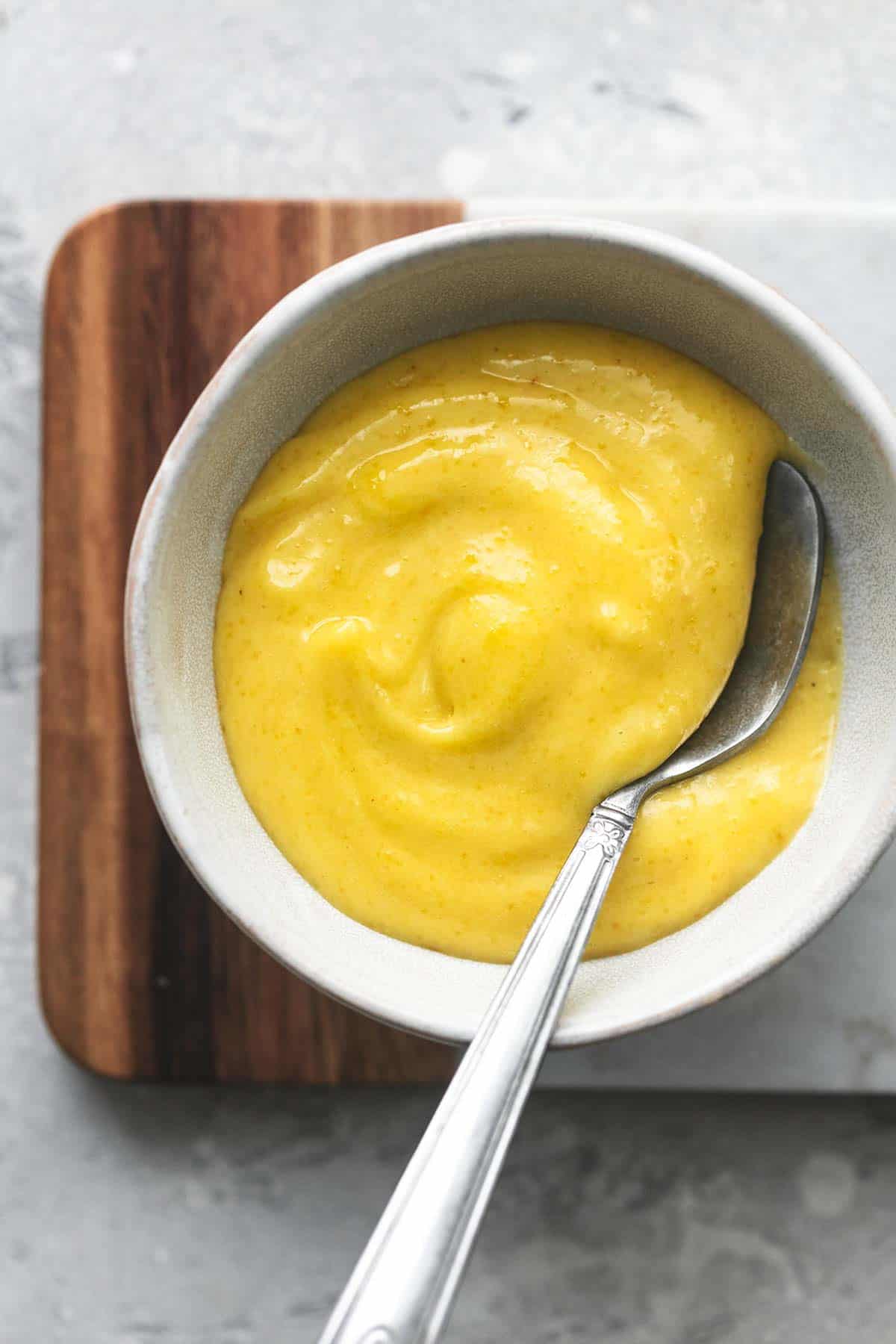 Why This Recipe Works
Garlic powder: Don't think of it as cheating, think of it as outsmarting the recipe to deliver bold garlic flavor in a fraction of the time!
Room-temperature egg yolk: Keeping all of your ingredients at room temperature will ensure your aioli emulsifies completely. Different temperature ingredients can make the sauce separate.
Lemon juice: adds a little bit of tartness and acidity to the garlic aioli that you'll love.
Whisking gradually: Adding only a half then a whole teaspoon of oil at a time and then whisking keeps the aioli together, thick, and creamy.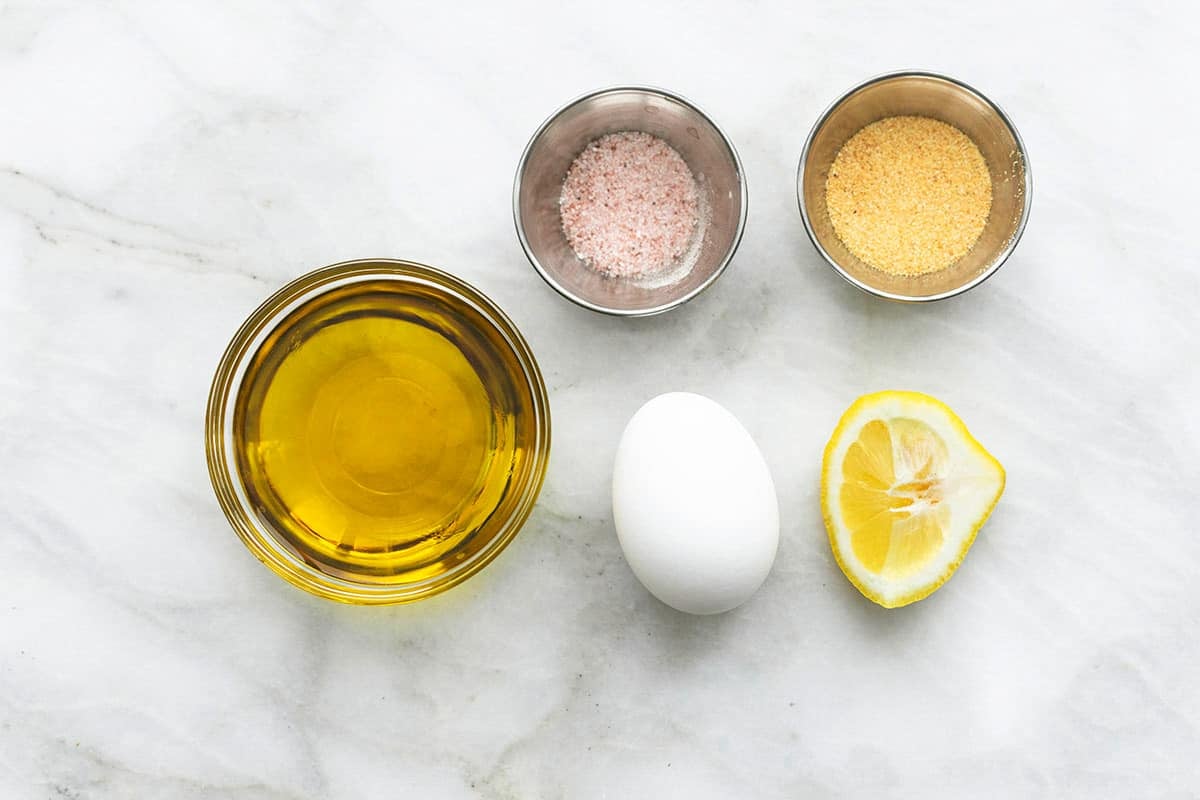 What You'll Need
olive oil
egg
fresh lemon juice
garlic powder
salt
Here's How To Make This Easy Garlic Aioli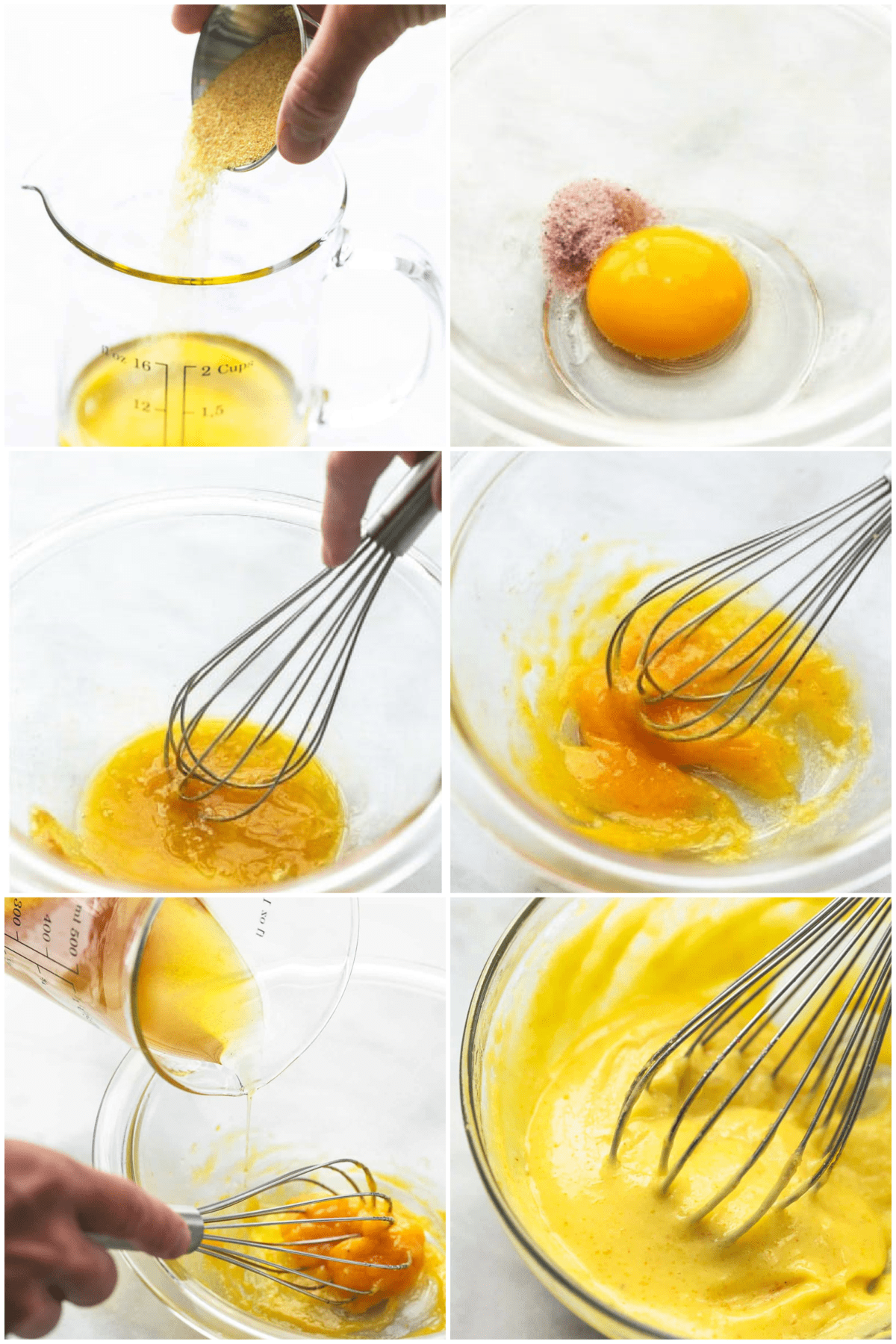 Stir the garlic powder into the olive oil and set aside.
In another small bowl, add together the egg yolk, salt, and lemon juice. Whisk these ingredients for 1 minute until thickened.
Slowly start whisking in ½ teaspoon of oil at a time, using up half of the oil.
Next, whisk in the other half only 1 tablespoon at a time, until it's all incorporated and thick and creamy.
Taste the aioli and add more salt if you like.
How Do You Store Aioli?
You can store aioli up to 1 week in an airtight container. I do not recommend freezing it. Luckily this recipe comes together so fast you can make up a fresh batch any time you want!
How Do You Make Authentic Garlic Aioli?
Garlic aioli is typically made with garlic-infused olive oil. This involves tenderizing the garlic in olive oil in a skillet or saucepan over a medium-hot heat for up to 25 minute. Then you take the garlic out and allow the oil to cool to room temperature, then transfer it to a measuring cup, and continue the recipe from there.
I don't have time usually to wait for the oil to cool (it takes a while) so I cheat and add garlic powder to the oil and speed up the entire process — a lot!
Is Aioli Just Mayonnaise?
Friends, let me let you in on a little secret. Aioli is just flavored, homemade garlic mayo. I mean, recipes vary. Sometimes it's thicker and sometimes it's thinner. And sometimes it's used as a spread and sometimes a dip.
But, all the time it's delicious!
Is Aioli Healthier Than Mayonnaise?
While both mayo and aioli are made from oil, egg yolk, and lemon juice, some versions call for using canola or vegetable oil, which I prefer to make mine with olive oil. Olive oil is a heart-healthy oil full of good-for-you fats, while the other oils…not so much. So in that respect, it is better for you.
Like everything though, practice moderation and enjoy just a little aioli at a time!
Expert Tips
This recipe is

easy to customize

! Some ways to change it up include adding in a little cilantro and lime, dijon mustard, sun dried tomatoes, chipotles in adobo, or even Sriracha!

This recipe

makes half a cup

of aioli. Double for guests or if you want to eat it all week long.

The egg yolk should be room temperature so that the ingredients don't start to separate. If you haven't taken your egg out of the fridge yet, bring it to room temperature by putting the

egg in a bowl of warm water for 5 minutes

.

If you don't want to whisk by hand, you can also pull this together in a

blender or food processor

. If you have the option, drizzle in the olive oil as the other ingredients are blending to help it emulsify.

Although I tend to go for extra-virgin olive oil when making this dip, you can use any kind of olive oil you have on hand.
More Recipes You'll Enjoy
Did you make this recipe? Please rate the recipe below!
Easy Garlic Aioli
Love garlic aioli but hate how long it takes to get that roasted garlic flavor? Then you'll love my "cheaters" version of classic garlic aioli. Just as delicious in half the time!
Ingredients
½

cup

olive oil

½

teaspoon

garlic powder

1

egg yolk

-

at room temperature

¼

teaspoon

salt

2

teaspoons

lemon juice

-

fresh squeezed
Instructions
Stir garlic powder into the olive oil. Set aside.

In a small bowl combine egg yolk, salt, and lemon juice. Whisk vigorously for 1 minute.

Very gradually whisk in 1/2 teaspoon of the oil at a time. (Do not add more than 1/2 teaspoon at a time!)

Once half of the oil has been incorporated, start adding the oil 1 tablespoon at a time until all of the oil is incorporated and mixture is very creamy and thickened.

Taste, add salt if needed, and serve or store chilled in airtight container up to 1 week.
Notes
Serving size: Makes 1/2 cup aioli.  For the egg: You really want the egg yolk to be warm, at least room temperature. If you forget to take it out of the fridge in advance, you can speed it up by placing the whole egg in a bowl of hot water for about 5 minutes. 
Nutrition
Calories:
170
kcal
,
Carbohydrates:
1
g
,
Protein:
1
g
,
Fat:
19
g
,
Saturated Fat:
3
g
,
Cholesterol:
33
mg
,
Sodium:
99
mg
,
Sugar:
1
g
,
Vitamin A:
43
IU
,
Vitamin C:
1
mg
,
Calcium:
4
mg
,
Iron:
1
mg