Fat Free Dijon Salad Dressing is so rich and creamy and full of the sweet and tangy Dijon dressing tastes that you love but without any fat. There is a secret ingredient to thank for that! 
If you love a variety of homemade dressings on hand in your fridge, then you'll want to try my Sweet Vidalia Onion Dressing, my Orange Poppyseed Dressing, or my Creamy Tomatillo Ranch.

I love dressings. Strike that. I love condiments. Dressings, sauces, dips, salsas, you name it, I love it. I am one to pour dressing on everything from salads to sandwiches and use it for dip for veggies, French fries, and even chips. But Dijon dressing might just rank up there as one of my top three favs in the condiment category. 
Dressings are just an easy way to add more flavor to whatever it is you're eating and they're easy to keep in your fridge for when such an occasion occurs. While I keep a pretty wide variety in my fridge at the ready, I realized I didn't really have anything that was fat free or available for those of use who are watching what we eat. Plus, this version packs an additional nutritional/protein punch by using beans as a thickener! What, what!?

Yep, that's right, you don't even need any oil at all to make dressing, just a can of beans and some water (well, and a few other things to make what would otherwise be bean water tasty). 
HOW DO YOU MAKE FAT FREE DIJON SALAD DRESSING? 
Making this dressing is super easy. If you find yourself with someone with special dietary needs or are just looking for alternative ways to make a healthy salad dressing, you can make this in about 10 minutes (and that includes hunting through the pantry and trying to locate your blender). 
In a blender or food processor, blend or pulse together the beans, mustard, honey, salt and pepper, and vinegar. Once it's good and smooth, add one tablespoon of water at a time and keep blending in between additional tablespoons of water until you reach the consistency you want in your dijon salad dressing. 
HOW DO YOU STORE FAT FREE SALAD DRESSING?
To store this fat free salad dressing recipe, all you need is an airtight container and a fridge. That's right. Pour this dressing into a container with a tight seal (Mason jars work great!) so that you can shake it back up as necessary if anything settles. Put the jar or container in the fridge for up to 5 days. 
WHAT TO USE INSTEAD OF OLIVE OIL TO MAKE A SALAD DRESSING FAT-FREE?
For this tasty salad dressing recipe, I used beans instead of oil to make a smooth consistency. If you aren't down with the beans, here are some other alternatives you can try. Experiment until you find one that works best for you — that's the best part! 
Juice

Broth

Fat-free sour cream

Avocado

A creamy cheese like feta or goat

Tahini

Plain Greek yogurt

Vinegar and juice together (like lemon or orange)

Nut butters 

Cooking oil leftover from cooking pasta or beans

Fruit purees

Silken tofu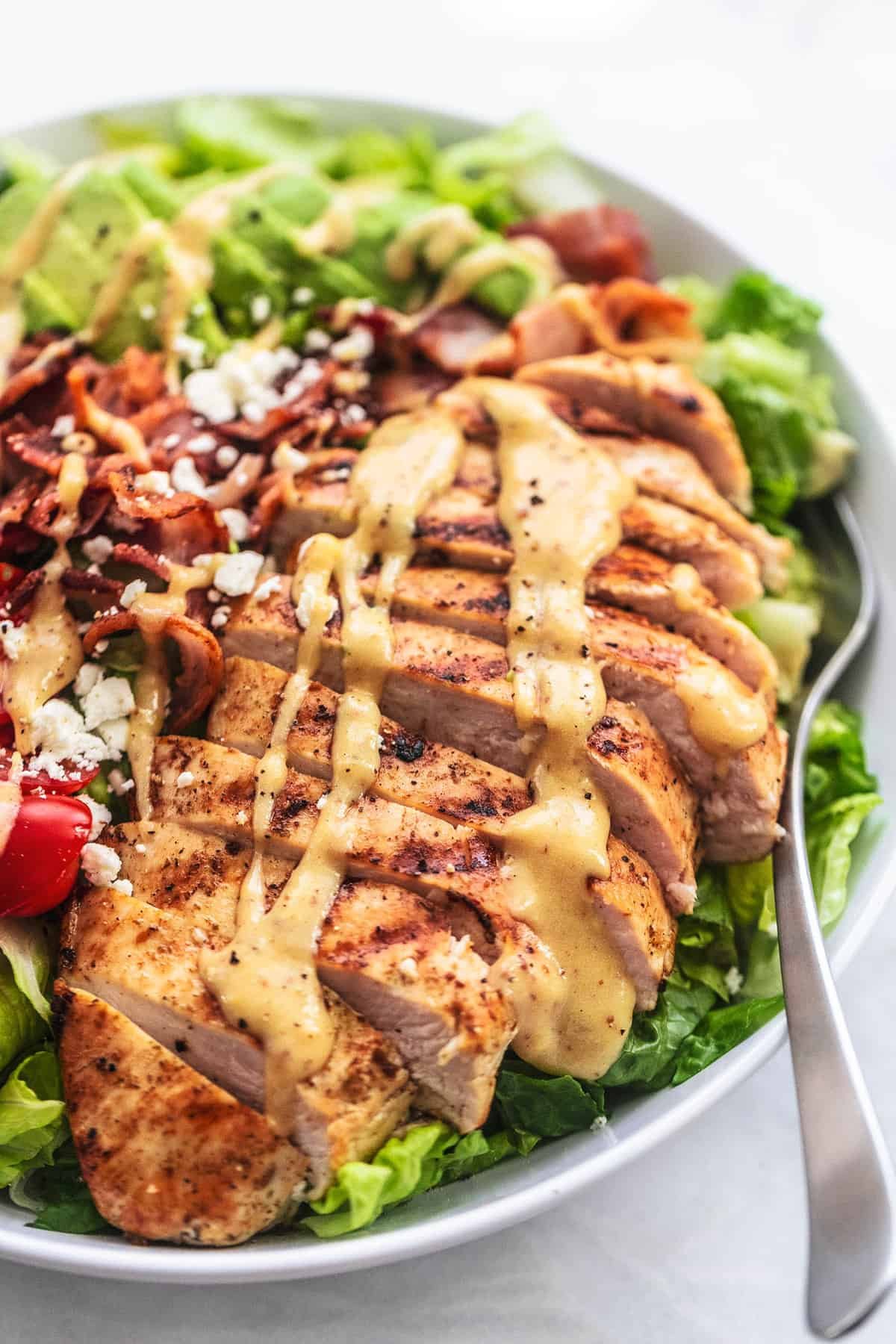 WHAT CAN I SERVE WITH FAT FREE DIJON SALAD DRESSING?
As I mentioned before, I like to dress up so many things with dressing. Here are some to get you started: 
Any

salad

of course, but it works particularly well as a substitute for my

Cobb Salad

. 

Try it over fish or

grilled salmon

(you can warm it up in the microwave if you prefer). 

Or try it as a topping on

pork

. Poured right on top or to add more flavor to a slider or other sandwich, this Fat Free Dijon Dressing is sooo good on pork tenderloin especially. 

As a dipping sauce for chicken or

sausage

.  

Put an ample bowl of this dressing out in a dish in the middle of a fun veggie crudite platter. Great to take to parties or to put out when you have a lot of house guests.

This dressing also works great as a dipping sauce on soft dough pretzels as well. 
I think you'll discover this dressing really delivers all the taste with none of the fat. Get creative with how you use it!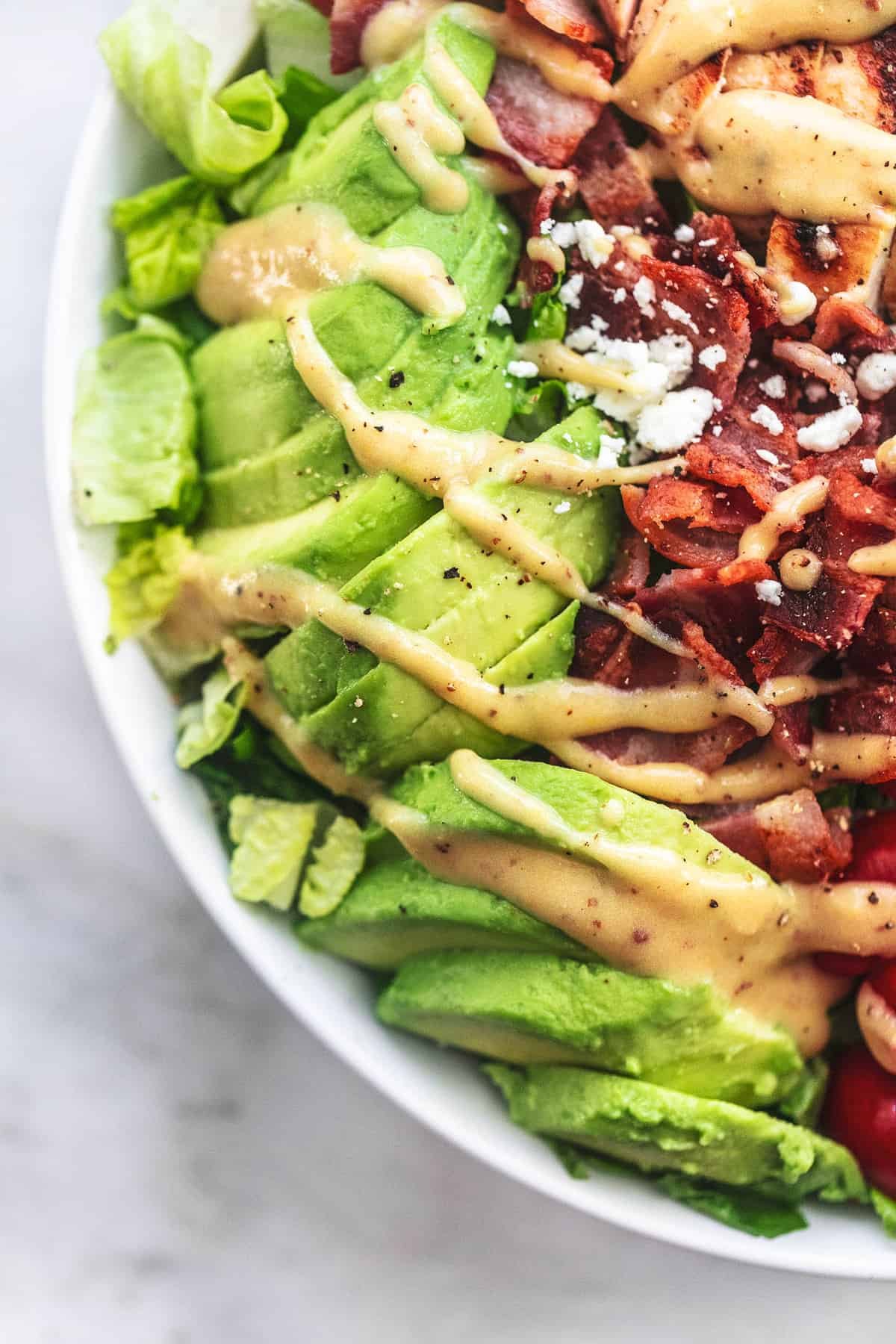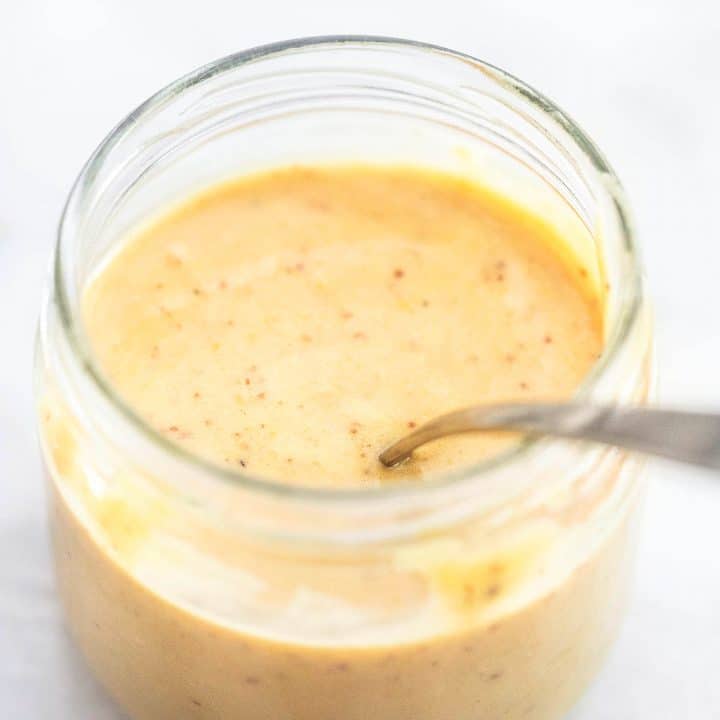 Fat Free Dijon Salad Dressing
Fat Free Dijon Salad Dressing is so rich and creamy and full of the sweet and tangy Dijon dressing tastes that you love but without any fat. There is a secret ingredient to thank for that! 
Ingredients
½

cup

canned cannellini beans

-

drained and rinsed

⅓

cup

dijon mustard

¼

cup

honey

-

or agave

1

teaspoon

salt

-

or to taste

¼

teaspoon

pepper

-

or to taste

2

tablespoons

apple cider vinegar

-

or rice vinegar

4-6

tablespoons

water

-

as needed
Instructions
Combine beans, dijon, honey, salt, pepper, and vinegar in a blender or food processor. Pulse until very smooth.

Add water 1 tablespoon at a time, pulsing after each, until dressing is smooth and pourable. Store chilled in an airtight container up to 5 days.
Notes
Without any oil, this dressing is not 100 percent completely smooth in texture. Feel free to add a few teaspoons of olive oil for enhanced flavor and texture if you are okay with a little bit fat in your dressing!
Makes about 1 cup of dressing. 
Nutrition
Calories:
64
kcal
,
Carbohydrates:
15
g
,
Protein:
1
g
,
Fat:
1
g
,
Saturated Fat:
1
g
,
Trans Fat:
1
g
,
Sodium:
577
mg
,
Potassium:
31
mg
,
Fiber:
1
g
,
Sugar:
12
g
,
Vitamin A:
10
IU
,
Vitamin C:
1
mg
,
Calcium:
19
mg
,
Iron:
1
mg