These Bacon Blue Cheese Burgers are juicy, seasoned and grilled to perfection and topped with crispy bacon and melty blue cheese crumbles!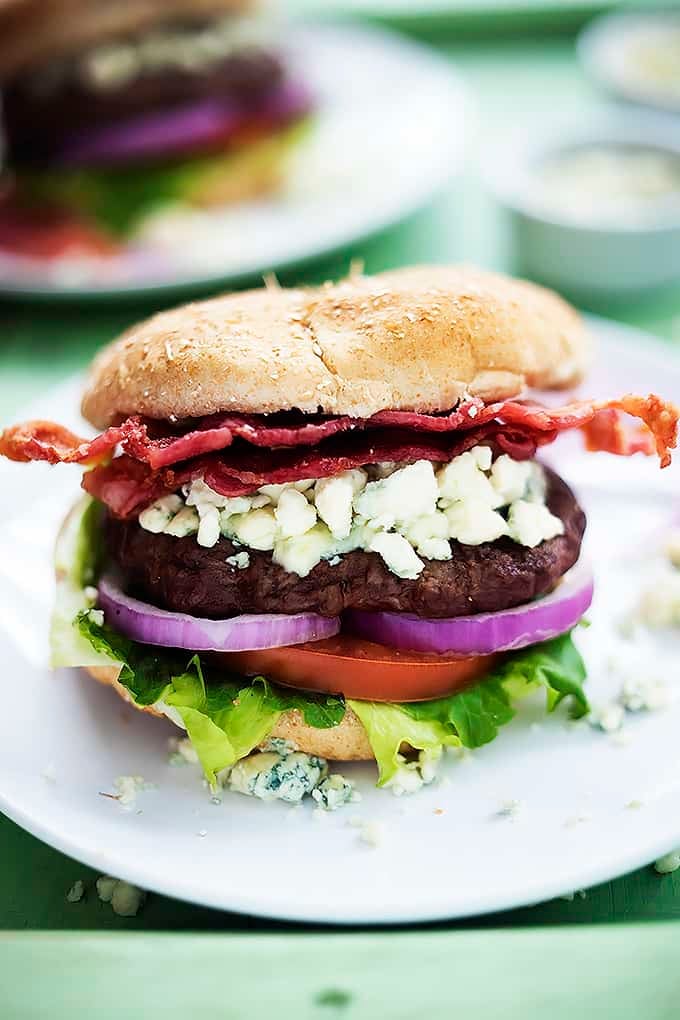 Hey hey hey it's Burger Wednesday!!!! As of… today I guess.
Funny story: I used to hate blue cheese. And by hate, I mean that I pretty much just wouldn't try it. Why? 1) It's blue. I don't know why but that bothered my young mind. Cheese shouldn't be blue. 2) If we're being totally honest, it kind of stinks right? These days I'm okay with that smell because it means some amazing cheese is about to enter my mouth but back in the day, that smell was no bueno for me.
My mother loves blue cheese and I remember all growing up she would eat blue cheese on salads, especially blue cheese dressing. In fact she would order blue cheese dressing and whatever fruity vinaigrette the restaurant had to offer "on the side" and I would turn up my ignorant 14 year old nose and say "mom that's disgusting."
As is the case with so very many similar experiences from my youth, I am now eating my words as an adult. I am totally 100% not kidding when I say that whenever I order a side salad at a restaurant I get both blue cheese and a fruity vinaigrette on the side, just like my mother did. And blue cheese crumbles? Cannot get enough. I load them on my salads and lately, my burgers.
In fact this burger is kind of like a perfect salad-turned-sandwich type thing because blue cheese and bacon on salads is my cup of tea folks. But we're making it better because we're smashing that whole flavor duo together with a burger and there are just few things more delicious than that.
And the recipe couldn't be more simple. If you've ever ordered a black n' bleu burger at a restaurant, completely fell in love, and wished you could have one every day for the rest of your life – your prayer has been answered. All you do is season the beef with salt, pepper, and my not-so-secret burger flavor weapon – steak seasoning.
Grill those patties to your desired hamburger doneness, then – and here's the important part – top the meat with blue cheese before taking it off of the grill. Let all of that blue cheese start to get ooey gooey melty and seep down into the burger patty. That's the key for a really awesome blue cheese burger at home!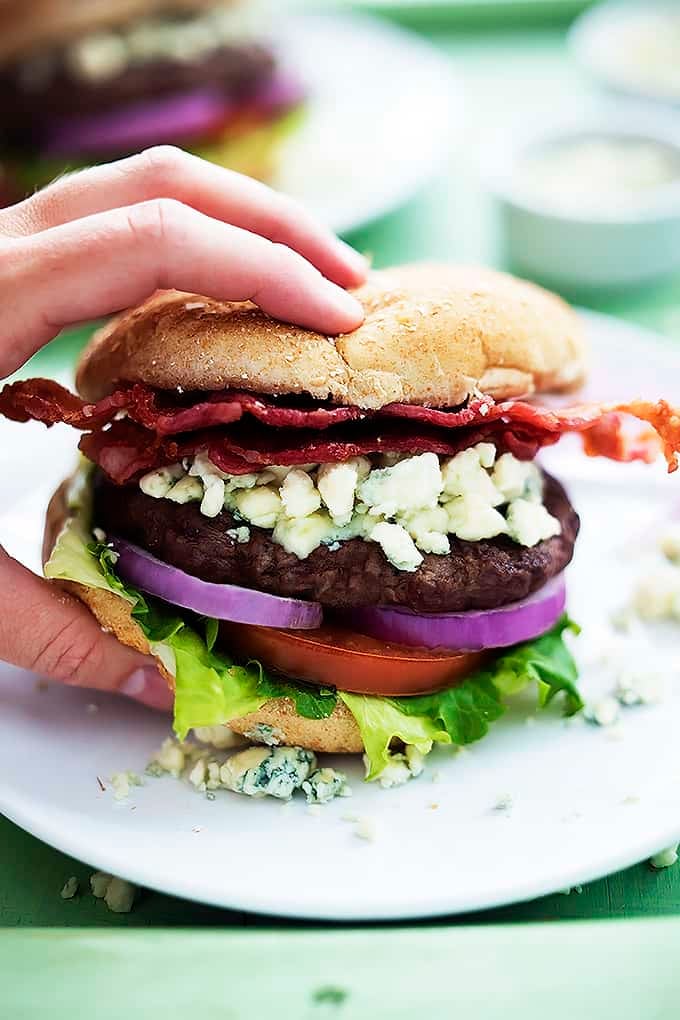 After that key step, all you have to do is assembly your burger by stuffing that melty blue cheese burger patty in between a bun along with lettuce, mayo, onion, tomato, and BACON. That's it! Welcome to bacon blue cheese burger paradise friends.
Bacon Blue Cheese Burgers
Juicy seasoned and grilled burgers topped with crispy bacon and melty blue cheese crumbles!
Ingredients
1

pound

lean ground beef

-

(see note)

salt and pepper to taste

2-3

teaspoons

steak seasoning

4

hamburger buns

¼

red onion

-

thinly sliced

½

tomato

-

sliced

½

cup

blue cheese crumbles

8

strips bacon

-

cooked

optional: additional toppings such as lettuce and mayo
Instructions
Grease and preheat grill.

Add meat to a bowl, sprinkle with salt, pepper, and steak seasoning. Mash mixture with your hands to distribute seasonings well. Divide meat into 4 equal parts and shape each into a patty.

Grill beef patties over medium-low heat for 4-7 minutes on each side until desired doneness is reached. Turn off grill. Top each cooked patty with 1/4 cup blue cheese crumbles and leave on the grill for a minute or so until blue cheese starts to melt.

Assemble burgers by topping each bottom bun half with mayo, lettuce, burger patty, bacon, and top bun half. Serve immediately while hot!
Notes
My favorite trick for seasoning burgers is to use steak seasoning! Add 2-3 teaspoons of steak seasoning to your ground beef and mix well before forming patties for amazing flavor.
Nutrition
Calories:
434
kcal
,
Carbohydrates:
24
g
,
Protein:
30
g
,
Fat:
24
g
,
Saturated Fat:
10
g
,
Trans Fat:
1
g
,
Cholesterol:
90
mg
,
Sodium:
567
mg
,
Potassium:
486
mg
,
Fiber:
1
g
,
Sugar:
4
g
,
Vitamin A:
284
IU
,
Vitamin C:
3
mg
,
Calcium:
194
mg
,
Iron:
4
mg