Quick and easy, creamy fresh basil pesto recipe you can whip up in 5 minutes or less. Perfect for dipping bread or topping fish, chicken, or vegetables!
How do you use pesto? Let me count the ways in some of my favorite recipes: Pesto Chicken Pizza, Pesto Chicken Sandwiches, Pesto Chicken Pasta Salad, and Garlic Pesto Turkey Burgers.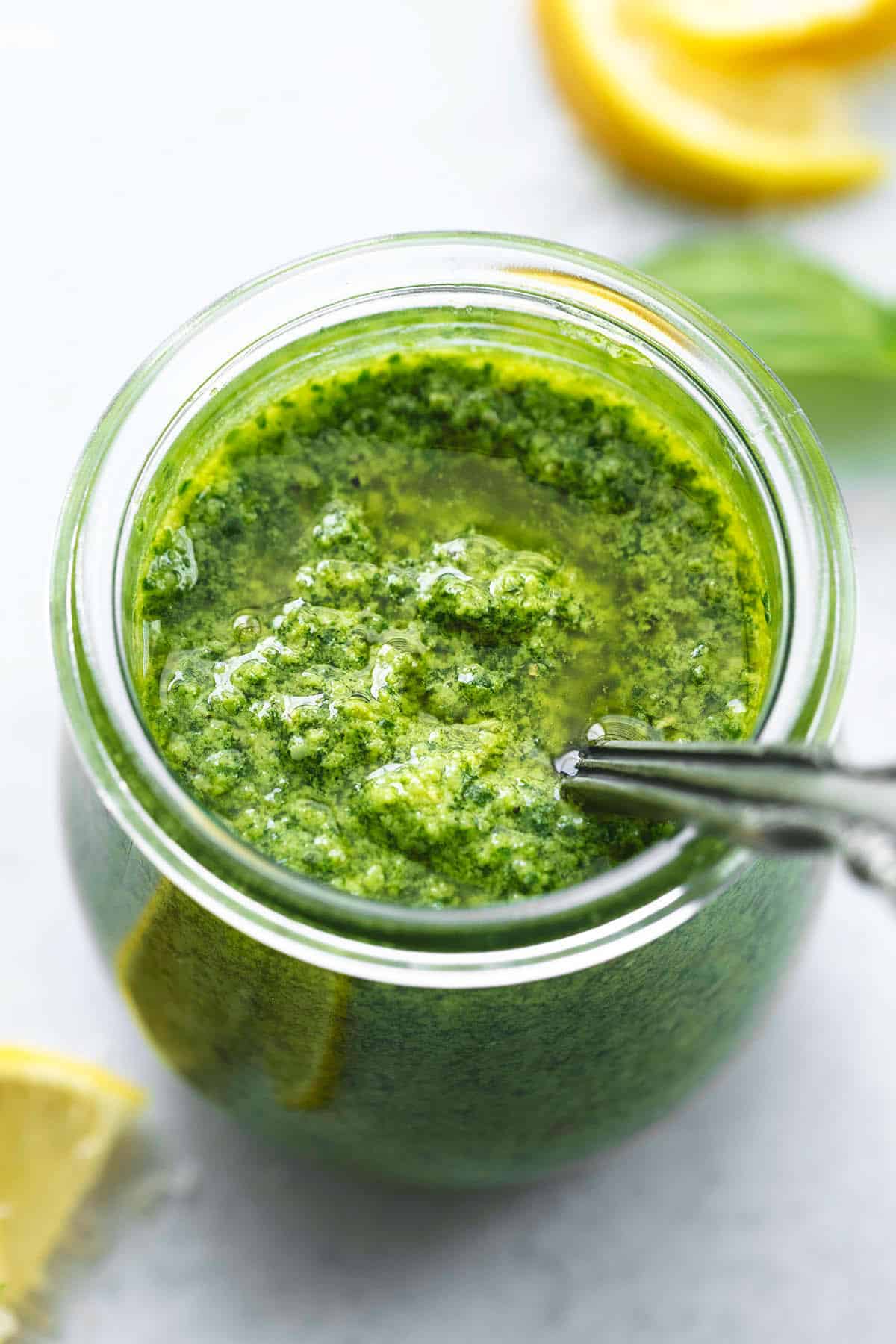 You guys. I have a problem. A pesto problem. And it's a beautiful thing to have a pesto problem. Why's that? Well, because it's so darn delicious! I mean, I kind of really really love pesto, and lately I've wanted to just eat it by the spoonful. I've made my own pesto several times before, but this time I really nailed it! It's fast (5 minutes!), delicious, just the perfect amount, is so versatile, and keeps well! What more could you ask for?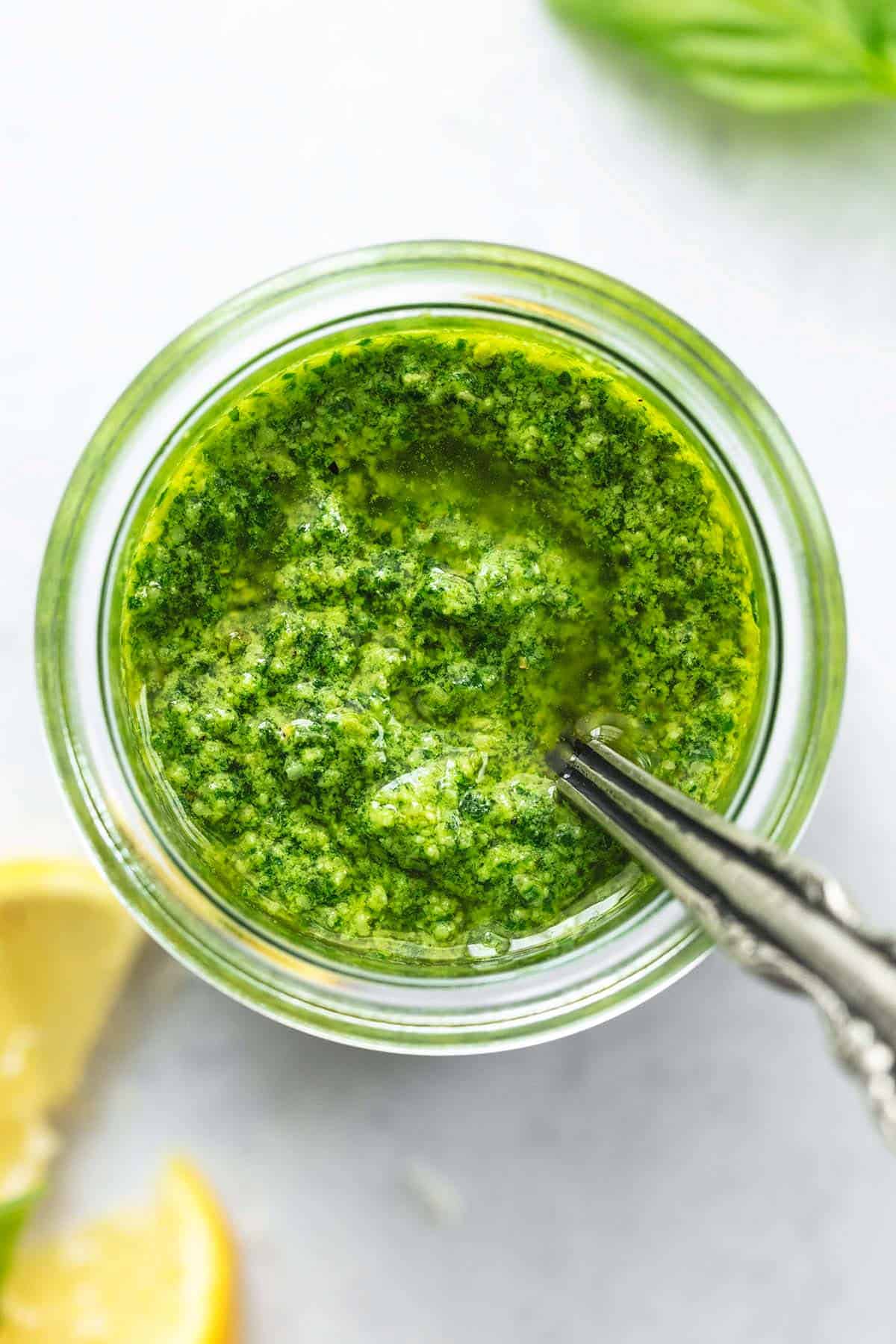 Why This Recipe Works
Incredibly easy – There isn't a recipe that's easier than this pesto recipe. I double-dog-dare you to find me one! Six ingredients (okay 8 if you include salt and pepper), one blender, one spoon, one mouth. That's all that's required!
Fast – Just like this is the tastiest recipe ever, it's also the quickest! Nothing is faster than a 5-minute recipe.
Perfect portion – This recipe yields about 1 cup of pesto. I've found that's the perfect amount for about 1 pound of pasta!
Easily doubles – However, if you could eat pesto by the spoonful like me, then you'll want to go ahead and double this recipe. Double everything listed, throw it in the blender, and ta da – two perfect cups of pesto for all of your eating pleasure.
Here's How You Make It
Put all of your ingredients into a food processor or blender. Pulse or blend until smooth. Serve right away or store in an airtight container in the fridge. That's it! So easy!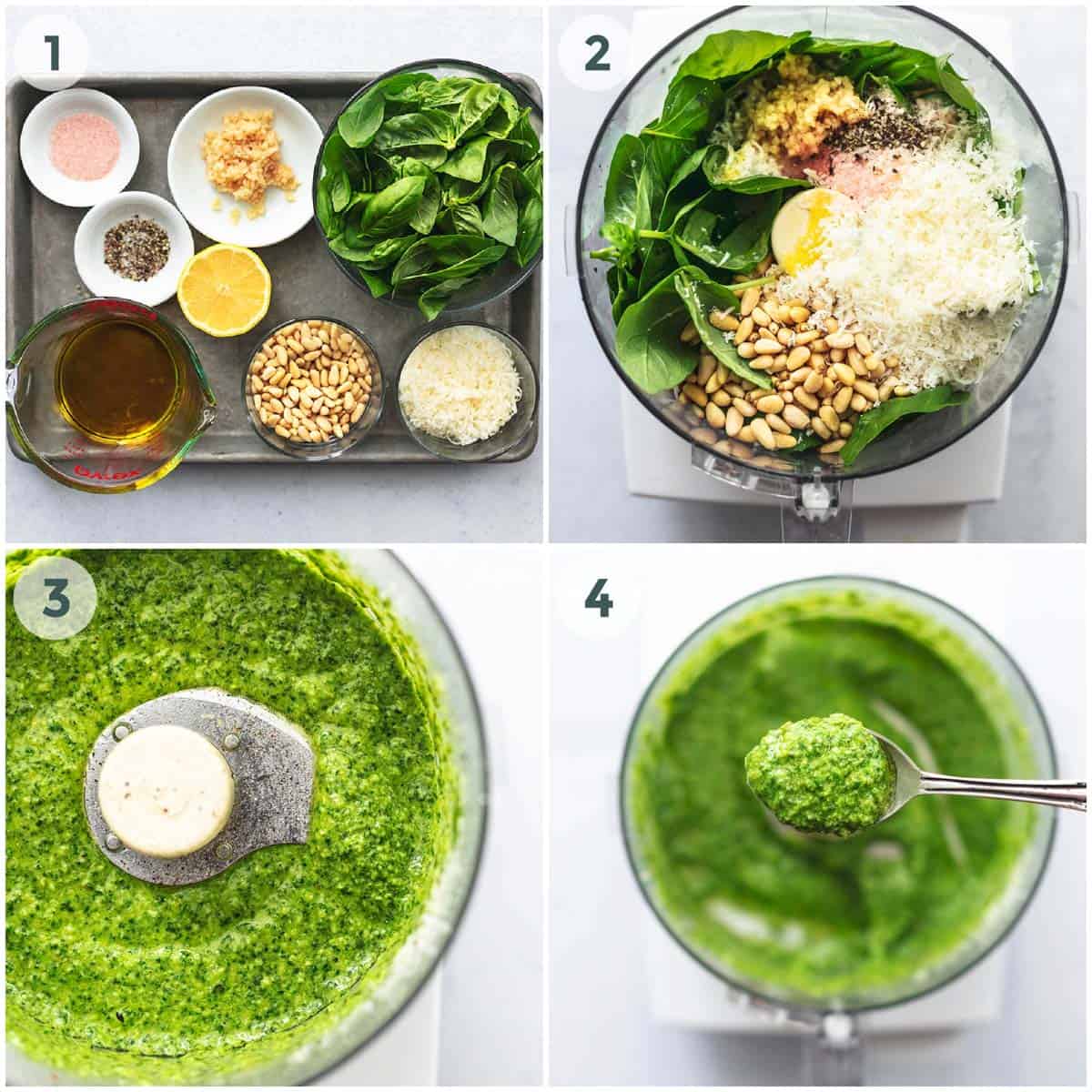 What is Pesto Made Of?
Pesto was historically made from ingredients that were crushed or pounded with a mortar and pestle. This method dates back to Roman times when Genoans (those from Genoa, Italy) would crush together walnuts with some herbs and garlic.
Although you can still make pesto the traditional way, it's much, much quicker to whip it all together in a blender or food processor. The most popular way to make pesto is the way I have it listed here: using basil, garlic, olive oil, pine nuts, and a hard cheese like parmesan.
Is Pesto Bad For You
Pesto has gotten a bad rap because it contains a lot of fat from nuts, cheese, and oil. However, most of these fats (especially from the nuts and oil) are the heart-healthy kind. Plus, a little bit of pesto goes a long way to adding flavor to your favorite dishes.
In addition, some of the ingredients in pesto (fresh herbs, nuts, and olive oil) have other health benefits such as lowering the risk of heart disease, diabetes, cancer, and Alzheimer's and dementia.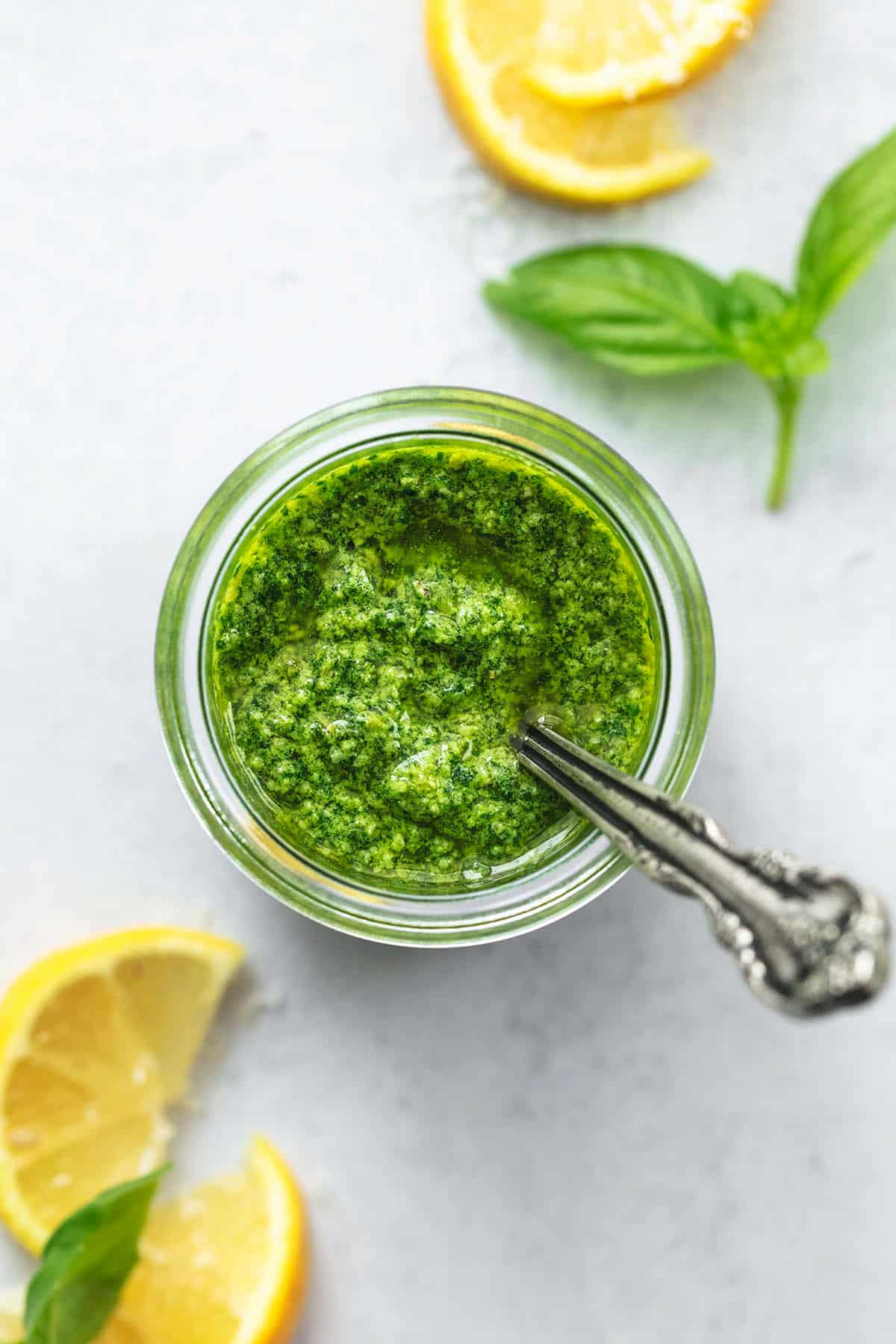 Ideas for Customizing Pesto
If you don't have basil, you can substitute spinach, kale, arugula, parsley, cilantro, mint, tarragon, or even sage. You can also go a little crazy and combine some of the herbs to make your own new favorite flavor creation.
Make pesto a bit on the spicy side by adding a pinch or two of red pepper flakes before blending.
Pine nuts can be pricy and sometimes hard to find. Other nuts I like to use include cashews, walnuts, hazelnuts, pecans, sunflower seeds, and even pistachios.
Skip the lemon juice if you'd like a more classically flavored pesto.
Different cheeses you can substitute for parmesan in pesto include any other hard cheese you like, such as pecorino Romano, Asiago, or any other salty, hard aged cheese will work. Don't try the soft cheeses – those end up a gloopy mess.
Storage Directions
If you want to eat pesto with fresh basil, toasted pine nuts, and kosher salt right away, you can leave it out for an hour or two, if necessary, before incorporating it into your meal.
If you are making pesto to eat at a later date, then you should put it in an airtight container to keep it in the fridge for up to a week.
You can also freeze pesto. Put the pesto in an airtight container and keep in the freezer for up to 6 months. Another way to keep this pesto sauce in the freezer is to put it into ice cube trays, allow it to freeze, then pop the cubes into a Ziplock bag, then put it back into the freezer. Then, when you need pesto, just pop out as many cubes as you think you'll need for your meal and allow those to thaw.
What to Serve With This Sauce
Not sure what to serve with this amazing sauce made with fresh basil? I have you covered there, too.
Expert Tips and Tricks
Not into pine nuts? Swap cashews (my favorite swap!) or even walnuts in a pinch.
If you want to be conservative on the salt, start with 1/4 teaspoon. Taste and add more as desired.
Additional lemon juice can be added for a more "lemony" flavored pesto – so good!
To freeze pesto, I like to use ice cube trays. Fill up a tray with dollops of pesto, freeze, then pop the pesto ice cubes out and store in a Ziplock bag. That way, you can portion out how much pesto you want to/need to thaw for all your pesto cooking needs.
More Tasty Recipes You'll Love
Did you try this super duper easy and amazing pesto recipe?? YAY! Please rate the recipe below!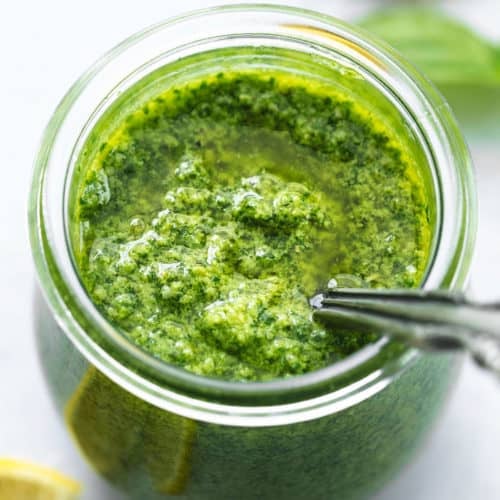 Pesto Sauce Recipe
Quick and easy creamy pesto you can whip up in 5 minutes or less!
Ingredients
1

cup

packed basil leaves

¼

cup

pine nuts

1

tablespoon

minced garlic

⅓

cup

extra virgin olive oil

⅓

cup

shredded parmesan cheese

½

teaspoon

salt

-

(or to taste)

¼

teaspoon

black pepper

½

teaspoon

fresh lemon juice
Instructions
Add all ingredients to a food processor or blender. Pulse until smooth. Serve immediately or cover and store chilled.
Notes
Yields about 1 cup of pesto.
If you want to be conservative on the salt, start with 1/4 teaspoon. Taste and add more as desired.
Additional lemon juice can be added for a more "lemony" flavored pesto – so good!
Nutrition
Calories:
255
kcal
,
Carbohydrates:
2
g
,
Protein:
5
g
,
Fat:
26
g
,
Saturated Fat:
4
g
,
Cholesterol:
7
mg
,
Sodium:
419
mg
,
Potassium:
71
mg
,
Fiber:
1
g
,
Sugar:
1
g
,
Vitamin A:
75
IU
,
Vitamin C:
1
mg
,
Calcium:
98
mg
,
Iron:
1
mg