Fresh garlic and bright pesto make these 30 minute turkey burgers irresistible!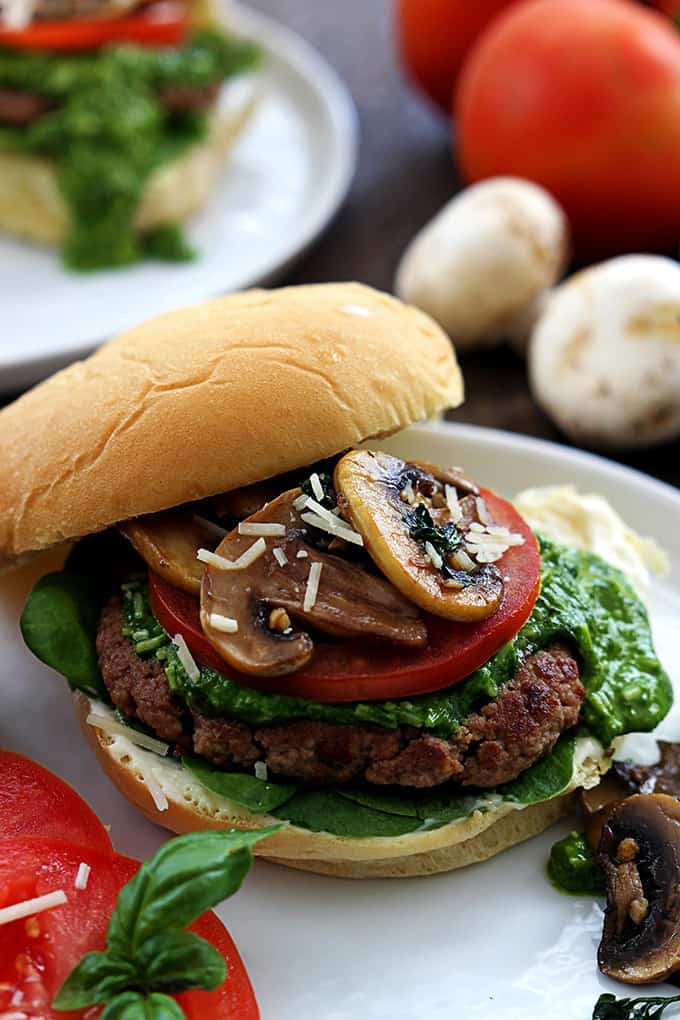 So my pops, he's a funny guy. He has the absolute, hands down, best ever comb-over in the entire existence of comb-overs. He's famous for it. And he actually made an appearance as an extra in the movie "Independence Day" along with my brother. Whenever we watch that show we say "Look for the bald spot!" Cause that's the dead giveaway for my dad's scene. His glorious combover. He rocks it.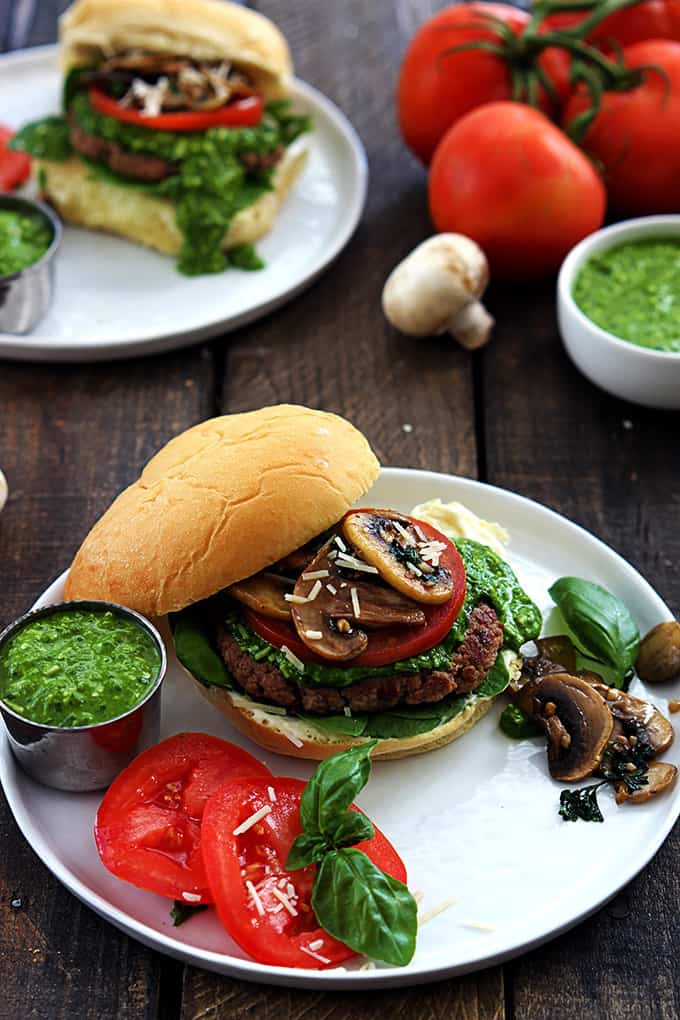 But besides his award-winning comb-over, my pops is hilarious. He's a real character. He never cooks, and I guess he's never seen minced garlic, because he had a run-in with the stuff a couple of years back that we just can't let him live down. He and my mom were having dinner out of town and a fancy pantsy restaurant and they brought out a little dish of minced garlic (I can't remember what it was for….) and my dad ate a spoonful of it. A SPOONFUL OF GARLIC. He spat it out immediately (naturally) and swears up and down that garlic is absolutely disgusting.
Well yeah dad, you're not supposed to eat a whole spoonful of garlic plain.
Turns out he thought it was white rice! Crazy man.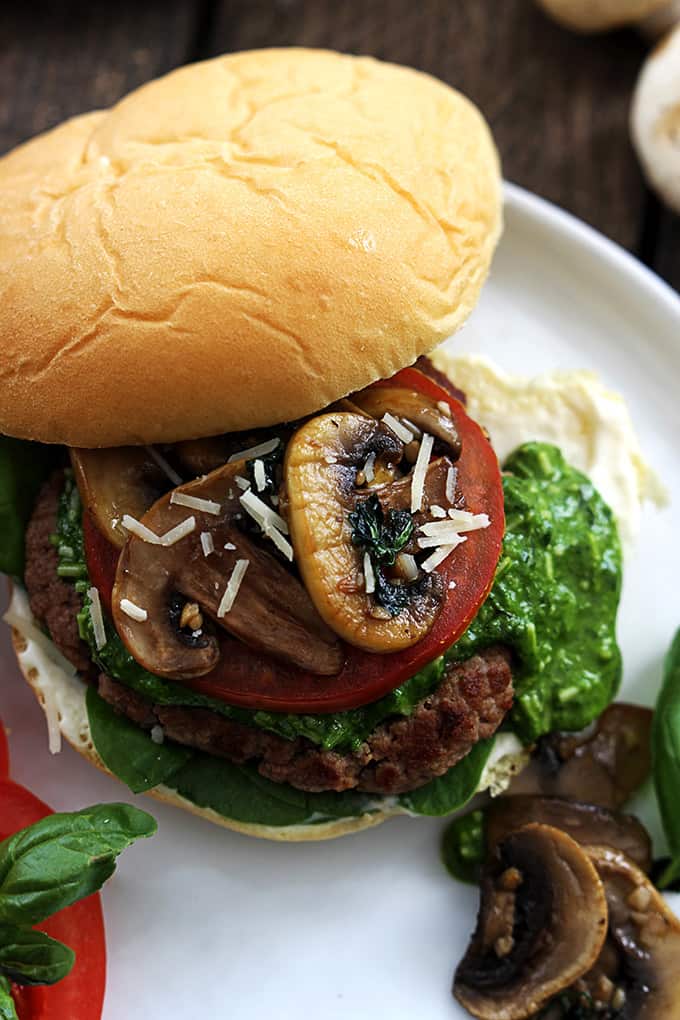 So on that note, let's talk garlic where it belongs – – – > in a turkey burger. I've always been a red meat burger kind of gal but recently I've taken a liking to other kinds of burgers (like BLACK BEAN BURGERS – yummmm!) and these garlic turkey burgers are way too good to pass up. If you're a fan of mushrooms, I really like these burgers with some sautéed mushrooms and a slice of fresh tomato BUT, those aren't necessary. As long as you've got the turkey burger, the pesto, and the parmesan cheese, you're set. 30 minutes, easy peasy, yummalicious.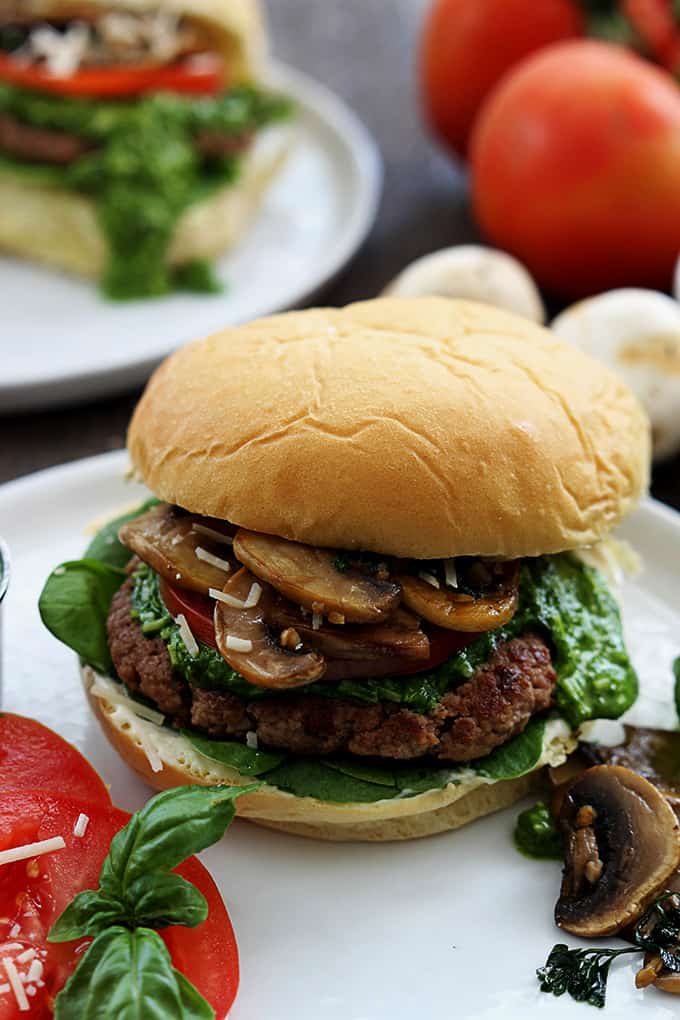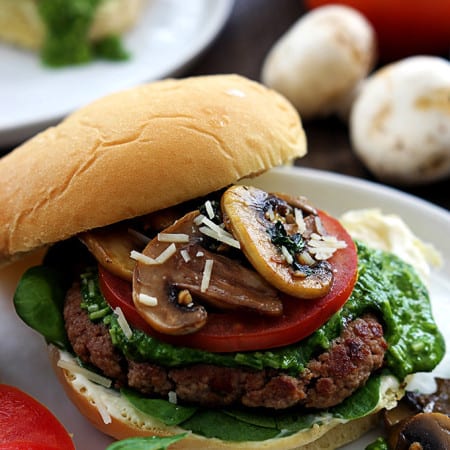 Garlic Pesto Turkey Burgers
Fresh garlic and bright pesto bring these turkey burgers to life!
Ingredients
1

pound

ground turkey

½

small

onion

-

minced

1

tablespoon

minced garlic

1

teaspoon

dried basil

1

teaspoon

salt

½

teaspoon

dried oregano

1

teaspoon

black pepper

½

cup

homemade or store-bought pesto

-

click HERE for the link to my homemade pesto recipe!

½

cup

mayo

½

cup

grated parmesan cheese

4

burger buns
Instructions
In a bowl combine turkey, onion, garlic, basil, oregano, and pepper. Mix until well combined.

Shape turkey mixture into 4 patties. Grill over medium-high heat 5-6 minutes on each side or until cooked through and slightly charred.

Assemble burgers by spreading mayo on the bottom half of each burger bun. Top with grilled turkey patty, and then add pesto and parmesan cheese. Add additional toppings as desired.
Notes
Suggested toppings:
tomatoes, mushrooms, fresh baby spinach leaves.
Nutrition
Calories:
619
kcal
,
Carbohydrates:
27
g
,
Protein:
38
g
,
Fat:
40
g
,
Saturated Fat:
8
g
,
Trans Fat:
1
g
,
Cholesterol:
88
mg
,
Sodium:
1514
mg
,
Potassium:
444
mg
,
Fiber:
2
g
,
Sugar:
5
g
,
Vitamin A:
785
IU
,
Vitamin C:
2
mg
,
Calcium:
282
mg
,
Iron:
3
mg
If you like these Pesto Turkey Burgers, you'll enjoy my Western Bacon Burgers too!