Crispy, fried onion strings on top of this juicy beef patty, with bacon, avocado and barbecue sauce to create this delicious Western Bacon Burger!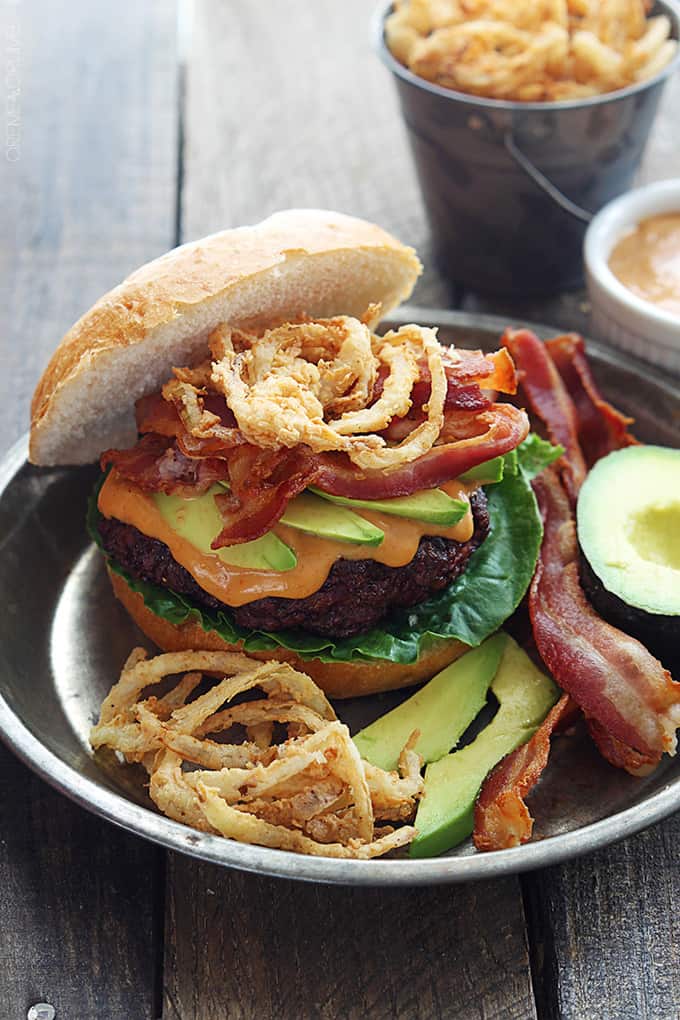 The idea for this recipe came from my darling little sis-in-law. I asked if she'd had any amazing food lately and she told me about this super yummy burger she ordered from a restaurant in Las Vegas called the Steak n' Shake. She said it was basically a western bacon cheeseburger except that it had thin, crispy fried onions on top.
I'd only tried western bacon burgers with the big fat onion rings but I always pulled them off and ate them separate from the burger cause it was too much of a mouthful for me. But thin crispy onion strings?? Genius. Life's problems are solved!
At least one anyway.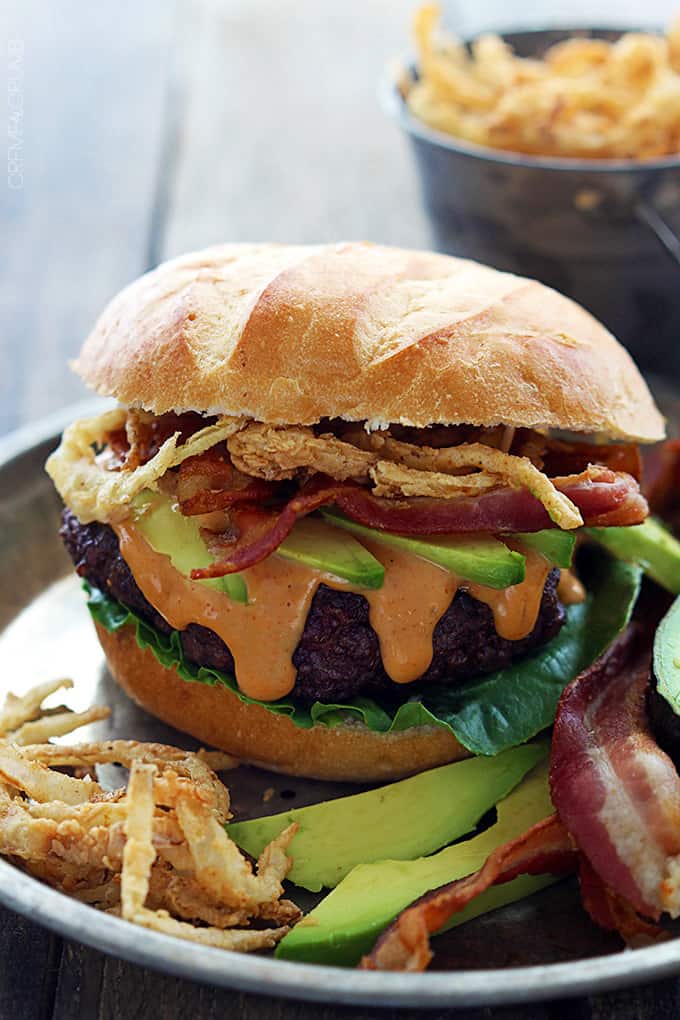 Oh baby. I could eat those onion strings all day long. And the next day. And the next day. Burger or not they're crazy delish but since we're talking about a burger recipe here, let's include the beef shall we?
These burgers might seem like a lot of work but I promise you they really are super easy. The crispy onions fry up in about 2 minutes and then you just grill the burgers and throw everything together. Easy as pie.
Western Bacon Burgers with BBQ Mayo and Crispy Onion Strings
Crispy, fried onion strings on top of this juicy beef patty, with bacon, avocado and barbecue sauce!
Ingredients
1

pound

ground beef

½

white onion

2

cups

buttermilk

½

cup

flour

½

teaspoon

salt

½

teaspoon

garlic powder

¼

teaspoon

paprika

¼

teaspoon

cayenne pepper

⅓

cup

barbecue sauce

⅓

cup

mayo

1

avocado

-

sliced

8

slices

bacon

-

cooked until crispy

4

hamburger buns

optional: lettuce and cheese
Instructions
Thinly slice onion. (The slices should be thin enough that you should be able to see the knife through the end of the onion where you're slicing). Place onion slices in a shallow dish and pour buttermilk over the onions. Move them around so they are all in the buttermilk, but they don't have to be completely covered. Let them soak for about 10 minutes. (Use this time to cook your bacon or slice your avocados!)

In bowl combine flour, salt, garlic power, paprika, and cayenne pepper and wish until well mixed. Dip the onions in the flour mixture, tossing to coat. Put them all in a bowl.

Fill a pan with 1/2 inch of oil. Preheat oil to 300 degrees. Use tong to place coated onions in the hot oil. After about 30-40 seconds, turn them over once and cook another 30-40 seconds. Place fried onions on a paper towel-lined plate to drain excess oil.

Preheat grill. Shape ground beef into 4 equal sized patties. Grill burgers 4-5 minutes on each side until desired doneness is reached.

Whisk together mayo and bbq sauce. Spread some bbq mayo on the inner sides of hamburger buns. Top with grilled hamburgers, avocados, bacon, and fried onions. Serve immediately.
Notes
Flavor tip: top each patty with a slice of cheddar or pepperjack cheese, allow to melt, then assemble and serve burgers. 
Nutrition
Calories:
802
kcal
,
Carbohydrates:
55
g
,
Protein:
32
g
,
Fat:
50
g
,
Saturated Fat:
15
g
,
Trans Fat:
1
g
,
Cholesterol:
104
mg
,
Sodium:
1136
mg
,
Potassium:
870
mg
,
Fiber:
5
g
,
Sugar:
18
g
,
Vitamin A:
399
IU
,
Vitamin C:
7
mg
,
Calcium:
254
mg
,
Iron:
5
mg
Onion strings adapted from Pioneer Woman.