This easy, sweet-and-spicy homemade BBQ sauce is super quick and simple to make. It's really the ultimate addition to any summer backyard grill-out and goes perfectly with chicken, pork, ribs, and beef.
Grilling season is right around the corner. Need more recipes? Try my Grilled Honey BBQ Bacon Chicken Kabobs, Mini Grilled BBQ Chicken Tacos, or Instant Pot BBQ Pulled Pork with this sauce at your next summer BBQ!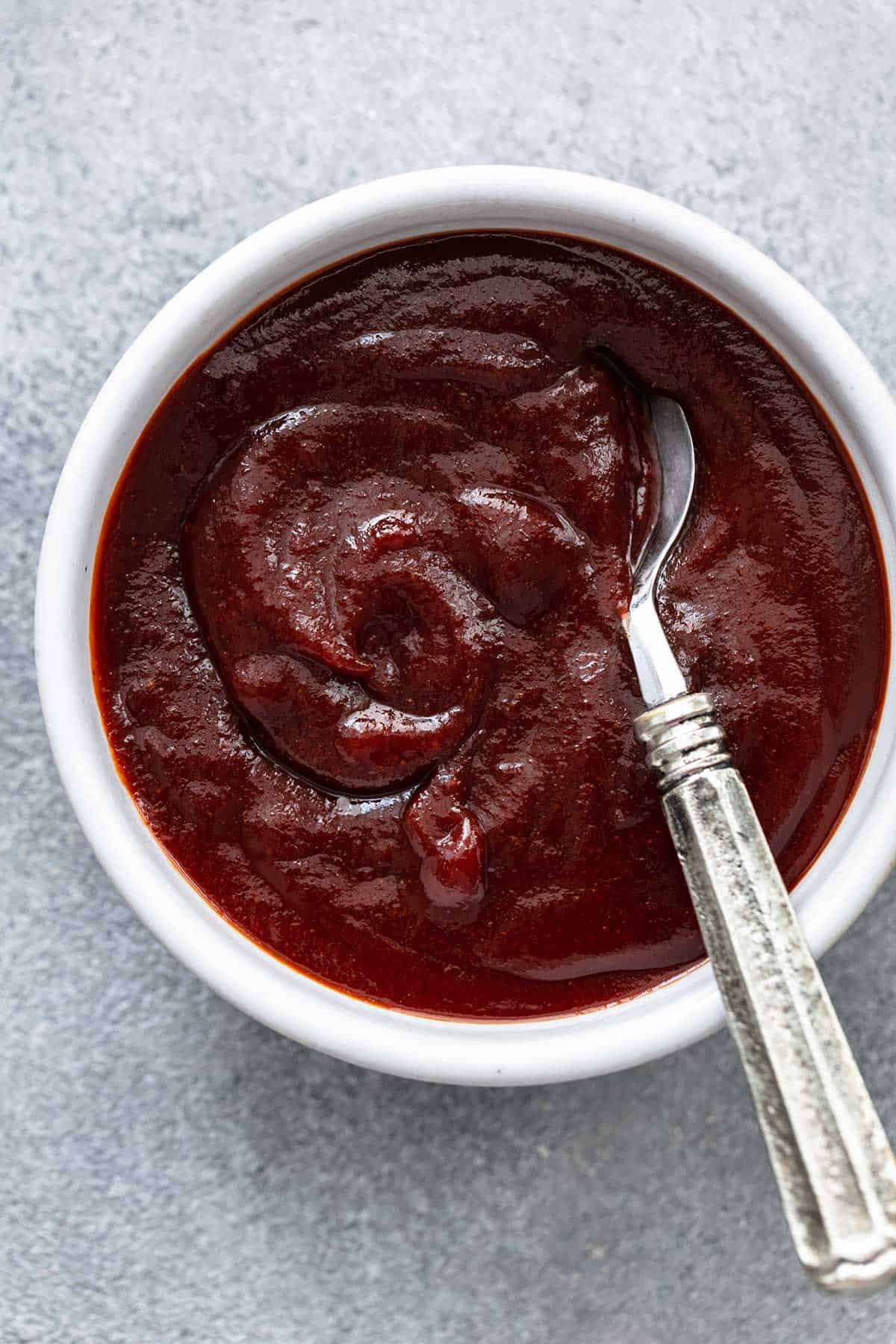 Why This Recipe Works
Why This Recipe Works
Versatile – While we used this BBQ sauce recipe for burgers, we found that not only were people eating it on burgers but putting it on their brats too. It also works on hot dogs, sausage, ribs, chicken, pork tenderloin – basically anything you want a simple BBQ sauce on…trust me, it's the best!
Flavorful – This sauce is a sweet and spicy BBQ sauce because it has sweet (sugar and molasses) and also some cayenne and paprika for spice. It's also a little tangy thanks to the apple cider vinegar and Worcestershire sauce. In a nutshell, this easy BBQ sauce has it all!
Keeps well – Make up a big batch and keep this sauce in the fridge for up to two weeks, if it lasts that long!
Easy ingredients – I bet you have most of these ingredients in your pantry or fridge right now. Go check, I'll wait! You with me? A little dash of this, a pinch of that, stir and serve!
Ingredients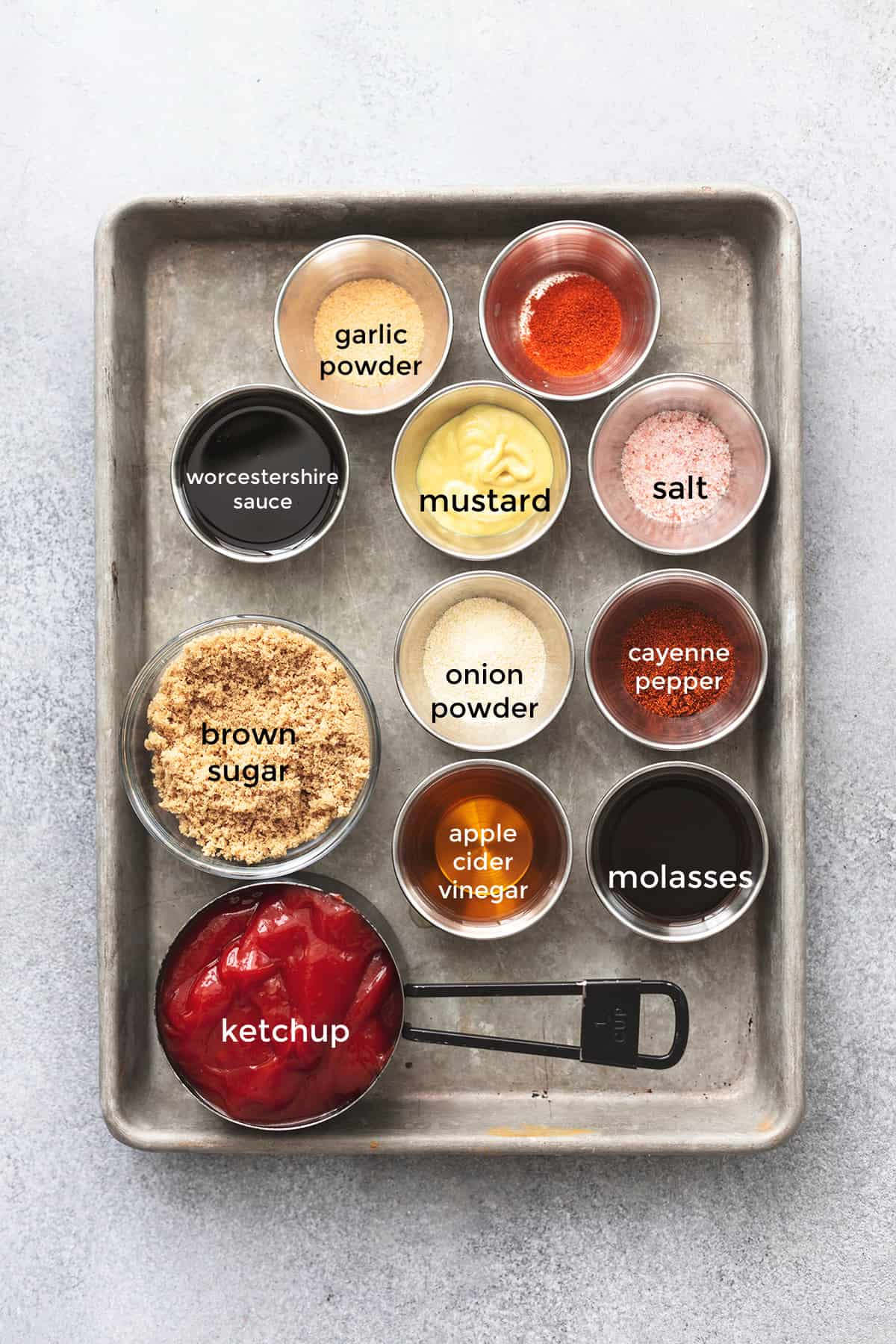 Ketchup – I use name-brand ketchup in this barbecue pizza. It does really matter for taste. But you could also substitute tomato sauce if desired.
Apple cider vinegar – Important in Dallas barbecue as well as North Carolina barbecue, apple cider vinegar adds just the right amount of tart and sour to the sauce. You could also use two tablespoons of ACV and one tablespoon of hot sauce (I like Frank's) to add a little spiciness to this sauce.
Worcestershire sauce – This is the other key to this sauce. It adds a lovely salty and earthiness you won't want to skip. Use any brand.
Brown sugar – I use dark brown sugar but light brown sugar will work too.
Paprika – Use regular or smoked paprika.
Cayenne pepper – An important ingredient in this gluten free BBQ sauce, you need a healthy dose of that cayenne!
Garlic and onion powder –
Salt – Salt to taste. Add some black pepper too if you like. Any brand will work.
Molasses – Another unexpected ingredient, molasses is necessary for this Dallas BBQ sauce to come together perfectly. But don't run to the store if you don't have it – you can also substitute corn syrup.
Mustard – Any name-brand yellow mustard works just fine in this recipe. (You'll also notice it when you use this BBQ sauce as a condiment in yummy dishes like BBQ chicken pizza.)
Water –If you need to thin this sauce out, you can use a little bit of water. But it's totally optional. You could also use lemon juice for a bit of citrus and tart.
Here's How You Make It
How to make the best BBQ sauce for ribs? (Or chicken, or pork, or, or, or…) I'll tell ya: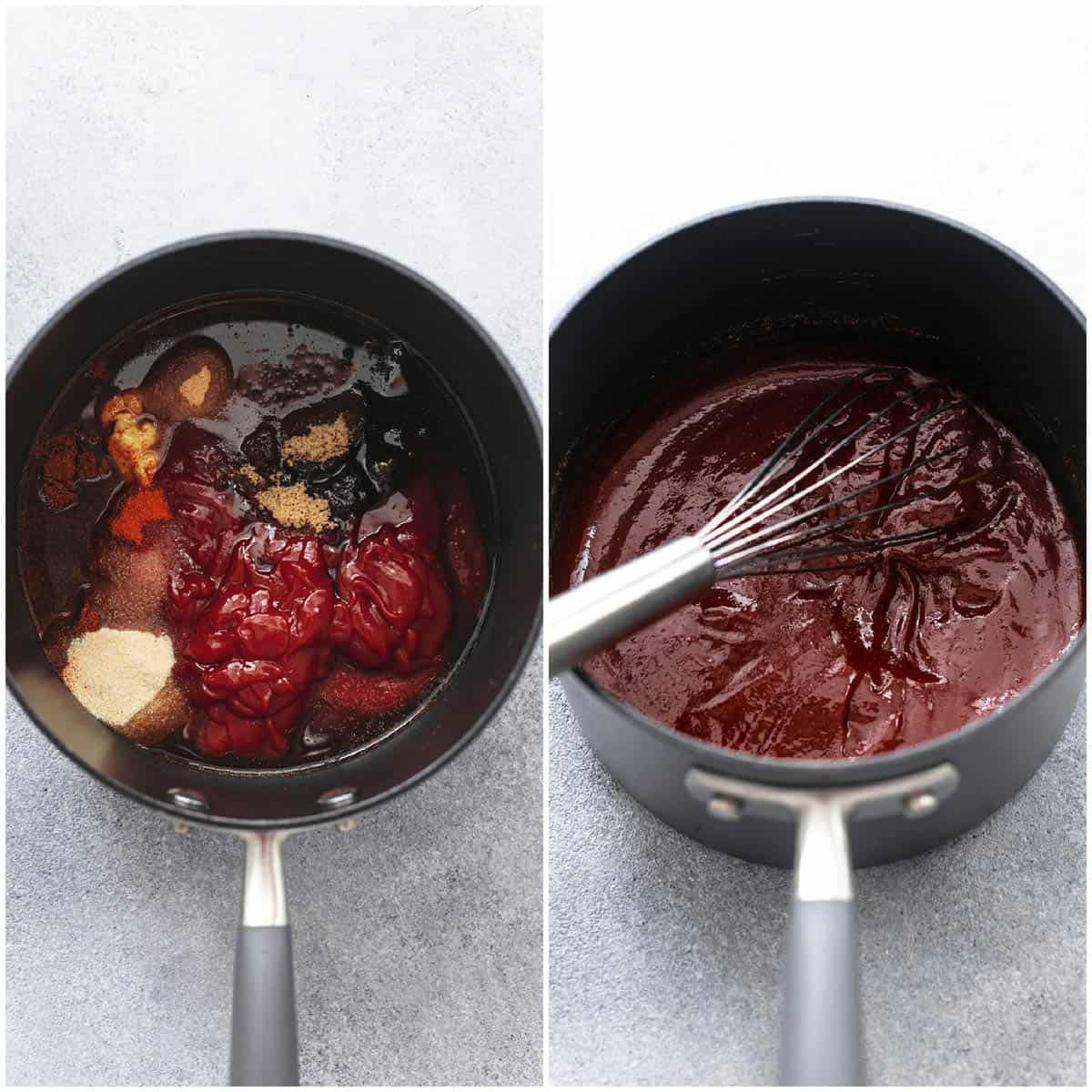 Whisk together all the ingredients listed in a saucepan and bring to a boil. Keep stirring and reduce to a simmer, cooking for an additional 15 minutes.
Serve this simple BBQ sauce recipe right away, or, let it sit covered, in the fridge for about an hour to let the flavors really come together.
Storage Instructions
To store Dallas BBQ sauce, put it in an airtight container. It will last in the fridge for up to 2 weeks. You can freeze it too for up to 6 months in an airtight container. Once it thaws, it will need to be stirred back up as some separation can occur.
Ideas for Serving BBQ Sauce
I make up a batch of this sauce and leave it as a condiment on the side for people to spoon onto their plates or over meat as they please.
I'll use this homemade BBQ sauce as a baste for barbecue chicken or pork tenderloin. I spread it on once I put the meat on the grill, then again as I flip it to cook. Then again after it's done cooking. It forms a nice crust around the meat and keeps it tender and juicy too.
Add a pork tenderloin, chicken breasts, ribs, whatever you like into your slow cooker along with a couple cups of this sweet and spicy BBQ sauce. Cook on low for 6-8 hours and pull the meat apart. Finger-licking good!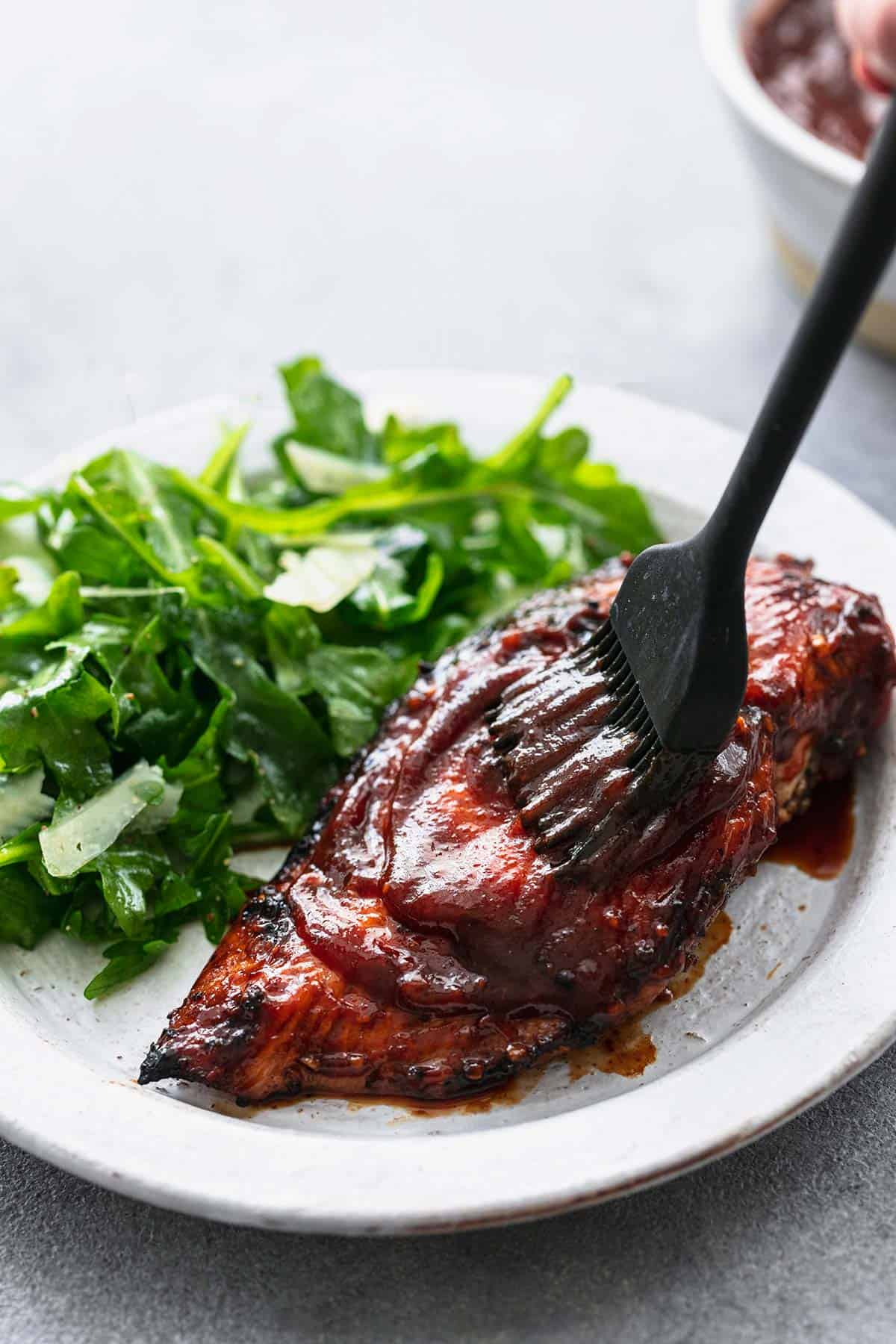 What Are the Four Types of Barbecue?
You may have heard of different types of barbecues: Carolina, Kansas City, Texas, and Memphis. There are others of course, but these are the most popular styles. But what makes them different?
Carolina Barbecue is slow roasted pork that's pulled, shredded, or chopped and sometimes rubbed with a spice mixture before being smoked. It is more vinegar-based with the sauces and the taste. Sometimes the same vinegar/sweet/spicy sauce is serving on the side for dipping.
Memphis Barbecue relies on both wet and dry rubs/sauces for its meat. But either way, the meat is cooked on low and slowly for a long time. It's often served on sandwiches with a tangy tomato-based sauce.
Kansas City Barbecue is also made from a tomato base but is sweetened by molasses. Kansas City also relies on all kinds of meat for its barbecuing purposes, not just pork. The meat is dry rubbed before being smoked and is served with a thick, sweet sauce on the side.
Texas Barbecue is cooked low and slow in pits with a dry rub instead of a sauce. This kind of barbecue isn't generally served with much in the way of sauce either.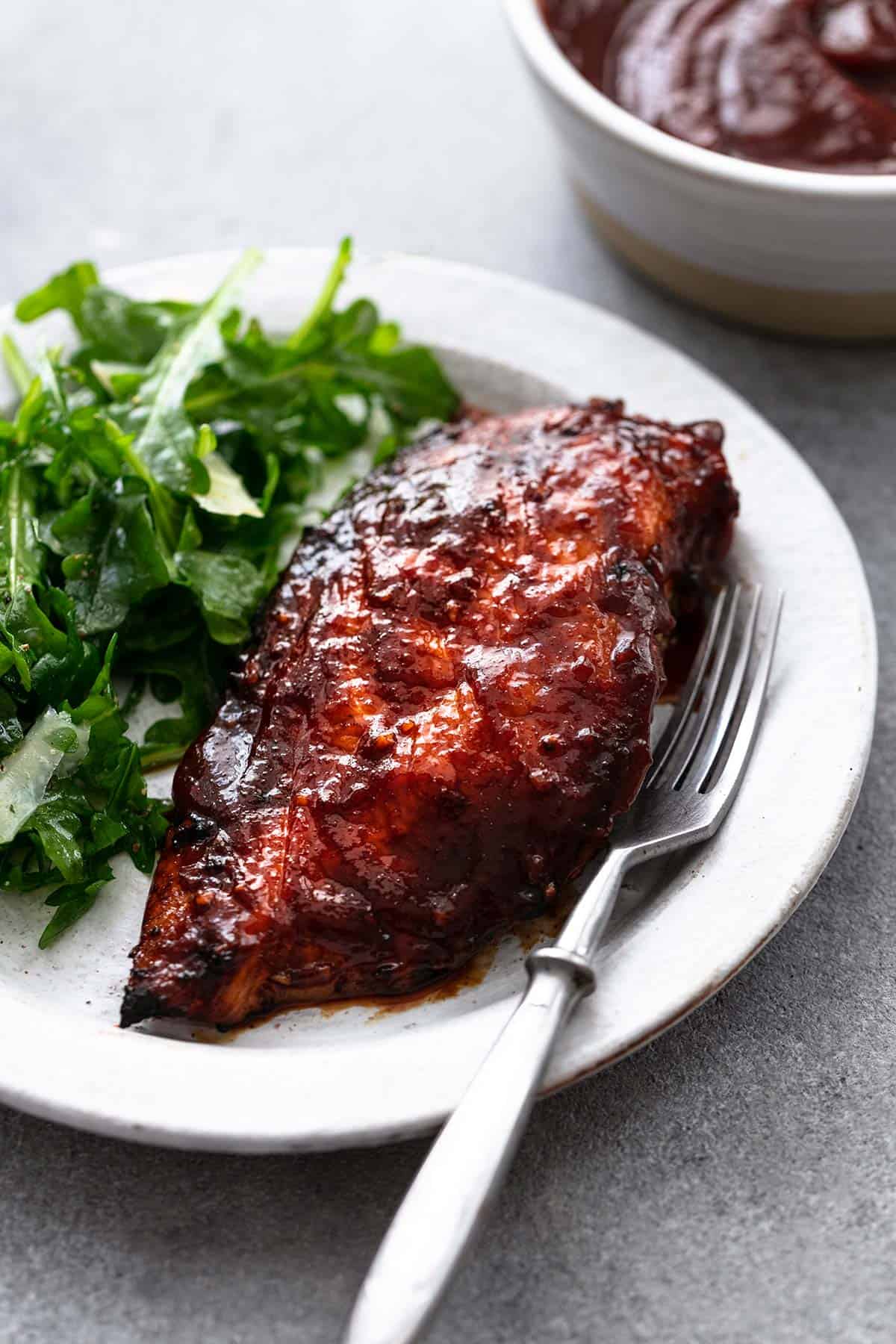 Expert Tips
If you'd like thicker sauce, let it cook about 5 minutes or so longer on simmer till the sauce is your desired thickness. If you want it thinner, cook it down less.
Feel free to play around with the amounts of sweet/hot in this sauce. Make it yours!
In addition to keeping this best homemade BBQ sauce in the fridge, you can also freeze it for a few months at a time. I like to freeze mine in individual ice cube trays then pop out as much as I want/need for whatever meal I'm making.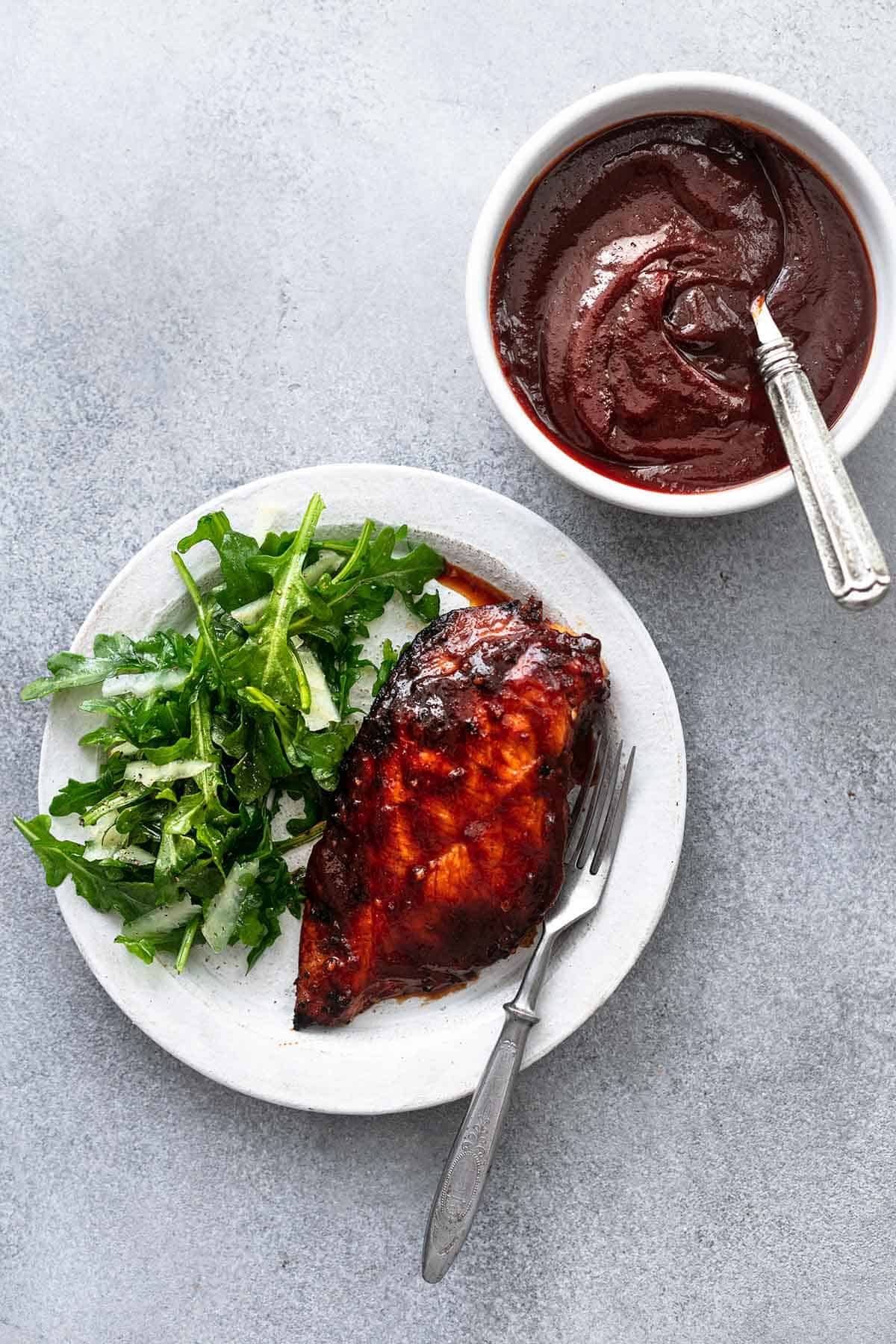 More Amazing Condiment Recipes
Did you make this delicious and simple bbq sauce recipe? YAY! Please rate the recipe below!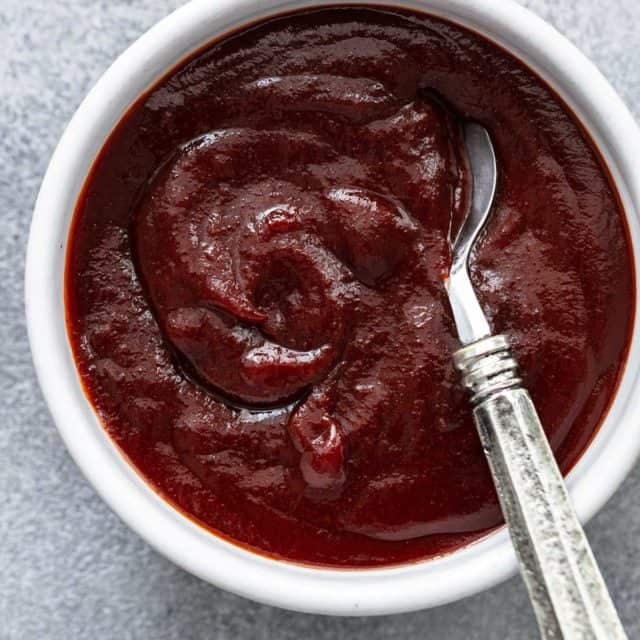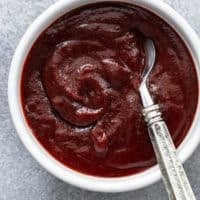 Barbecue Sauce Recipe
This sweet-and-spicyBBQ sauce is the perfect addition to any summer backyard grill-out and goes great on chicken, pork, and beef!
Ingredients
1 ½

cups

ketchup

3

tablespoons

apple cider vinegar

2

tablespoons

worcestershire sauce

¼

cup

brown sugar

1

teaspoon

paprika

¼

teaspoon

cayenne pepper

1

teaspoon

garlic powder

2

teaspoons

onion powder

1

teaspoon

salt

3

tablespoons

molasses

2

teaspoons

mustard

water

-

as needed, optional
Instructions
Whisk together all ingredients in a medium sauce pan. Bring to a boil, then reduce to a simmer, cover and cook 15 minutes stirring occasionally.

As the sauce simmers, feel free to add a few tablespoons of water to thin sauce to desired consistency.

Sauce may be served immediately but if you have some extra time, cover and chill for at least 1 hour for best flavor. Enjoy!
Notes
Store in airtight container in fridge up to two weeks. 
Nutrition
Calories:
107
kcal
,
Carbohydrates:
26
g
,
Protein:
1
g
,
Fat:
1
g
,
Saturated Fat:
1
g
,
Sodium:
760
mg
,
Potassium:
313
mg
,
Fiber:
1
g
,
Sugar:
23
g
,
Vitamin A:
280
IU
,
Vitamin C:
3
mg
,
Calcium:
36
mg
,
Iron:
1
mg