Greek Yogurt Ranch is a creamy, low-fat and low-cal delight of a dressing. Creamy, smooth, a bit tangy, and with all the ranch flavors you love…in a matter of minutes you could whip up a salad dressing or dip that's sure to be a hit!
For more delicious salad dressings that you can make at home, try my recipes for Lemon Poppyseed, Fat Free Dijon, or Tzatziki.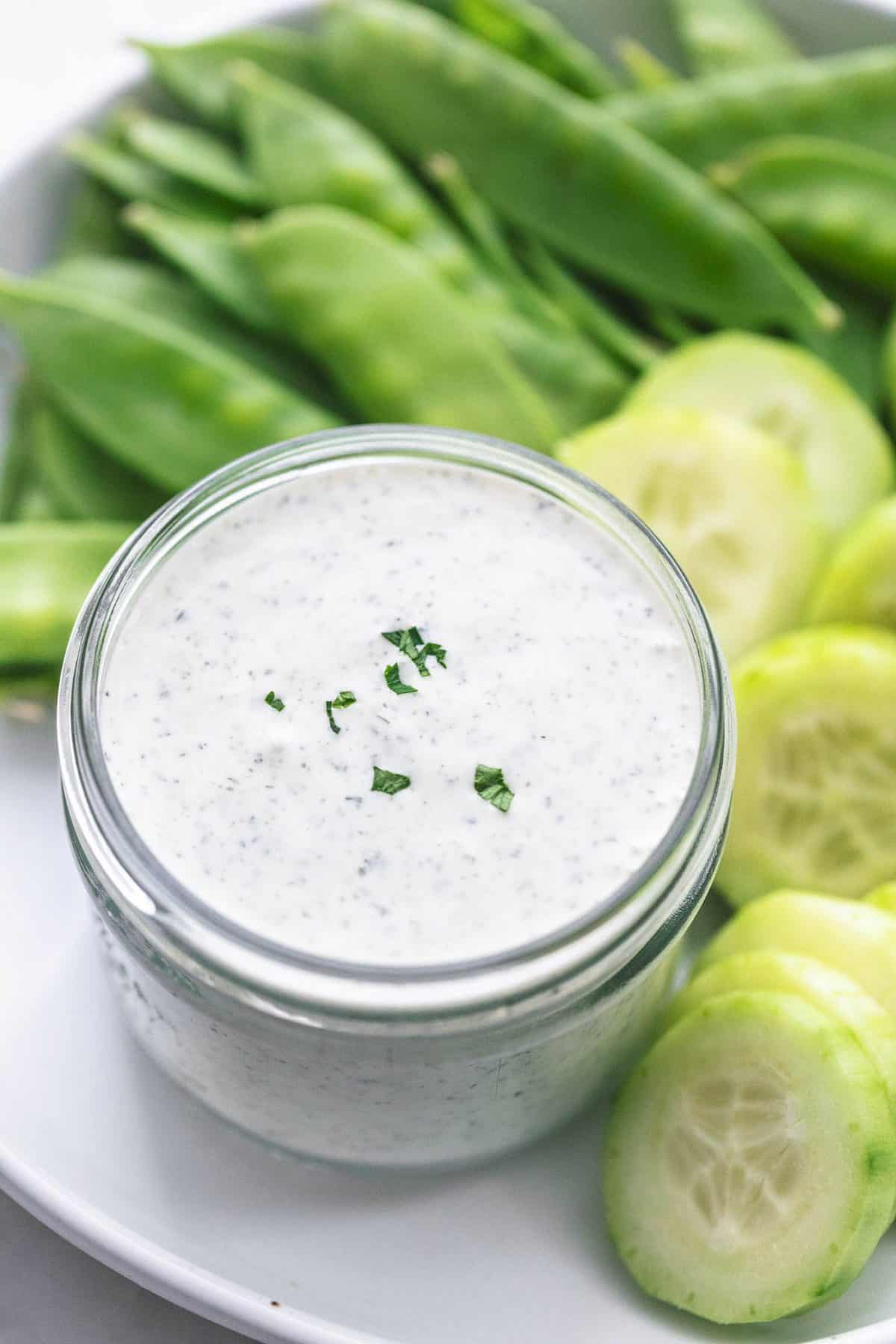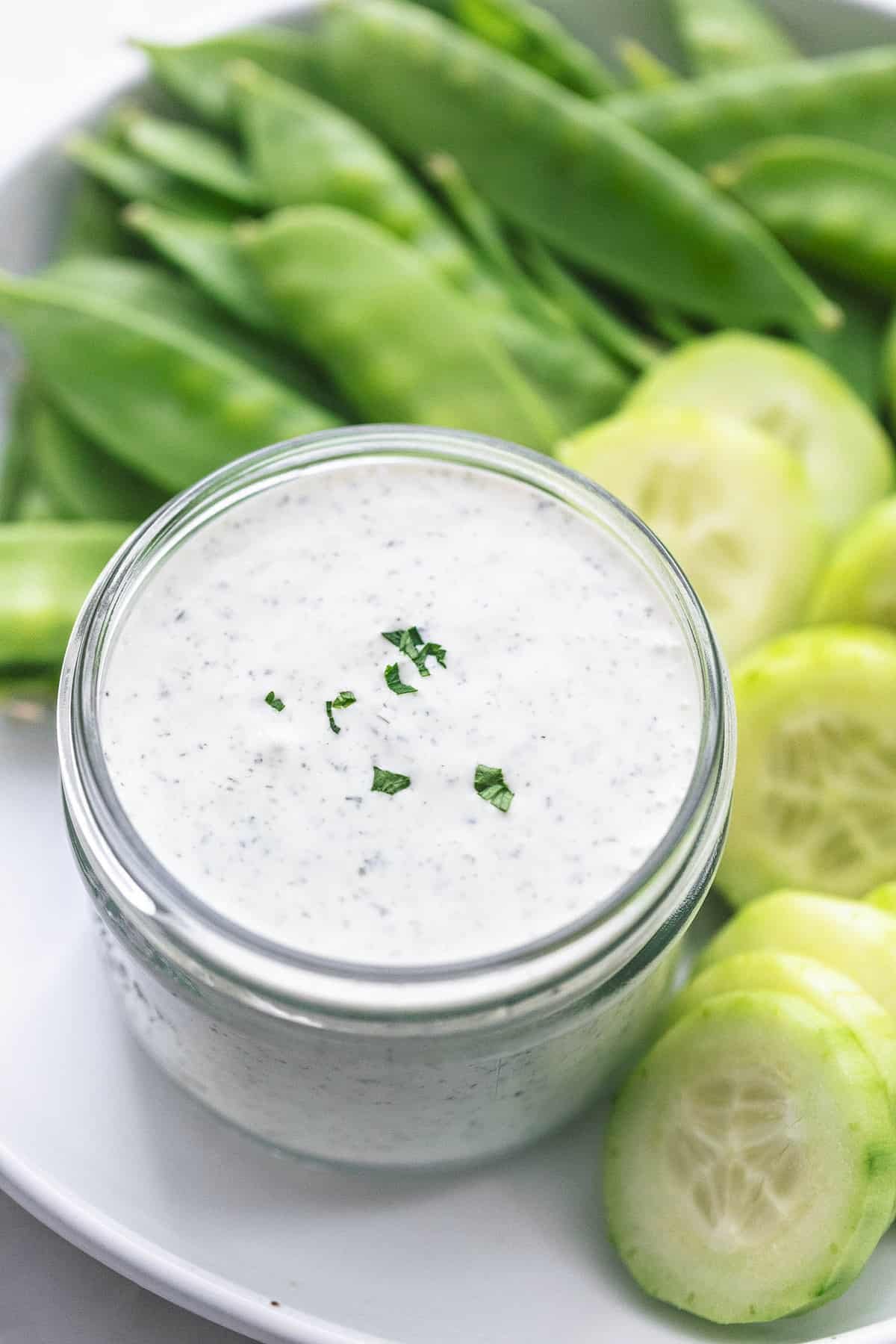 Before sitting down to write this blog, I had just finished eating a humongous salad with this easy ranch dressing recipe amply drizzled atop it and I have no regrets. Why is it that I can have no regrets after eating what was basically a cup of ranch with a couple pieces of lettuce and some cucumbers buried in it? Well, because it's HEALTHY!
That's right, new year, new you (or new me) and all that. I am one of those people that LOVES ranch. I could dip everything into it: carrot sticks, pizza, chips, chicken, maybe even chocolate. (I've never done it but let's not take it off the table just yet.)
And, while I'm one of those "everything in moderation" kinds of people (I mean, have you seen the amount of desserts I like to make and enjoy? Seriously just click on my dessert link and see all my recipes, or save yourself sometime and just check out these BEST Ever Super Chewy Gooey Brownies), the word "moderation" for me has been on somewhat of a sliding scale of late. So, I figure I could go ahead and dunk my vegetables and everything else in a cup o' the regular ranch, OR I could make it in Greek yogurt and be just as satisfied, and feel better about my healthy choices!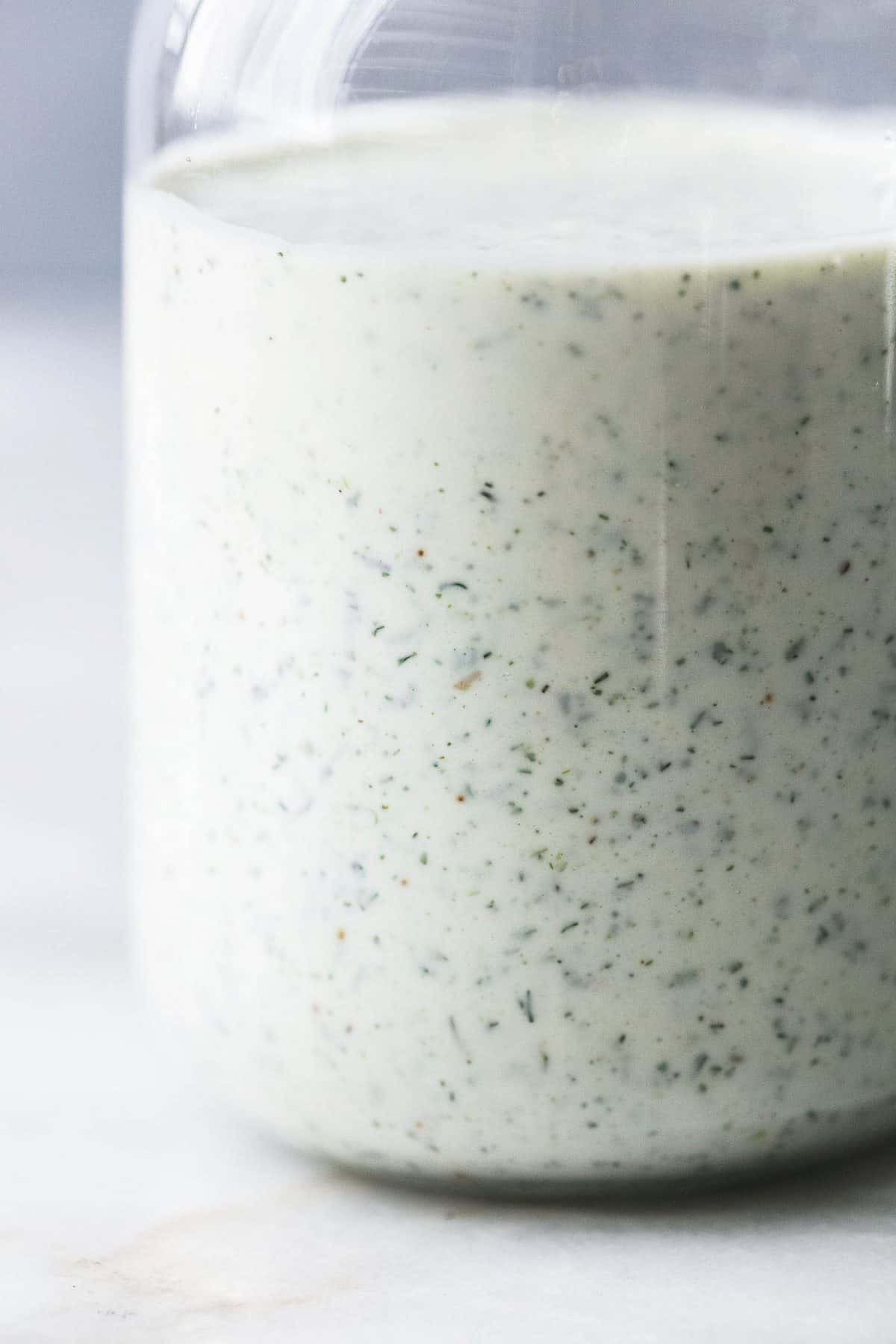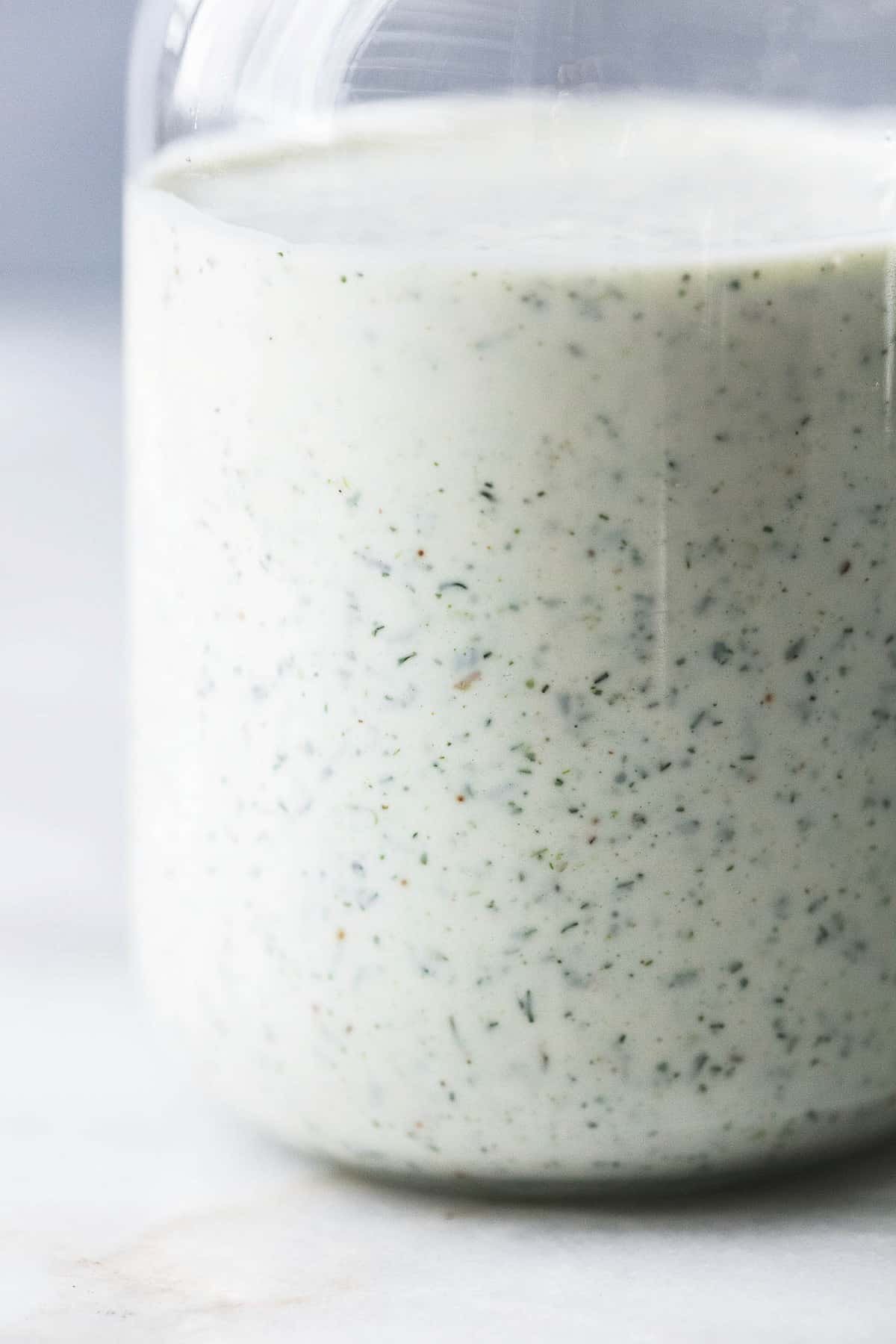 HOW DO YOU MAKE GREEK YOGURT RANCH?
Making this fat free ranch dressing is a cinch! All you have to do is get out a food processor or blender and add in the following ingredients, in any order: Greek yogurt, dill, chives, parsley, garlic and onion powders, salt, rice vinegar, water, salt and pepper. Blend until smooth, pour over any of your favorite salad toppings (if you're looking for a great salad, check out my Chicken Avocado Salad.) or put it in a dish if you are using as a dip.
If you'd like it a little thicker or thinner, add less or more water, depending on how you like your healthy ranch dressing.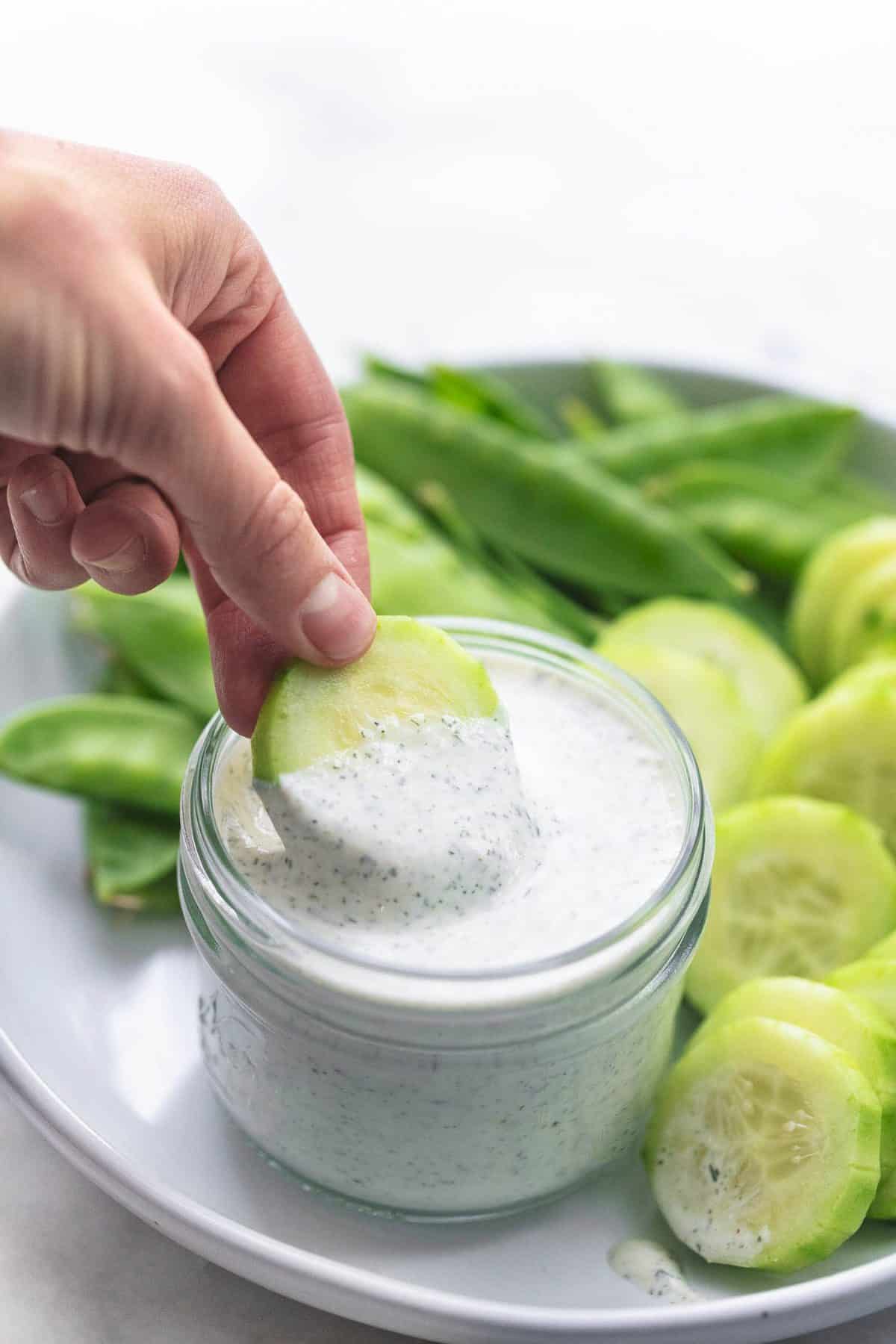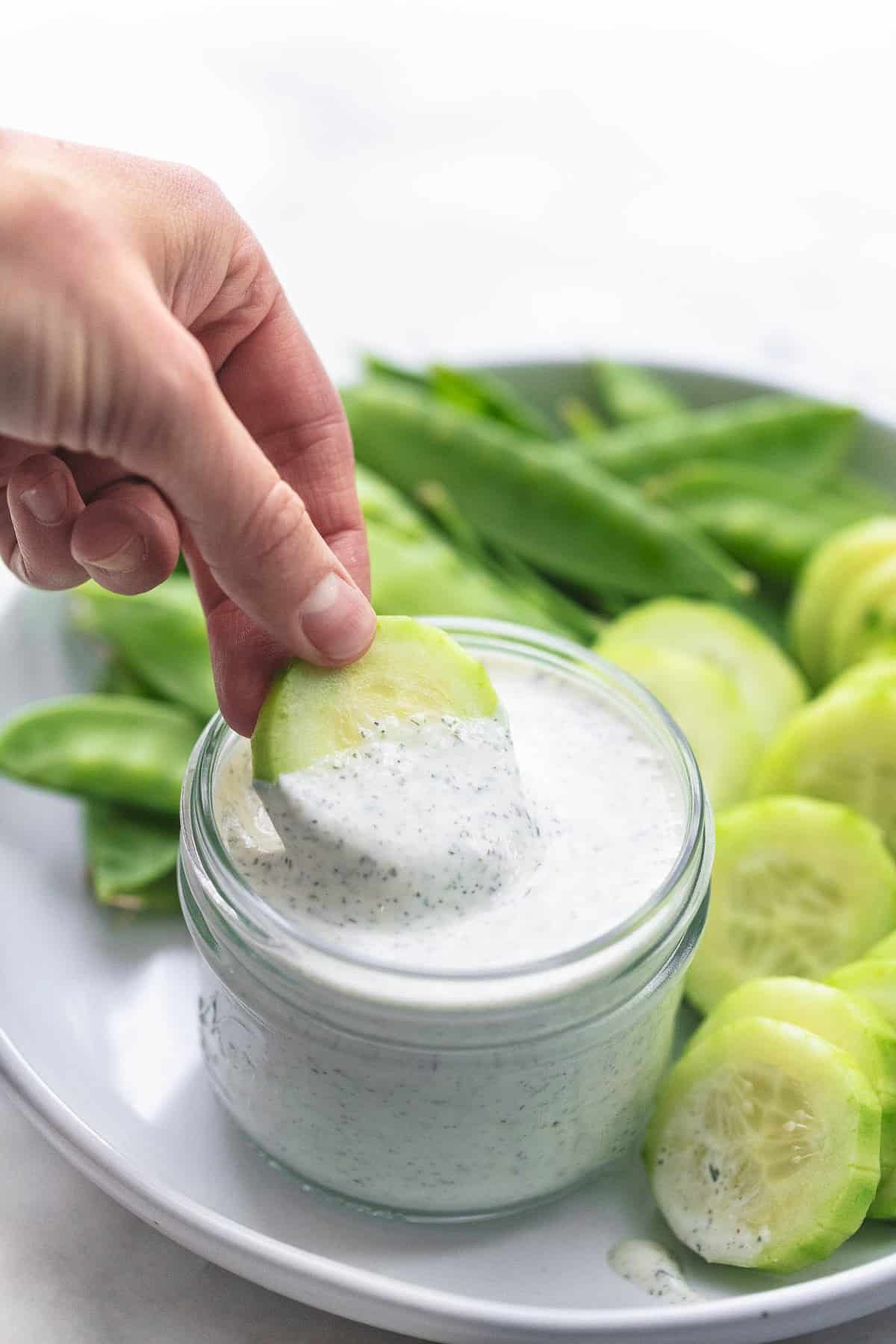 HOW LONG DOES HOMEMADE SALAD DRESSING LAST?
First of all, and I hope this goes without saying, but you should refrigerate the dressings. Second, if you're looking for a measure of how long you can keep homemade dressings in the fridge, I say milk-based dressings will be okay up to one week, and oil-based are good for about two weeks (if you can keep them that long).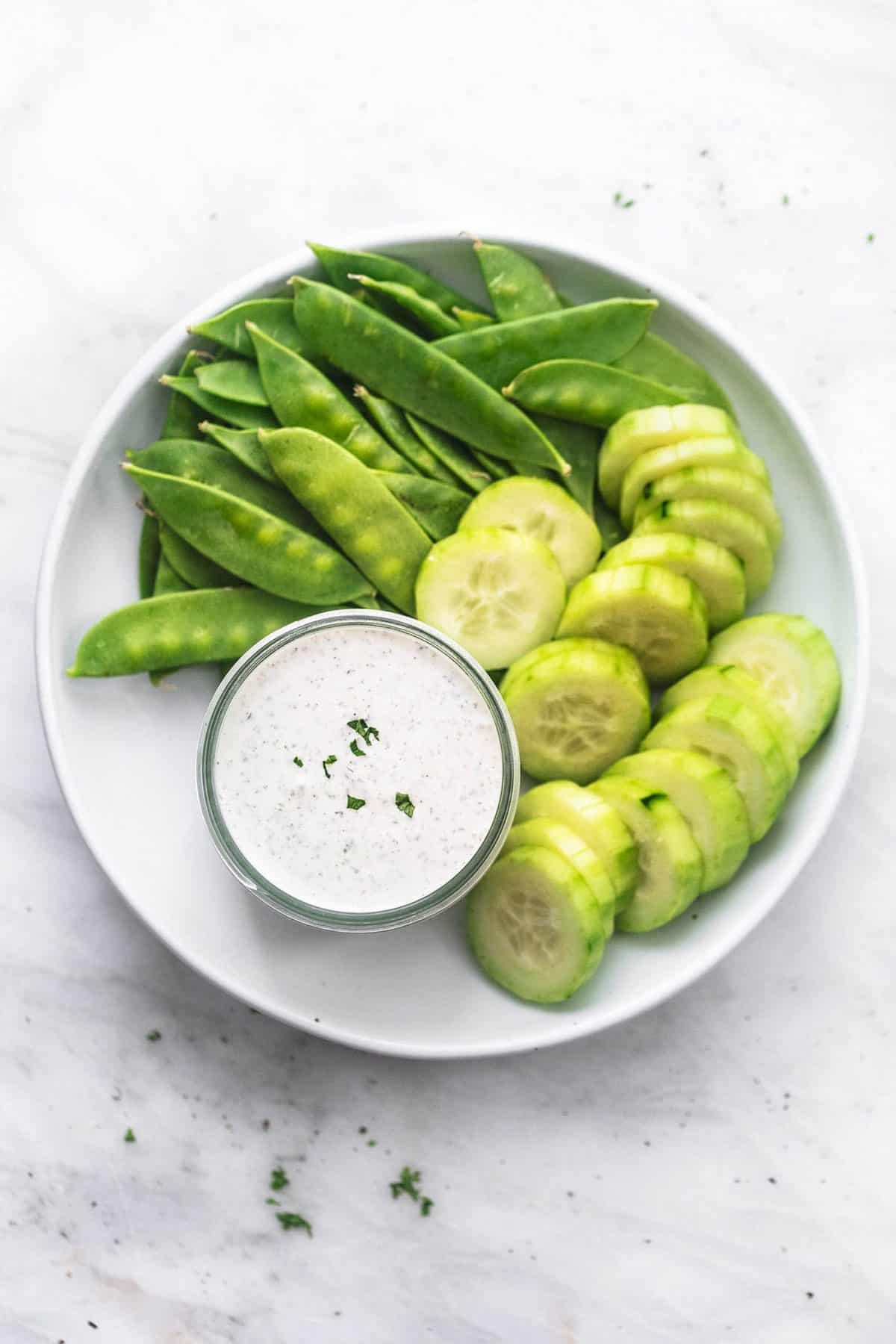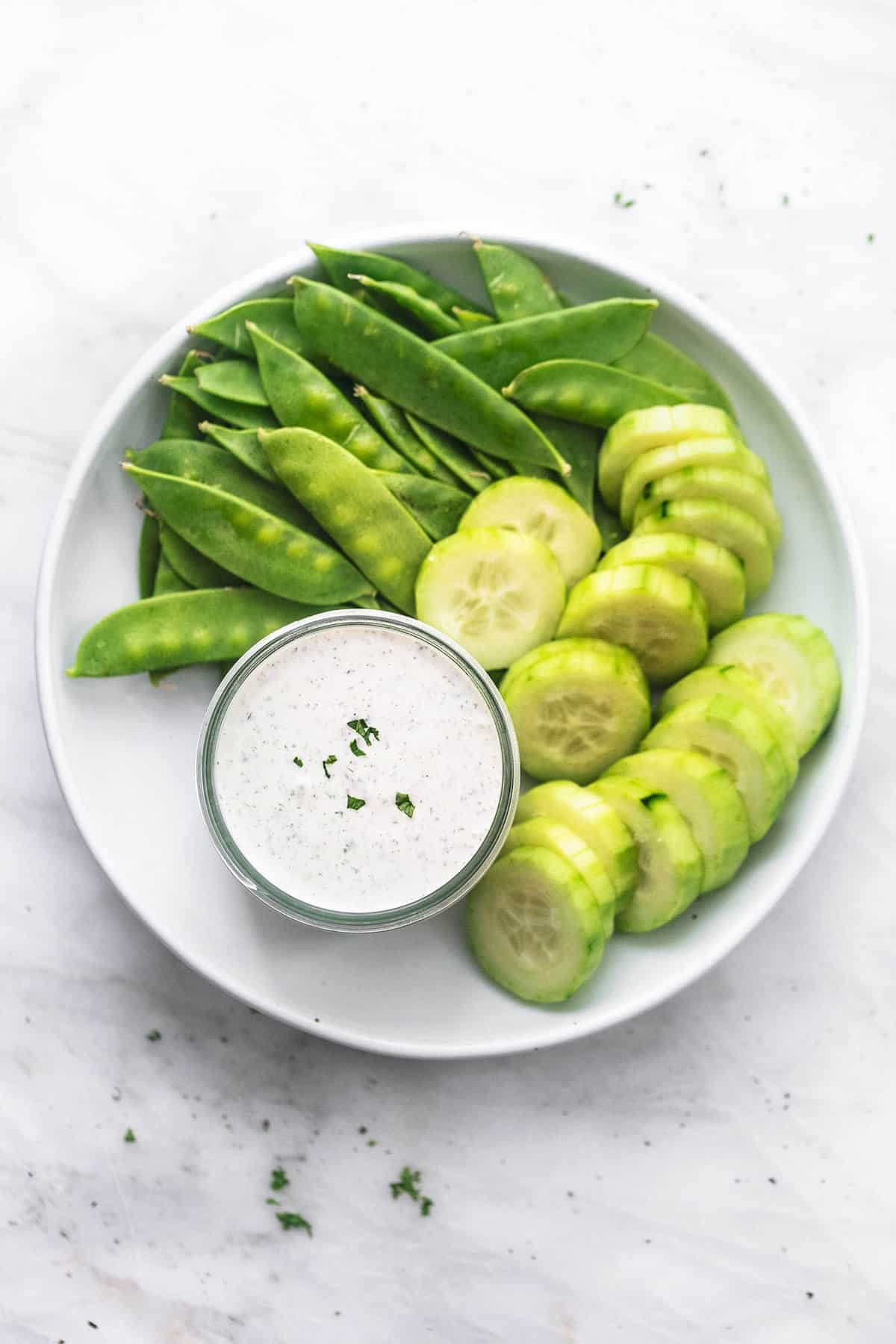 WHAT GIVES RANCH DRESSING ITS FLAVOR?
This low-fat ranch dressing has all the flavor of full-fat dressing, which is a good thing, right? But where does all that flavor come from, you might be asking? Well, I'll tell ya. First, and foremost, ranch dressing has to have that creamy component. Usually, that comes from using milk, sour cream, and/or mayonnaise (or some combination).
In addition to the creamy factor, the flavor also comes from the spices that we use. While they might vary slightly from recipe to recipe, three that are nearly always added are chives, garlic, and dill. I like to add the rice wine vinegar to give just a touch of that tanginess I love in my ranch dressing.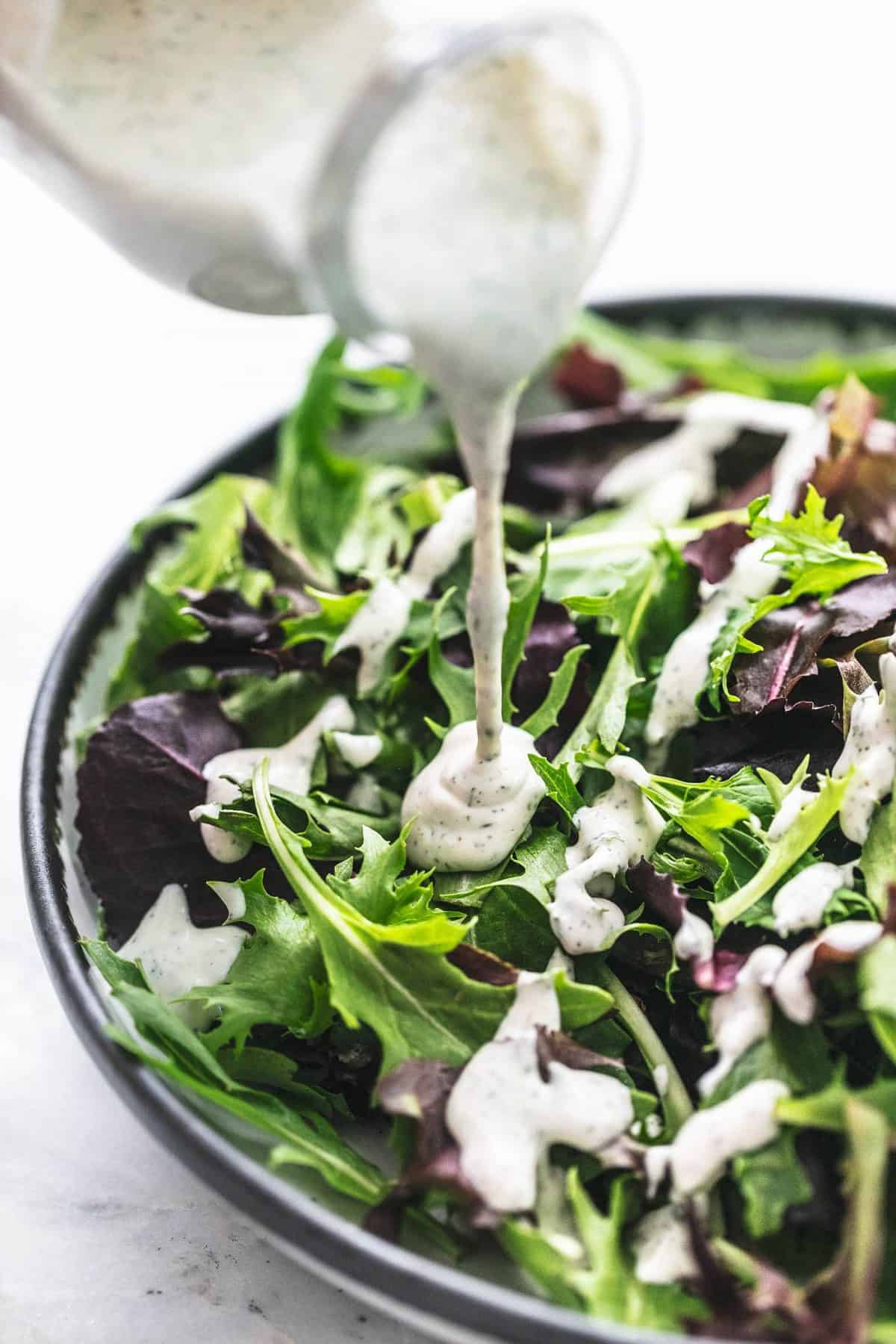 WHAT CAN YOU PUT RANCH ON?
I'd say "everything" but I know I should probably give you just my top-10 list for foods that greek yogurt dressings like this ranch one can make even better!
Salads.

Okay so I had to state the obvious. But, I think that was what it was initially intended for?

Crudite plates

. If you're not going to pour it over veggies, you can go ahead and dip your veggies into the ranch dressing.

Tortilla pinwheels

. Who needs mustard or mayonnaise when you can have ranch?

Chips.

Toss out the store-bought French Onion dip, there's a new flavor in town.

Potatoes

. Potatoes are just like really big chips anyway right?

Tacos

. Because why would you not?

Burgers.

Nothing finishes off a big, juicy burger like a heaping spoonful of delicious, creamy, Greek Yogurt Ranch.

Hot dogs

. If you're going to do burgers, might as well do hot dogs too!

Pizza

. If you're going to go through all the effort to make a chicken and bacon pizza, then you might as well drizzle it in ranch or not eat it at all!

Sandwiches.

And not just because we've named just about every other handheld food here. Because it's darn good!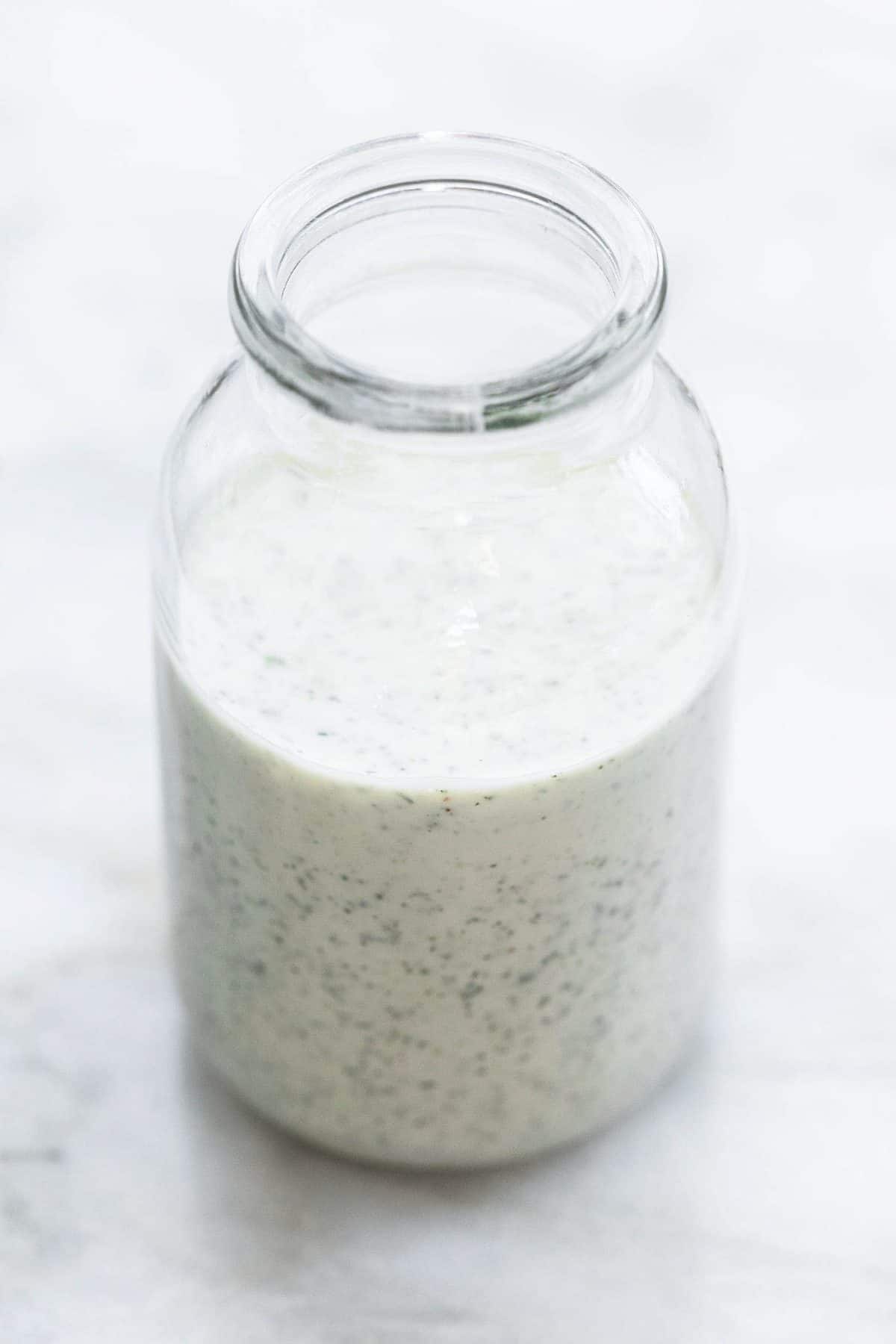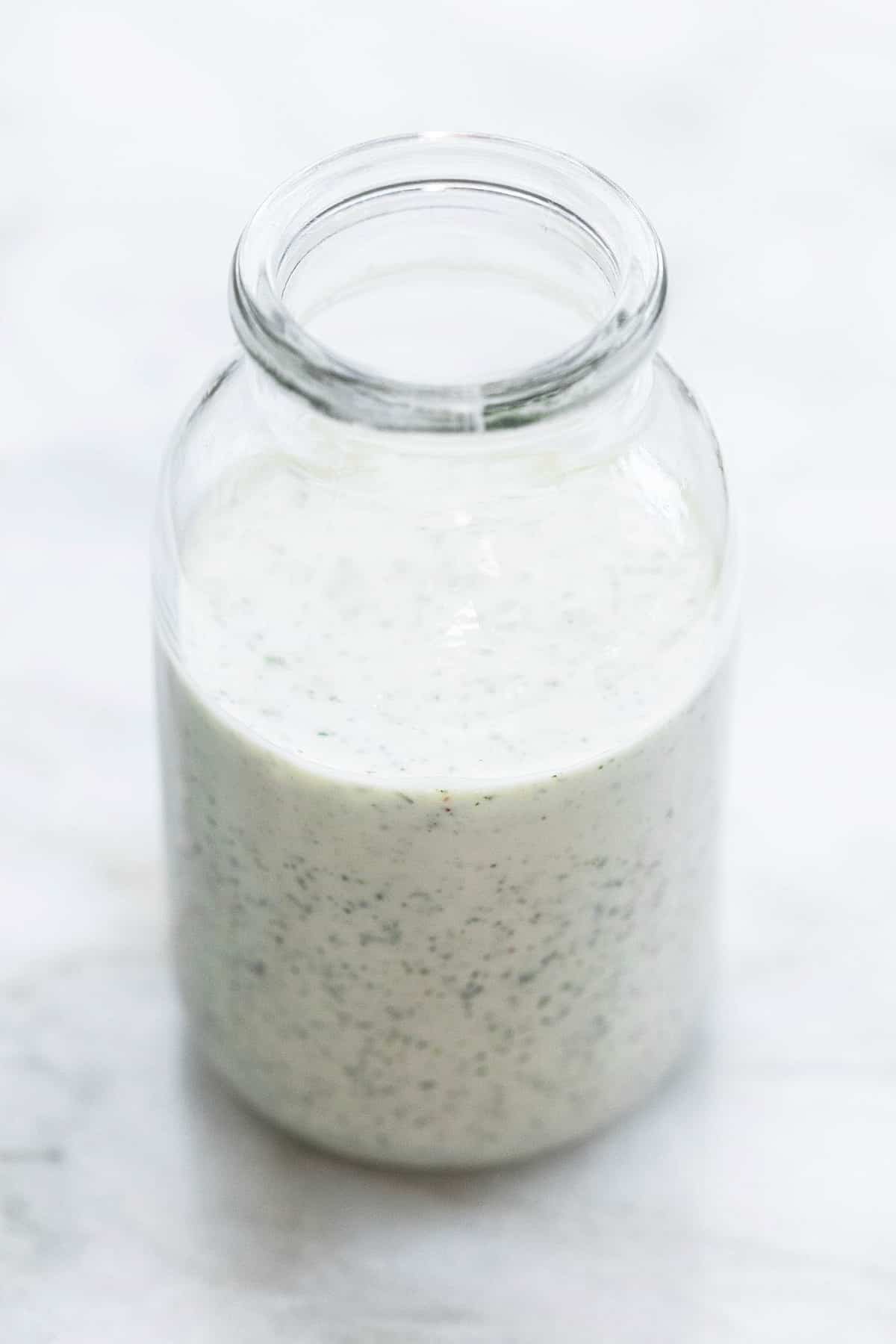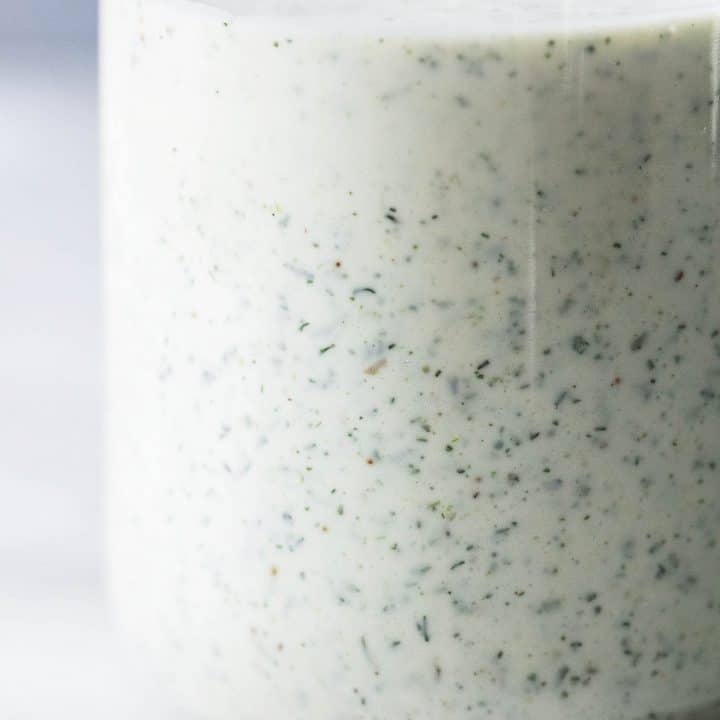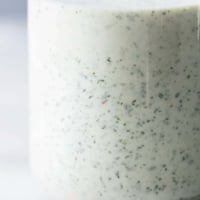 Greek Yogurt Ranch
Greek Yogurt Ranch is a creamy, low-fat and low-cal delight of a dressing. Creamy, smooth, a bit tangy, and with all the ranch flavors you love…in a matter of minutes you could whip up a salad dressing or dip that's sure to be a hit! 
Ingredients
1

cup

plain nonfat Greek Yogurt

1

teaspoon

dried dill

1

teaspoon

dried chives

1

teaspoon

dried parsley

1

teaspoon

garlic powder

1

teaspoon

onion powder

½

teaspoon

salt

1

tablespoon

rice vinegar

1-2

tablespoons

water

-

as needed

½

teaspoon

cracked black pepper

-

or 1/4 teaspoon ground black pepper
Instructions
Combine all ingredients in a blender or food processor and pulse until smooth.

Taste, add salt and pepper to taste and water to thin to desired consistency. (Add more water for a salad dressing, less if using as a dip)

Chill until ready to serve. Store covered tightly and chilled up to 1 week.
Nutrition
Calories:
19
kcal
,
Carbohydrates:
2
g
,
Protein:
3
g
,
Fat:
1
g
,
Saturated Fat:
1
g
,
Trans Fat:
1
g
,
Cholesterol:
1
mg
,
Sodium:
156
mg
,
Potassium:
65
mg
,
Fiber:
1
g
,
Sugar:
1
g
,
Vitamin A:
429
IU
,
Vitamin C:
4
mg
,
Calcium:
36
mg
,
Iron:
1
mg