Chicken Avocado Salad makes a great meal for one or as a side to share. A bed of greens is topped with delicious marinated, grilled chicken, bacon, tomatoes, cheese, avocados, and honey dijon dressing for a salad everyone will want to dig into.
For more salads that eat like a meal, check out my recipes for this Chicken, Bacon and Avocado Salad with Sweet Vidalia Dressing, this Mexican Street Corn Chicken Pasta Salad, or this Greek Avocado Pasta Salad.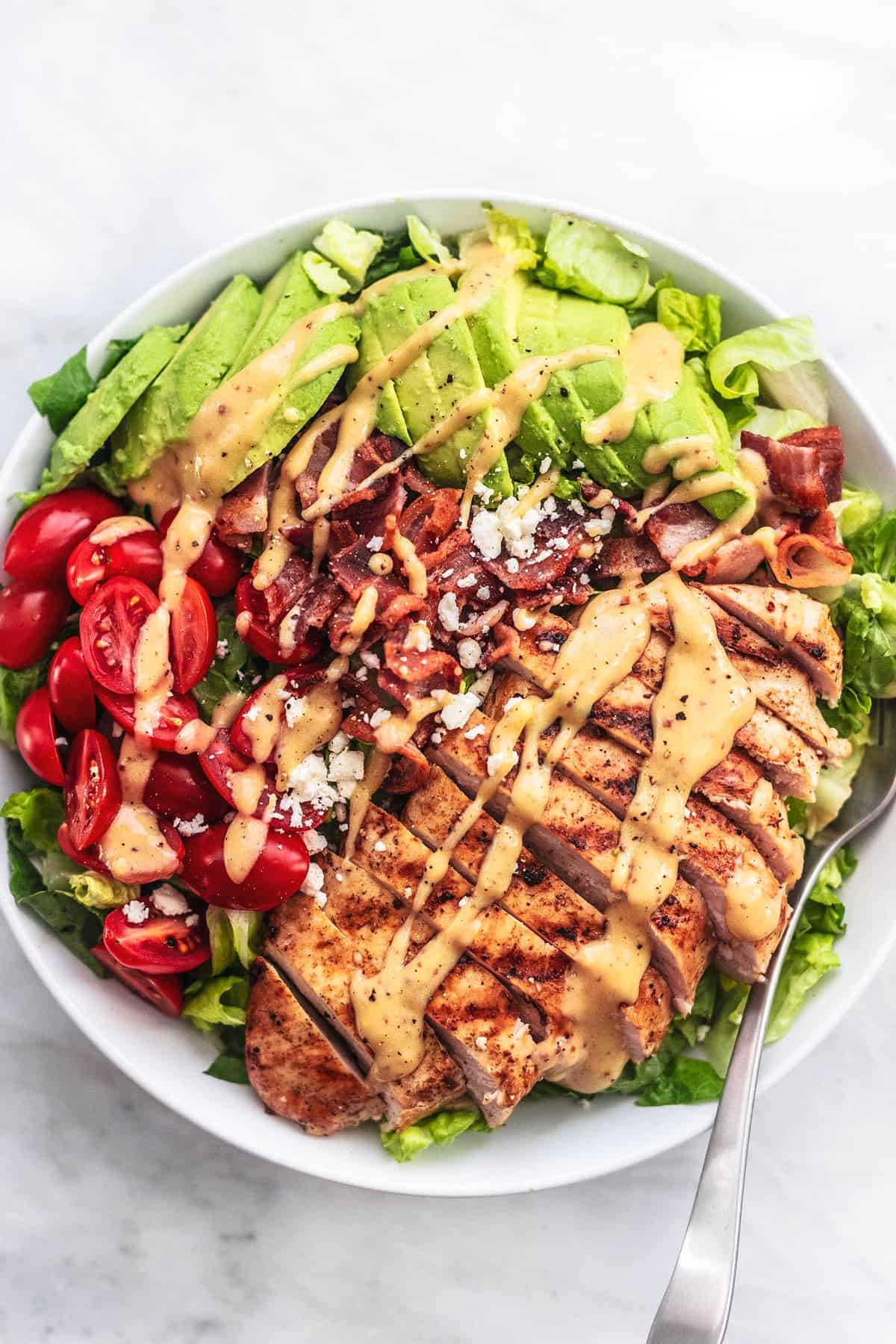 Like it or not, sometimes we have to eat our greens. Kidding. I mean, I eat greens and veggies all the time. Okay often. Okay more often in certain seasons than others (fall and winter just scream carbs to me), but I do make an effort to eat the appropriate amount of servings of veggies a day. Sometimes it comes in small doses throughout the day like in a Skinny Zucchini Muffin at breakfast, or in some slaw I'm eating on my leftover carnitas (for a great recipe try my Pork Carnitas.) at lunch, or in a roasted vegetable dish I have as a side or in a one-pan meal.
And then sometimes I just want to go ahead and get all my servings of good-for-you veggies in one delicious, nutritious meal. Call it watching what I eat. Call it trying to set a good example for the kids. Call it making room for all that holiday food I'm about to get in my face here very soon.
Call the reason what you will, but I call the meal delicious! With bite after crunchy, crispy bite of chicken, avocado, crisp lettuce, bacon, cheese, and tomatoes all topped with a spectacularly tangy dressing, I think your family will be calling on this meal to be in the rotation more often.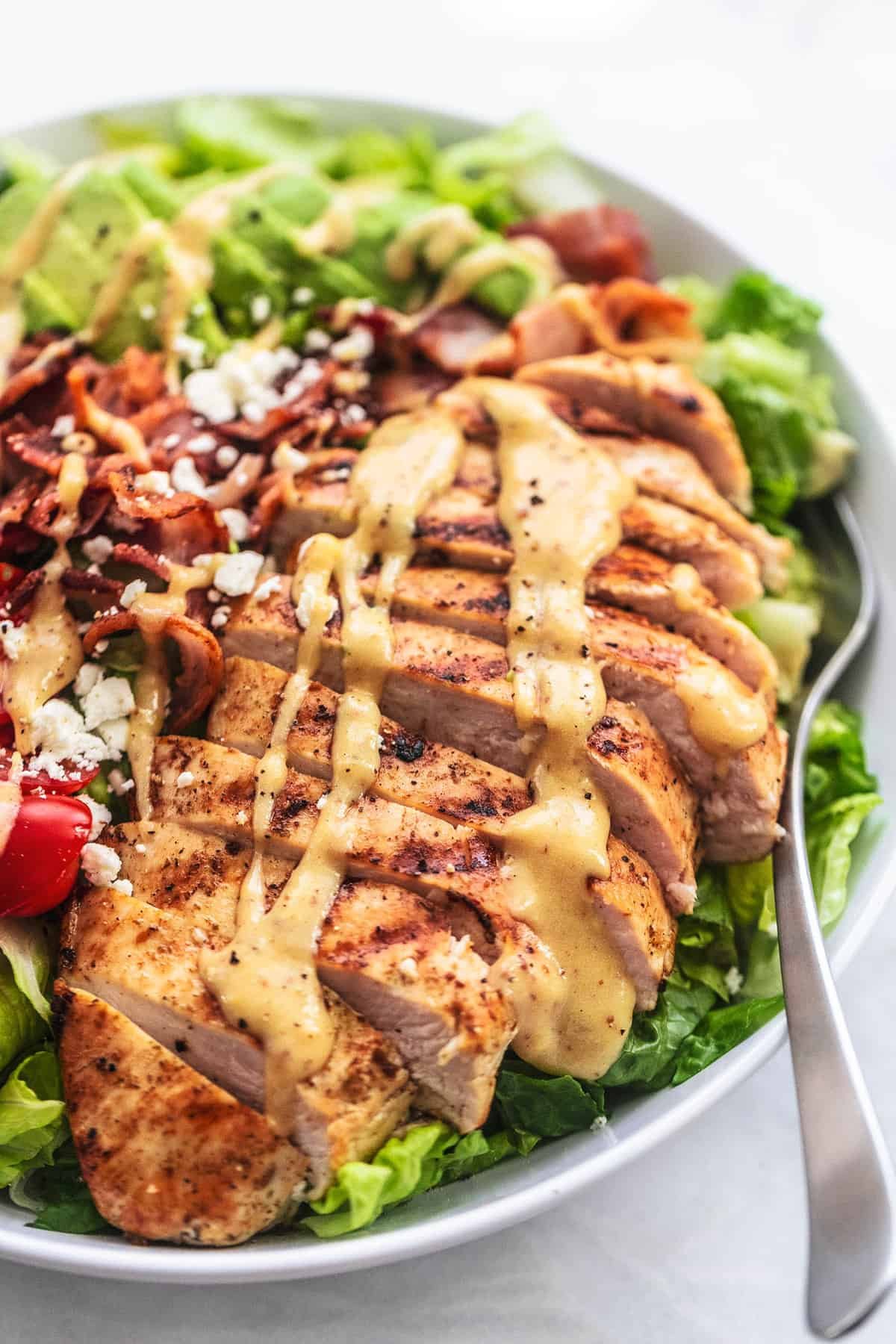 How do you grill chicken indoors?
There are two ways you can grill chicken inside. The first is on a grill pan. Get a grill pan with raised ridges that mimics the look of grill grates. The taller the ridges, the more grill marks you'll get on your meat and the more the juices will run off the chicken into those ridge valleys.
The pans come in cast iron or in nonstick pans. The cast iron ones seem to grill better, in my opinion. Depending on your chicken breast's thickness, you'll need to grill on each side for about 5-10 minutes. Use a press that came with the pan or use a smaller pan to press the chicken into the ridges for more defined grill marks.
The second way to grill chicken indoors is to use an electric grill. Electric grills are small appliances (like waffle makers kind of) that you plug in to turn on. On some models, you'll have to turn the chicken to each side to cook, and for other models, you'll be able to put a lid down and cook both sides at once (like with a panini press). The kind that has a lid that closes and also cooks can't really cook chicken bigger than about an inch thick. Cook for the same amount of time (5-10 minutes) depending on the meat's thickness.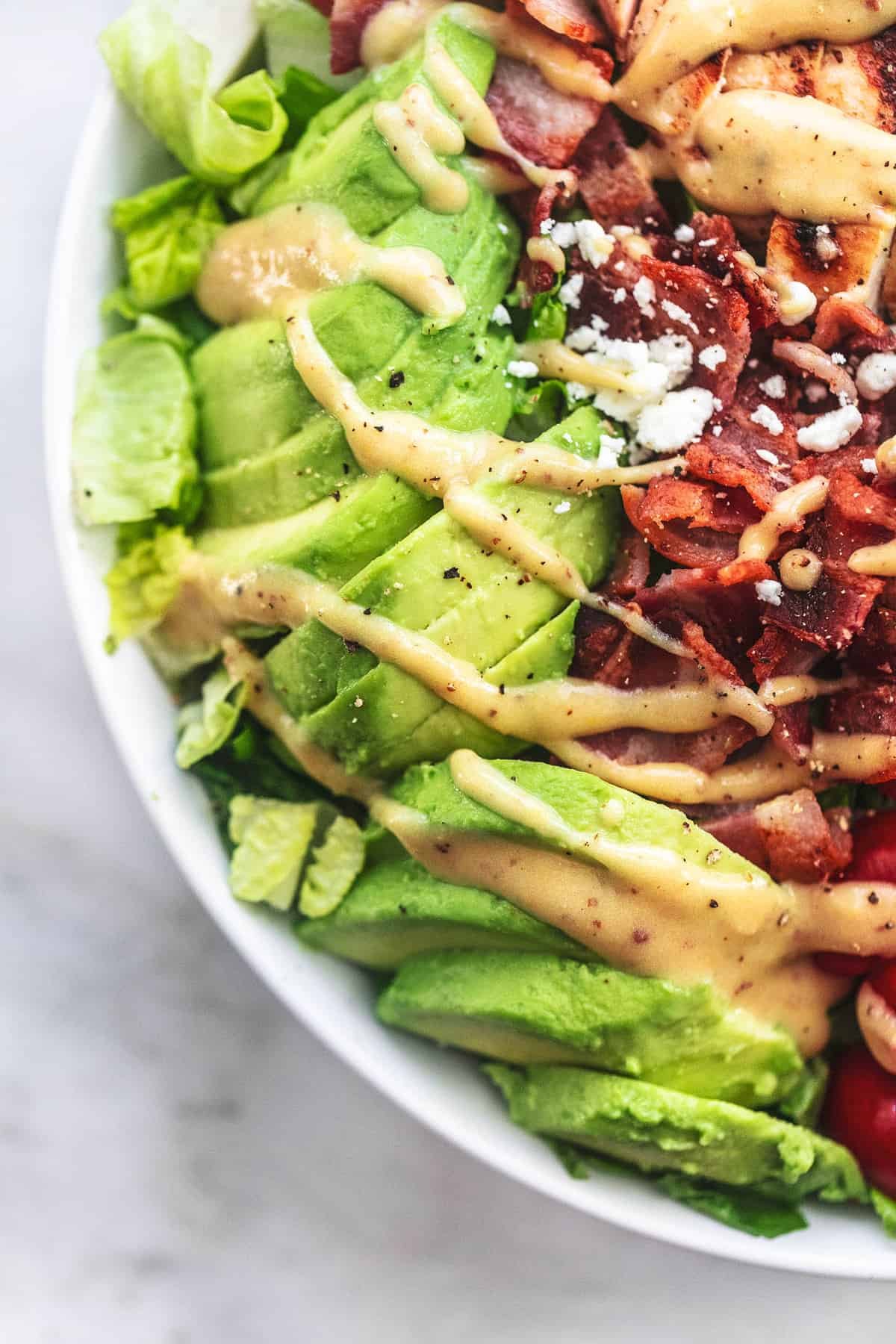 How do you make honey dijon dressing?
I LOVE Honey Dijon Dressing and put it on just about everything I feel like it would even remotely work with. Store-bought is fine, but you can make your own too! I like to make up a big batch of this dressing and store it in a glass mason jar in the fridge for when a craving hits.
It works great over leftover chicken sandwiches too, hint, hint!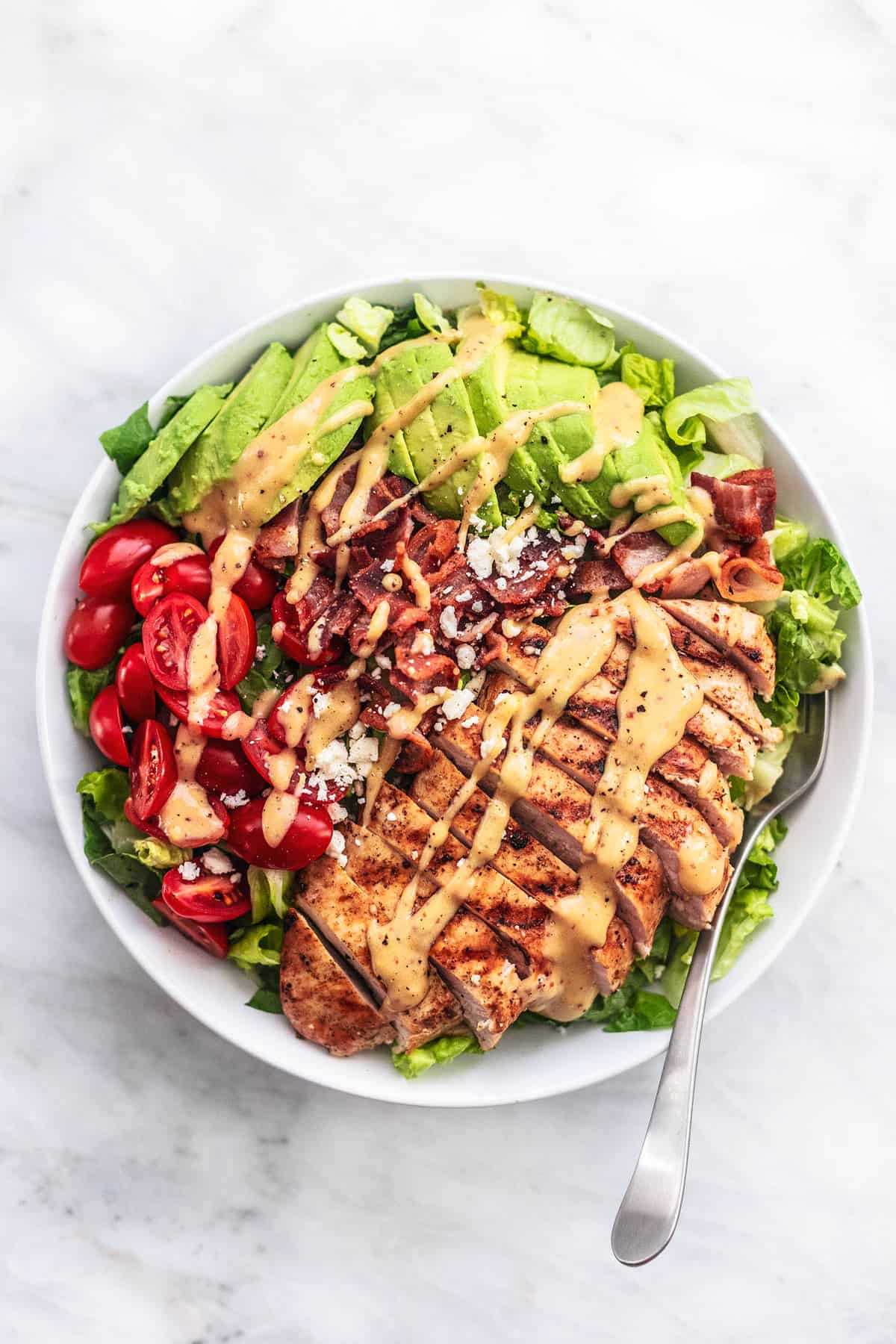 Ways to customize this dish
The best thing about salads is that you can add or subtract ingredients as you see fit. Some of my favorite other ingredients I have made this salad with include:
Feta or goat cheese instead of shredded cheddar or other shredded cheeses.

Sliced black or green olives are also delicious in salads. Or, buy them pitted and whole and spread them around your dish if you are making a larger salad to share.

Substitute

tomatillo ranch

or blue cheese dressing for honey dijon.

Make up some guacamole to serve on the side instead of sliced avocados.

Add craisins or another dried fruit to the salad.

Sunflower seeds or slivered almonds lend a nice crunch to this Chicken Avocado Salad.

English cucumbers (the kind with the tiny seeds you don't have to remove) add a yummy crunch.

Shredded carrots or corn both will add a touch of sweetness to this salad.
How to make it ahead of time
If you are planning on guests any time soon, this is a great dish to get out for a light lunch before a big meal. Simply grill or cook the chicken ahead of time and keep it in the fridge till you're ready to eat. You can warm the chicken back up before slicing and putting on the salad, or it's good cold as well.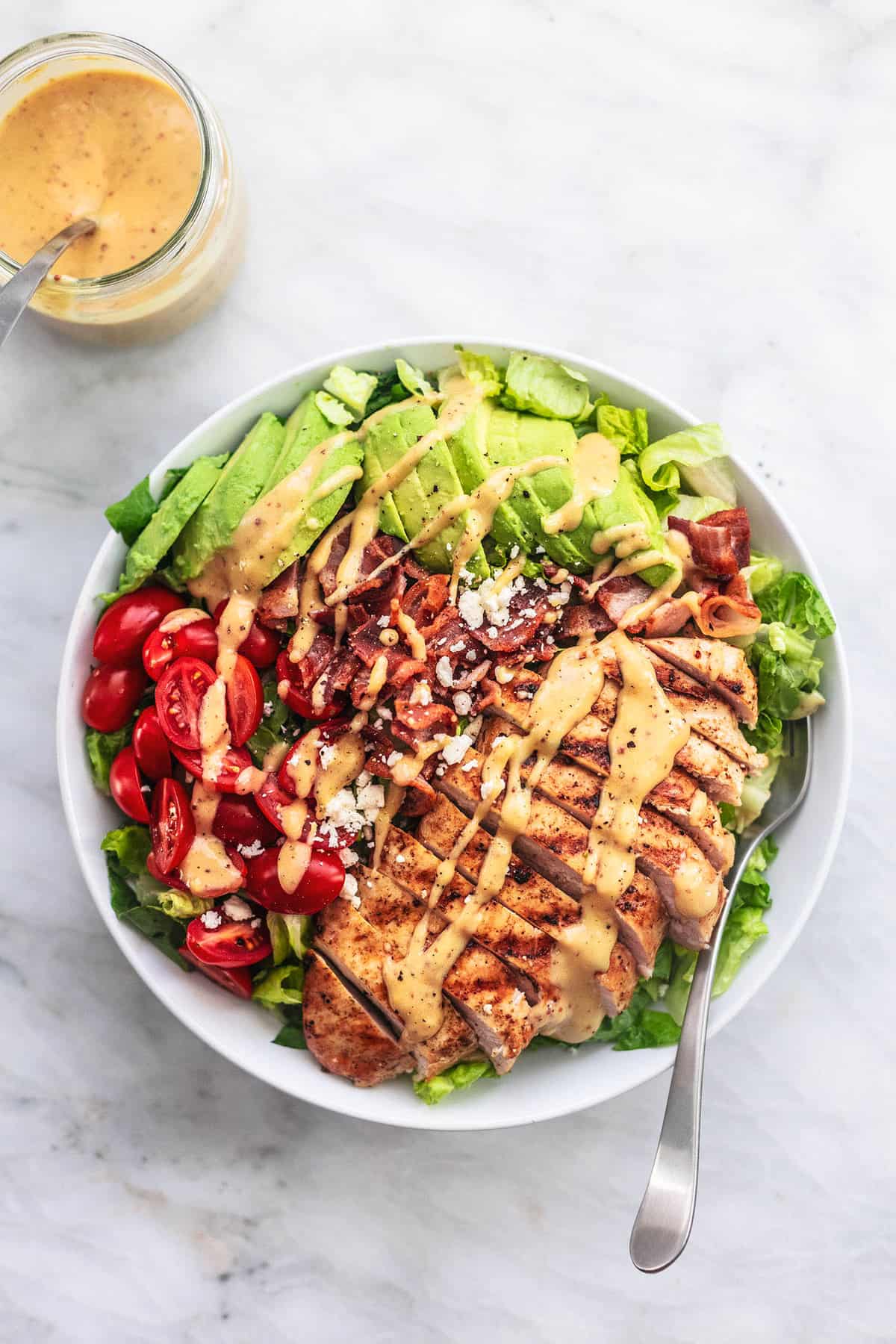 You'll also love my Chick-fil-A Cobb Salad, and Autumn Harvest Chicken Salad.
Did you make this recipe? It would mean the world to me if you would give it a rating!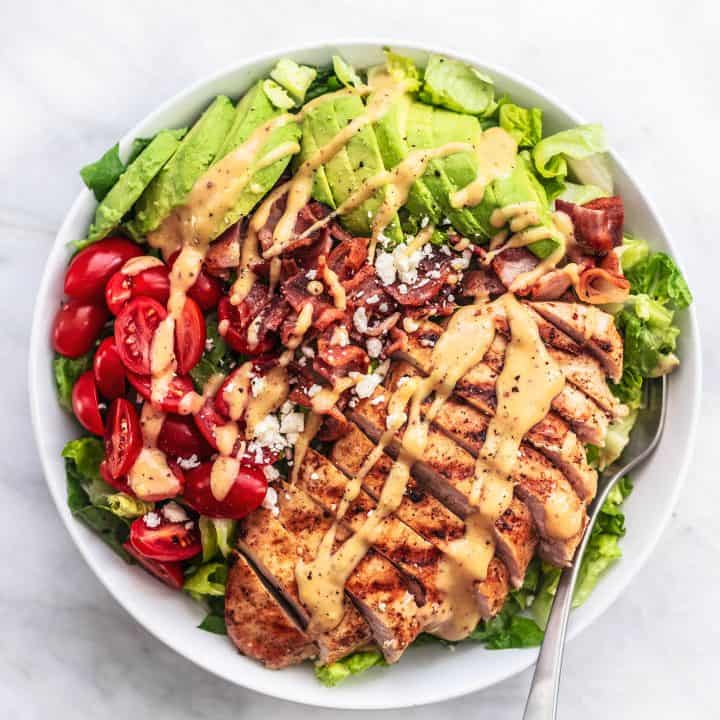 Chicken Avocado Salad
Chicken Avocado Salad makes a great meal for one or as a side to share. A bed of greens is topped with delicious marinated, grilled chicken, bacon, tomatoes, cheese, avocados, and honey dijon dressing for a salad everyone will want to dig into.
Ingredients
2

boneless skinless chicken breasts

-

pounded to even 1/2-inch thickness

chicken marinade

-

see below

4

cups

chopped romaine lettuce

1

avocado

sliced

3

strips of bacon

-

cooked til crisp and chopped

⅓

cup

cheese

⅓

cup

cherry tomatoes

-

halved

honey dijon dressing
Chicken Marinade
6

tablespoons

olive oil

2

tablespoons

apple cider vinegar

juice of 2 limes

2

teaspoons

minced garlic

½

teaspoon

salt

¼

teaspoon

pepper

2

teaspoons

sugar

2

teaspoons

dijon mustard
Instructions
In a medium bowl, combine marinade ingredients until smooth, add chicken and toss to coat. Cover tightly and chill for 30 minutes or up to 8 hours.

Using tongs, transfer chicken to a greased grill or grill pan (you can also do this in a stovetop skillet. discard excess marinade) and cook on each side for 5-7 minutes until chicken is cooked through and juices run clear when you slice into the thickest part of the chicken. Allow to rest for a few minutes before slicing into thin strips or chopping into 1/2-inch pieces.

To assemble salads, arrange lettuce on the bottom, then top with chicken, tomatoes, cheese, avocados, and dressing. Serve immediately.
Notes
This is a great meal prep option! Feel free to use pre-cooked chicken to save time. 
Nutrition
Calories:
746
kcal
,
Carbohydrates:
7
g
,
Protein:
34
g
,
Fat:
65
g
,
Saturated Fat:
15
g
,
Trans Fat:
1
g
,
Cholesterol:
114
mg
,
Sodium:
1115
mg
,
Potassium:
591
mg
,
Fiber:
1
g
,
Sugar:
5
g
,
Vitamin A:
361
IU
,
Vitamin C:
8
mg
,
Calcium:
157
mg
,
Iron:
1
mg