Build your own Chicken Cobb Salad at home with all of the fresh veggies, cheese, avocado, and crispy bacon your heart desires. Top it off with your favorite dressing and call it lunch, dinner, and the perfect healthy meal prep option!
Try these other sensational salads: Chicken Salad with Grapes, Mandarin Pasta Spinach Salad (the dressing will surprise you!), and Chicken Avocado Corn Salad.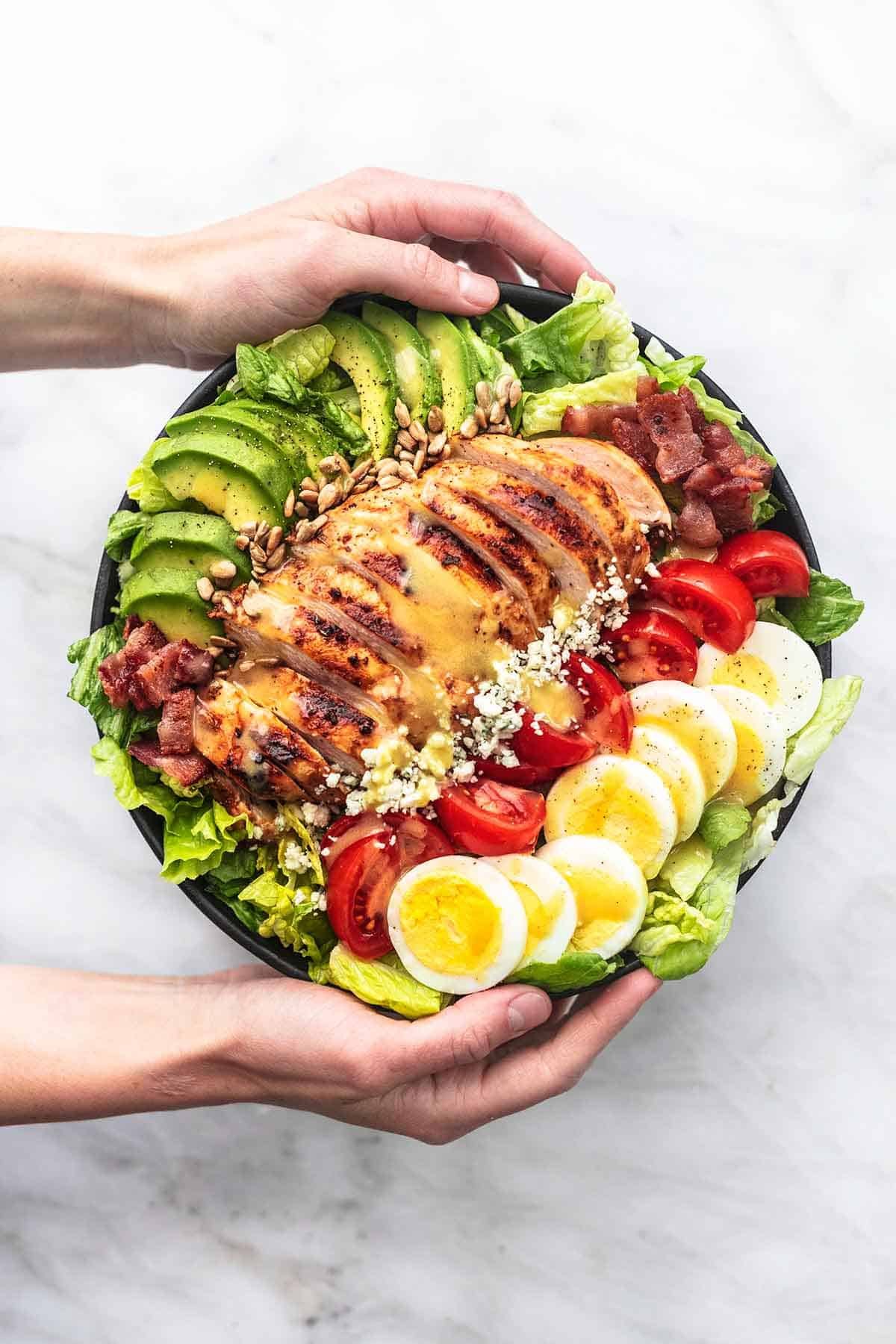 Chick-fil-A nuggets are the best aren't they? Their grilled chicken is pretty spectacular too, but there's something about that breaded, pressure-cooked chicken that really makes anything it's added to shine. Now, add that breaded chicken to their already amazing Cobb salad? Genius!
While I haven't (yet) perfected Chick-fil-A's chicken, I do recognize that a lot of the reason for getting their chicken in the first place is convenience. So, when I went to put together my own version of this copycat Chick-fil-A recipe, I thought about the convenience factor. You have a craving for a certain restaurant dish, but you don't have the time to go get it or you want to try to tweak it at your own home to see if you can make the same dish but maybe healthier.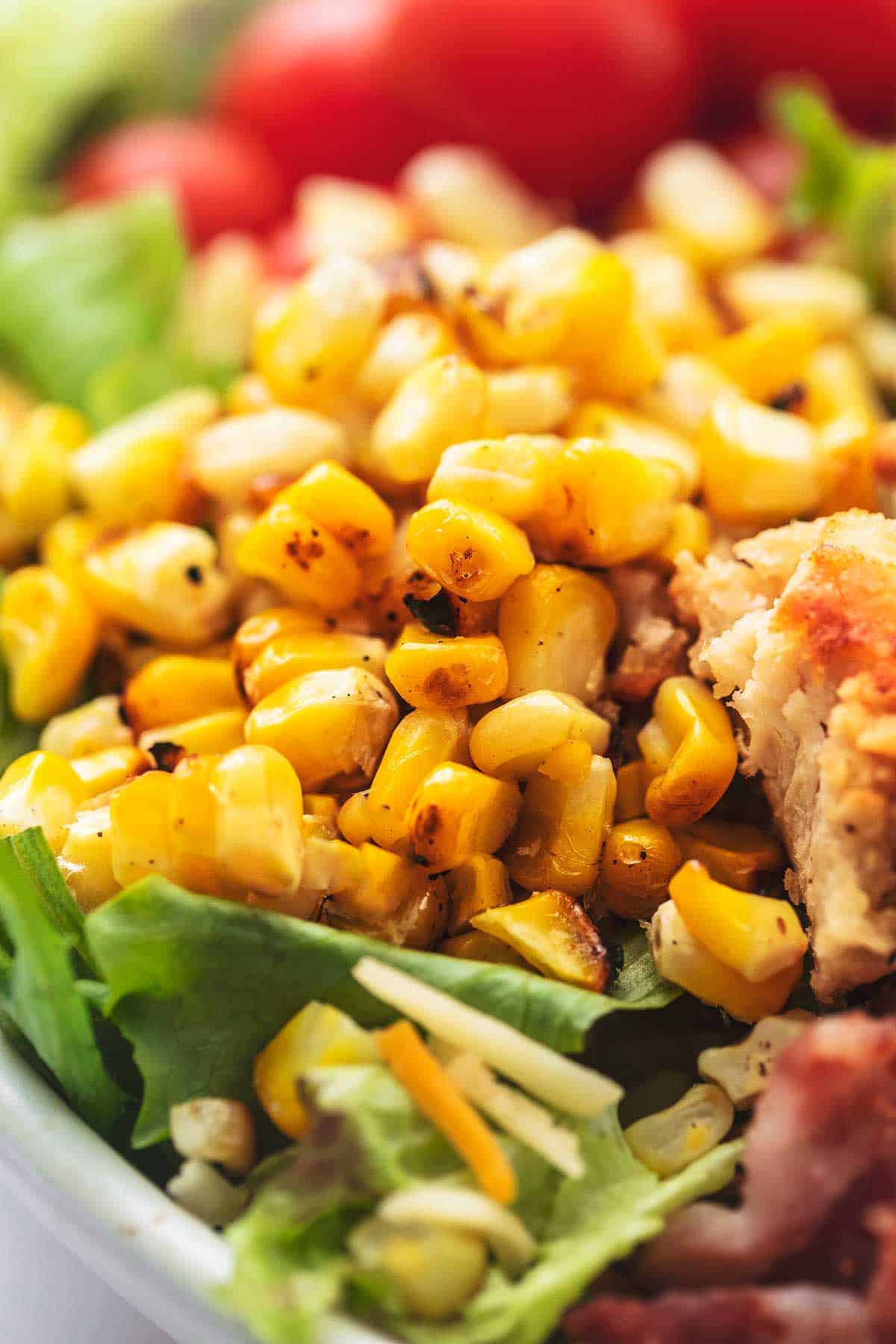 This is what this Chick-fil-A salad recipe is for me. I crave it at least once a week, if not more. But, that's not always a great idea, for us to run to get fast food as often as we crave it and honestly it's so much more economical to make your own sometimes too.
For this version, I just used frozen chicken tenders, but popcorn chicken will work too. So much easier than making your own and, while maybe not quite up to par with Chick-fil-A, I think you'll find this healthy cobb salad with breaded chicken is so good, you'll be glad you only have to walk to your fridge to make it!
How to Make a Great Chicken Cobb Salad
1. You'll want to cook the frozen chicken first, of course. Preheat the oven to 400 degrees and then grease a baking sheet, lay the chicken out on it in a single layer and put it in the oven for 10-12 minutes (unless your package instructions dictate otherwise), or until hot throughout and it has crispy outsides.
2. If you are using tenders, then cut those up before putting them in the salad, after they have cooked.
3. While the chicken is cooking, you can cook the corn. Rub the ear all over with olive oil, then add salt and pepper. Grill or cook on the stove for about 5-8 minutes, turning a few times to make sure it cooks evenly all around. Char it if you like (I like!). Then, use a sharp knife to cut the corn off the cob. If you are using pre-cooked corn, then skip this step and heat your corn a bit before adding to the salad (especially if it's frozen).
4. Finally, add the greens to the bottom of your bowls, and then top with the rest of the ingredients: chicken, corn, tomatoes, cheese, bacon, and egg slices. Top with your favorite dressings. Mine include Cilantro Avocado Ranch and Creamy Dijon.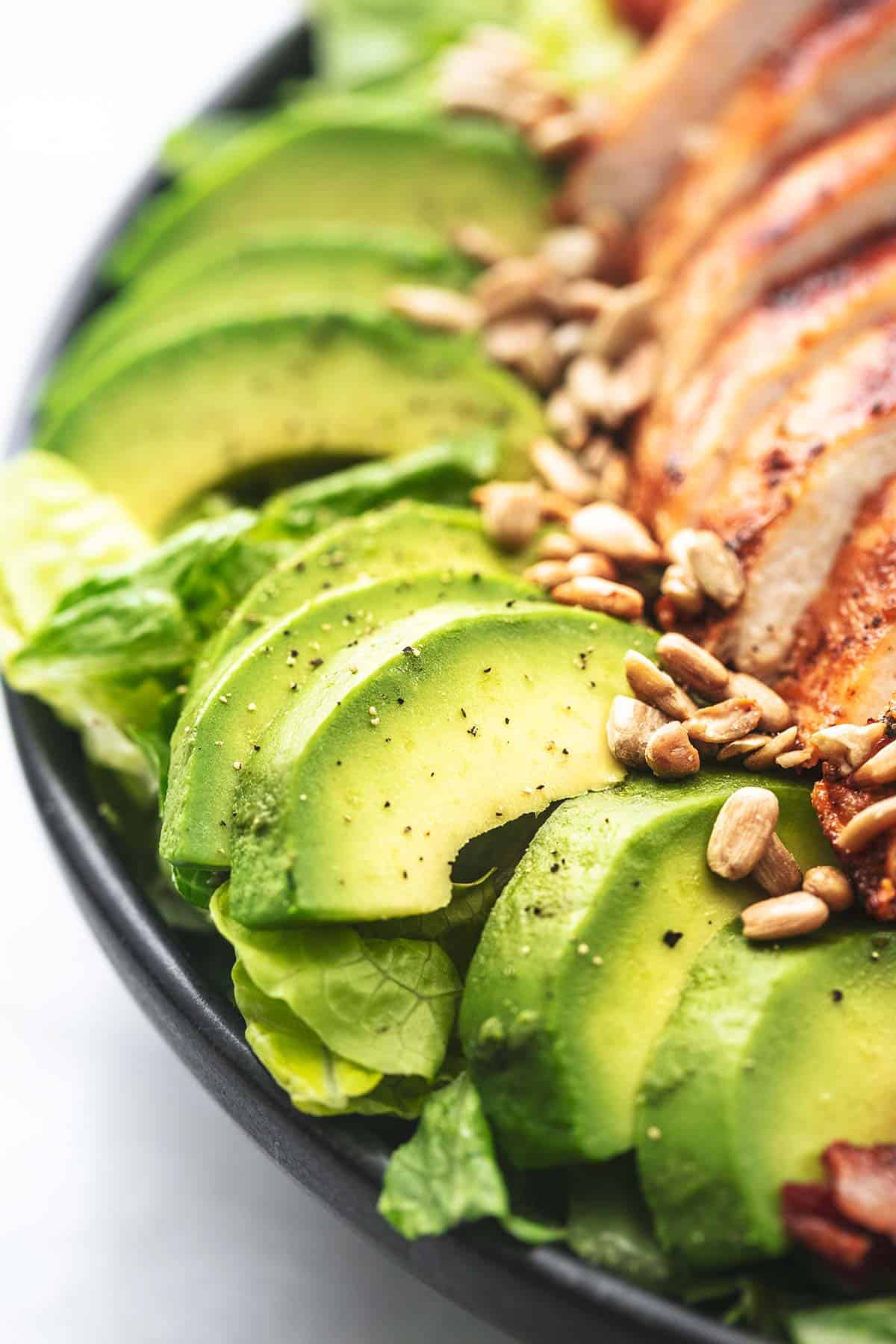 What Salad Dressings Go with Cobb Salad?
Ways to Customize your Salad
The best part about salads is, you can add or subtract whatever you want to make them suit your own tastes. Some ideas for changing up this cobb salad recipe:
Use turkey or fake bacon if you don't usually eat the real deal.

Try cooked prosciutto if you prefer that over bacon.

Add diced ham.

Try big slices of fresh grated parmesan cheese instead of bagged and shredded.

Fresh green peas or sliced sugar snap peas make a nice, slightly sweet addition to this chicken cobb salad.

Use shredded kale or a kale/Brussels sprouts mix for your greens to really up the fiber (and overall nutrition) in your salad.

Diced red onions or green onions add a nice bite to the dinner salad.

For some crunch, top with a sprinkling of sunflower seeds or pepitas.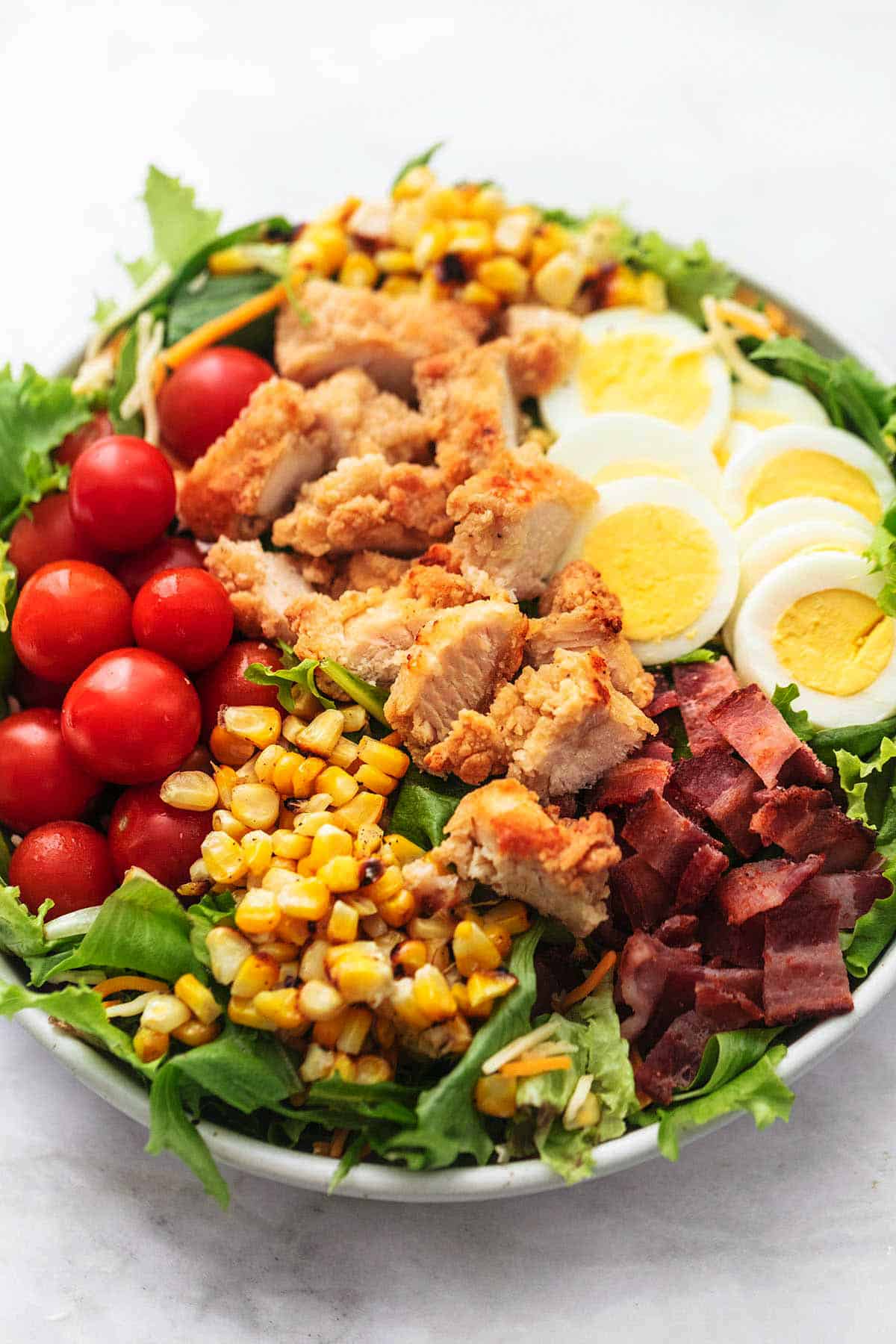 More Tasty Salad Recipes
Did you make this recipe? Please give it a rating below!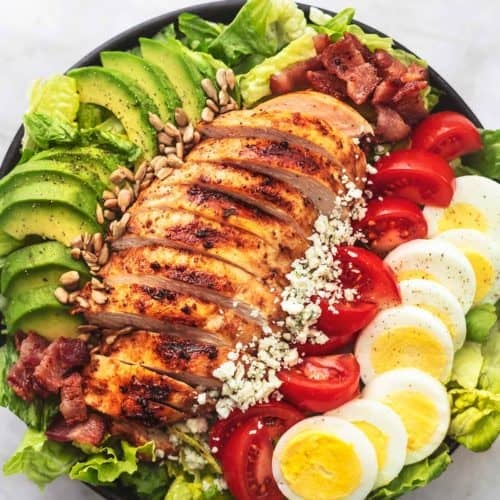 Chicken Cobb salad
Build your own Chicken Cobb Salad at home with all of the fresh veggies, cheese, avocado, and crispy bacon your heart desires. Top it off with your favorite dressing and call it lunch, dinner, and the perfect healthy meal prep option!
Ingredients
6

large frozen chicken tenders OR 2 cups frozen popcorn chicken, thawed

6

cups

mixed greens

1/3

cup

shredded cheddar or monterey jack cheese

or a crumbled feta or blue cheese

2/3

cup

cherry tomatoes, halved or whole

4

strips bacon, cooked til crisp and crumbled

2

hard-boiled eggs, sliced

1

corn cobb

or half cup from a can, drained

1

teaspoon

olive oil

1

avocado

sliced

2

tablespoons

salted sunflower seeds

your favorite salad dressing

see note for my favorite easy salad dressing recipes!
Instructions
Preheat oven to 400 degrees. Grease a baking sheet. Cook chicken for 10-12 minutes (or according to package instructions) til hot throughout and crisp on the outsides. If using tenders, chop just before adding to salad.

While chicken is cooking, prepare the corn. Rub corn all over with olive oil, then season with salt and pepper. Grill or cook on the stover in a pan for 5-8 minutes, turning regularly to ensure even cooking, til slightly charred. Use a sharp knife to slice corn off of the cobb.

Assemble salads with greens on the bottom, top with remaining ingredients (cheese, tomatoes, bacon, hard-boiled egg slices, and corn) and cooked chicken. Serve with your favorite dressing (see notes for my favorite homemade salad dressings like Cilantro Avocado Ranch and Creamy Dijon!).
Nutrition
Calories:
483
kcal
|
Carbohydrates:
24
g
|
Protein:
26
g
|
Fat:
32
g
|
Saturated Fat:
10
g
|
Polyunsaturated Fat:
3
g
|
Monounsaturated Fat:
1
g
|
Cholesterol:
234
mg
|
Sodium:
762
mg
|
Potassium:
586
mg
|
Fiber:
1
g
|
Sugar:
5
g
|
Vitamin A:
1989
IU
|
Vitamin C:
42
mg
|
Calcium:
124
mg
|
Iron:
4
mg