A sweet and tangy dressing makes this creamy cheddar broccoli salad a huge hit wherever it goes.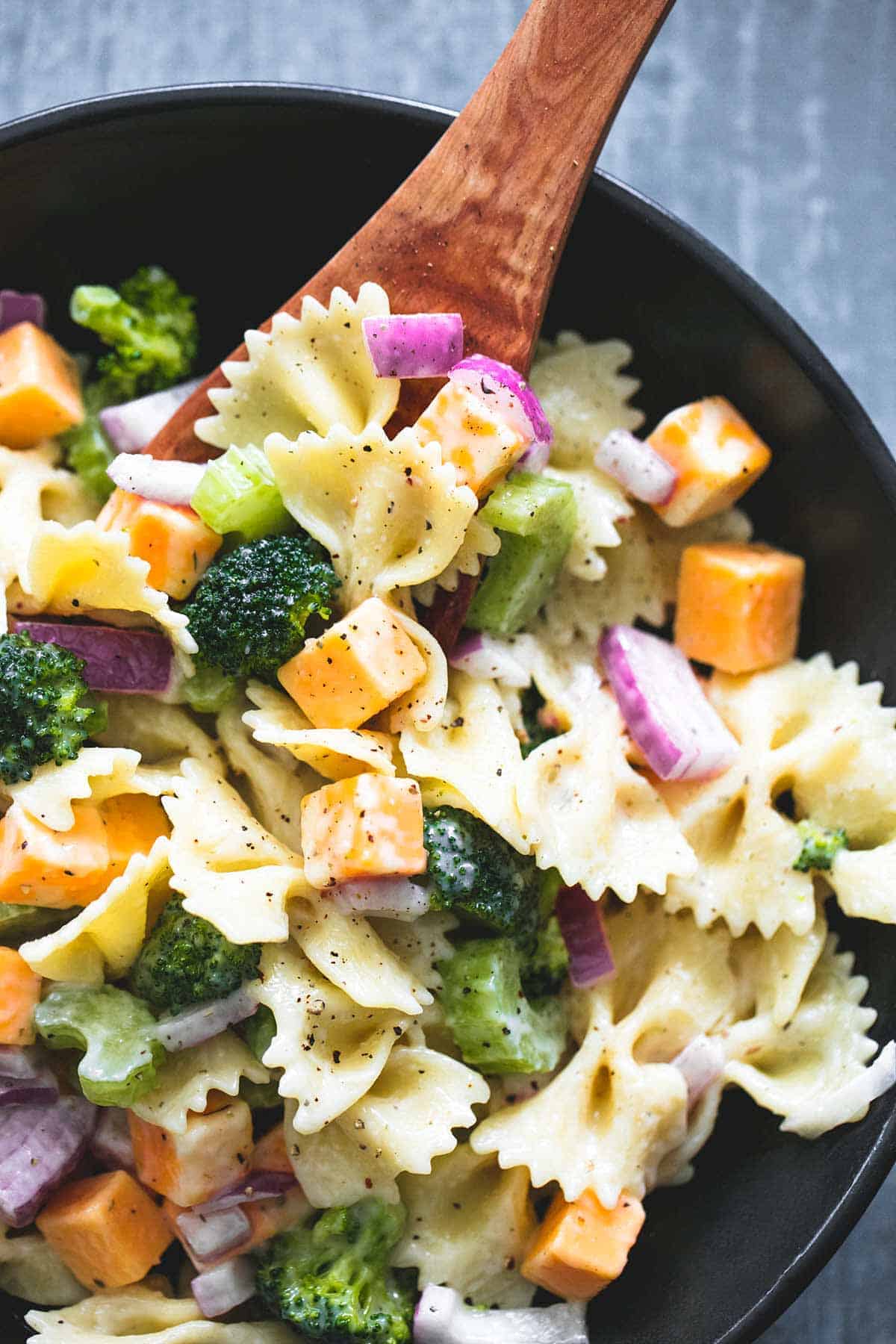 I know that technically summer doesn't start for about three more weeks, but in my mind June one is the beginning of summer. I think it's those 12 years of traditional 9-month calendar grade school that really drilled that into my head. Back then summer seemed endless, a huuuuge gap in between "last year" and "next year". Now I've realized how quickly the seasons disappear and I'm already begging time to slow down because more than ever this past Winter had me going stir crazy in the house, dying to get out and about with my two little babes.
In typical Utah fashion the weather seems to have changed overnight. I swear last week it still felt like Spring, but Memorial Day came and went and now it's 80+ degree weather and I've already got a tan line going from daily trips to the park. My kids aren't big enough to actually use the playground but if we're being honest, we're mostly going for me.
I loooove the park. I love sitting on the grass outside, and it's not like I couldn't do that before I had kids, but it's a little strange to see an adult sitting on the grass by themselves while moms chase their kiddos all over creation. Or maybe that's normal and I'm the weird one who feels like a crazy person doing stuff like that.  Either way, now I've got littles of my own and I am milking that right to spend my afternoon at the park.
"Oh yeahhhhh, I'd love to but I promised my kids….. [who are seven months old and totally hold me to my promises]….. that we'd go to the park this afternoon. Darn…"
Okay now that I've talked your ear off about how I had kids so that I could go to the park without feeling like a weirdo, let's talk other summer activities. Like summer parties where food is involved. (That's every party, right? I mean how do you even have a party without food? I think that's called a meeting.) This creamy cheddar broccoli salad is a huge hit at every party /slash gathering of people who like food/ you take it to. Even my husband – who is definitely not a broccoli salad fan – likes this stuff. But how can you not when there is cheddar cheese and a creamy dressing involved right??
What people are saying about this Creamy Cheddar Broccoli Salad
"I made this for a BBQ last week. It worked out so well and everyone loved it." – Heather
"Amazing! This was soooooo delicious! Thank you!" – Joannie
Creamy Cheddar Broccoli Salad
A sweet and tangy dressing makes this creamy cheddar broccoli salad a huge hit wherever it goes.
Ingredients
8

ounces

uncooked bowtie pasta

2

cups

chopped broccoli florets

8

ounces

cheddar cheese

-

diced (see notes)

⅔

cup

chopped celery

¼

red onion

-

diced
Dressing
⅓

cup

mayo

¼

cup

plain fat free greek yogurt

1

tablespoon

apple cider vinegar

2

teaspoons

sugar

1

teaspoon

dijon mustard

½

teaspoon

salt

-

(or to taste)

¼

teaspoon

black pepper

-

(or to taste)
Instructions
Whisk together all dressing ingredients. Cover and chill until ready to use.

Cook pasta according to package instructions. Drain and transfer pasta to a large bowl. Add broccoli, cheese, celery, and onions. Add dressing and toss to combine. Serve immediately, or cover and chill 1-3 hours before serving for enhanced flavor.
Notes
Sometimes I like to use a combination of sharp yellow cheddar cheese, and colbyjack cheese.
Nutrition
Calories:
302
kcal
,
Carbohydrates:
25
g
,
Protein:
12
g
,
Fat:
17
g
,
Saturated Fat:
7
g
,
Trans Fat:
1
g
,
Cholesterol:
34
mg
,
Sodium:
406
mg
,
Potassium:
204
mg
,
Fiber:
2
g
,
Sugar:
3
g
,
Vitamin A:
471
IU
,
Vitamin C:
21
mg
,
Calcium:
234
mg
,
Iron:
1
mg