This Mandarin Pasta Spinach Salad with Teriyaki Dressing is easy, quick, healthy, and tossed in the most addictive teriyaki vinaigrette dressing!
If you love pasta salad, try these other reader favorites: Mexican Street Corn Chicken Pasta Salad, Strawberry Avocado Chicken Pasta Salad, Greek Tortellini Pasta Salad, and Pesto Chicken Pasta Salad.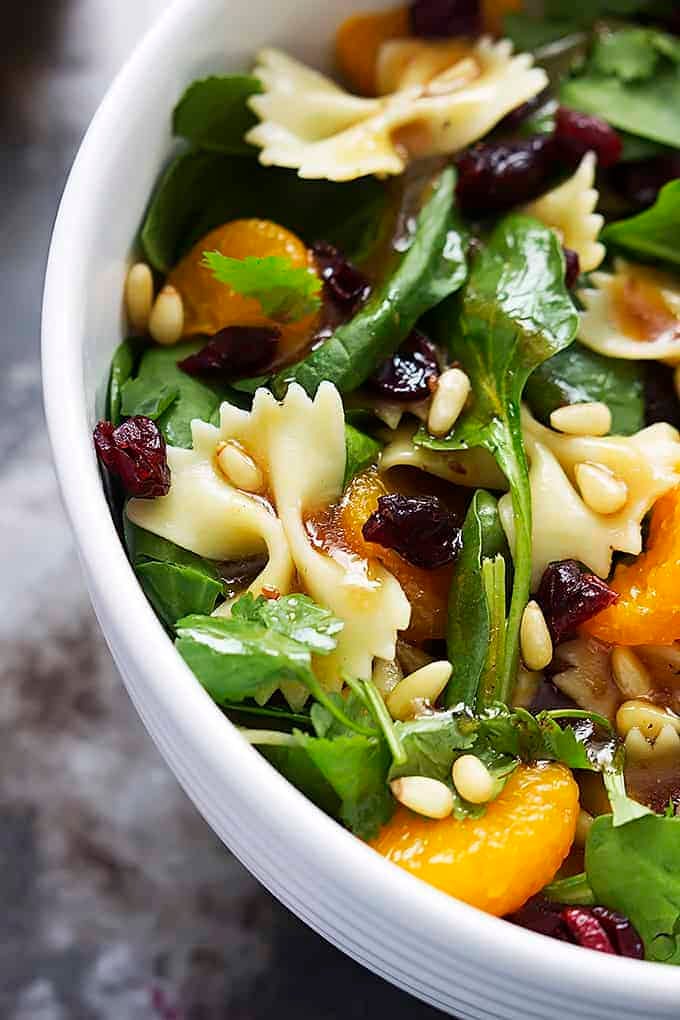 Happy Salad Monday!!! I've been looking forward to this moment because this salad is my new obsession. I mean… it's not like I've already made it three times in the past five days or anything…
Oh wait. yes I have.
Once for my husband and myself, then for a neighbor (and myself), and then for a huge family gathering on Sunday (where I was present). Every single time it completely disappeared and everyone raved about it.
And I'm just going to be totally honest – this dressing is positively addictive. It completely makes the salad. And that's saying something because the combination of craisins + spinach + mandarin oranges + pine nuts + cilantro borders on magical. But the dressing. THE DRESSING.
It makes me want to cry.
Tears of blissful heavenly joy.
I've actually doubled the dressing recipe and saved half to keep in the fridge. All day long I find myself looking for anything and everything to dip in this stuff. Pasta, chicken, pretzels, cucumbers. And yes, once or twice I may have opted to go straight for the spoon.
One taste and you will understand what I'm talking about. I am begging you. Make this salad.
Pretty pretty pretty please. Something this incredible has to be shared.
What people are saying about this Mandarin Pasta Spinach Salad with Teriyaki Dressing
"SO delicious! Love this salad and have made it three times this week. There's more than enough dressing for this recipe – which is fine, because I can use it all week long!" – Kristen
"All things heavenly! I do food prep every Sunday for my work week in my Mason Jars and so I put this salad in the jars (dressing separate). Just had my first today after 3 days of sitting in fridge. It was still fresh, crisp and my all time favorite salad now! I just put the dressing in a small container, poured a little in jar and shook up real good, then poured out on plate. My new favorite! Thank you so much for posting!" – Lori
"This salad dressing is AWESOME!!! The BEST Asian I have ever had!! All others fall short. The salad is delicious, I used sugar snap peas, red onion, carrots honey roasted almonds and the spinach and mandarin oranges of course. A very versatile salad!" – Gina
"This is my family's new favorite salad! Everyone that has the opportunity to taste it loves it. I recently retired from the Fire Dept and this would have been a huge hit in the Firehouse. Thanks for posting it, it is very rare to have something this easy and wonderful come along. (we also often add grilled chicken or steak to it and it becomes our summer night main dish)" – Mike
Mandarin Pasta Spinach Salad with Teriyaki Dressing
This salad is easy, quick, healthy, and tossed in the most addictive teriyaki vinaigrette dressing!
Ingredients
8

ounces

bowtie pasta noodles

4

cups

spinach leaves

1/2

cup

craisins

1/3

cup

Diamond of California Pine Nuts

or cashews

1

4-ounce can

mandarin oranges,

drained

1/4

cup

cilantro leaves,

roughly chopped
Dressing
1/3

cup

teriyaki sauce

(the thicker, the better!)

1/3

cup

rice wine vinegar

(may sub apple cider vinegar)

1/2

teaspoon

garlic powder

1/2

teaspoon

onion powder

(if you have it)

1/4

teaspoon

salt

1/4

teaspoon

black pepper

1

tablespoon

sugar

1/2

cup

oil

(such as vegetable oil, canola oil, olive oil)
Instructions
Cook pasta according to package instructions, drain and rinse with cold water. Set aside.

While pasta is boiling, prepare the dressing. In a jar combine all dressing ingredients. Cover and shake to combine. Chill until ready to use.

In a large bowl toss together pasta, spinach, raisins, nuts, mandarin oranges, and cilantro. Just before serving pour dressing over salad, toss, and serve.
Notes
If possible, opt for a thicker teriyaki sauce. My favorite brand is Kikkoman.
Recipe inspired by The Style Sisters.
A huge thank you to Diamond of California Nuts for sponsored this awesome salad recipe!