Healthy and low-fat Cilantro Avocado Ranch Dressing is a fantastic dressing for salads or dip for veggies and more. You'll love this lightened up classic!
For more fabulous, lightened-up recipes of your favorite dressings, you'll want to bookmark these popular posts for future enjoyment: Fat Free Dijon Salad Dressing, Creamy Tomatillo Ranch, and Greek Yogurt Ranch.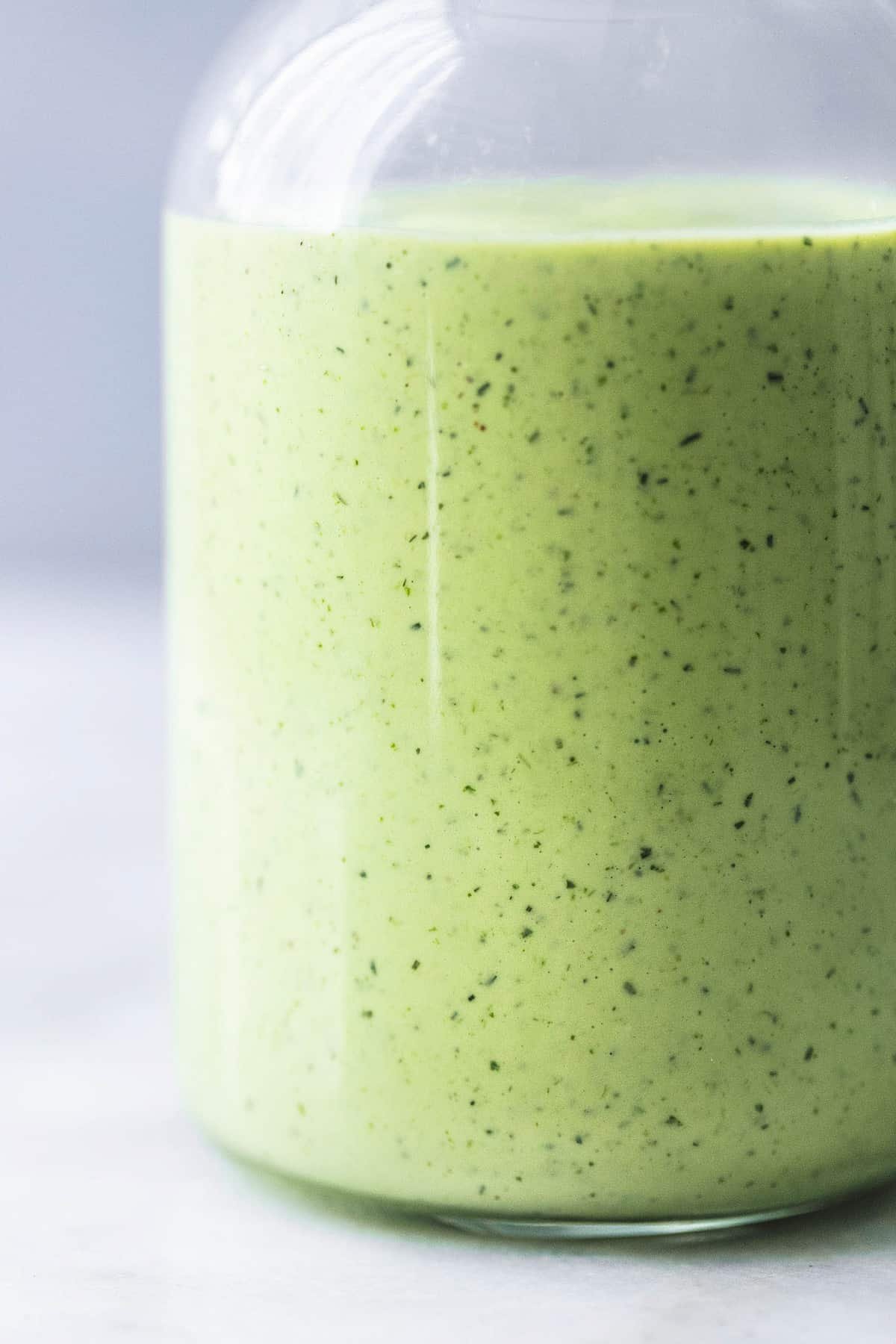 As you can tell, I'm on a bit of a quest to lighten things up around here. I blame Marie Kondo. Can you still do that or was that so 2019? Well, it started with her anyway and all her advice about decluttering your life. While I do enjoy a good spring cleaning and followed some of her advice, I'm just not there yet with a capsule wardrobe. A girl needs options!
But, I do feel like some of her "lightening up" advice has carried over into other aspects of my life. I downsized my purse a bit (a bit, I still have three little kids who need mommy mule to schlep around a lot of things for them), I went through my pantry, discarding expired or rarely used items, and cleaned out my fridge, my least favorite chore.
And, once all that was done, I guess it just kind of seeped into my head to see what I could lighten in some of the foods I eat and recipes I create. I like to keep my ingredients as simple as possible (and cooking from scratch is almost always healthier than any takeout or restaurant food anyway) to begin with, but I have been thinking of options when making some of the more caloric things that we love to dip, pour, and scoop onto everything around here: dressing.
This recipe for Cilantro Avocado Ranch Dressing is one of my all-time favs, and turns out it's still JUST as delicious using plain nonfat Greek yogurt instead of mayo or another cream-based ingredient. This healthy ranch dressing has 100% of the flavor as the "regular" recipe with about half the calories and zero fat. So feel free to dip, pour, and scoop onto everything you love without any guilt.
HOW DO YOU MAKE CILANTRO AVOCADO RANCH DRESSING?
Making this dressing, like so many of my other dressings, is a cinch! (For another easy salad dressing recipe, try my Lemon Poppyseed Salad Dressing.) Are you ready for the super easy instructions? Then keep reading!
In a blender or a food processor combine the following ingredients: Greek yogurt, dill, chives, parsley, garlic and onion powders, salt, rice vinegar, water, black pepper, chopped avocado, cilantro, and lime juice.
Process all of this deliciousness until it's all blended up and nice and creamy and smooth and turns pretty light green color. Take a taste or two and add more salt and/ore pepper if you like. Add more water (a tiny bit at a time) if you want it to be thinner.
Serve right away or cover and put in the fridge until you are ready. This dressing will keep in an airtight container in the fridge for up to 1 week.
HOW DO YOU SERVE RANCH DRESSING?
How do I serve this fat free ranch dressing? Let me count the ways. No literally, I'll count them:
On a

salad

!

As a dip for cut up veggies.

As a dip for

chicken fingers, breasts, or wings

.

Add a spoonful of some of the thicker dip version of this recipe onto your favorite

burger

.

Same goes for

chicken sandwiches

.

Do your kids (and you) love

tortilla pinwheels

? So do I! You know what makes them even better? You guessed it: ranch dressing!

Potatoes

(in all forms) taste even better when dipped into cilantro ranch dressing!

Tacos

and

burritoes

(and

fajitas

and

quesadillas

)…pour it on, dip them in!
WHAT CAN I SUBSTITUTE FOR CILANTRO?
If you are out of cilantro, don't worry, you can substitute parsley, tarragon, or dill. Personally, I prefer the dill as a substitute, but it's up to you what you use in this dressing. I've also seen cilantro paste (in the produce section of the grocery store) which would work too. You can keep the tube in your fridge and use it as needed if you don't want to worry about keeping cilantro fresh until you're ready to use it.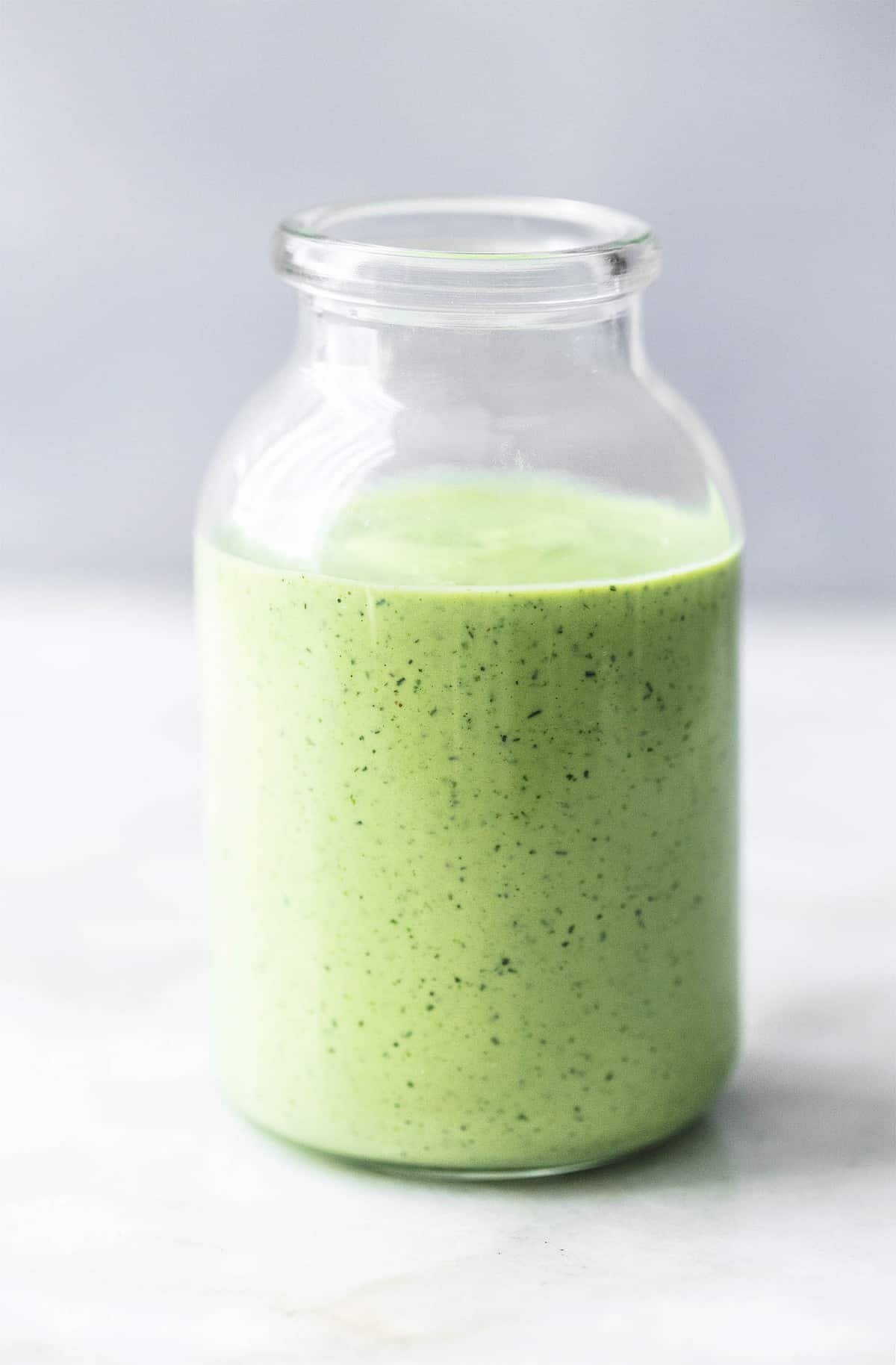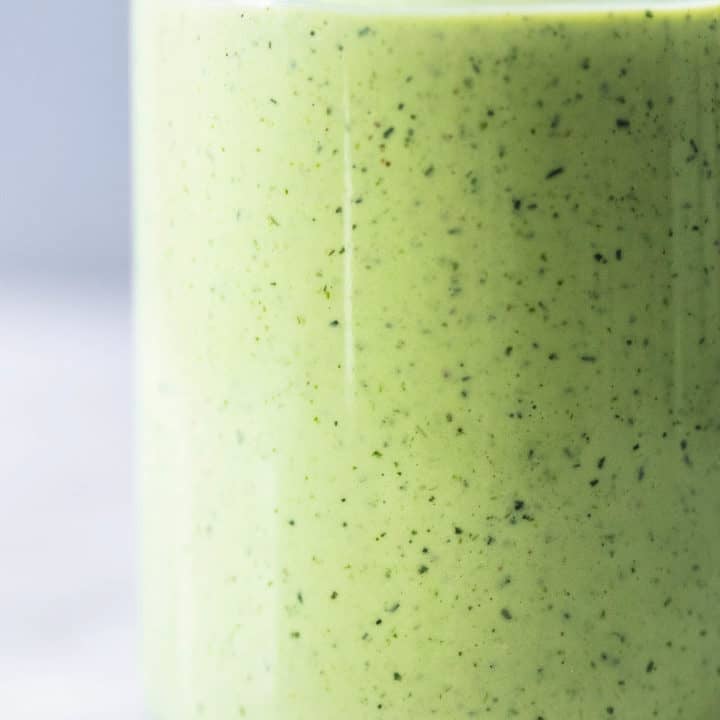 Cilantro Avocado Ranch Dressing
Healthy and low-fat Cilantro Avocado Ranch Dressing is a fantastic dressing for salads or dip for veggies and more. You'll love this lightened up classic!
Ingredients
1

cup

plain nonfat Greek Yogurt

1

teaspoon

dried dill

1

teaspoon

dried chives

1

teaspoon

dried parsley

1

teaspoon

garlic powder

1

teaspoon

onion powder

½

teaspoon

salt

1

tablespoon

rice vinegar

1-2

tablespoons

water

-

as needed

½

teaspoon

cracked black pepper

-

or 1/4 teaspoon ground black pepper

1

avocado

-

chopped

1

bunch cilantro

-

roughly chopped

juice of 1 lime
Instructions
Combine all ingredients in a blender or food processor and pulse until smooth.

Taste, add salt and pepper to taste and water to thin to desired consistency. (Add more water for a salad dressing, less if using as a dip)

Chill until ready to serve. Store covered tightly and chilled up to 1 week.
Notes
Makes about 1 cup of dressing. 
Nutrition
Calories:
119
kcal
,
Carbohydrates:
8
g
,
Protein:
7
g
,
Fat:
8
g
,
Saturated Fat:
1
g
,
Trans Fat:
1
g
,
Cholesterol:
3
mg
,
Sodium:
315
mg
,
Potassium:
374
mg
,
Fiber:
4
g
,
Sugar:
2
g
,
Vitamin A:
932
IU
,
Vitamin C:
13
mg
,
Calcium:
79
mg
,
Iron:
1
mg