Slow Cooker Ranch Chicken Tacos wrapped in soft flour tortillas and topped with red onion and cabbage slaw, cilantro, and creamy ranch dressing!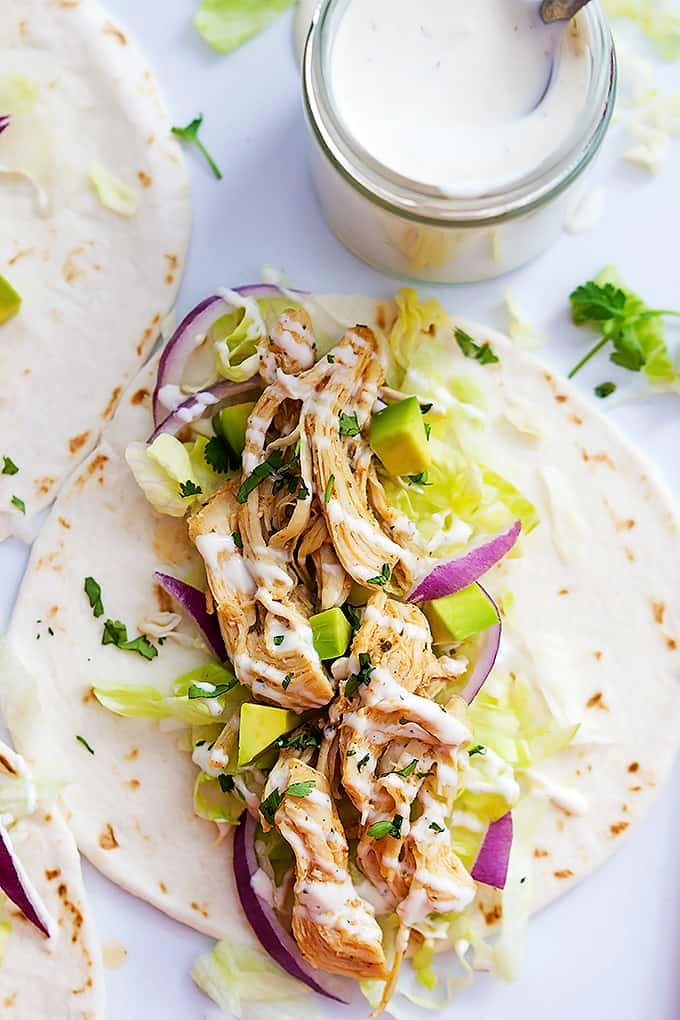 It's Taco Thursday! As of… now.
You guys, I have tacos at least once every single week. I'm really not kidding though when I say at least once. I've had them three times this week and It's only Thursday. Do you realize that means I've had some variety of taco every day of the week so far??
I'm not obsessed. It's just really really really like them and sometimes I shed a tear or two if a taco doesn't meet my expectations or (heaven forbid) a taco I was planning on and sooo looking forward to doesn't happen at all.
That's not obsessed right?
I think it's the filling options. Because you can have a sandwich – a bunch of meat and cheese and veggies, slathered in sauce and stuffed between two slices of bread – and it's kiiiiind of like a taco. Sort of. They're like…. food cousins maybe? But the differences are key.
For one thing the meat usually (I said usually) comes thinly sliced in a sandwich and in a taco it is usually chunks or shredded. For the veggies, well, I suppose those can be the same whether it's on bread or in a tortilla. But the sauces! I think that's the real kicker. The sauces and flavor variety that goes into a taco is often a lot different than what you would have in a sandwich. And I suppose I favor the taco flavors.
But today, I'm switching things up with our taco fillings and especially the sauce. I'm 100% on board with any kind of taco topped with salsa (I heart salsa forevah) but we're gonna set aside that jar of On the Border for a second and think creamy, white RANCH.
Sound crazy? It is. Crazy DELICIOUS.
These ranch chicken tacos are the easiest and most delightful thing in the history of ever. All you do is slow cook some chicken breasts in your crockpot for a few hours with some water and ranch seasoning (yeah, from the packet!), then shred, stuff, and top with prepared ranch dressing, slaw, avocado, and cilantro. It's heaven I tell you, heaven!
Here, this one's for you…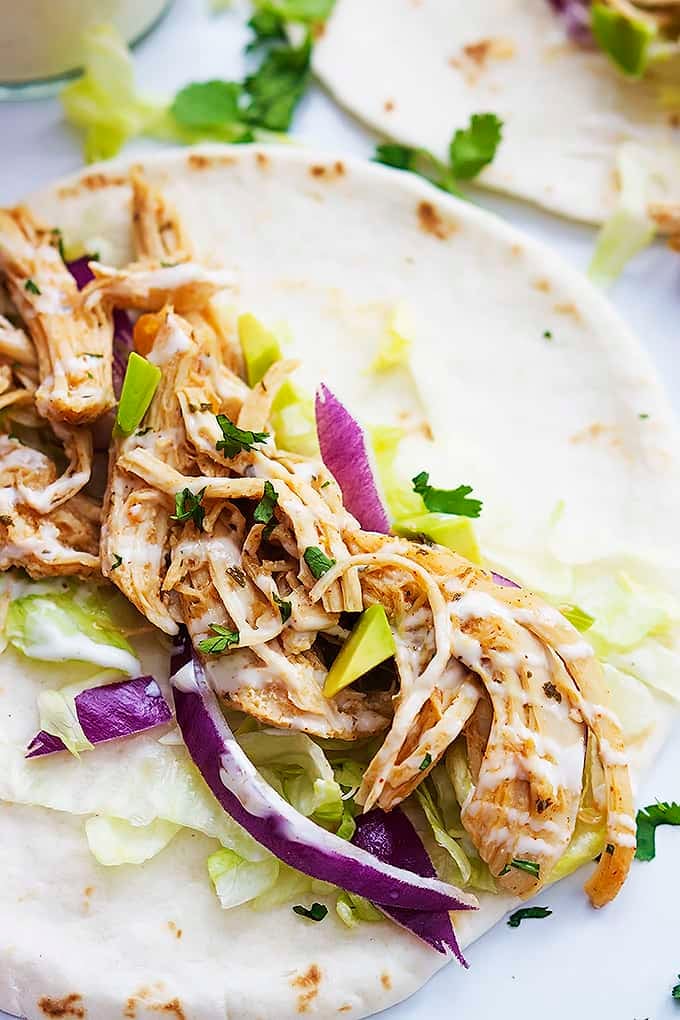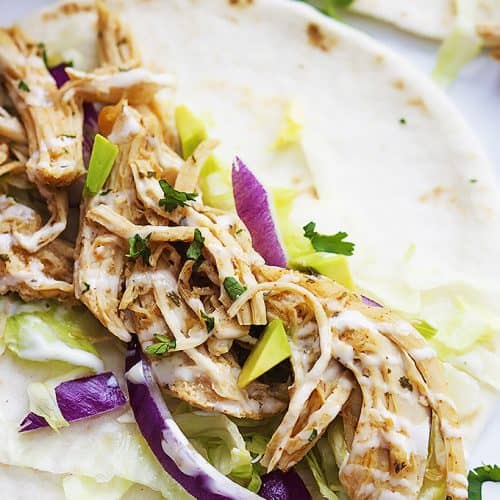 Slow Cooker Ranch Chicken Tacos
Slow Cooker Ranch Chicken Tacos wrapped in soft flour tortillas and topped with red onion and cabbage slaw, cilantro, and creamy ranch dressing!
Ingredients
3-4

boneless skinless chicken breasts

½

cup

water

2

tablespoons

taco seasoning

-

(or 1 packet of taco seasoning)

1

packet

ranch seasoning

8-10

small

taco-sized flour tortillas

ranch dressing

-

to taste

2-3

cups

cole slaw

-

without sauce

½

red onion

-

thinly sliced

¼

cup

cilantro leaves

-

roughly chopped

optional: shredded cheese, diced avocado, diced tomato
Instructions
Place chicken breasts in slow cooker. Pour in water, then sprinkle chicken with taco seasoning and ranch seasoning. Cover and cook on high for 3-4 hours or on low for 6-7 hours.

About 20 minutes before serving, use a slotted spoon to transfer chicken to a bowl, shred with 2 forks, then return to slow cooker and stir.

When ready to serve, fill tortillas with shredded chicken, then drizzle with ranch dressing. Top with slaw, red onions, cilantro, and any additional desired toppings such as shredded cheese, avocado, or tomatoes. Serve immediately.
Notes
For a creamier chicken filling, stir 1/4 cup ranch dressing into slow cooker after shredding chicken.
For a spicier chicken filling, add 1/2-1 teaspoon cayenne pepper to chicken along with taco and ranch seasonings.
Nutrition
Calories:
314
kcal
,
Carbohydrates:
39
g
,
Protein:
23
g
,
Fat:
6
g
,
Saturated Fat:
1
g
,
Trans Fat:
1
g
,
Cholesterol:
54
mg
,
Sodium:
1145
mg
,
Potassium:
490
mg
,
Fiber:
3
g
,
Sugar:
5
g
,
Vitamin A:
245
IU
,
Vitamin C:
16
mg
,
Calcium:
87
mg
,
Iron:
3
mg
Recipe adapted from Who Needs a Cape.