These are the BEST easy Instant Pot Shredded Chicken Tacos, hands down. You can even use frozen chicken breasts or thighs, and use a crockpot instead!
If you're loving your instant pot as much as I am, you've gotta try Instant Pot Parmesan Chicken and Rice with Mushrooms, Instant Pot Pot Roast with Mashed Potatoes and Gravy, and Instant Pot Chicken and Potatoes.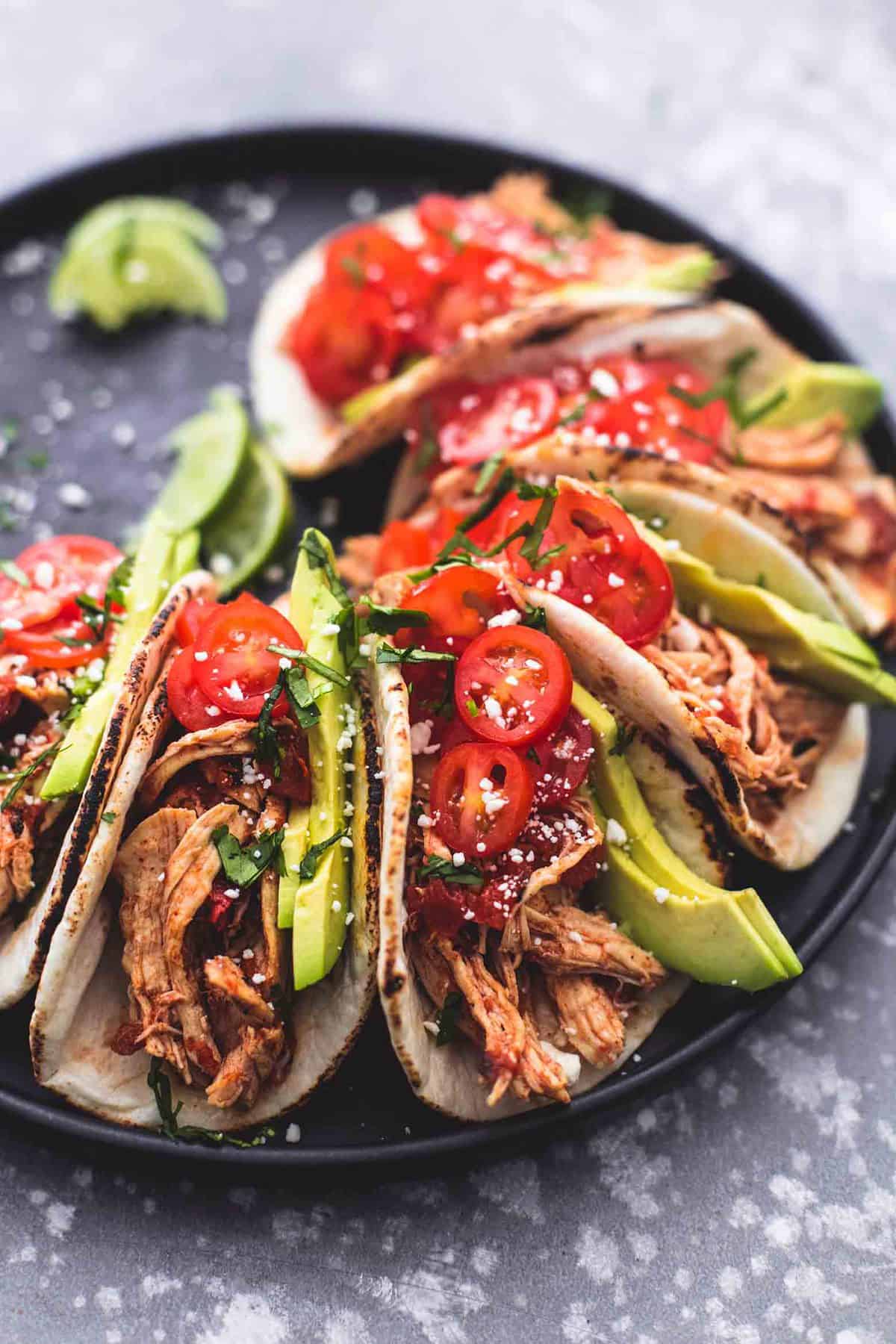 When you think of Mexican food, what comes to mind? Is it an oval plate packed full of food, smothered in unidentifiable cheese sauce under which there is supposedly maybe some kind of taco, enchilada, or burrito, accompanied by overcooked rice and boring refried beans?  
Don't be embarrassed if this is what you thought of. I know I didn't paint it in the nicest picture, and you can probably tell that I don't care very much for the typical fare that passes for Mexican at most chain restaurants. Don't get me wrong, not every restaurant is the same and there are definitely stand out dining establishments that get it right.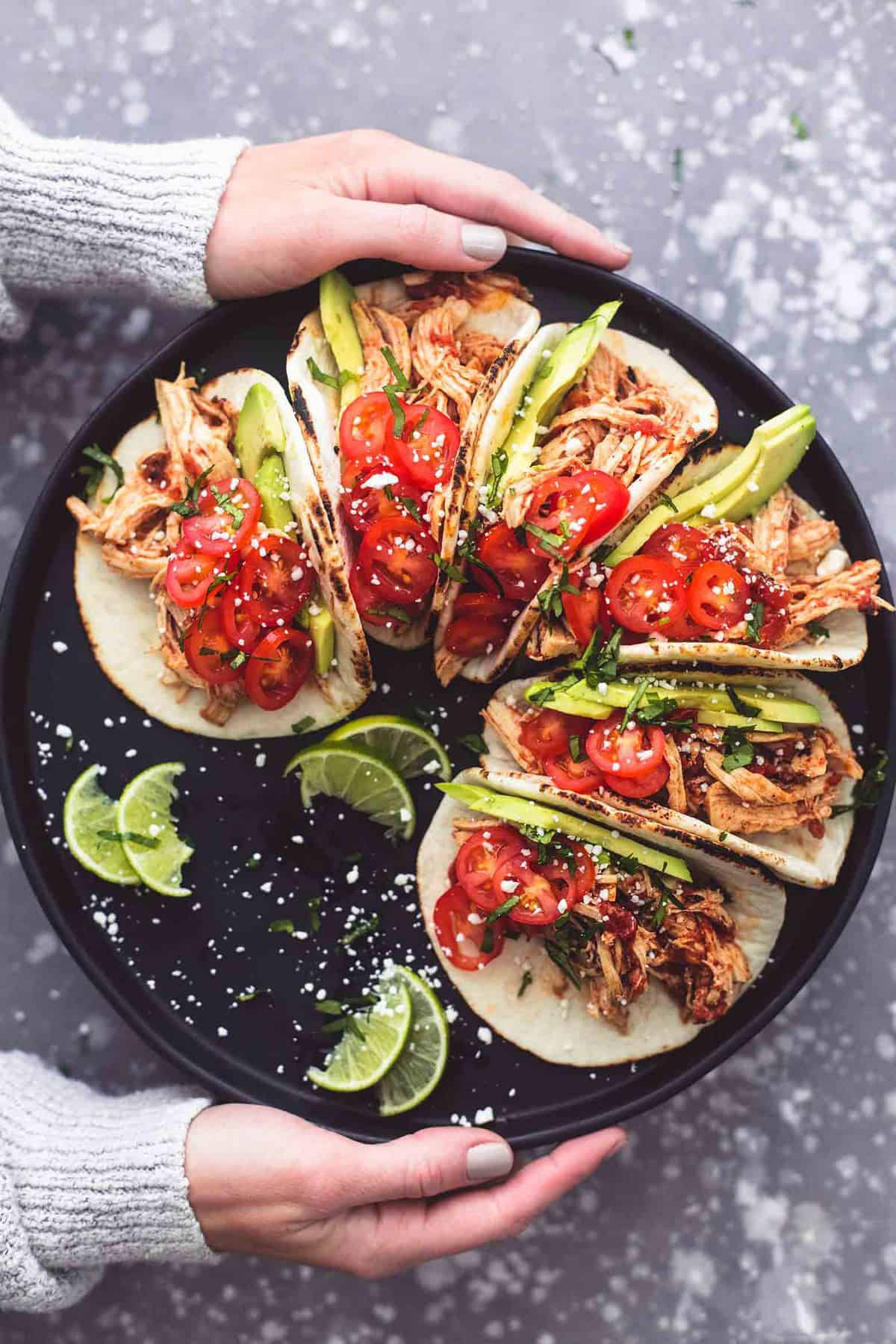 But for me, I like to see the food I'm eating. Unless it's mashed potatoes, don't cover it in a thick gravy or sauce. Allow me to notice the protein, admire the salsa, drool over the avocado, and otherwise present me with something that looks delicious. Afterall, we eat with our eyes first.
That being said, I probably wouldn't pass up a taco in any form. It's just that I like to see each ingredient. I like to be able to view the condiments I'm piling on. (And sometimes more easily pull off the ingredients I don't care for.) I never pass up an opportunity to make a taco, make it flavorful, and make it fast.
That is where one of my favorite appliances comes in handy — the Instant Pot! You can have these shredded chicken tacos together in 35 minutes! That includes prepping and cooking. (Maybe 40 if you include eating — these babies will go down in a hurry.)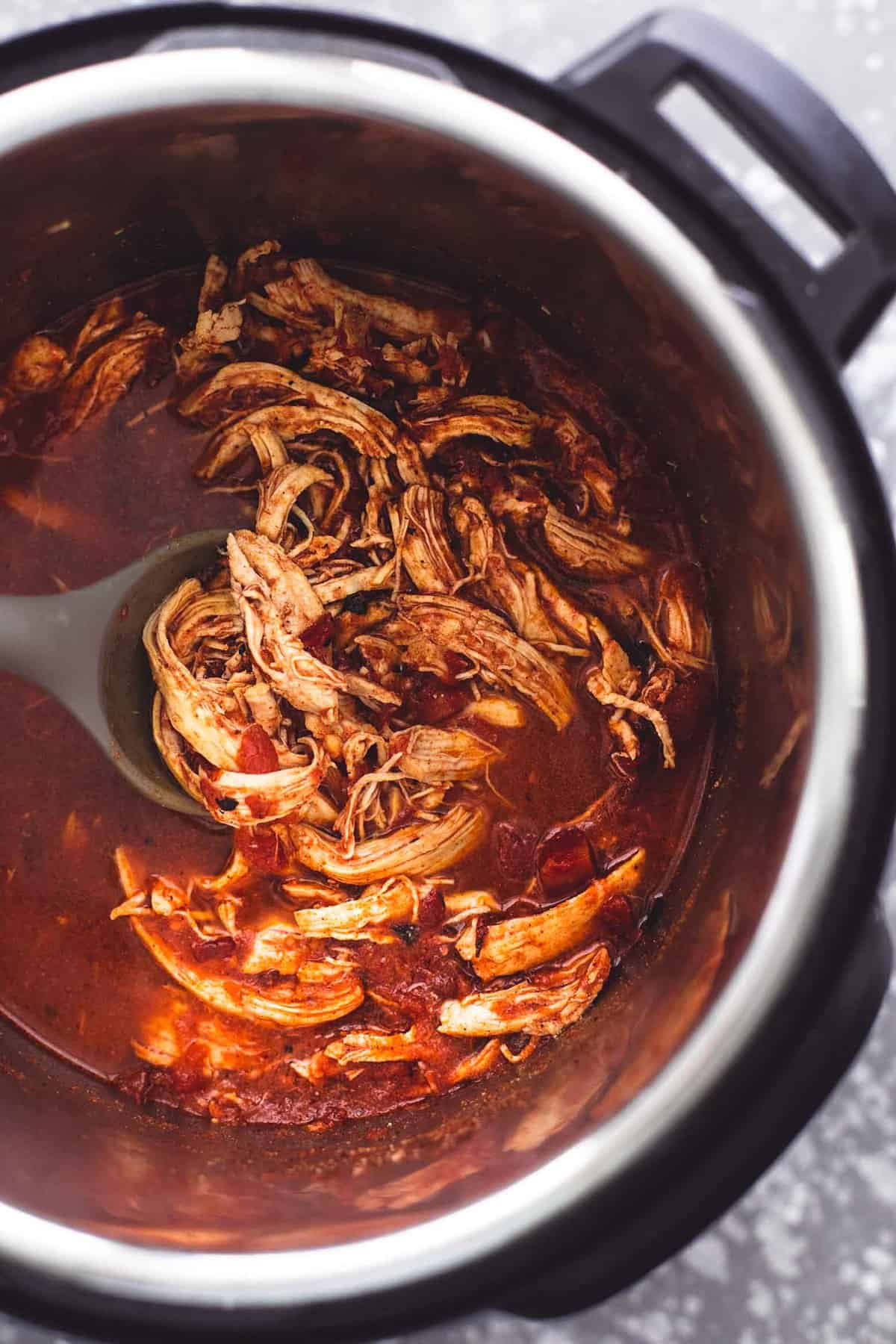 WHAT TOPPINGS GO WELL WITH INSTANT POT SHREDDED CHICKEN TACOS?
I can't decide what I like more — the taco or the toppings! Or, do the toppings make the tacos? (I think so.) That being said, it's so much fun to get creative with your condiments. You could even put out a little taco bar for your family or guests so they can make their tacos their own. Feel free to mix and match toppings and see which combination is your favorite.
In addition to the avocado, tomatoes, cheese, cilantro, and sour cream mentioned in this recipe, there are tons of other toppings you could add. Salsa is an obvious one, and it comes in so many varieties (or make your own). Fruit salsa is also a winner (like the mango salsa I made for this chicken dish). Fancy up your sour cream by whipping up a quick chipotle sauce. Elevate your avocados with a great guac.
Or, grab a sectioned dish (a veggie tray server works well here) or a bunch of cute little bowls and go to town. Favorite toppings include thinly sliced jalapenos, black olives, queso fresco, Monterey jack cheese, shredded lettuce, diced (or pickled) red onion, shredded red cabbage, black beans, lentils…I could go on and on.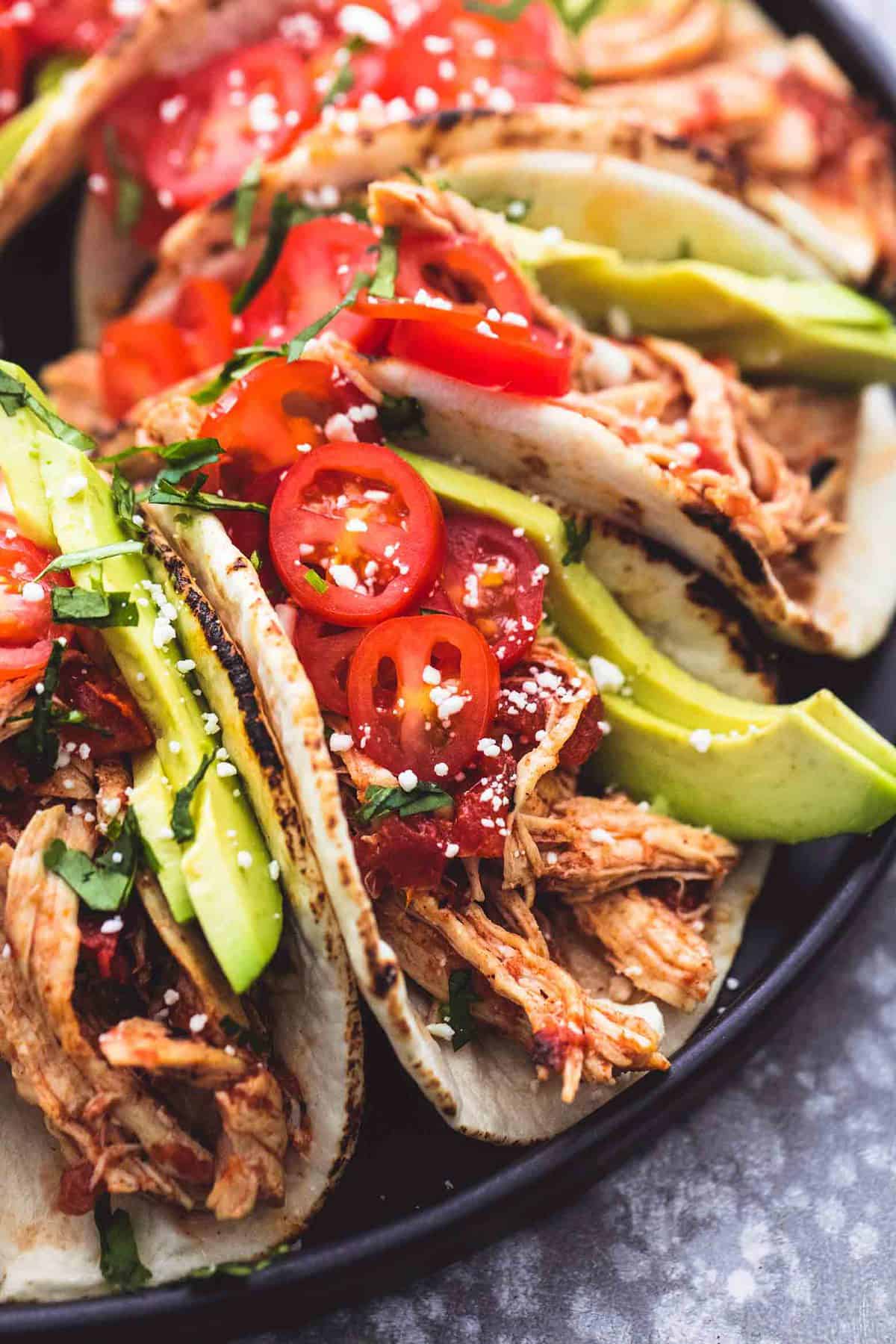 CAN I MAKE THESE TACOS IN A SLOW COOKER?
You sure can! Use all the same ingredients and put them all in the slow cooker. These will take longer to cook — four hours on high or six to seven on low. Be sure to use tongs to remove the shredded chicken so that your taco doesn't get sogged down from all that yummy juice it's been cooking in.
I recommend thawing your chicken before putting it in the slow cooker but if you need to use frozen, go the low and slow route for cooking so it doesn't get too rubbery.
HOW CAN I MAKE THESE TACOS SPICY?
I tend to like a moderate amount of spice (so the fire-roasted tomatoes add enough kick for me) but I do have friends and family who love spicy foods — the hotter, the better. You can add a couple chipotles and some sauce from a can of chipotles in adobo or throw in a couple jalapenos (or even hotter peppers) while the chicken cooks in the pressure cooker.
Or you can add the spice after cooking in case other people dining with you don't care for spicy food. Ways to do this include adding sliced peppers, hot salsas, and hot sauces. You can also try adding cayenne pepper or red pepper flakes.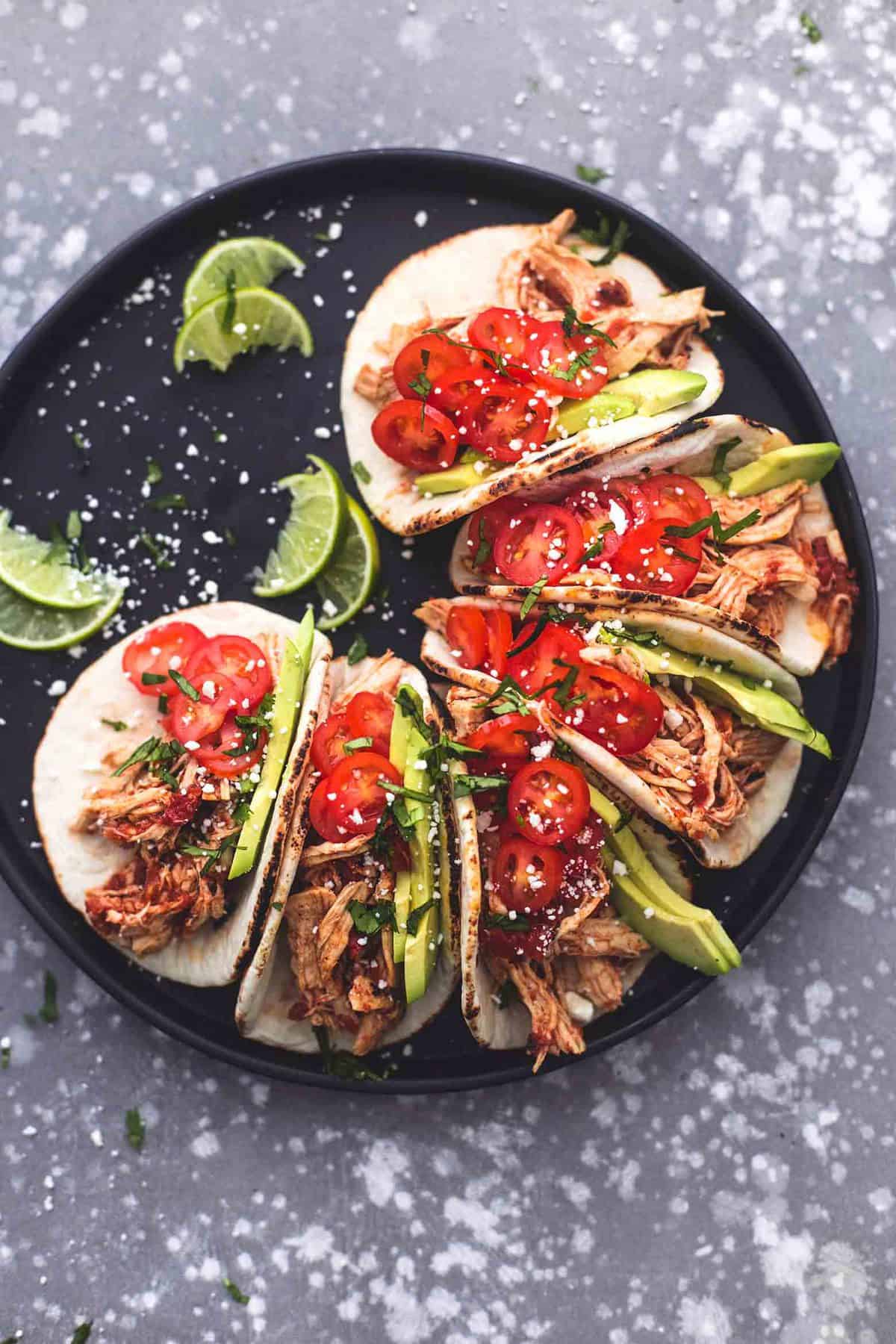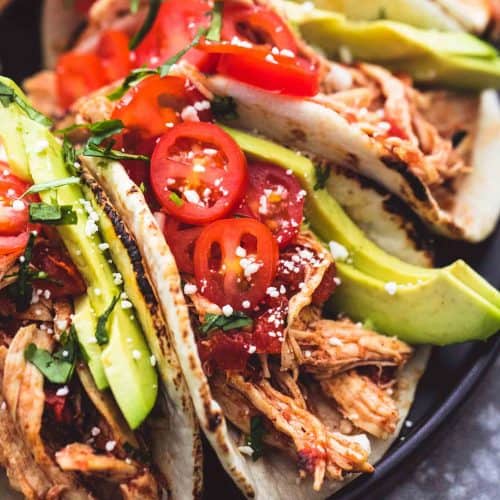 Instant Pot Shredded Chicken Tacos
These are the BEST Instant Pot Shredded Chicken Tacos, hands down. You'll love how quick, easy, and healthy this recipe is!
Ingredients
3-4

medium to large boneless skinless chicken breasts

1

cup

chicken broth

-

or water

1

teaspoon

salt

1

teaspoon

ground cumin

1

teaspoon

chili powder

1

teaspoon

garlic powder

1

15-ounce can fire roasted tomatoes

corn or flour taco-size tortillas

avocado, tomatoes, cheese, cilantro, sour cream

-

for serving
Instructions
In your instant pot/pressure cooker combine chicken, broth or water, cumin, chili powder, garlic powder, and fire roasted tomatoes (with liquid).

Cover and set to PRESSURE COOK or MANUAL for 20 minutes. (30 minutes if using frozen chicken breasts)

Do a quick release (turn vent knob to the VENT position and allow to de-pressurize until the float valve drops down) then uncover and shred chicken with two forks.

Serve chicken in tortillas topped with cheese, tomatoes, avocado, cilantro, or any other favorite toppings.
Notes
Top with your favorite taco fixings, like shredded cheese, cilantro, onions, salsa, or hot sauce. 
Nutrition
Calories:
202
kcal
,
Carbohydrates:
1
g
,
Protein:
37
g
,
Fat:
5
g
,
Saturated Fat:
1
g
,
Trans Fat:
1
g
,
Cholesterol:
108
mg
,
Sodium:
1003
mg
,
Potassium:
702
mg
,
Fiber:
1
g
,
Sugar:
1
g
,
Vitamin A:
208
IU
,
Vitamin C:
6
mg
,
Calcium:
19
mg
,
Iron:
1
mg