This is hands down the BEST Instant Pot Chicken and Potatoes recipe you'll ever try. Juicy ranch-seasoned chicken breast and parmesan potatoes cooked in 30 minutes in your pressure cooker – it doesn't get easier than this!
After you try this Instant Pot Chicken and Potatoes, be sure to try Instant Pot Chicken Marsala (so good. so creamy.) and then whip up Best Ever Baked Teriyaki Chicken, Three Cheese Stuffed Balsamic Chicken, and Healthy Baked Chicken Parmesan.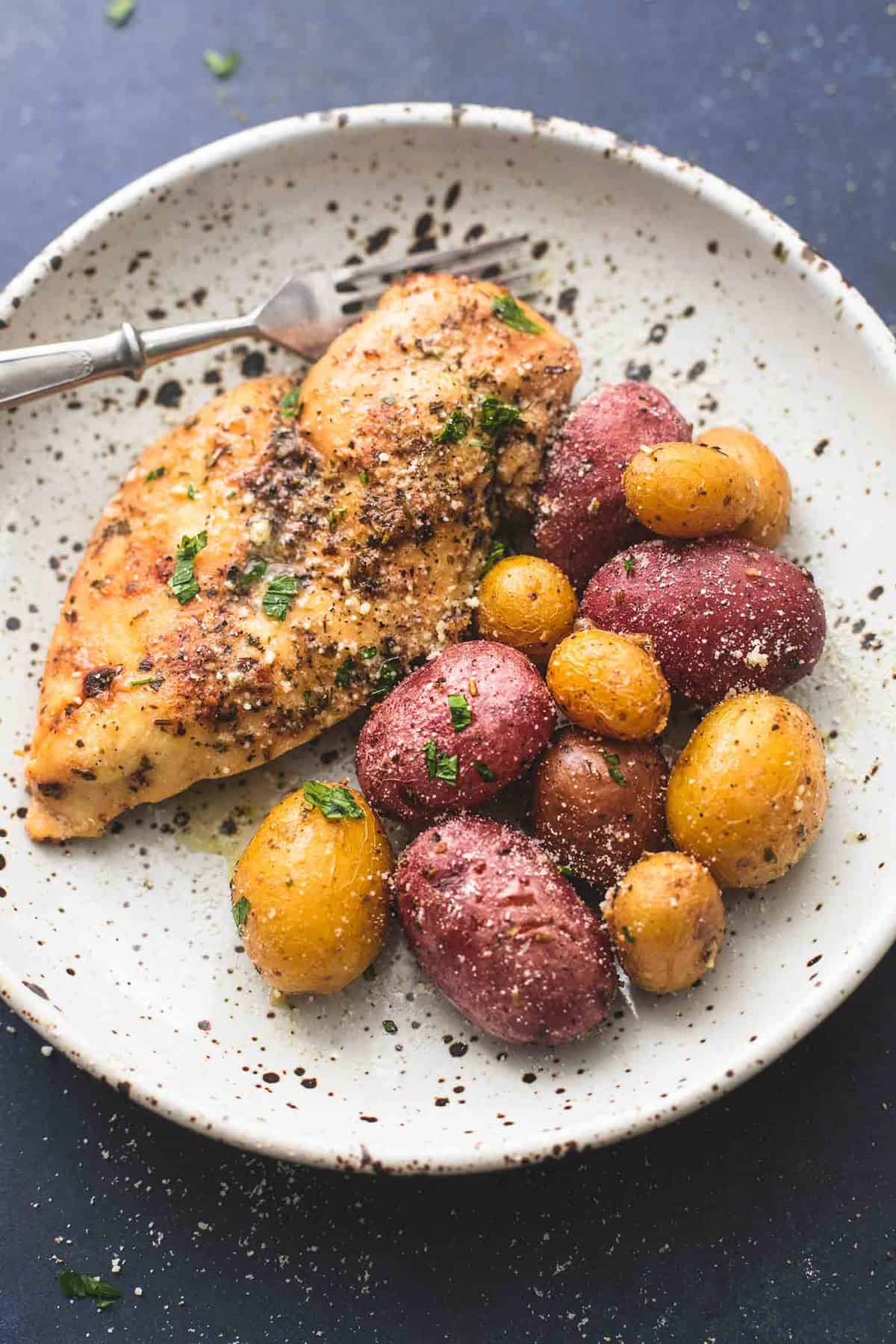 Guys, I love food. I love making recipes, and I love taking pictures, and I love to see the happy faces on my family when they eat what I've made them. I also love hearing from you about which recipes you liked, and how often you make them, and how much your family loves the food too.
As it turns out, you all love the Instant Pot just about as much as I do, which is great news because I love coming up with new and tasty recipes that work well in it. I know everyone out there is just as pressed for time as I am so anything I can do to help you get a nutritious dinner on the table faster is worth it.
For this recipe, I confess, I already had chicken in mind. And potatoes just go so well with chicken, don't you think? Plus, both of these ingredients cook up in a similar time frame — which is important for an Instant Pot recipe where you just want to seal it and forget it.
I chose ranch and parmesan flavoring as well because not only are they delicious flavorings, but they also are probably on hand in most everyone's kitchens. If you're not a regular in the kitchen, I want you to be able to realize you can put together a good dinner with foods you probably already have. It just takes a little creativity and some awesome kitchen gadgets.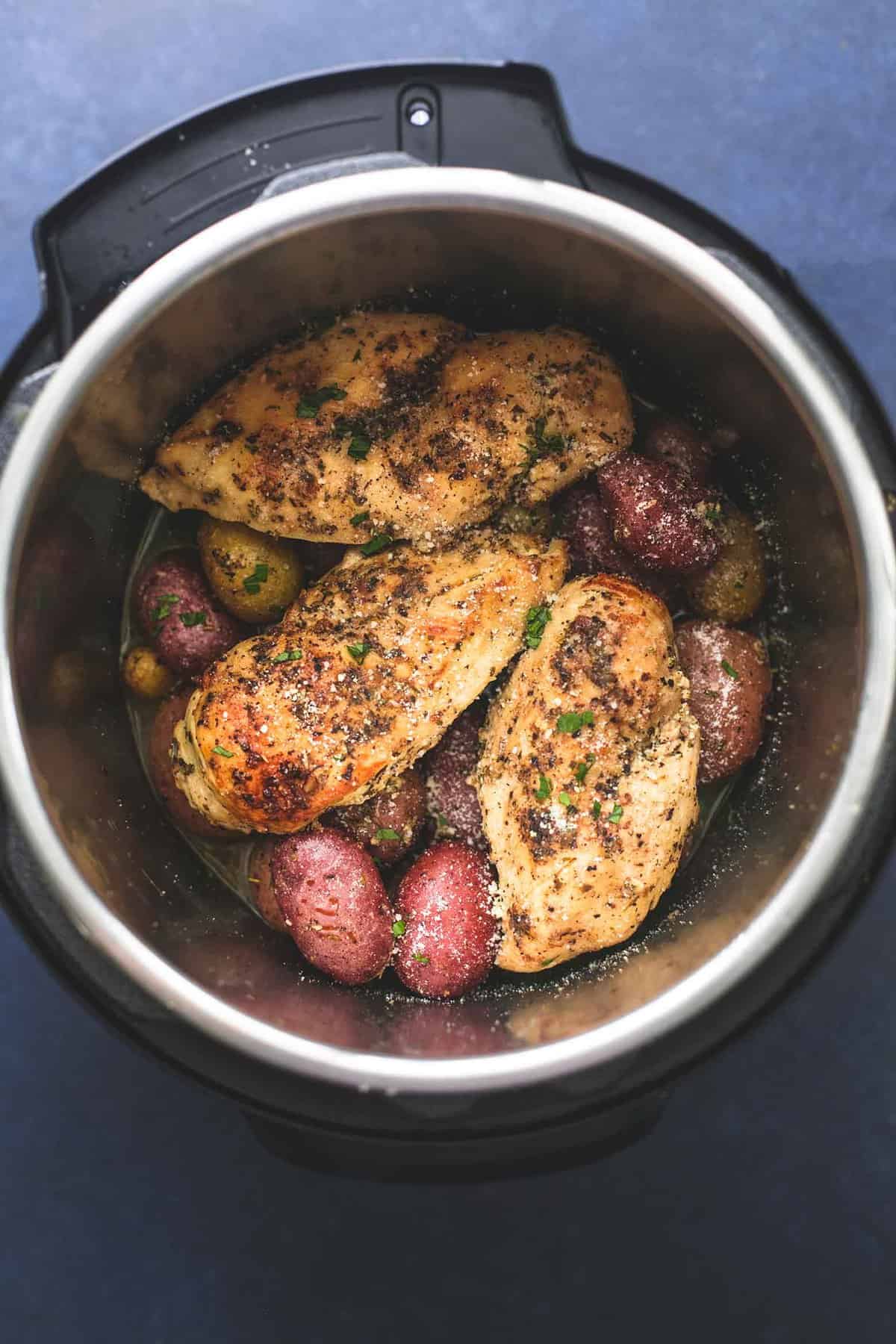 CAN I USE CHICKEN THIGHS FOR THIS RECIPE?
Yes, if you have chicken thighs or prefer chicken thighs, then you absolutely can substitute them for the chicken breasts. I would cook the chicken a little less time though, about 10-12 minutes. The potatoes should still be done.
CAN I USE FROZEN CHICKEN?
No time to thaw your chicken or you just forgot (we've all been there)? The Instant Pot can take care of that for you, too. However, I would recommend you thaw the breasts a little in the microwave first. Otherwise, the spices and parm will not stick to your breasts the way they should in this recipe if they are frozen solid. From there, you can follow the rest of the instructions, but increase cooking time about 20 minutes.
CAN I MAKE THIS RECIPE IN A SLOW COOKER?
Also yes! If you don't have an Instant Pot, no worries. Follow the directions the same, except put the chicken and potatoes in your slow cooker and cook for about 3-4 hours on high or 4-6 on low.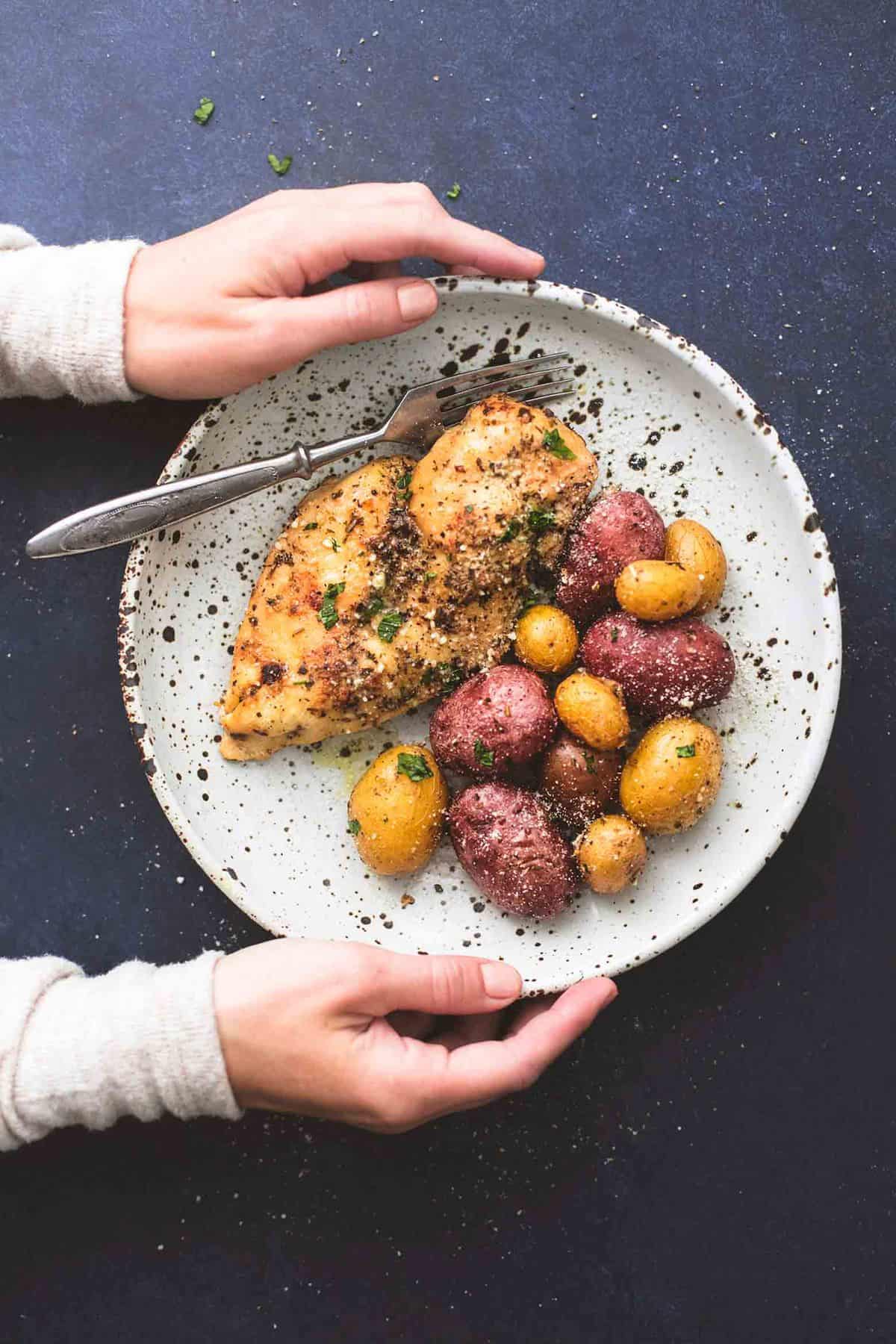 WHAT SIDES WOULD YOU SERVE WITH THIS DISH?
I usually serve this with an easy side salad. But other sides that would go well with this (and that don't take up too much time) include this Lemon Parmesan Roasted Asparagus, Roasted Lemon Garlic Broccoli & Cauliflower, corn (any which way you like it), beans, or a nice dinner roll or some French bread.
CAN YOU BAKE POTATOES IN AN INSTANT POT?
If you like the idea of potatoes in an Instant Pot but you only want to bake potatoes, you can do that, too. An Instant Pot can hold about three pounds of potatoes at a time (but check your specific model to be sure first). Set the cleaned, whole potatoes on the rack and then add a cup of cold water. Cook on high pressure for 15-20 minutes, depending on how big your potatoes are. Release the pressure according to your pot's directions. If you want a crispier skin, you can follow up the cooking process in the oven with a little olive oil glaze. You can also cook potatoes in an instant pot with beef, as seen in this Instant Pot Pot Roast recipe.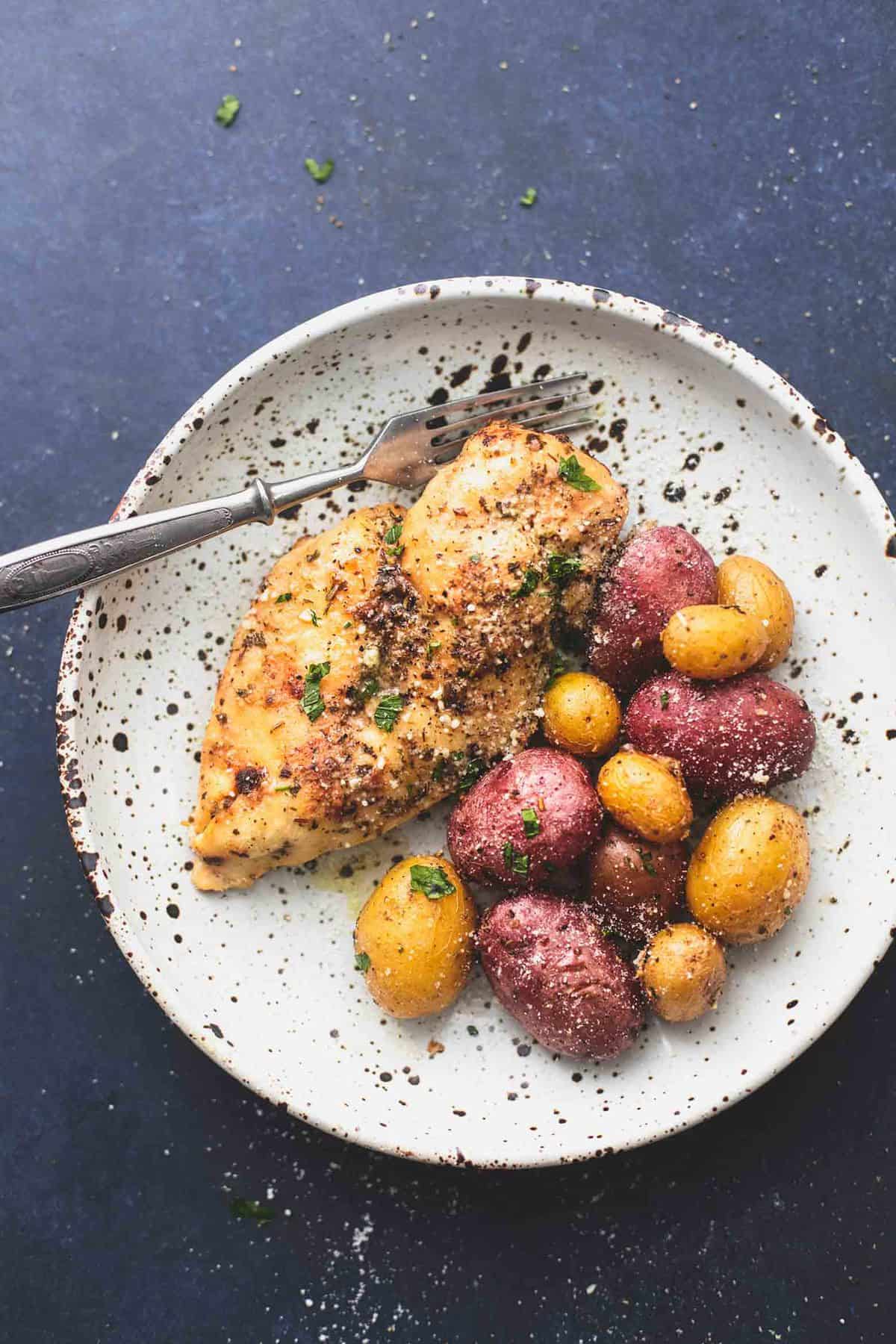 What people are saying about this Instant Pot Chicken and Potatoes
"I've been cooking recipes from the web for years. This is my first comment to any site because it's the first time anything was this AMAZING! My picky family loved it! I plan on trying many more of your recipes. THANKS!" – Tamme
"The chicken was so TENDER!! Will make this again soon for sure!" – Kayla
"I'm new to the instant pot and this was delicious! when all was cooked and removed from pot, i thickened sauce with a little flour and served over the chicken and potatoes. Then I sprinkled the parm cheese over all. also, i only had larger gold potatoes, so i quartered them and they turned out perfect. will definitely make again! thank you!" – Roseanne
"This is a great recipe! My family loves it and I have made it once a week for at least a month!" – Riki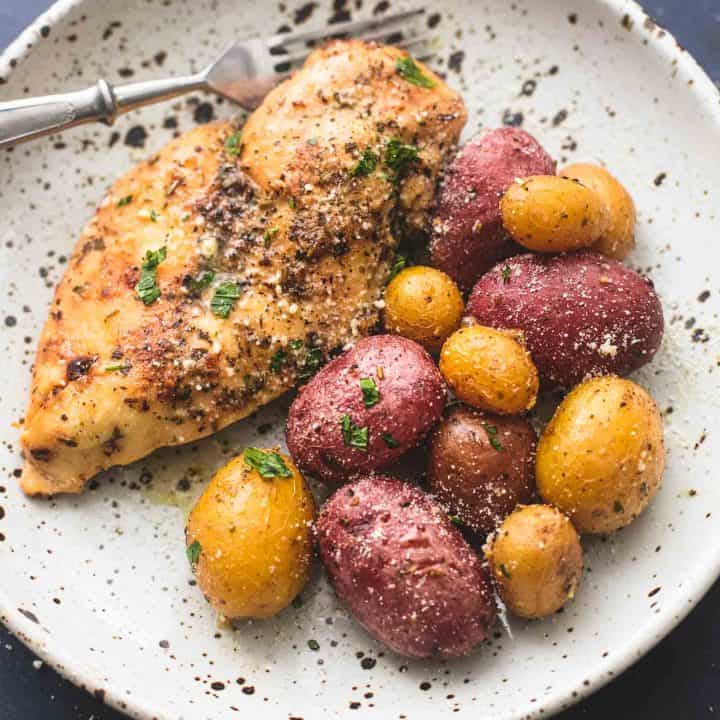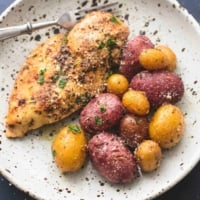 Instant Pot Chicken and Potatoes
This is hands down the BEST Instant Pot Chicken and Potatoes recipe you'll ever try. Juicy ranch-seasoned chicken breast and parmesan potatoes cooked in 30 minutes in your pressure cooker – it doesn't get easier than this!
Ingredients
4

boneless skinless chicken breasts

2

pounds

baby red or gold potatoes

3

tablespoons

olive oil

1 ½

teaspoons

salt

-

or to taste

½

teaspoon

pepper

-

or to taste

1

teaspoon

garlic powder

1

teaspoon

dried thyme

½

teaspoon

dried basil

½

teaspoon

dried oregano

2

tablespoons

+ 2 teaspoons dry Ranch seasoning

-

divided

1

cup

chicken broth

3

tablespoons

grated parmesan cheese
Instructions
In a large bowl toss chicken and potatoes in the olive oil, then season with salt and pepper. Stir together garlic powder, thyme, basil, oregano, and 2 tablespoons of the Ranch seasoning. Sprinkle over the chicken and potatoes, tossing to distribute the ingredients as evenly as possible.

Add chicken broth to the instant pot/pressure cooker, then place chicken in the broth, and top with the potatoes. Place the lid on in the locked position and turn the vent to the sealed position. Set pressure cooker to "pressure cook" for 10-15 minutes. (see note)

Once the cook time is finished, do a "quick release" by turning the vent to the venting position. Once float valve has dropped, remove the lid. Drain the pressure cooker or use a slotted spoon to transfer chicken and potatoes to a large platter. 

Sprinkle with Ranch seasoning and parmesan cheese and garnish with chopped thyme or parsley if desired before serving.
Notes
Cook time: I used four medium-large chicken breasts at 15 minutes. If you are using fewer than four chicken breasts, or small chicken breasts, you should reduce your cook time to 10 minutes and be sure your potatoes are cut into pieces that are no thicker than 1 inch at any one place. 
Nutrition
Calories:
419
kcal
,
Carbohydrates:
41
g
,
Protein:
30
g
,
Fat:
15
g
,
Saturated Fat:
3
g
,
Trans Fat:
1
g
,
Cholesterol:
76
mg
,
Sodium:
1290
mg
,
Potassium:
1442
mg
,
Fiber:
5
g
,
Sugar:
2
g
,
Vitamin A:
84
IU
,
Vitamin C:
50
mg
,
Calcium:
88
mg
,
Iron:
3
mg