Tender honey brown sugar roasted carrots seasoned and baked to perfection make the perfect Easter holiday or everyday easy side dish.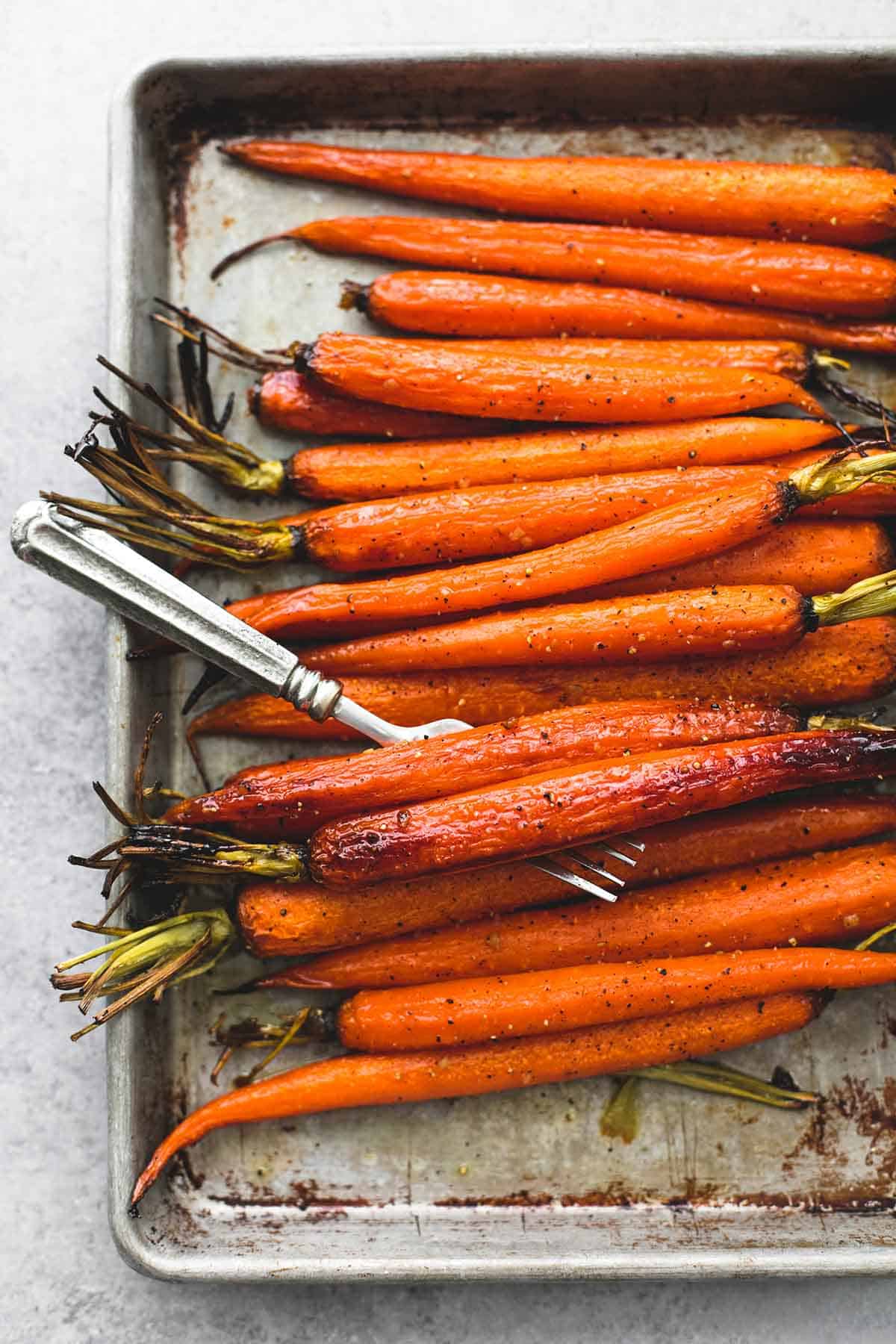 I'm on a mission to make dinner routines and meal planning a whole lot easier for everybody. Mostly for me but I have a hunch that you might need it too so I'm sharing a side dish with you today that will help you switch up your usual go-tos.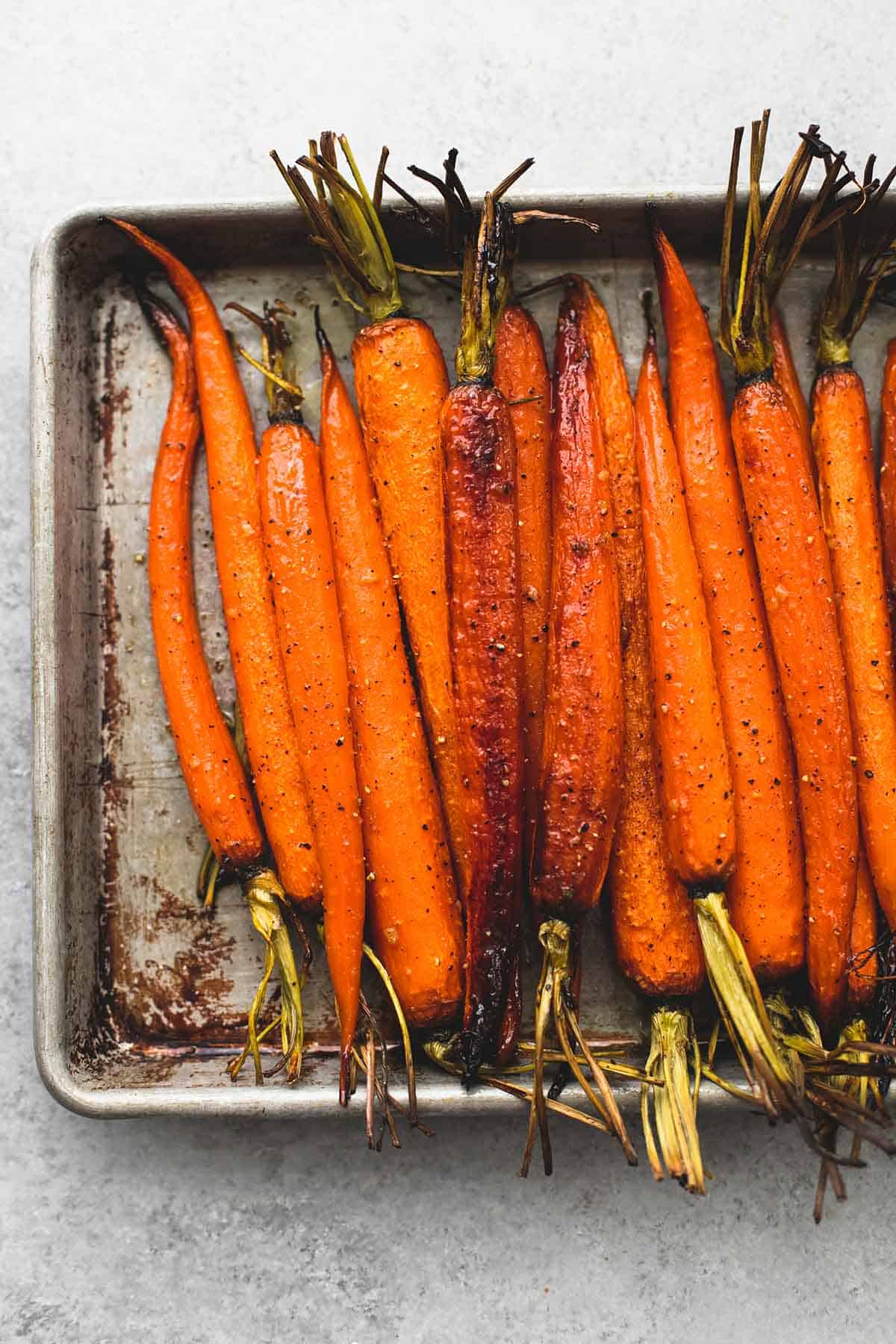 These honey brown sugar roasted carrots are THE best side dish you've had in a very long time, I feel very confident in saying that because I know that I do a lot of cooking and they are definitely the best side dish I've had in a long time. The sweetness, the savoriness, the simplicity of the recipe, it's pretty much perfection as far as super tasty side dishes go.
And now that it's warming up outside (seriously, sunny and 60 degrees could not possibly have come a second too soon) my mind has been wandering to menu planning for upcoming holidays and you better believe these roasted carrots will be making a star appearance.
What people are saying about these Honey Brown Sugar Roasted Carrots
"I have made these carrots twice now. The first time, I didn't have balsamic vinegar and they were good. The second time, I had the balsamic vinegar and that put them into the awesome category. You are right, they are the best side dish ever. Thanks for the great recipe." – Jamie
"Made these the other night as a side dish with dinner and omg!! I think I could've skipped the main course and just had these… so so good! Definite keeper in my book :)" – Taylor
"I [normally] hate cooked carrots. And then I tried these… Roasted carrots are a revelation! I'm always telling my family that just because they didn't like something once, doesn't mean they'll never like it, that our taste buds change and develop as we get older, so they should always be willing to give things another try. Well, I took my own advice and I'm glad I did – I ate more of them than my daughter did, and she is a huge fan of carrots!" – Rose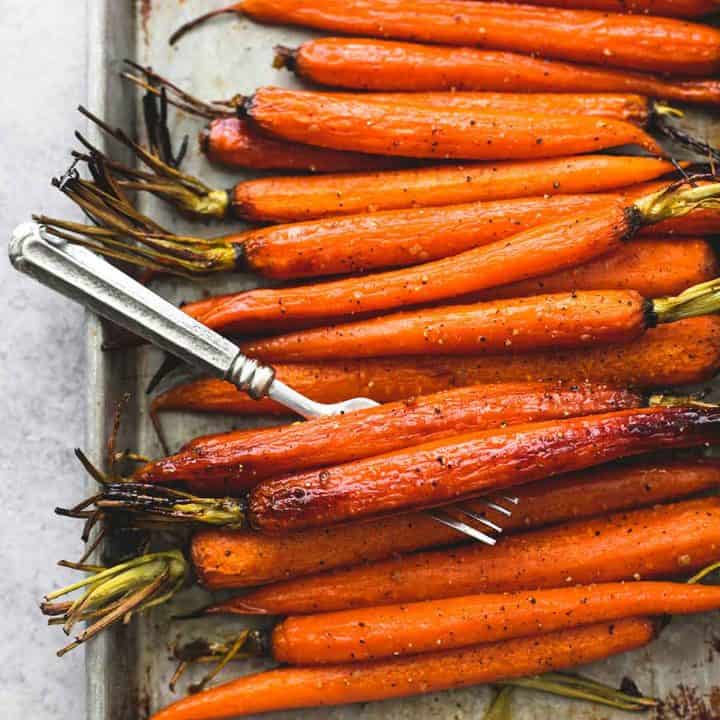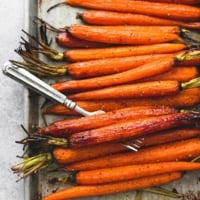 Honey Brown Sugar Roasted Carrots
Tender honey brown sugar roasted carrots seasoned and baked to perfection make the perfect Easter holiday or everyday easy side dish.
Ingredients
2

pounds

baby carrots, tops trimmed at about 2 inches (see note)

2

tablespoons

olive oil

salt and pepper,

to taste

4

tablespoons

butter

2

tablespoons

brown sugar

2

tablespoons

honey

1

teaspoon

Italian seasoning

1

tablespoon

balsamic vinegar

1

tablespoon

minced garlic
Instructions
Preheat oven to 400 degrees. Toss carrots with oil and season with salt and pepper to taste and arrange carrots in a single layer on a baking sheet.

Combine butter, brown sugar, honey, Italian seasoning, balsamic vinegar, and garlic in a small sauce pan and stir over medium high heat until completely melted and mixture begins to boil. Remove from heat and pour over carrots.

Bake for about 20 minutes until tender and easily pierced with a fork. Serve immediately.
Notes
Baby carrots are simply smaller, thinner full carrots. If you only have larger carrots, make sure you slice them in half lengthwise so that they are half the thickness and cook properly.