These crispy Roasted Sweet Potatoes are every bit as delicious as they sound! Savory, sweet, and healthy to boot, it really doesn't get any easier than this to get more sweet potatoes on your plate. 
If you love healthy, oven roasted sweet potatoes as much as I do, then you'll also want to try my recipes for Baked Candied Southern Sweet Potatoes, Slow Cooker Mashed Sweet Potatoes.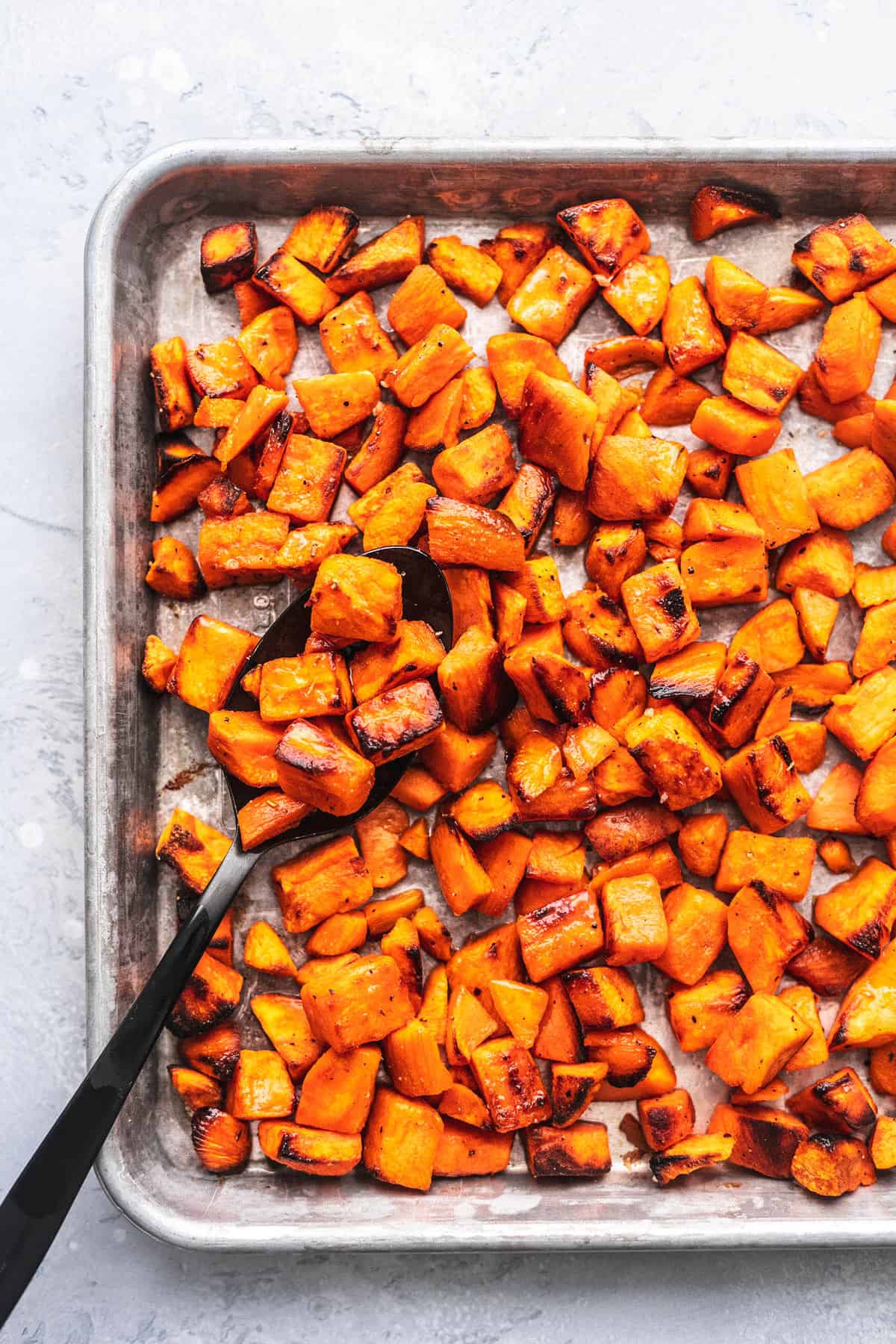 Though another holiday may have come and gone, that doesn't mean my appetite for all things sides or fall or sweet and savory has dissipated in the least. In fact, I think every bite of rolls, mashed potatoes, cranberries, stuffing, and dessert has only served to make me stronger. Maybe I shouldn't be fed after midnight (or was that watered? Who remembers Gremlins?) Or fed in between holidays. Or something. You get my point. 
 All that is to say, when I'm in the mood for holiday foods, but with a few weeks of idleness on my hands, I just make more of the same delicious foods but in a different way. I mean, who knows what my holiday meal is going to look like yet? It's so far away.
Okay, anyone who knows me knows I already have it all planned out. But there's always the chance to change one dish or sneak in a new one. And I think I'm already scooting some recipes to the side mentally in preparation for these easy healthy oven Roasted Sweet Potatoes. 
HOW DO YOU MAKE SAVORY ROASTED SWEET POTATOES?
For some reason, I'm a little worried whenever I make pan roasted sweet potatoes. I'm not sure what it is. I think maybe it's that I've only recently found that sweet potato sweet spot. You know, in between too cooked and not cooked enough? 
Don't worry though, this recipe has been thoroughly vetted to cook up to perfection. The first thing I do is chop up all the sweet potatoes into 1-inch pieces and put them in a large mixing bowl. Next, I preheat the oven to 450 degrees and grease a cookie or baking sheet. 
To the sweet potato cubes, I add the olive oil and butter, then add salt and pepper. Toss this mixture together with your fingers or use tongs. Once every bite is covered, I transfer the potatoes to the baking sheet and spread them out evenly into a single layer if possible. 
Bake the potatoes for 20-25 minutes or until the centers are tender and the edges start to blacken and get crispy. Once they've cooked, I take them out and serve right away or sometimes I'll brush a butter/honey mixture over the top for additional deliciousness, then serve.
HOW DO YOU PEEL AND CUT SWEET POTATOES?
To make the best Roasted Sweet Potatoes, you must first take the skins off the potatoes and then cut them into 1-inch pieces. I use a vegetable peeler to take off the skin. It's pretty easy to remove (just be sure to peel away from you and your hand so that you don't cut yourself). Once all the skin is off the sweet potatoes, I then cut about a half inch or so off each end. 
Next, I cut each potato in half lengthwise, then cut each of those halves lengthwise too. (You should have four oblong pieces.) I cut each of those oval pieces into 1-inch sticks then cut each stick up into 1-inch cubes. 
Cutting sweet potatoes this way makes sure they all end up in even pieces, which then ensures you end up with crispy Roasted Sweet Potatoes. 

WHAT DO SWEET POTATOES DO FOR YOUR BODY?
Even though I'm not a nutritionist, people always want to know why I eat what I eat and they also want to learn more about the ingredients I cook with. I get it.

There's a lot of hype over sweet potatoes versus regular white potatoes. Why are they so popular? Are they really that good for you? How are they healthy?
Well, here's what I've learned in my years of researching nutrition facts for my readers: 
Sweet potatoes are nutritious. They contain fiber, minerals, and vitamins such as vitamins A, B6, and C, manganese, potassium, copper, and niacin. 

Sweet potatoes are a good source of plant protein, with 4 grams in each cup. 

They are low in fat. 

They are not terribly high in calories (180 in a one-cup serving) and also offer fiber with every bite (more if you keep the skins on). 

Orange and purple sweet potatoes are also high in antioxidants that can protect your body from certain types of cancers. 

Just like carrots, the bright orange color in sweet potatoes signifies the presence of beta-carotene, which has been linked to better eye health. 

They are also good immunity boosters because of the amount of vitamin A found in each serving. 
Eat them because they are healthy, eat them because they are delicious, eat them because they are easy — whatever reasoning you go with, just eat them, you won't be sorry!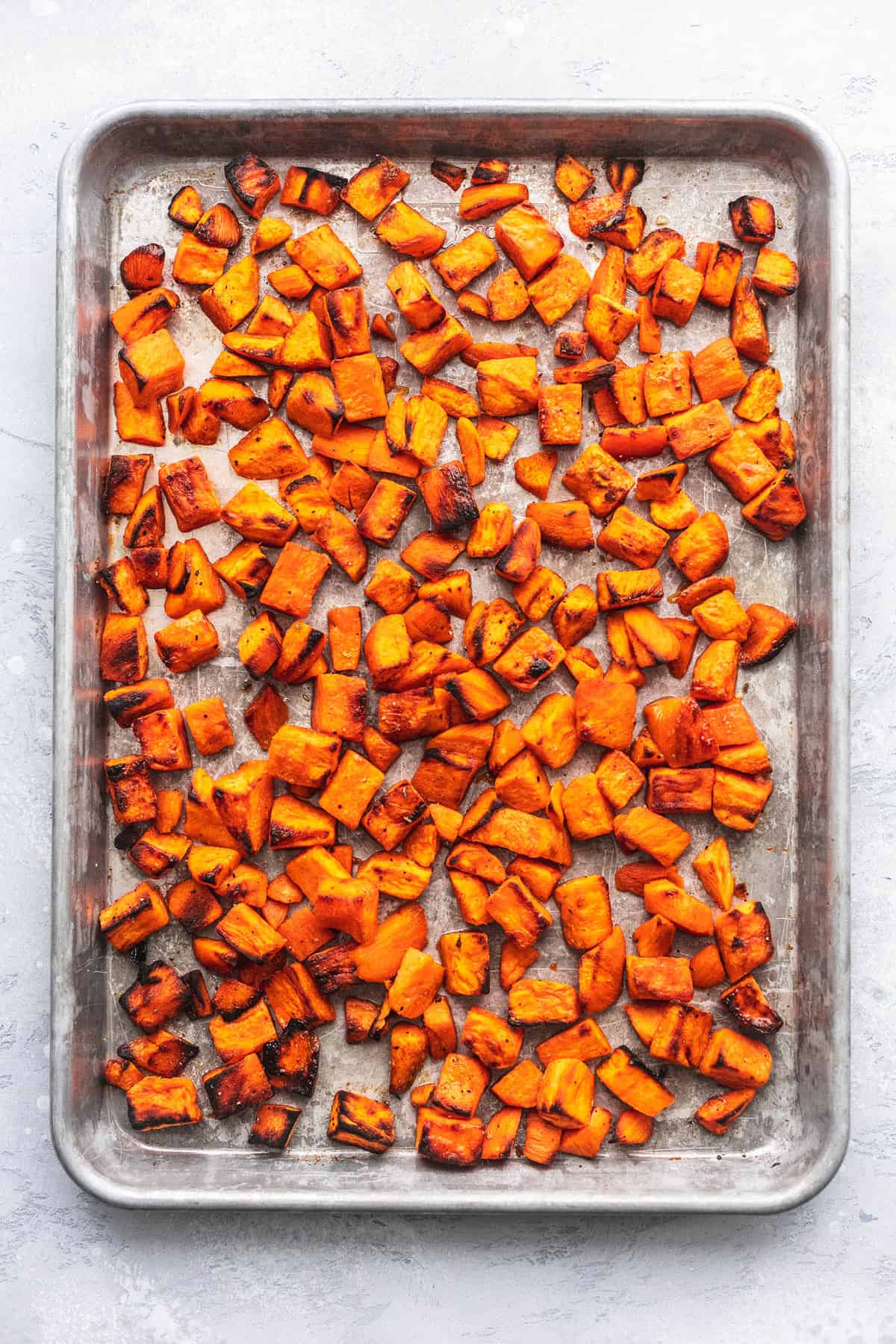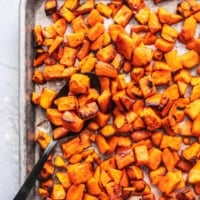 Roasted Sweet Potatoes
This best roasted sweet potatoes recipe is every bit as delicious as it sounds! Savory, sweet, and healthy to boot, it really doesn't get any easier than this to get more sweet potatoes on your plate. 
Ingredients
2

pounds

sweet potatoes

-

peeled and chopped into 1-inch pieces

2

tablespoons

olive oil

-

or other mild oil

2

tablespoons

butter

-

metled, may sub 2 tablespoons oil

1

teaspoon

salt

-

more to taste

½

teaspoon

freshly cracked black pepper

-

or 1/4 teaspoon ground black pepper
optional topping
2

tablespoons

butter

-

melted

1

teaspoon

honey
Instructions
Preheat oven to 450 degrees and lightly grease a large baking sheet.

Toss chopped sweet potatoes with oil and butter, then season with salt and pepper.

Spread sweet potatoes out evenly on your prepared baking sheet.

Bake for 20-25 minutes until potatoes are tender and edges begin to blacken and crisp up.

Serve immediately, or brush melted butter/honey mixture over sweet potatoes just before serving.
Notes
Flavor tip: add 1/4 teaspoon ground cinnamon. 
Nutrition
Calories:
242
kcal
,
Carbohydrates:
31
g
,
Protein:
2
g
,
Fat:
12
g
,
Saturated Fat:
2
g
,
Sodium:
559
mg
,
Potassium:
514
mg
,
Fiber:
5
g
,
Sugar:
7
g
,
Vitamin A:
21784
IU
,
Vitamin C:
4
mg
,
Calcium:
49
mg
,
Iron:
1
mg