Super creamy garlic sour cream mashed potatoes are the ultimate holiday side dish. Easy to make and so delicious your guests will beg for the recipe!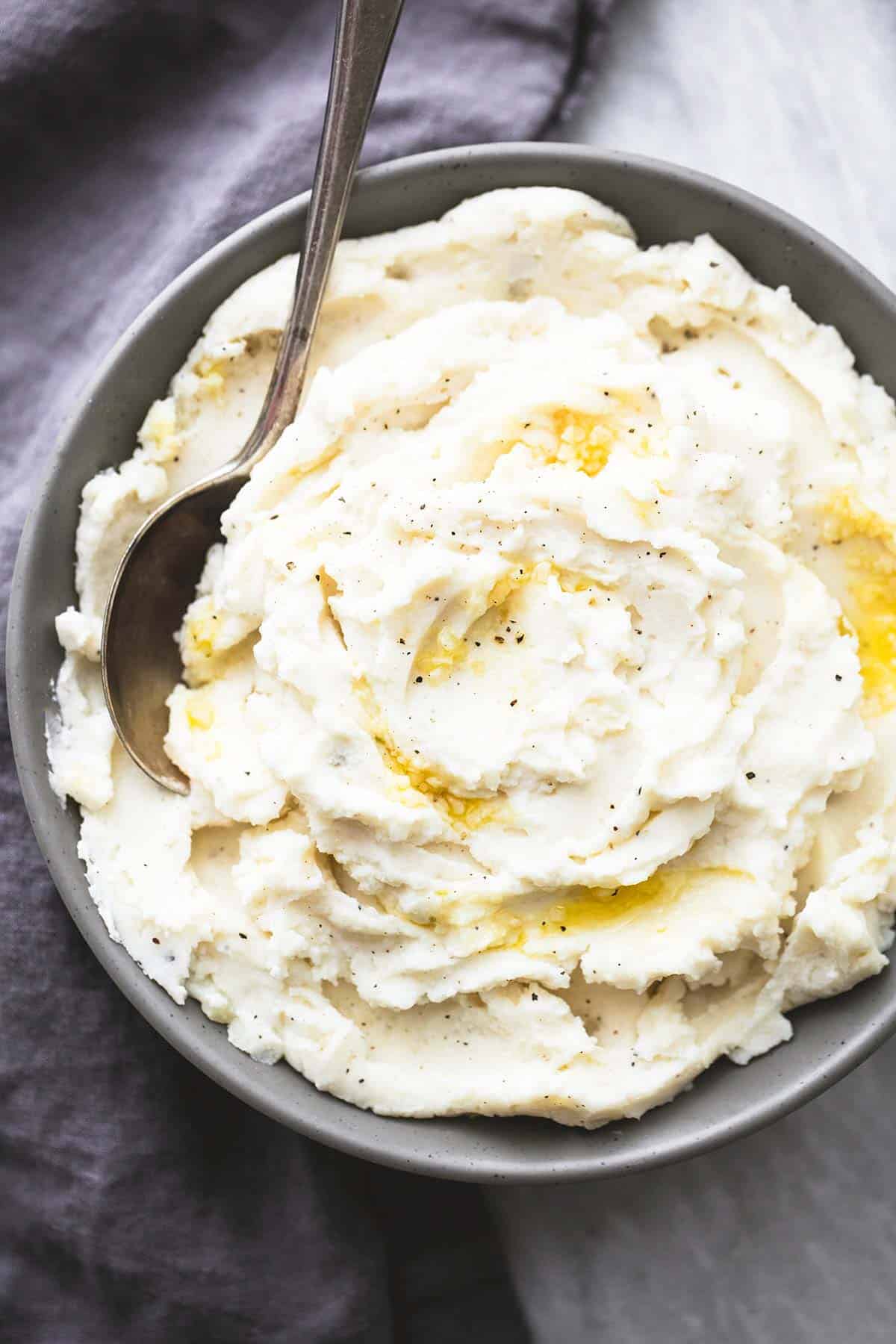 You know that holiday side dishes are my J*A*M you guys. Skip the turkey, go straight to the flaky biscuits, cranberry fluff salad, sweet potato cass, bacon green beans (with bacon! Always with bacon) and double up on that helping of mashed potatoes. It's the holidays, if you're not in a semi-permanent food coma until January one, you're doing it wrong.
A couple of years back I had one of my finest strokes of genius and cracked the code for easy, perfect no-boil no-mash NO-PEEL mashed potatoes in the slow cooker. So many good things about that situation but today we are talking about a combination of two key ingredients that will make your mashed potatoes perfectly flavored and ultramegacreamy (<- – -one word.)
SOUR CREAM and GARLIC
Please, please….. save your applause til the end.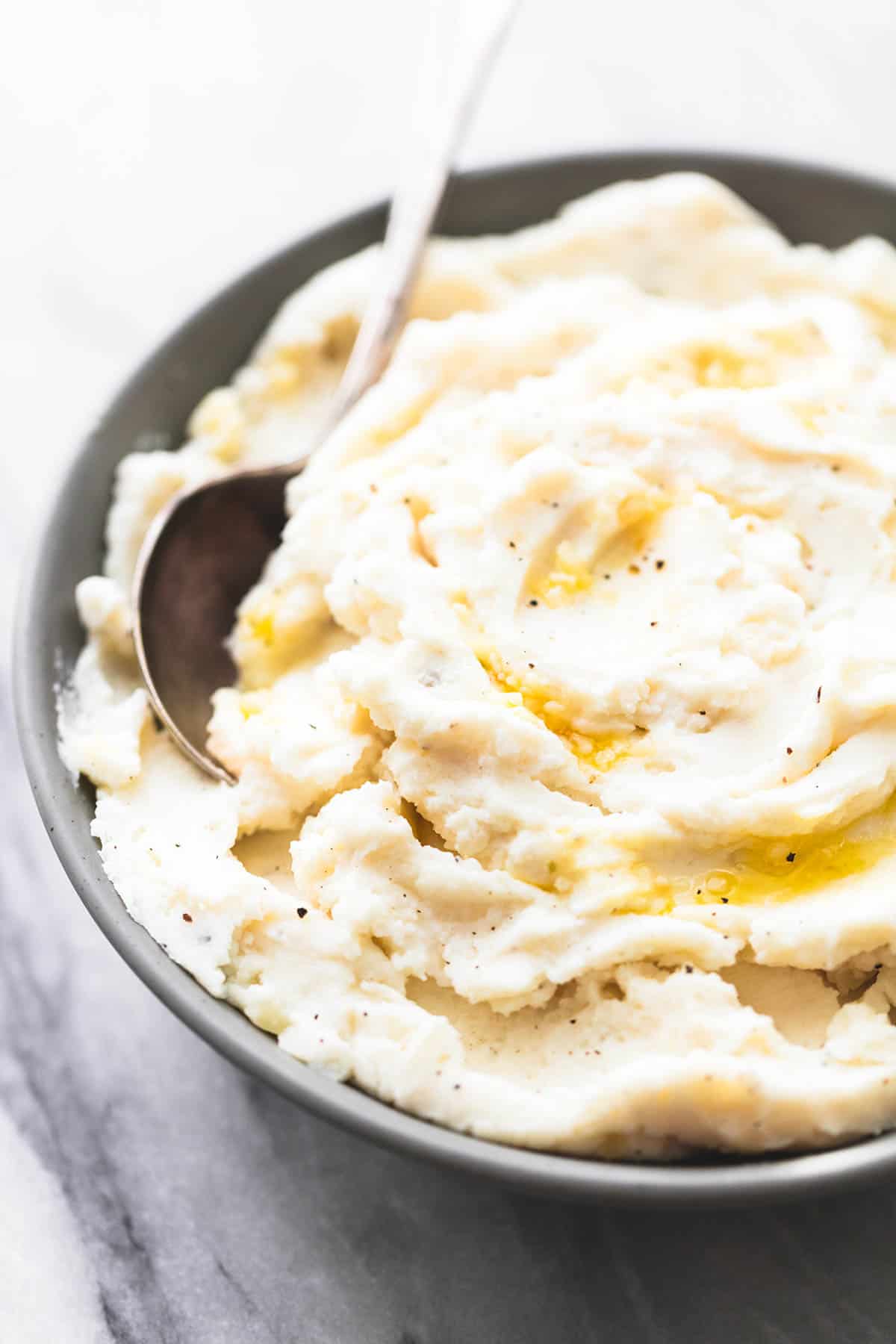 Garlic is pretty standard in my mashed potato recipes. I mean, if we are being honest it's pretty standard in about 80 percent of my savory recipes simply because I have a bit of an obsession and am convinced it makes almost any dishes ten times better tasting than if you'd left it out. In mashed potatoes though, it's an absolute must. It kicks everything up to a new level and a gives the potatoes a bolder flavor, while bring the sour cream into the mix gives you richer, smoother, and creamier potatoes. All things I crave in my mashed tots.
I know I said two things – garlic and sour cream – are what really make this recipe but I just have to get on my little soap box for a second and remind you that salt is everything. The key is to salt your potatoes to taste. What does "to taste" mean? Exactly what it sounds like. Taste, add salt, taste again, and carry on until you've reached the perfect flavor for your tastebuds.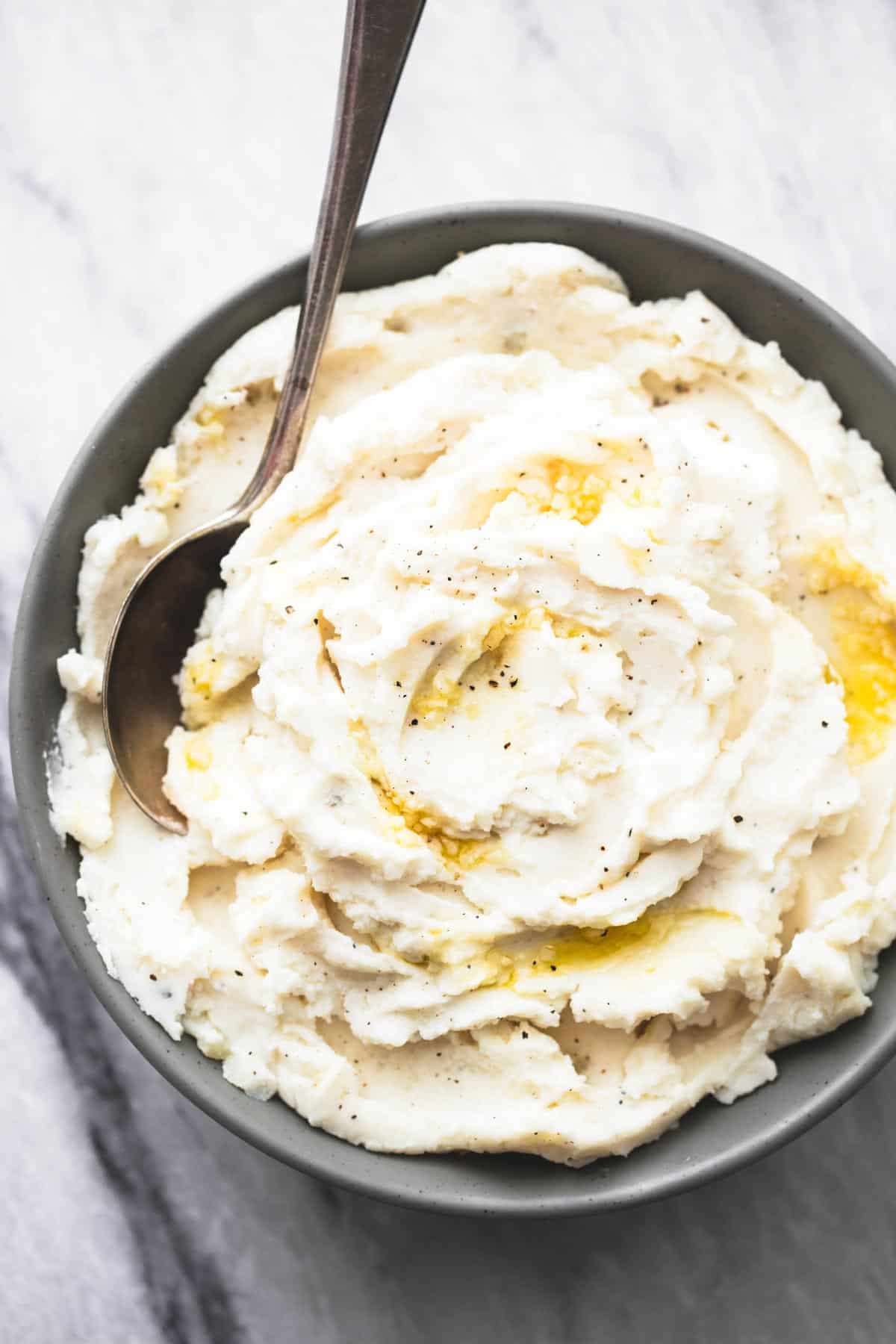 And while we are on the subject of salty things, I actually had the chance to fly out to Nashville this week for Morton Salt's Next Door Chef event. It taught us how salt has the incredible ability to enhance flavors and transform everyday dishes. I sat there nodding, thinking yep, yep, you're preaching to the choir over here.
I always say "add salt to taste" in my recipes for a reason – it's the salt that brings all of the other flavors to life. But I'm getting ahead of myself here, I'm actually sharing alllll the deets on that fun event in a bit when it airs on Food Network (um yes, yours truly may or may not end up starring on FN for two or three seconds. woah.) so in the meantime I'll just give you this teeny tiny sneak peek into what my experience in Music City involved…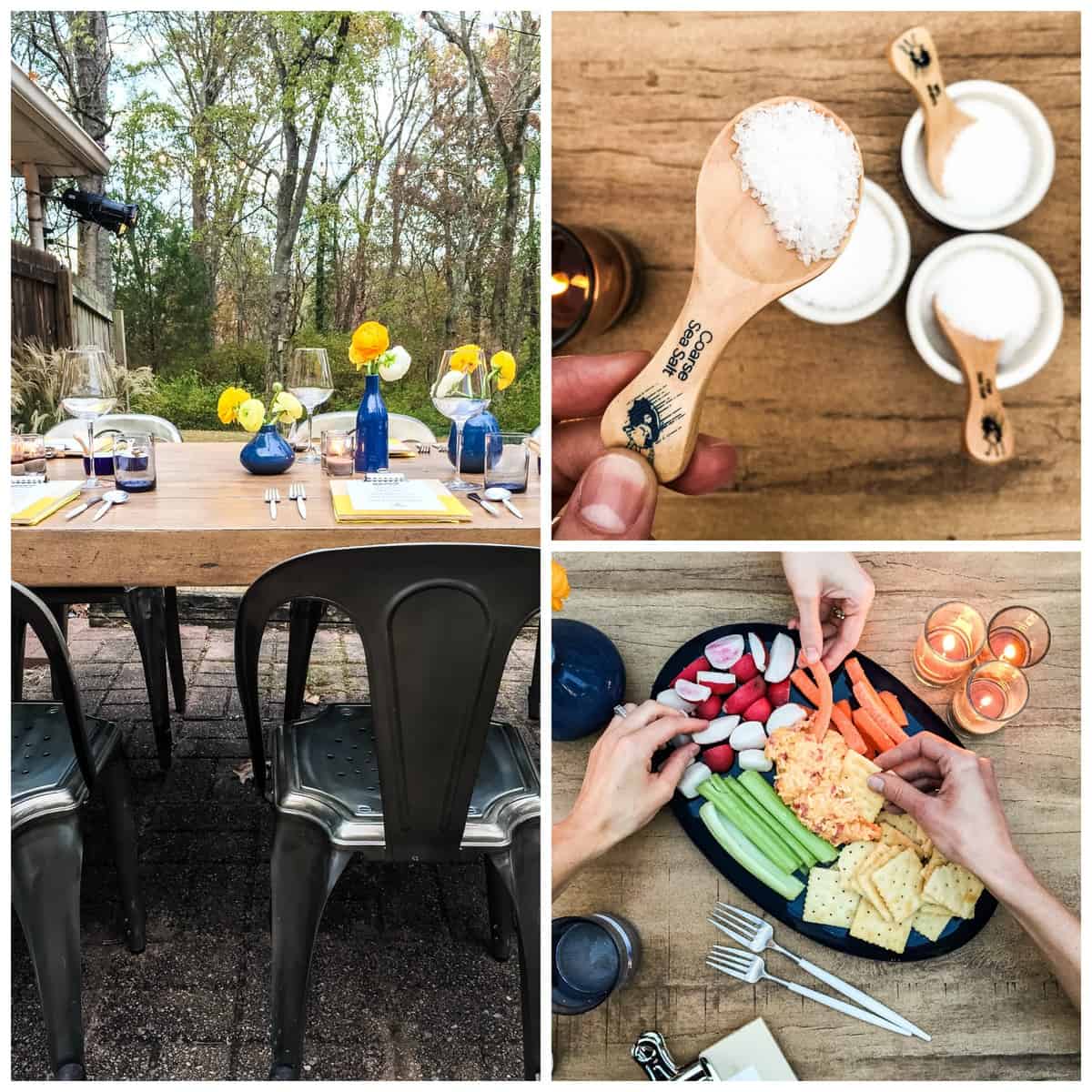 It was *magical*. As are these garlic sour cream mashed potatoes!! If you're considering upping your mashed potato game for Thanksgiving, this is the answer. I can't wait to hear what you and your guests think about this recipe!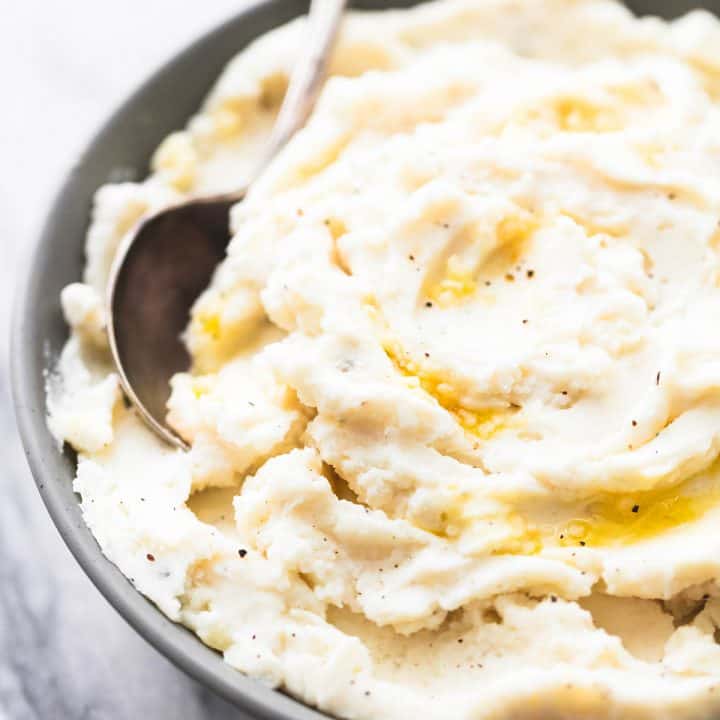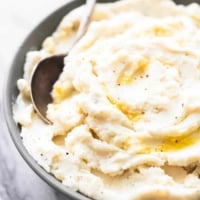 Garlic Sour Cream Mashed Potatoes
Super creamy garlic sour cream mashed potatoes are the ultimate holiday side dish. Easy to make and so delicious your guests will beg for the recipe!

Ingredients
2

pounds

potatoes

-

cut into 2 inch pieces, (you can peel them but I never do – I love potato skins in my mashed potatoes!)

½

cup

sour cream

-

(light is okay, regular will yield richer flavor)

¼

cup

half and half

-

or heavy cream

4

teaspoons

minced garlic

-

or 2 teaspoons garlic powder

3-4

tablespoons

butter

salt and pepper to taste

-

(I use about 1 ½ teaspoons salt and ¼ teaspoon black pepper)
Instructions
Place potatoes in a large pot and cover potatoes with water. Bring to a boil on the stove, cover and boil until potatoes are very tender and easily pierced with a fork. Drain and transfer potatoes to a large bowl (see note).

Add sour cream, milk ( half and half or heavy cream), garlic, butter, and salt and pepper to bowl. Mash til desired texture is achieved. Serve hot.
Notes
Alternately you can use my Slow Cooker Mashed Potatoes method to cook the potatoes – just follow the recipe through cooking the potatoes, then continue with step two of this recipe.
Nutrition
Calories:
164
kcal
,
Carbohydrates:
26
g
,
Protein:
4
g
,
Fat:
5
g
,
Saturated Fat:
3
g
,
Cholesterol:
15
mg
,
Sodium:
55
mg
,
Potassium:
746
mg
,
Fiber:
3
g
,
Sugar:
3
g
,
Vitamin A:
178
IU
,
Vitamin C:
14
mg
,
Calcium:
59
mg
,
Iron:
1
mg
*This post was sponsored by Morton Salt. All opinions expressed are my own.