These mashed potatoes will change your life. Creamy, tons of flavor, and seriously the easiest slow cooker mashed potatoes you will ever make – you'll never go back to boiling and smashing!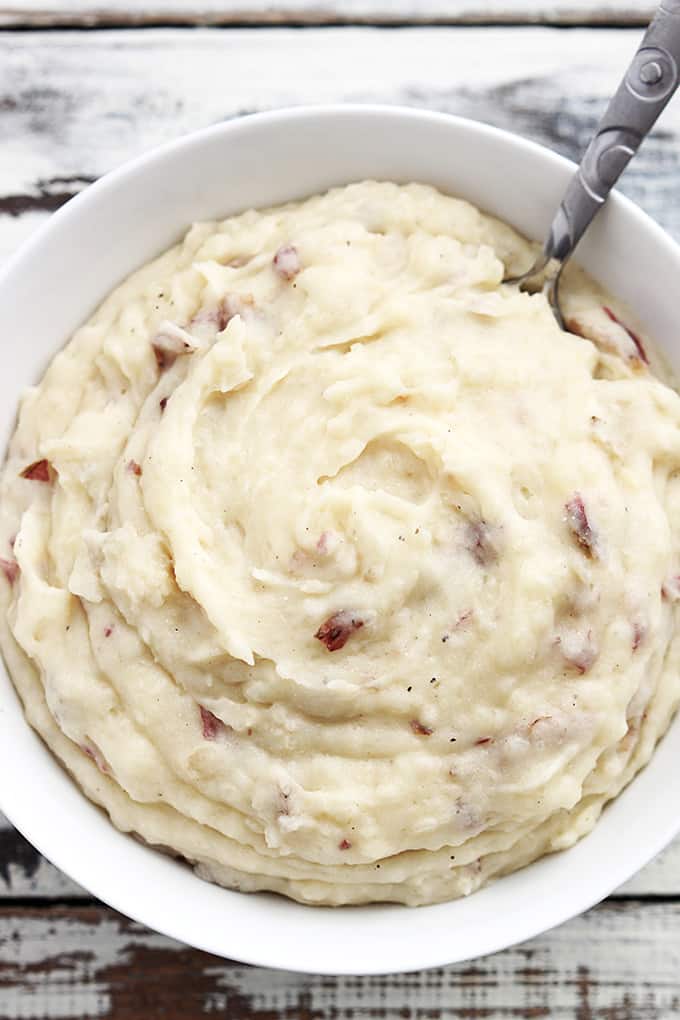 This recipe is life changing! At least for me it was. For a long time I avoided making mashed potatoes as a side dish in our house because I hated the peeling and boiling and smashing process. It was too time consuming for me for a side dish and I'd rather spend that time working on my main entree to be honest. Or hanging out with my husband… or reading a book… or eating chocolate….. There are quite a few things I could think of doing with the time that might be spent laboring over mashed potatoes.
But this recipe? Literally changed my life. So thank you, slow cooker mashed potatoes, I owe you big time.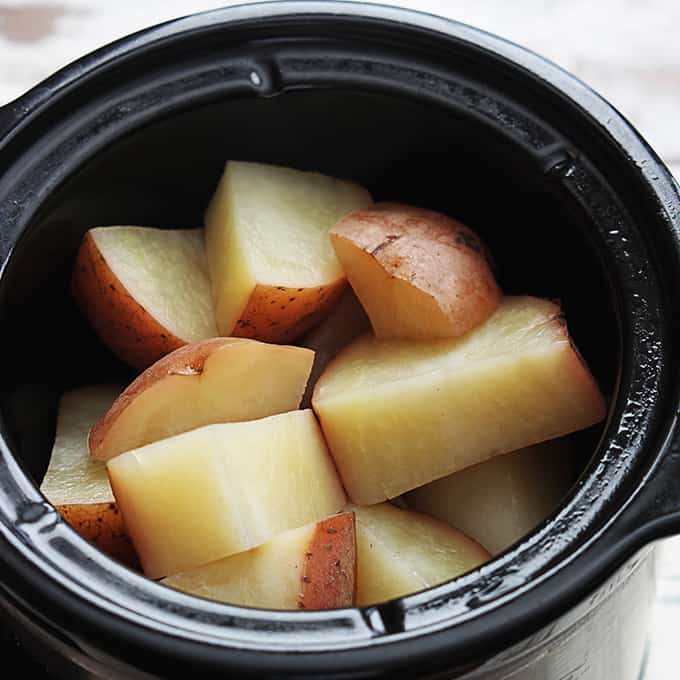 Of course my husband is probably not all that grateful that this recipe changed our lives. For some reason he isn't head over heels in love with the idea of having mashed potatoes as a side to every. single. meal. What?? You don't want mashed potatoes with pizza? Who are you??
Try a normal human being. That's who he is. But it's okay, because after the initial oh-my-gosh-this-is-amazing-I-can't-stop-making-mashed-potatoes phase, you will then enter the I've-got-an-ace-up-my-sleeve-and-I-call-it-slow-cooker-mashed-potatoes phase. And that my friends, is a very good phase to be in.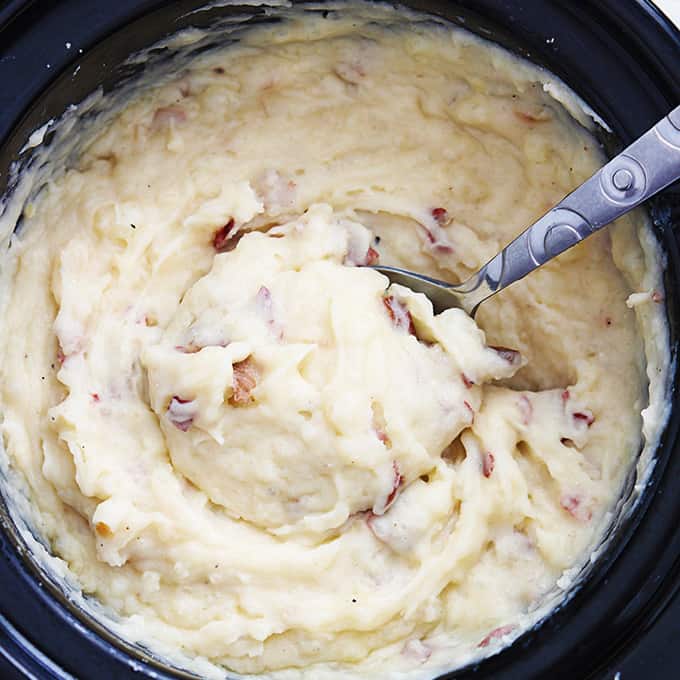 These slow cooker mashed potatoes require, seriously, 7 minutes of preparation. All you have to do is cut up your potatoes – you don't even have to peel them if you don't want to – and then let them cook for a few hours. When they're done, you come back, dump the last few ingredients in, and whip those babies up in a matter of about 1 minute. The end. Perfect mashed potatoes every single time. No peeling, no boiling, no mashing. Just a whole lot of amazing mashed potato eating going on. Once you try these, you will never need another mashed potato recipe for as long as you live.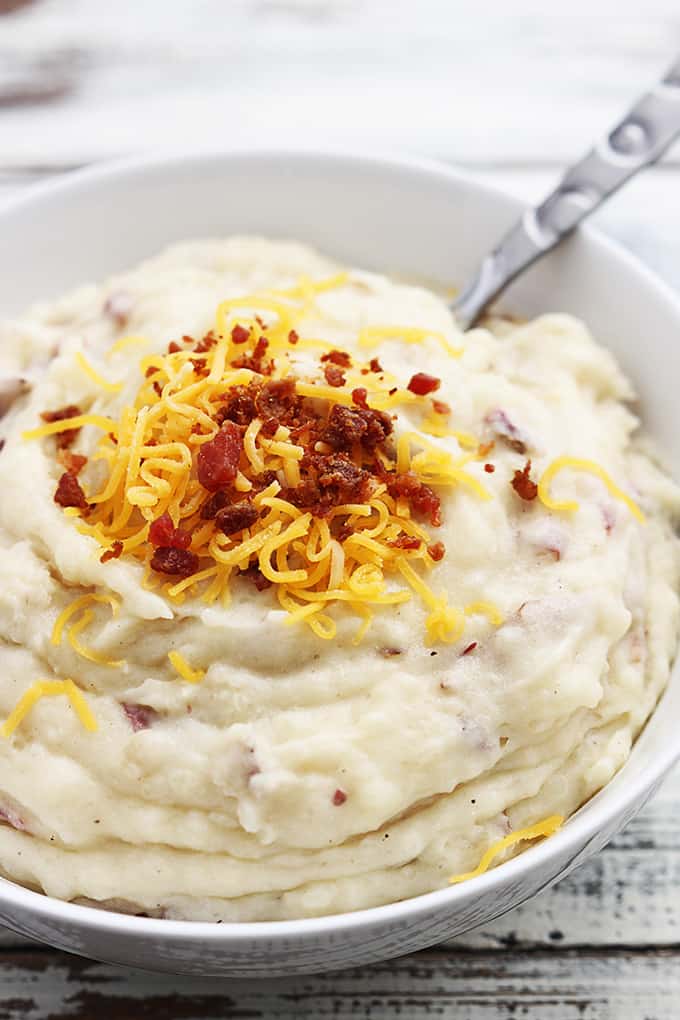 What people are saying about these Slow Cooker Mashed Potatoes
"Wow! Just made this tonight and it was so very easy and fabulous. Thank you so much." – Rowena
"O M G…..easiest way to make mashed potatoes EVER!!! They are delicious and I can't wait to make them again!!!" – Dawn
"Oh my goodness – I tried this today (Thanksgiving!), just so we could open up some stove top space… and they are WONDERFUL! SO tasty. And beyond easy! Thanks for sharing this!" – Laura
"Genius! Tried this out last night to go along with my slow cooker Salisbury steaks and they were fantastic! I'd love to link to your recipe with my next blog post! So yummy, thanks for sharing!" – Sarah
Slow Cooker Mashed Potatoes
These mashed potatoes will change your life. Creamy, tons of flavor, and seriously the easiest mashed potatoes you will ever make - you'll never go back to boiling and smashing!
Ingredients
2

pounds

red potatoes, cut into 2 inch pieces

(you can peel them but I never do - I love red potato skins in my mashed potatoes!)

1/2

cup

sour cream

(or plain greek yogurt)

1/4

cup

milk

2

teaspoons

minced garlic

2

teaspoons

salt

1

teaspoon

black pepper
Instructions
Spray the inside of a slow cooker with cooking spray. Add chopped potatoes. Cover and cook 2-3 hours on high or 5-6 hours on low.

Add sour cream, milk, garlic, salt, and pepper to potatoes. Use a hand mixer to blend together all ingredients. (Please see note below recipe!) Give them a taste and add more salt if desired. Serve plain, or with any favorite toppings such as gravy, or cheese and bacon. OR - check out my brand new variation - [url:1]Slow Cooker Buttery Garlic Herb Mashed Potatoes[/url]!
***RECIPE UPDATE*** A few readers have written in with a question about their potatoes tasting great but the consistency turning out "like glue" – I've never had this happen to my mashed potatoes but I did a little bit of research and found some information about how to avoid "gluey" potatoes. Click HERE for some of my tips!
***RECIPE UPDATE*** Some readers have reported that their potatoes were not nearly done cooking after 3-4 hours and not soft enough to mash at this point. After asking around and doing some digging, I've concluded that in most if not all of these instances, an older crockpot was being used (older than 3-5 years). Newer crockpots should have no issue cooking the potatoes fully in about 3 hours.
Try these other holiday side dishes…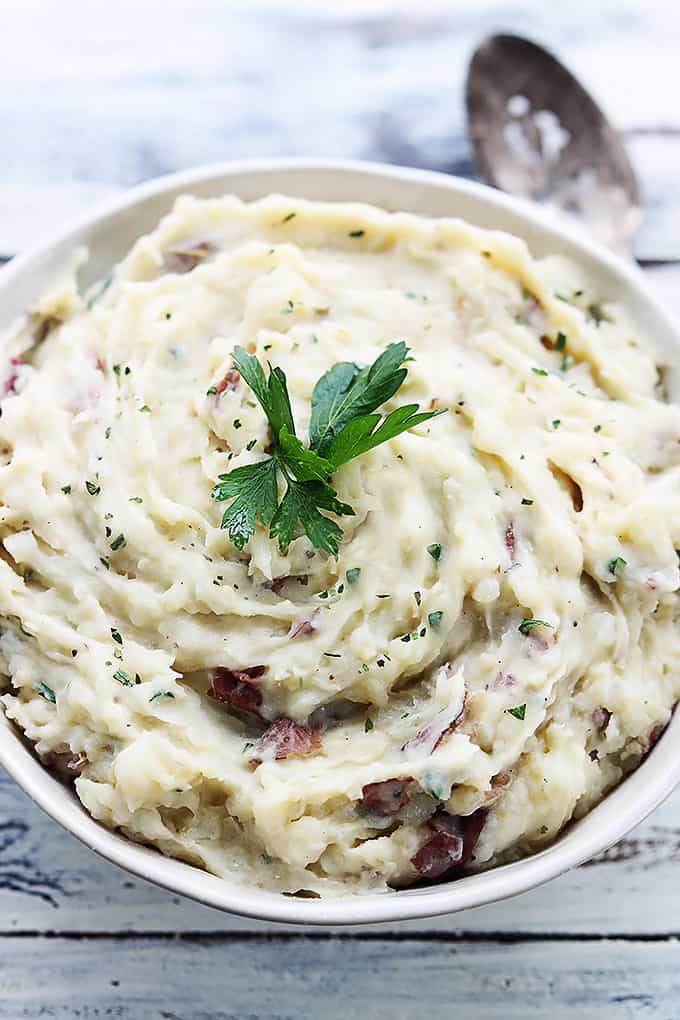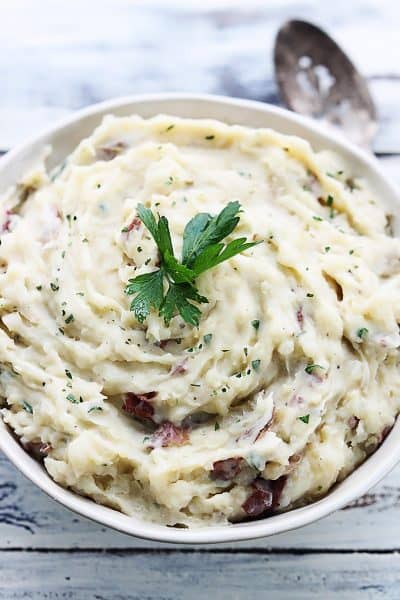 Slow Cooker Buttery Garlic Herb Mashed Potatoes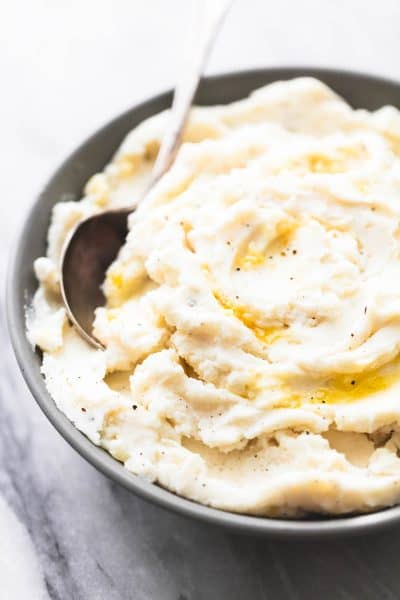 Garlic Sour Cream Mashed Potatoes
Candied Pecan Sweet Potato Casserole
And don't forget the turkey leftovers!