This super easy Instant Pot Baked Potatoes recipe takes the waiting out of the potato-baking game and they come out just as moist and fluffy as an oven-baked potato in a quarter of the time!

If you love everything potatoes (and who doesn't?) then you should go take a look at my recipes for Oven Roasted Dill Potatoes, Company Potatoes, and my Bacon Cheddar Potatoes in Foil, and bookmark them for later!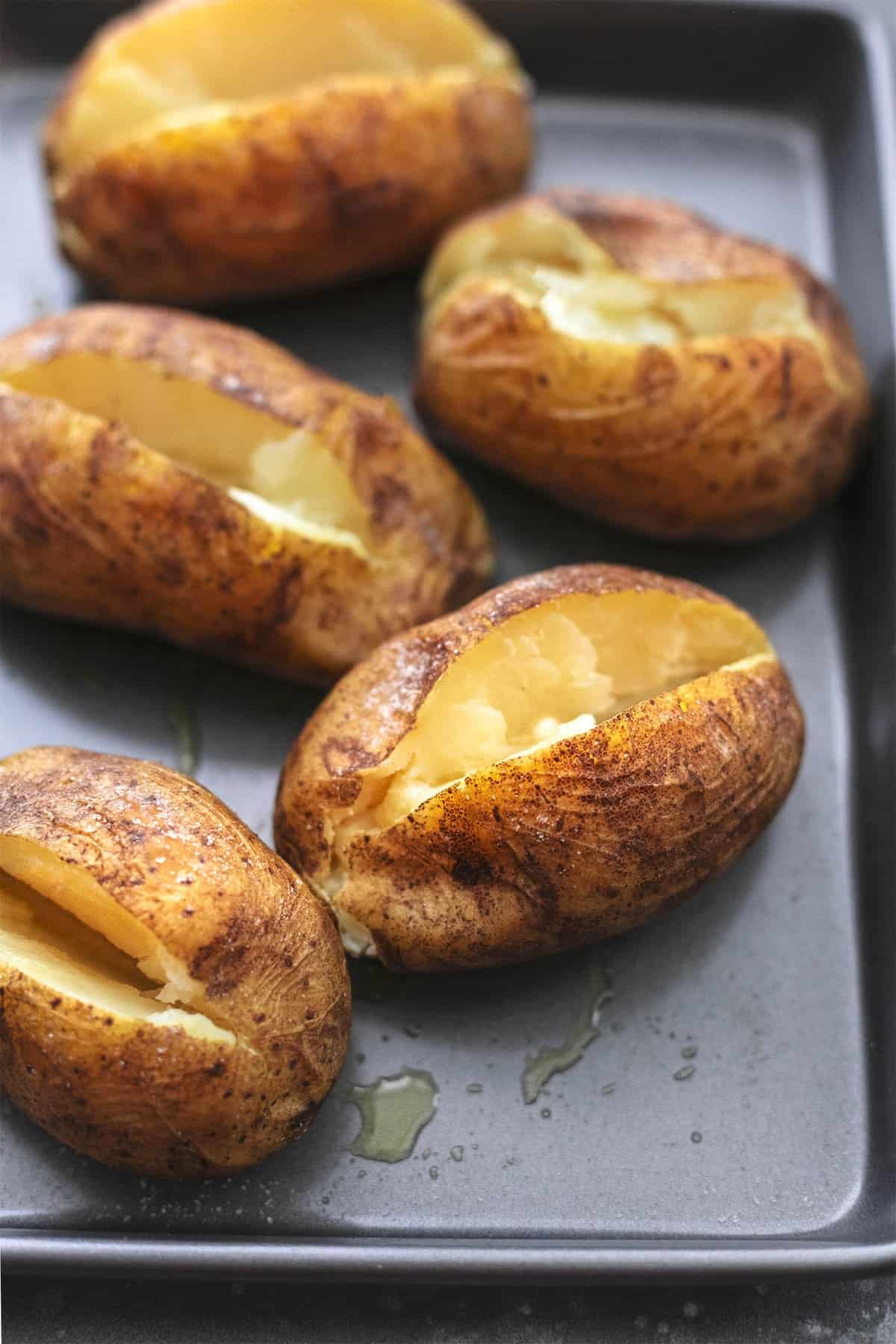 You all know how I love a good steak. What goes good with steak? First off having it in a great marinade, like this Best Quick Steak Marinade recipe.) As sides, potatoes. Baked potatoes at that. I also love a good pork tenderloin, and also a good chicken breast (such as my Best Grilled Chicken Recipe.) What goes with those? That's right — baked potatoes.

In fact, baked potatoes go with just about anything and everything. They are the blank canvas of the vegetable (okay, tuber) world, ready to be decorated in all sorts of ways, with all sorts of flavors and other ingredients. 
However, they do take kinda a long time to cook in the oven. They can take an hour to an hour and a half to bake in the oven, depending on how big your spuds are. And, while microwaving them does cut down on the time for sure, I find that the skin always gets chewy and the inside never cooks evenly.
Not to worry, I have a cure for both of those problems — the Instant Pot! That's right, you can "bake" potatoes in the Instant Pot. They come out just as moist and flavorful and ready to take on your toppings as they would right out of the oven — in a quarter of the time!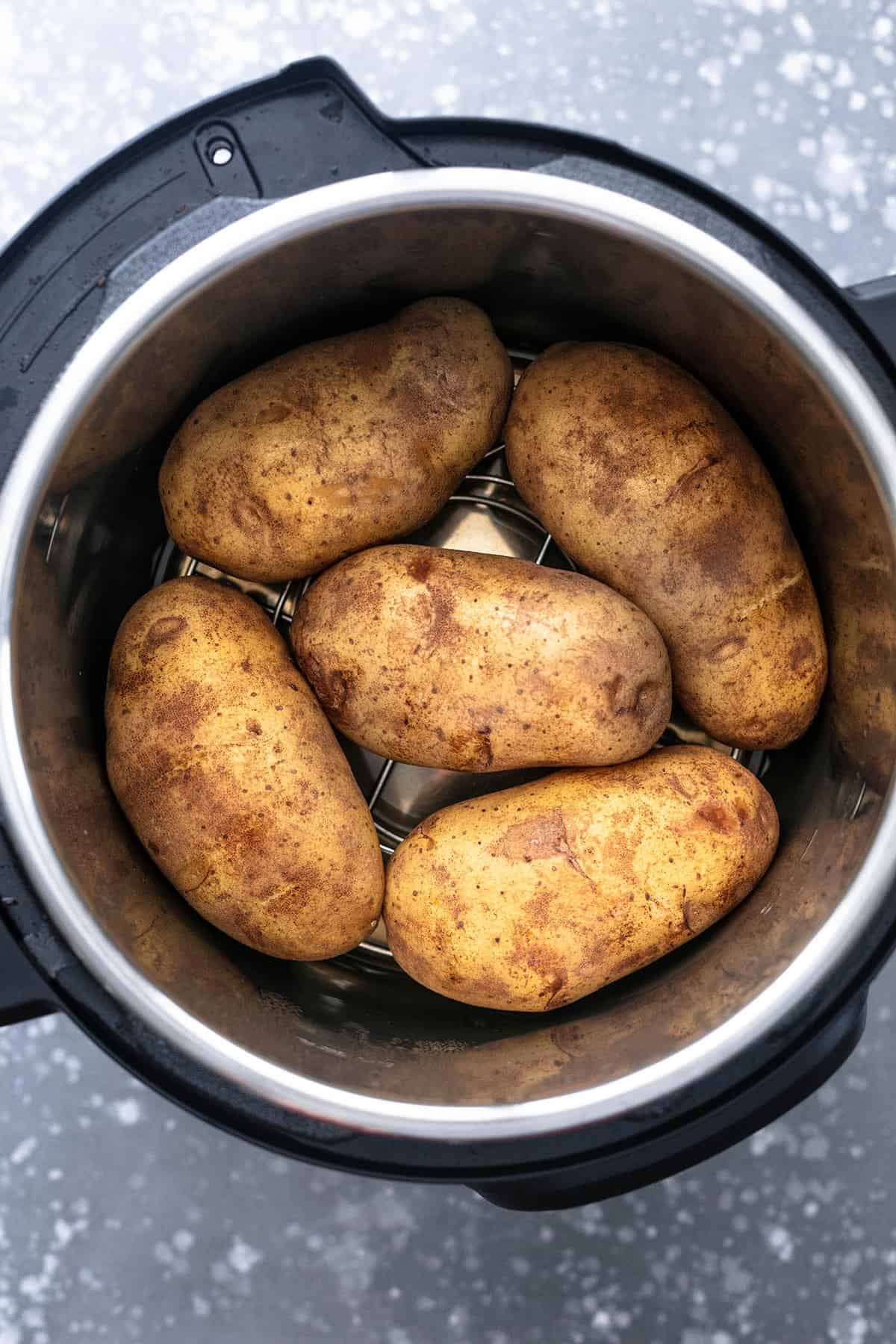 Can you Put Aluminum Foil in an Instant Pot?
The short answer is yes, you can put aluminum foil in an instant pot.
So if you're wondering if you can wrap your potatoes in foil for the Instant Pot like you would if you were to put them into the oven, you can do that. However, I do not do that because it actually adds time to the cooking process when you do that. It's just a little bit harder for the moisture to reach the potatoes. Since the whole point of my cooking potatoes in the Instant Pot was to make them go faster, I like to shave off as much time as I can.
You really don't need the foil either, unless you just like how it looks or you plan to serve them in foil.
How Many Potatoes Can you Put in an Instant Pot?
How many will your Instant Pot fit? How big is your Instant Pot? Mine will hold 4-6 but some are smaller and some were bigger. My advice is to only fit in as many as can fit while still having a little gap between the potatoes. It's okay if they touch but you don't want them to be smooshed in there really tight.
It also depends on how big your potatoes are — more will fit if they are smaller, less if they are bigger.

How to Build a Baked Potato Bar

So one of my most favorite things to do with baked potatoes is to make a baked potato bar. It doesn't have to be super fancy, and can be as simple as putting all of your favorite toppings out in a bowl to share. Or sometimes I like to use a partitioned veggie tray to put in all the bar ingredients into one single, convenient dish.
Here are some of my favorite items to put on a baked potato bar, in no particular order, just some ideas to get you thinking. (You can certainly pick your favorites from the list or make a themed bar, such as Mediterranean or Asian.)

Sour cream

Shredded cheddar cheese

Feta or goat cheese

Chives

Green onions

Black olives

Salsa

Butter

Bacon bits or crumbles

Cooked mushrooms

Diced tomatoes

Diced red onions

Steamed broccoli pieces

Steamed cauliflower pieces

Grilled corn

Cooked black beans

Refried beans

Hot sauce

Red pepper flakes

Sun dried tomatoes

Roasted red peppers

Greek yogurt (plain)

Avocado slices

Jalapenos (picked or sliced)

Chili

Barbecue sauce
I hope you love these Instant Pot Baked Potatoes as much as me and my family do!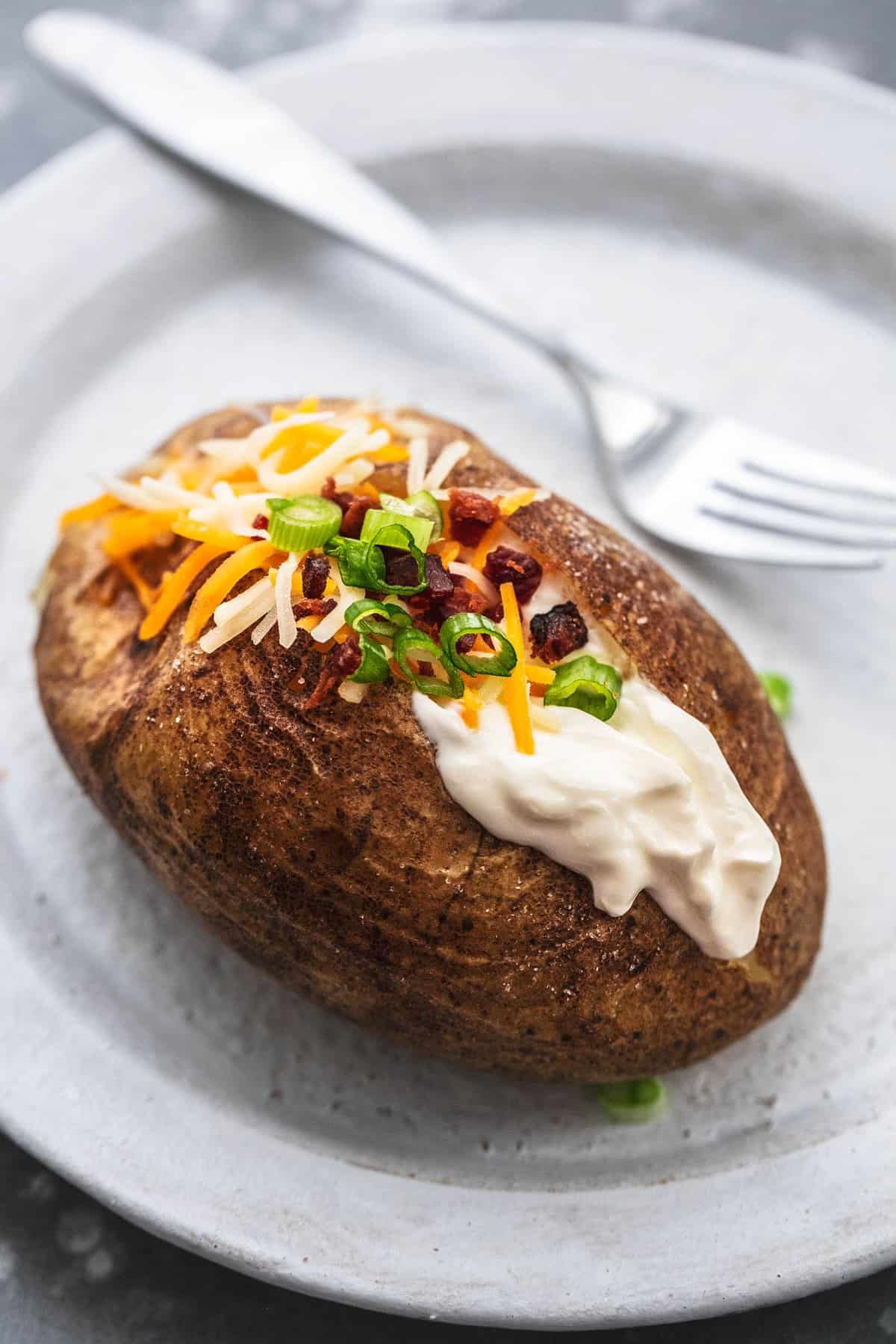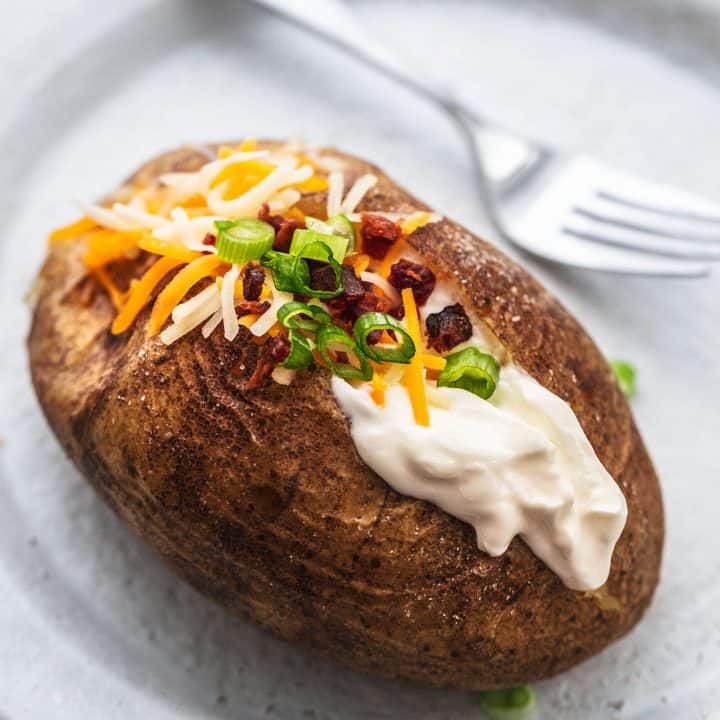 Instant Pot Baked Potatoes
This super easy Instant Pot Baked Potatoes recipe takes the waiting out of the potato-baking game and they come out just as moist and fluffy as an oven-baked potato in a quarter of the time!
Ingredients
4-6

russet potatoes

1

cup

water

1

tablespoon

olive oil

salt and pepper

-

to taste
Instructions
Set the trivet (the wire rack that came with your pressure cooker) in the bottom of the metal insert.

Wash the potatoes and pat dry with a paper towel. Pierce all over several times with a fork.

Add 1 cup of water to the pot.

Place potatoes on the trivet, overlapping and stacking as needed is fine.

Place the lid on the pressure cooker, lock the lid, and turn the valve to the SEALED position.

Press MANUAL and set to 14 minutes. (If using slightly smaller or larger potatoes you can adjust the time to 12-16 minutes)

When the timer goes off, let the pressure naturally release for 10 minutes, then switch the valve to VENT and remove the lid once the float valve drops.

EXTRA OPTIONAL STEP FOR CRISPY SKINS: brush potatoes with olive oil, season generously with salt and pepper, and place on a baking sheet. Broil for 3-4 minutes (watch closely so they don't burn!) til crispy and lightly browned on the outsides.

Slice potatoes and serve with your favorite baked potato toppings.
Notes
Toppings: some of my favorite toppings include butter, sour cream, sharp cheddar cheese, crumbled bacon, green onions, or chili. 
Nutrition
Calories:
133
kcal
,
Carbohydrates:
26
g
,
Protein:
3
g
,
Fat:
2
g
,
Saturated Fat:
1
g
,
Sodium:
9
mg
,
Potassium:
592
mg
,
Fiber:
2
g
,
Sugar:
1
g
,
Vitamin A:
1
IU
,
Vitamin C:
8
mg
,
Calcium:
20
mg
,
Iron:
1
mg