Creamy, buttery garlic and herb mashed potatoes made right in the slow cooker! These are the easiest, best tasting mashed potatoes you will ever make!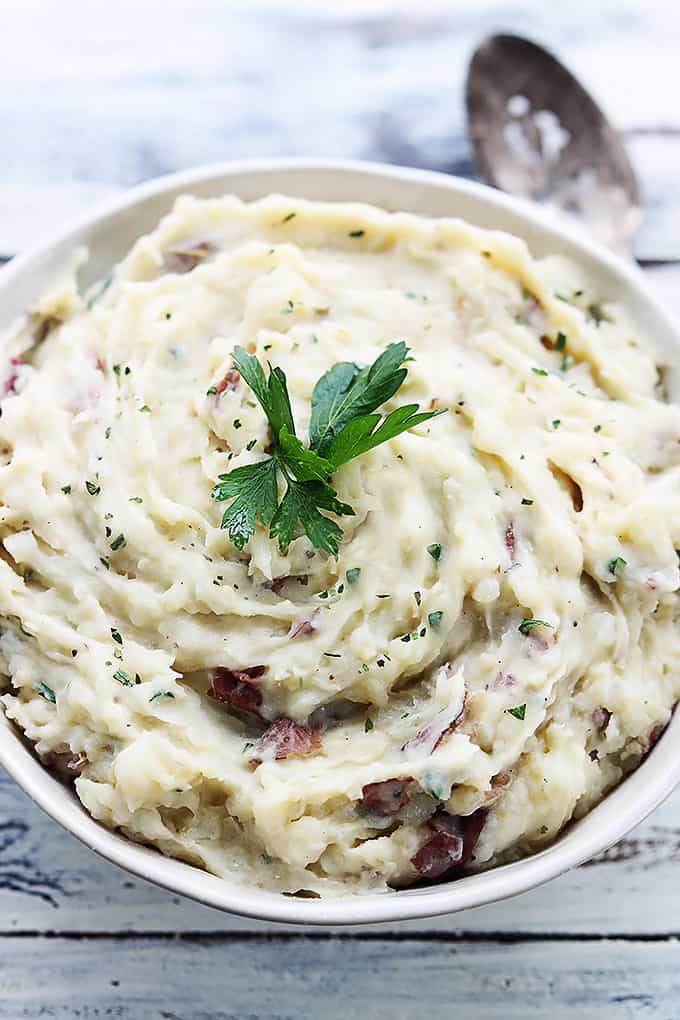 It's baaaaaack! Slow cooker mashed potatoes  are making a new appearance here on the CDLC blog. My original Slow Cooker Mashed Potato recipe is by far the most popular recipe on this entire blog. Apparently y'all are as obsessed with ridiculously easy and perfectly creamy mashed potatoes as I am. You and me, we're two peas in a pod I tell ya.
Which is why I just know that you are going to l.o.v.e. this new slow cooker mashed potato recipe. Today we're adding butter and garlic and bright herbs to a classic side dish so you know it's gonna be good.
Now let's break it down. All you do is add some chopped red potatoes to your greased slow cooker. That's step one. And I'm just going to answer your question now because I know that it's coming – NO you don't not need to add any liquid to the pot. Just the potatoes. Pretty cool huh? Plus you can leave the skins on! Red skins in my mashed potatoes make me swoon.
After 2-3 hours of cooking on high (or 5-6 on low) you add the rest of the ingredients. ALL of them. Just dump them in, no need to be graceful about it, we're about to make a mess anyway.
Now get your hand mixer out and whip those babies up until they're pretty smooth but still have some chunks of potato throughout. I just pulse the mixer until I get the texture I want. These potatoes are not meant to be perfectly smooth – they are real potatoes, not instant potatoes. Let them keep a bit of texture!
If you want, you can also use a masher. It's totally up to you. But be sure to check out my tips for perfect mashed potatoes – if you aren't careful you can end up with "gluey" mashed potatoes. I've never had this happen to my potatoes but enough people have been disappointed in their own mashed potatoes that I've included some great tips for avoiding that crisis.
And that's it! Seriously. Perfectly buttery herb mashed potatoes that you made in the crockpot so you didn't even have to take up any stove or oven space. Thanksgiving is saved.
What people are saying about these Slow Cooker Buttery Garlic Herb Mashed Potatoes
"Tiffany, these were fantastic! I have always had trouble making mashed potatoes from scratch and had settled for the microwaveable Bob Evans mashed potatoes since my potatoes always came out horribly . I also hate to dirty up so many dishes having to boil potatoes. I made this for Thanksgiving this year and everyone raved about them. I doubled the recipe and omitted the basil due to personal preference. Girl, this was HEAVEN! Thank you so so much for making my life a little easier & tastier!" – Gladys
"I made the original mashed potato recipe at Thanksgiving and just made these potatoes for dinner. These were seriously the best potatoes I've ever had in my life. I'm not much of a cooker, so I seriously can't believe how easy these were to make and how delicious they are!" – Kyleigh
"I made these last night, and they were freakin' delicious! I would use half the amount of salt next time (they were a little too salty), but otherwise I wouldn't change a thing. I also didn't have a gluey problem." – Alex
"My mashed potatoes will never be the same! I can't believe I am just now discovering this method of making mashed potatoes. Held up all the flavors and so much easier to make! It made our Thanksgiving meal that much better. Will make crock pot mashed potatoes from now on! Thanx!" – Amber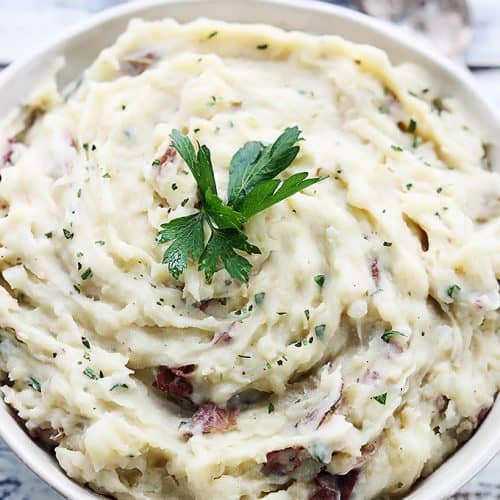 Slow Cooker Buttery Garlic Herb Mashed Potatoes
Creamy, buttery garlic and herb mashed potatoes made right in the slow cooker! These are the easiest, best tasting mashed potatoes you will ever make!
Ingredients
2

pounds

red potatoes

-

washed and chopped into 2-inch pieces, (you don't need to peel them)

4

tablespoons

butter

½

cup

sour cream

-

(or plain greek yogurt)

1

tablespoon

minced garlic

1

tablespoon

finely chopped fresh parsley

-

(or 2 teaspoons dried parsley flakes)

½

teaspoon

dried or fresh basil

¼

teaspoon

dried oregano

2

teaspoons

salt

1

teaspoon

pepper

¼

cup

milk
Instructions
Add chopped potatoes to a greased slow cooker. Cover and cook on high for 2-3 hours or on low or 5-6 hours on low.

When potatoes are cooked and fork-tender, add all remaining ingredients (let the butter melt for a couple of minutes). Use a hand mixer or a masher to mash the potatoes. (*see note) Serve warm.
Notes
*recipe adapted from Slow Cooker Mashed Potatoes
**This recipe can easily be doubled for large groups - just increase the cooking time by 1-2 hours.
**Although I have never had this happen to my potatoes, I have heard some people complain of "gluey" potatoes after mashing. Click HERE for my tips on making perfect, never-gluey mashed potatoes!
Nutrition
Calories:
158
kcal
,
Carbohydrates:
26
g
,
Protein:
4
g
,
Fat:
5
g
,
Saturated Fat:
3
g
,
Cholesterol:
12
mg
,
Sodium:
833
mg
,
Potassium:
752
mg
,
Fiber:
3
g
,
Sugar:
4
g
,
Vitamin A:
165
IU
,
Vitamin C:
14
mg
,
Calcium:
64
mg
,
Iron:
1
mg