Roasted Butternut Squash makes an excellent fall baked side dish. So easy and healthy, this savory squash is a delicious vegetable side you'll want to make again and again.
Make this Roasted Butternut Squash recipe and then come back for more roasty-toasty fall favorites like this Roasted Cauliflower Soup, these Roasted Brussels Sprouts, and these Oven Roasted Dill Potatoes.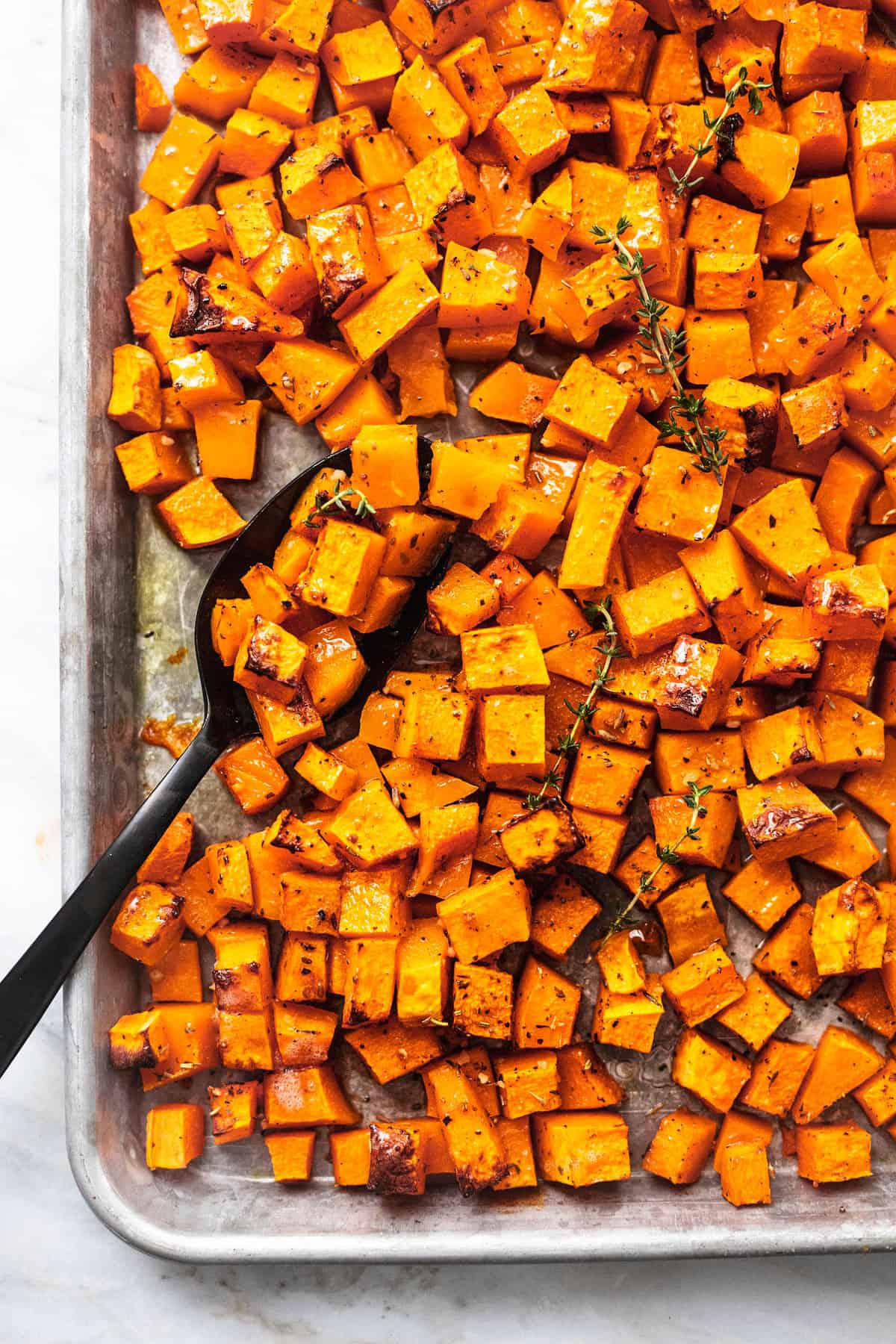 I am the first to admit, I wasn't always a squash fan. Zucchini and yellow squash were okay in the summer, but those harder squashes — acorn, spaghetti, butternut, etc., I just couldn't get behind. To me they were simply fall decorations. I didn't really give cooking them a thought to tell you the truth.
Then, the hubs and I decided to try a new restaurant in town with one of those seasonal menus. It was kind of a spur-of-the-moment dinner so we didn't really get to look at the menu before we got there and decided to chance it. We can usually find something we both like at every restaurant.
I have to say, this particular menu was kinda squash-heavy. Roasted squash, squash and pork tenderloin, and squash soup all made an appearance. I went with the pork dish and roasted butternut squash on the side, to see what all the fuss was about. I was skeptical but then blown away after one bite! It was sweeter than I expected and nuttier too. I ate every last bite of that roasted butternut squash. I was pretty excited that it was a healthy side too, as sometimes that's not always the case at restaurants.
So it was right then and there that I decided to make this dish myself that very next night because I wanted to have more and I also thought it would be a great dish that the kids could enjoy too. I was right! After first turning their noses up at it, they each gave it a try and I have to say we were all pleasantly surprised! We are now squashies for life.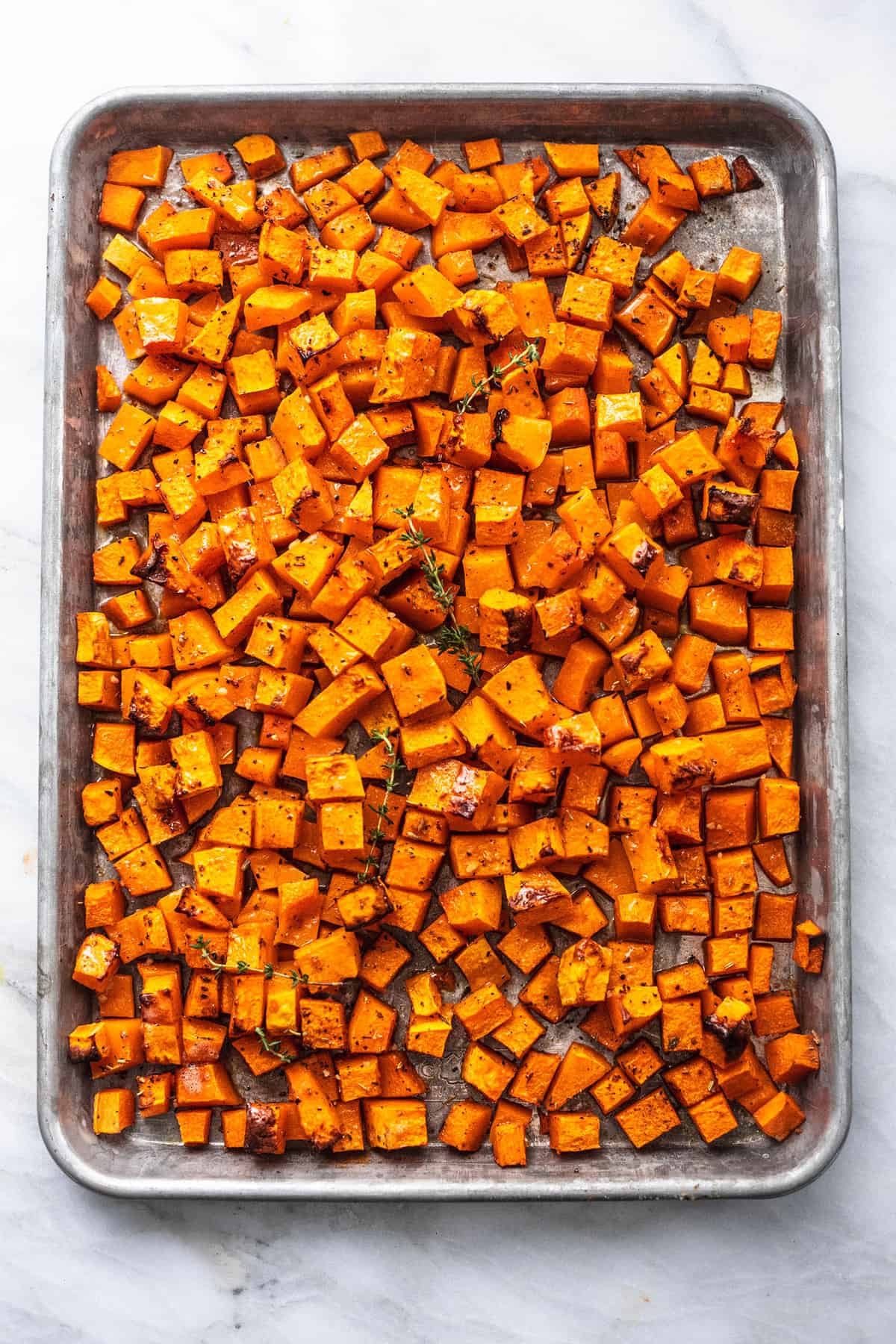 HOW DO YOU MAKE ROASTED BUTTERNUT SQUASH?
The hardest part about making this dish is preparing the squash, which I'll break down for you here in a bit. But, the first thing I do when making this vegetable dish is to preheat the oven to 425 degrees. Then, I get to work peeling the squash and cutting it up into 1-inch cubes.
Next, I drizzle EVOO over the squash cubes and toss the squash to thoroughly coat it in the oil. Next, I sprinkle with salt, pepper, herbs, and garlic powder. Depending on your seasoning abilities, you can leave the cubes as-is or give them another roll around with your fingers or a spoon to make sure the squash is all evenly coated.
Put the squash into the oven and let it back for 20-25 minutes or until the squash is tender and starts to brown on the edges, then pull it out and serve right away or add the butter mixture.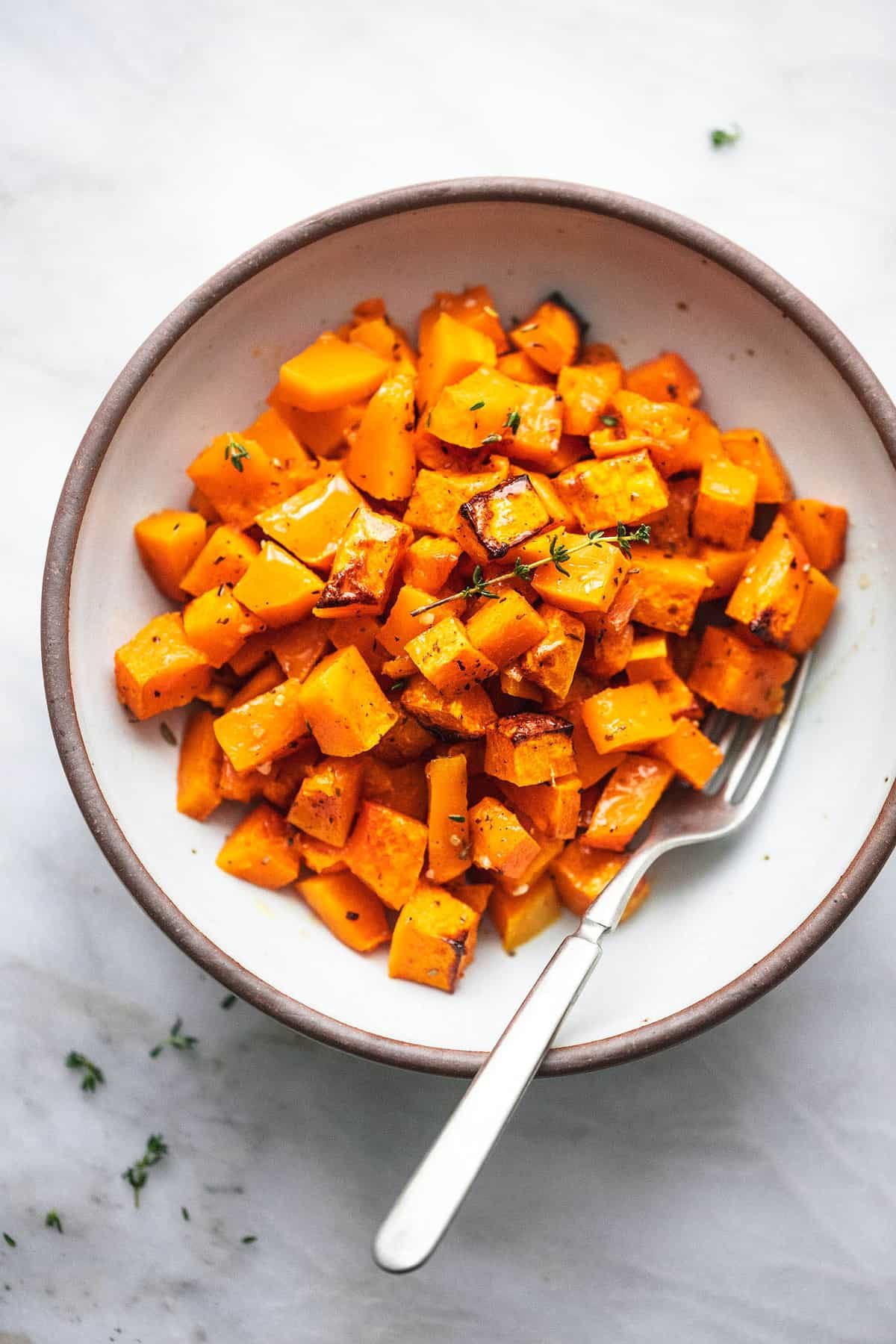 WHAT IS THE EASIEST WAY TO CUT A BUTTERNUT SQUASH?
As I mentioned, cutting the squash is the hardest part. Here's the easiest way to get it peeled, cored, and sliced:
Peel the squash with a peeling tool (like the one you'd use for carrots), and peel it all the way around. Watch what you're doing and position your hands carefully, they get slippery as the peels come off.

Cut the squash down the middle lengthwise and use a tablespoon to scoop out all the seeds and stringy insides and throw those away or compost if that's what you do with your organic scraps.

Cut the squash into 1-inch cubes and layer them in one layer on a prepared baking sheet.

Bake
DO YOU HAVE TO PEEL BUTTERNUT SQUASH?
So you don't HAVE to peel a butternut squash but I don't know why on earth you wouldn't. Seems like it would be chewy and weird and an impediment to what you're trying to do which is to eat the soft, delicious squash and not deal with picking hard squash skin out of your teeth.
However, you can eat the skin if you wish. You'll have to increase the roasting time though on the squash cubes to make sure the skin gets less tough and easier to eat. Sometimes the squash is coated in (edible) wax to keep it fresher, longer. You'll want to try to get that wax off before cooking if you can. But if not, there's no harm in eating it.
IS BUTTERNUT SQUASH CONSIDERED A WINTER SQUASH?
Butternut squash is a squash that's part of the winter squash family, which also includes acorn, carnival, gold nugget, kabocha, autumn cup, buttercup, delicata, and spaghetti.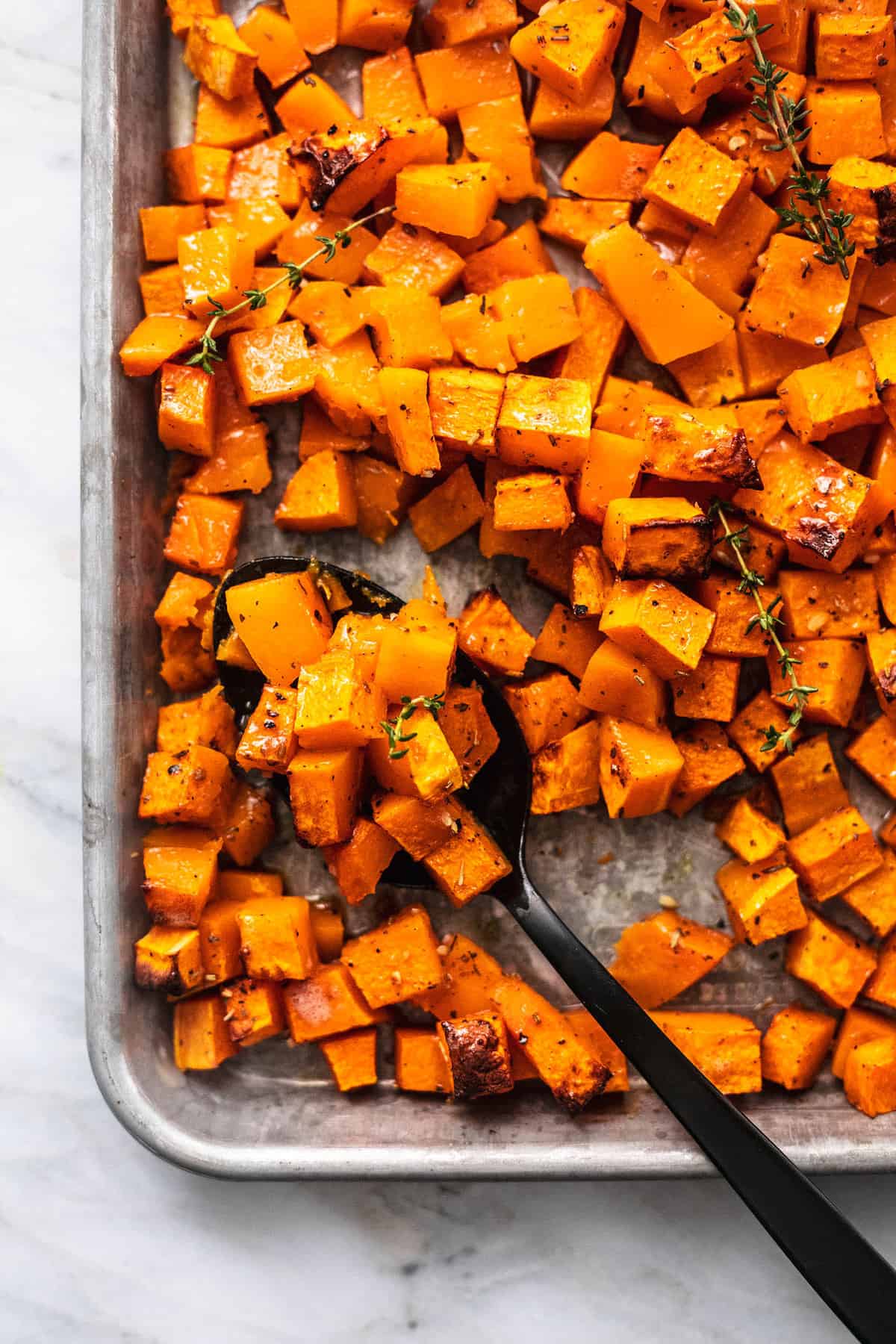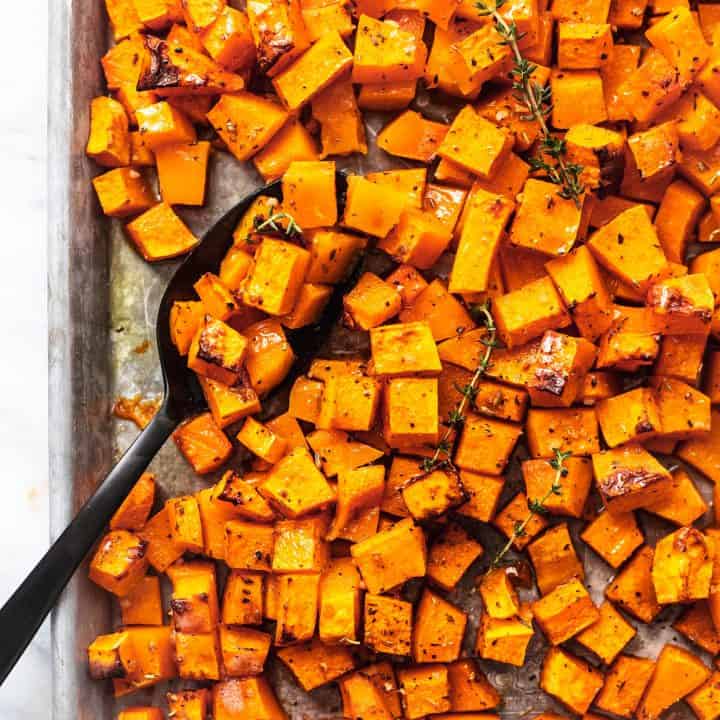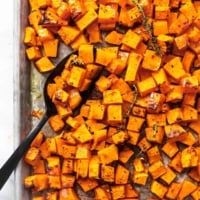 Roasted Butternut Squash
Roasted Butternut Squash makes an excellent fall baked side dish. So easy and healthy, this savory squash is a delicious vegetable side you'll want to make again and again. 
Ingredients
1

medium (2-3 pounds) butternut squash

4

tablespoons

olive oil

1

teaspoon

salt

½

teaspoon

cracked black pepper

-

or ¼ teaspoon ground black pepper

1

teaspoon

dried Italian seasoning

-

or Herbs de Provence

1

teaspoon

garlic powder

4

tablespoons

butter

-

optional
Instructions
Preheat oven to 425 degrees and grease a large baking sheet.

Peel butternut squash (with a regular peeler), slice down the middle lengthwise. Use a spoon to scoop out the seeds and innards and discard. Chop into 1-inch pieces and arrange in a single layer on prepared baking sheet.

Drizzle olive oil over squash, then use spoons or your hands to toss the squash to coat in the olive oil.

Season with salt, pepper, dried herbs, and garlic powder.

Bake for 20-25 minutes until squash is very tender and begins to brown on the edges. Serve immediately, or if using the butter, proceed with the next step.

Melt butter in a medium saucepan over medium-high heat. Bring to a simmer and continue to cook just until butter darkens from pale yellow to a dark golden color. Remove from heat and transfer to a bowl.

Spoon browned butter over squash and serve immediately.
Notes
Flavor tip: add 1 teaspoon honey to the brown butter just before drizzling over roasted squash. 
Nutrition
Calories:
147
kcal
,
Carbohydrates:
15
g
,
Protein:
2
g
,
Fat:
10
g
,
Saturated Fat:
2
g
,
Cholesterol:
1
mg
,
Sodium:
404
mg
,
Potassium:
460
mg
,
Fiber:
3
g
,
Sugar:
3
g
,
Vitamin A:
13304
IU
,
Vitamin C:
26
mg
,
Calcium:
72
mg
,
Iron:
1
mg