Crispy on the outside, juicy and tender on the inside, and amazing flavors make this the BEST baked pork tenderloin!
After you fall in love with this BEST Baked Pork Tenderloin, feast yourself on
Instant Pot Balsamic Pork Tenderloin
(so many rave reviews!) and the
BEST Ever Healthy Grilled Pork Tenderloin
. Oh and don't forget to try my other viral recipes
One Pan Garlic Herb Chicken and Asparagus
and
Instant Pot Pot Roast and Potatoes!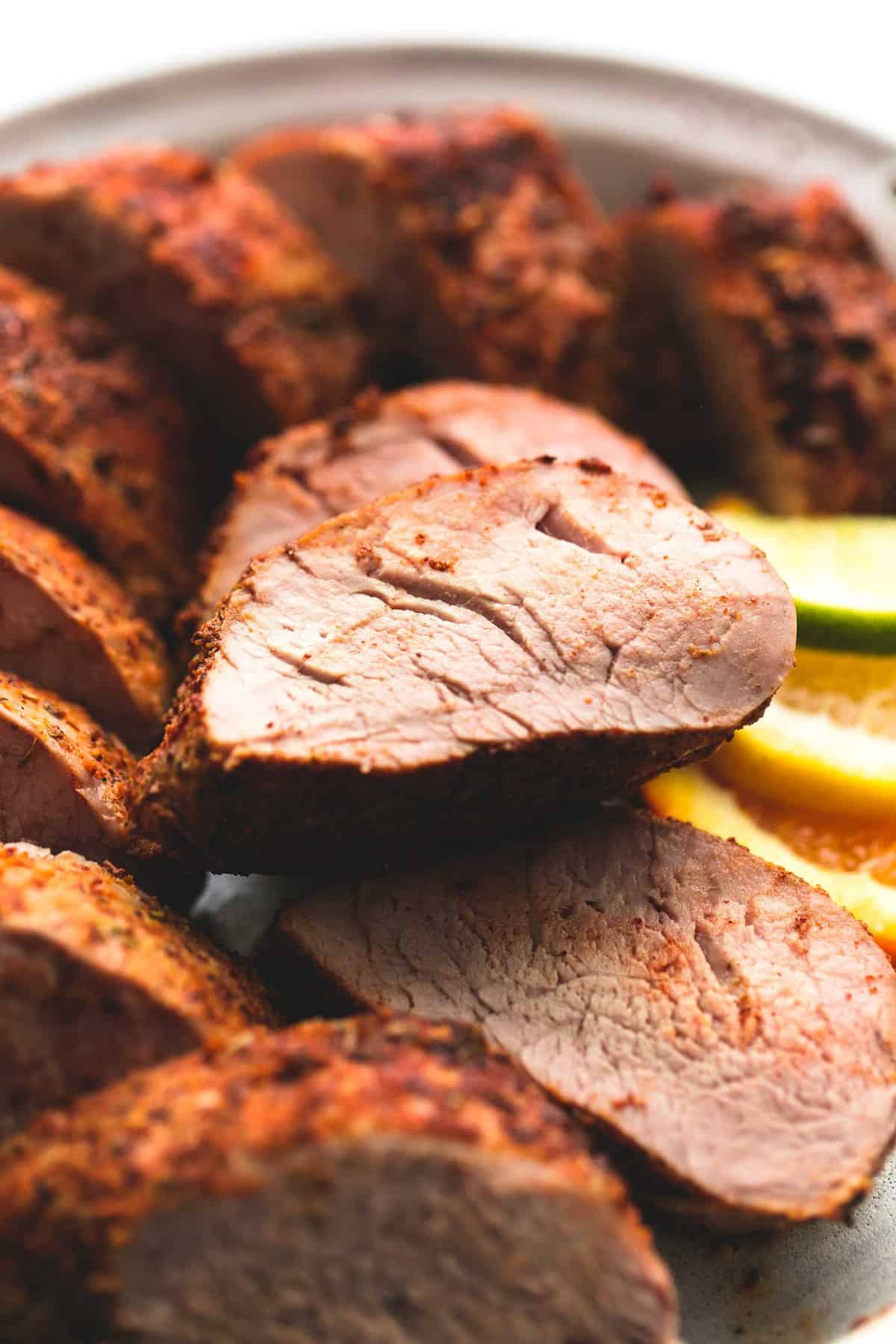 There is nothing like baked pork tenderloin. It's so easy to make and I feel like this is the easiest cut of pork to take on whatever flavors you fancy. In the slow cooker, the Instant Pot, on the grill, there is really no way to mess up a pork tenderloin. (Well, I'm sure there is, but not one that I've found yet!).
The best thing about baking a pork tenderloin though, is that crispy outside and juicy inside. While most people do eat with their eyes first, it's when you taste the tenderloin that you will truly understand why I'm gaga for this recipe. Sink your teeth into that first bite, and you get a little crunch, then the juices from the pork itself, plus the actual juice you've used and the spices intermingling with it all, and you'll be hard-pressed to find a reason NOT to make this delicious dish.
When I'm creating a recipe, I tend to lean on oils, vinegars, and sauces for the "wet" ingredients with which to marinade, spoon over, or otherwise cook in. I tend to forget how great fruit juices are with pork. The citrus in the lemon, lime, or orange juices (or all three) acts as the acid in the mixture (much like vinegar does in other recipes), giving your meat those tangy (and slightly sweet) undertones. Plus, the acid helps the rest of the flavors seep into the meat, making it nice and juicy.
For the other spices, I didn't get too crazy. Simple is best here. I mixed together a little Italian seasoning blend, garlic powder, cumin, chili powder, paprika, salt, and pepper — all items you probably already have in your spice drawer.
The other great thing about this recipe (so. many. good. things.) is that there is zero marinating time needed. Zip! Zilch! And zero pan-searing time either. I like my food delicious and I like it done ASAP. If this means cutting out some of the more arduous tasks and yet still getting the same results — well then my only question for you is why wouldn't you do that?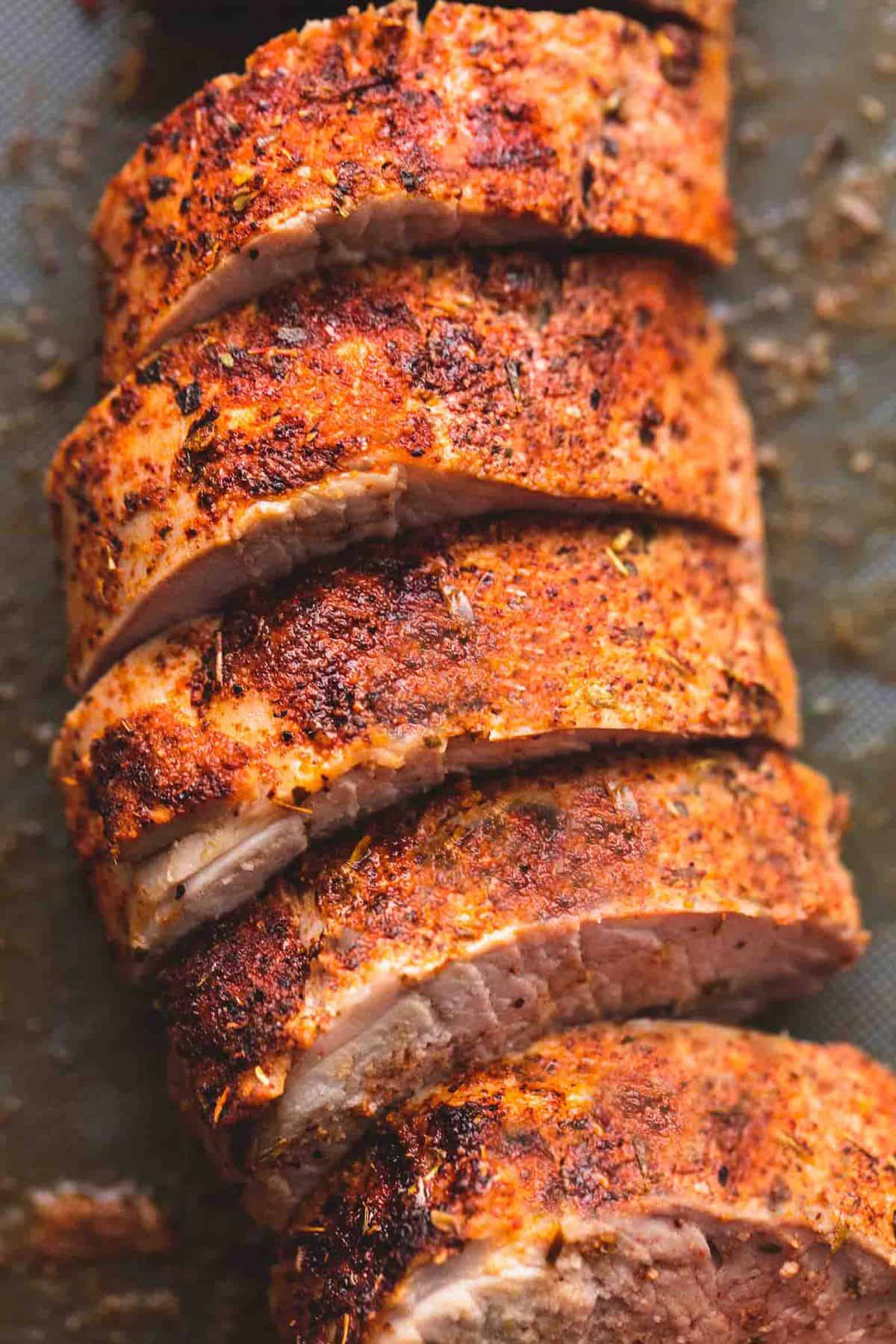 WHAT DO FRUIT JUICES DO TO MEAT?
Fruit juices are great for marinating, basting, and otherwise livening up your meat. The acid from citrus juices, in particular, helps to "cook" the meat just a little as it's marinating to really seal in the flavors you're using. They do this by breaking down the meat with the enzymes they contain. This lets the other ingredients in your marinade (oils, spices) to penetrate more deeply into the meat.
Have you ever heard of ceviche? It's a Latin American dish, a raw fish salad of sorts, in which raw seafood is "cooked" in citrus juices — usually lemon or lime. The juice denatures the proteins (so it will turn white as it's marinating, just like it does when it's cooked). This is best made with fresh seafood. But the principle is the same for any citrus marinade and any meat.
WHAT SIDES GO WELL WITH PORK TENDERLOIN?
You probably won't eat your tenderloin alone. Side dishes are key here. My favorites, in no particular order, include:
Company Potatoes

. This is kind of a no-brainer. Especially if we're having…wait for it…company! I'll roast up several of these tenderloins with a big batch of these crunchy/cheese/melt-in-your-mouth potatoes. Just make sure everyone wears their elastic pants and leaves room for seconds.

If you're looking for a satisfying side with lots of leftovers, then this

Creamy Sweet Macaroni Salad

is just the ticket. Plus, you can make it ahead of time or while the tenderloin is doing it's thang in the oven.

Easy Creamy Macaroni and Cheese

just goes good with everything. I mean, it's mac 'n cheese people. That's a given.
For something simple and delicious (and nutritious), look no further than this Lemon Parmesan Roasted Asparagus. It's sure to please everyone at your dinner table.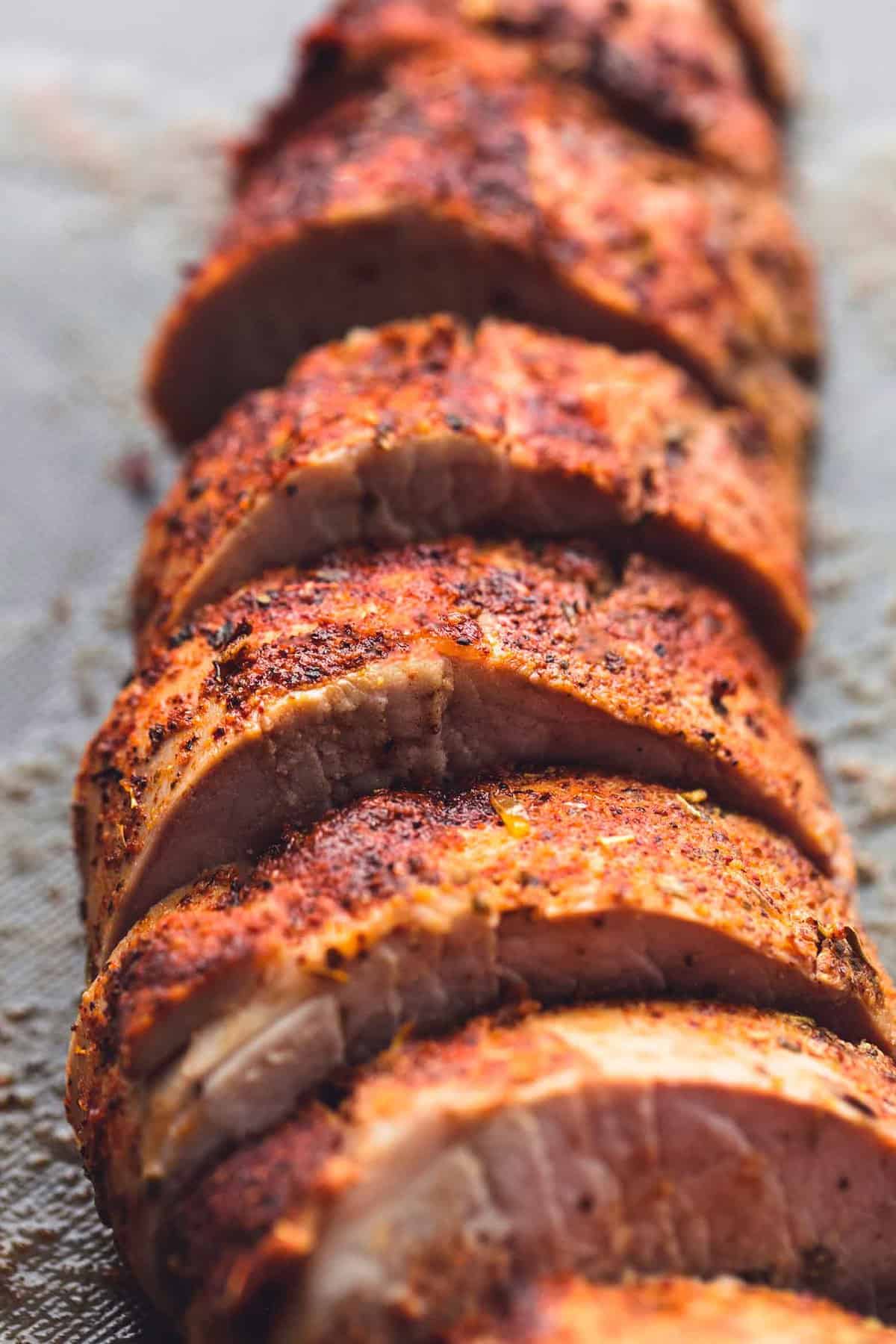 What people are saying about this BEST Baked Pork Tenderloin
"This was the most tender, melt in your mouth, tenderloin I have ever made. The outsides were nicely browned and there was juices around the meat. Will definitely make this again!! Next time I will add garlic cloves and lemon slices to the baking dish, too, along with the lemon and orange slices." – Cynthia
"This recipe was pinned on my "Sunday Success" board of Pinterest right after dinner. It is delicious! I melted peach jalapeno jelly and used as a dipping sauce (like ketchup). Oh my gosh! I took leftovers to a co-worker the next day and she immediately made for her family. This recipe rocks and is now a favorite. As a matter of fact, I'm making it today and using blackberry lime jam for the dipping sauce. Thank you a million times." – Connie
"I make this recipe about three or more times a month. It's so good and is heavenly with a homemade blue cheese or cilantro lime sauce. SO GOOD! I use a meat thermometer to check if the pork is done and if not, I only have to add a few extra minutes. Love, love, love this one." – Liz
"We have made this recipe a few times now. It is so easy and absolutely delish! The rub has a nice kick and we love that no marinating or searing is needed. Tonight we'll be pairing it with roasted sweet potatoes and an italian chopped salad. Can we all say yum!" – Diane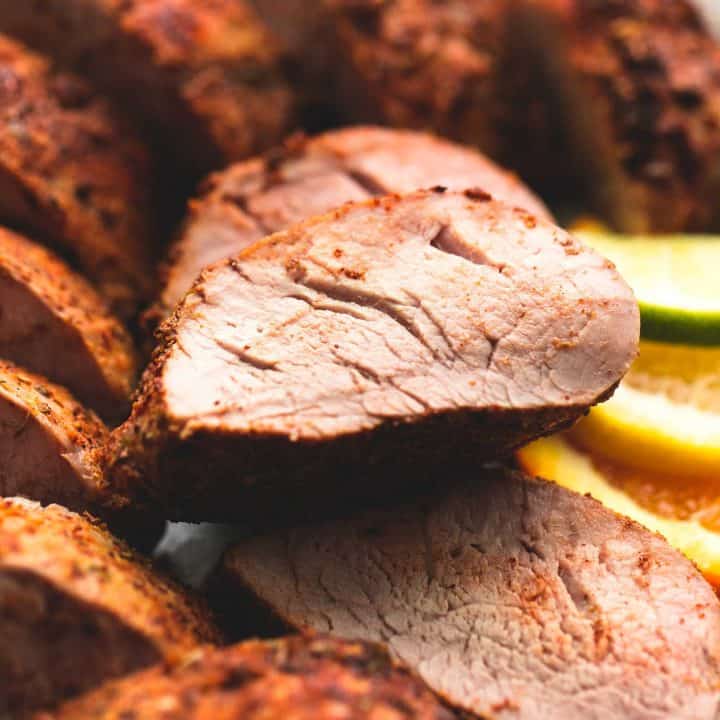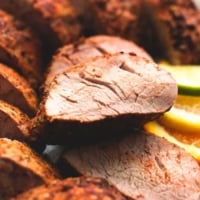 BEST Baked Pork Tenderloin
Crispy on the outside, juicy and tender on the inside, and amazing flavors make this the BEST baked pork tenderloin!

Ingredients
1 or 2

½ pound

pork tenderloins

-

(see note)

1

tablespoon

oil

2-3

tablespoons

fresh lemon, lime, or orange juice

-

(or 1 tablespoon of each)

2

teaspoons

Italian seasoning

1

teaspoons

garlic powder

1

teaspoon

cumin

1

teaspoon

salt

1

teaspoon

chili powder

½

teaspoon

smoked paprika

-

(optional but highly recommended)

¼

teaspoon

black pepper
Instructions
Preheat oven to 400 degrees and lightly grease a large baking/casserole dish. Pierce tenderloins all over with a fork. Rub oil onto all sides of the meat.

Whisk together Italian seasoning, garlic powder, cumin, salt, chili powder, smoked paprika (if using) and black pepper. Sprinkle mixture over tenderloin(s), patting it onto the surface of the meat on all sides. Place in prepared baking dish and drizzle lemon/lime juice over the top.

Bake for 25-35 minutes until outside is browned and crispy and centers are cooked through to desired doneness (you can take them out on the early side if you like the centers a little pink).

Spoon juices from the dish over the meat. Allow to rest on a cutting board or in the baking dish for 5-10 minutes. Slice into 1 inch pieces. Spoon any remaining juices from the pan over the slices, garnish with fresh chopped cilantro if desired, and serve.
Notes
This recipe is pretty flexible and you can use 1-2 very small pork tenderloins, or one medium-large pork tenderloin OR you can double or even triple the ingredients for the seasonings and serve a LOT of people with very large tenderloins.
Nutrition
Calories:
176
kcal
,
Carbohydrates:
2
g
,
Protein:
24
g
,
Fat:
8
g
,
Saturated Fat:
2
g
,
Trans Fat:
1
g
,
Cholesterol:
74
mg
,
Sodium:
650
mg
,
Potassium:
493
mg
,
Fiber:
1
g
,
Sugar:
1
g
,
Vitamin A:
298
IU
,
Vitamin C:
1
mg
,
Calcium:
31
mg
,
Iron:
2
mg