Super creamy and rich, protein packed Greek Yogurt Alfredo Sauce – So amazing you'll ditch store-bought versions for good!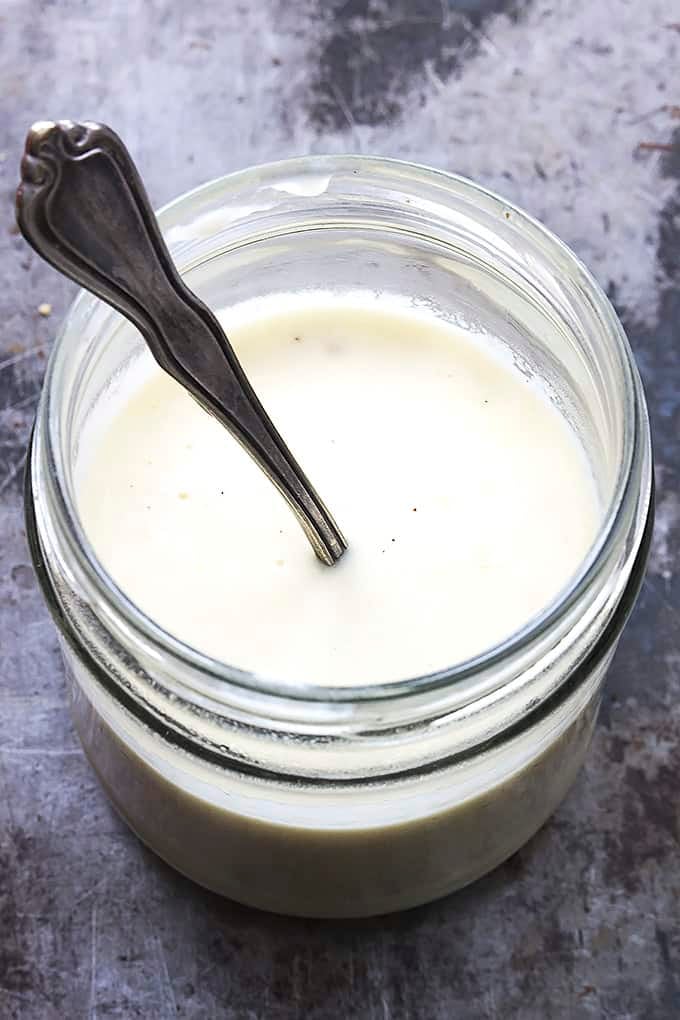 Well, it's Monday folks.
This is probably one of the less stressful Mondays for me. Mostly because I mailed hard copies of my senior thesis to my committee members on Friday and now all I can think about is how I only have five (1,2,3,4,5) assignments and just one final exam left. That, plus my Oral Defense is the rest of my bachelors degree in a nutshell.
It's a beautiful, small, completely tolerable nutshell and I'm basking in that relief today.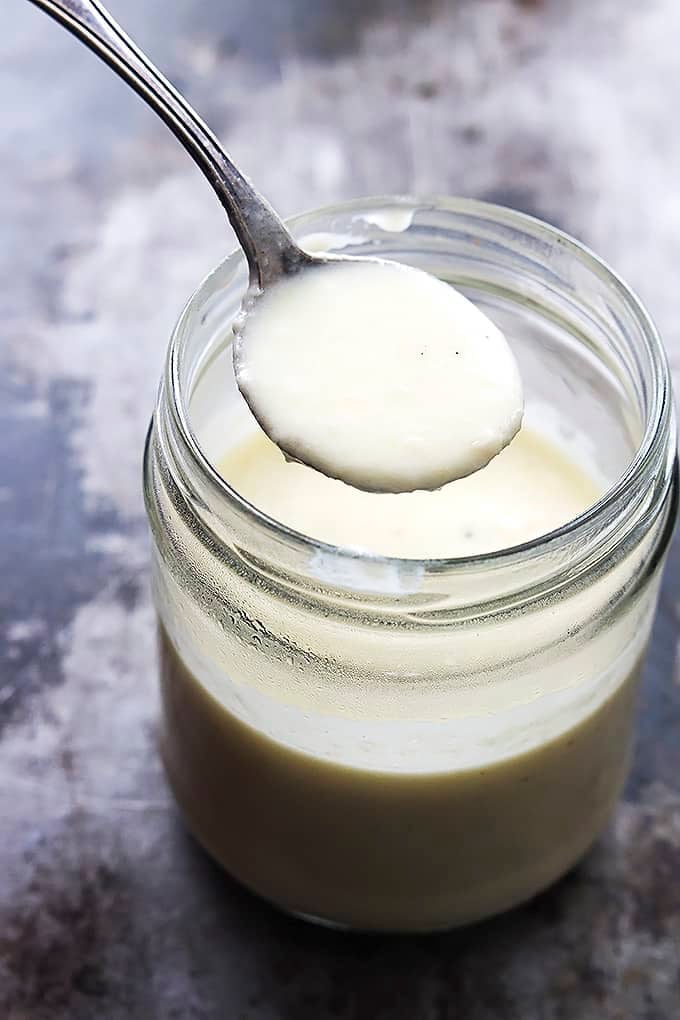 I feel pretty badly that I've been slacking in the blogging department lately. I'm sorry! Forgive me friends. I have tons of amazing recipes coming your way – I've just been running out of hours in the day lately with all of the research I've been doing for my thesis on top of typical homework drudgery.
This week I planned on making 12 new recipes for you. But we have a storm coming through over the next couple of days. So you miiiiight have to settle for 5 or 6.
But NEXT week, it's looking sunny sunny sunny and that means hoards of new recipes will be created in this old 70's kitchen of mine.
No promises though – Utah weather is notoriously fickle.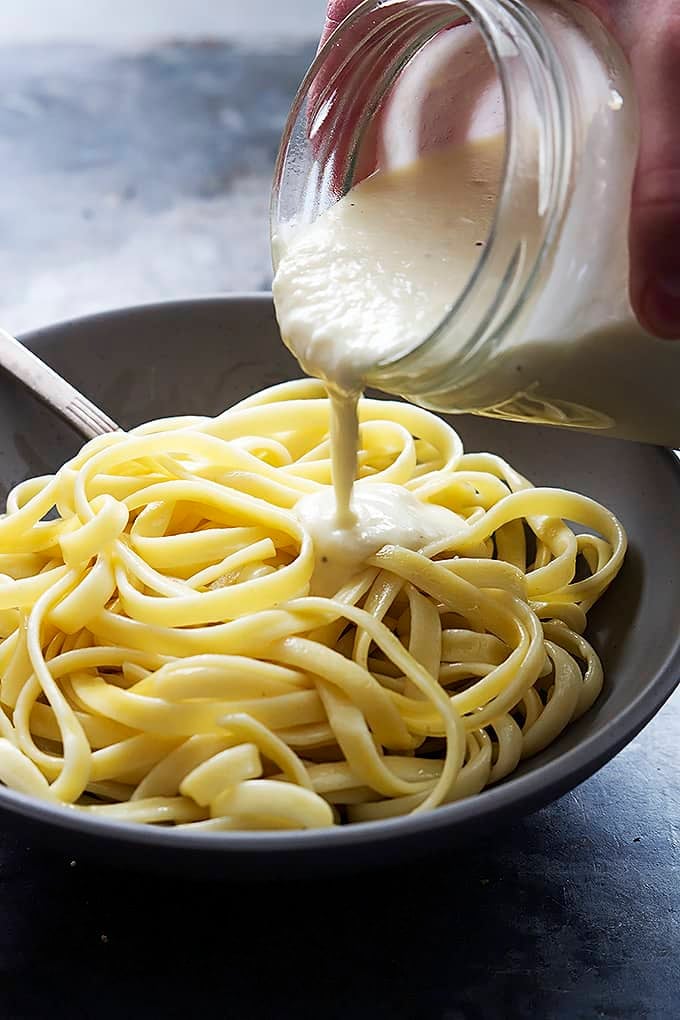 In the meantime, I've got a handful of really yummy things planned out for the blog this week and If I know you like I think I do – you're gonna like em.
First up: Greek Yogurt Alfredo Sauce.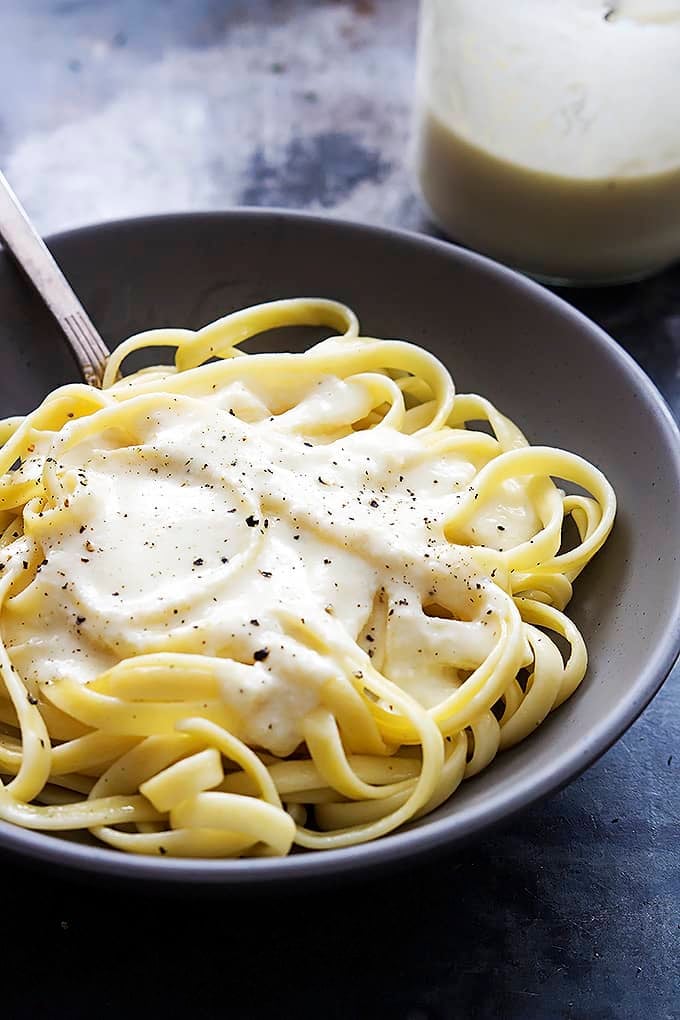 One of my many quirky cooking habits includes finding sneaky ways to get greek yogurt into my dishes. It's loaded with protein and if you're using 0% fat which I always do, it's even healthier. It adds yummy flavor to your dishes – way better than sour cream if you ask me. When I worked it into this alfredo sauce recipe, I was instantly hooked. So creamy, so much flavor, so much goodness on top of any pasta you desire.
I've been in a carby, pasta mood lately so a stash of cooked fettuccine noodles have taken up residence in my fridge along with a jar of homemade greek yogurt alfredo sauce.
Stop buying the jarred stuff and makes some of this gorgeous sauce at home. You. will. love. it.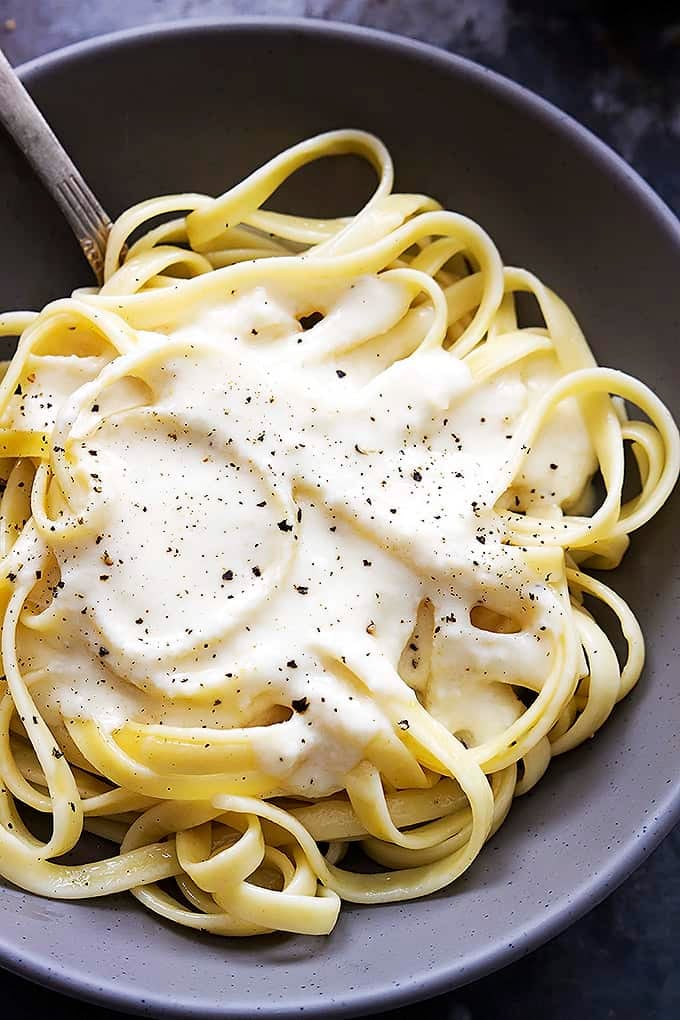 What people are saying about this Greek Yogurt Alfredo Sauce
"Oh my gosh, I did not expect this sauce to come out tasting exactly like alfredo, but it completely and absolutely DOES. Maybe even better. I will always make alfredo this way from now on." – Shannon
"This is absolutely phenomenal! My husband and I both vastly prefer it to regular alfredo, and it's so easy to make! Thank you for sharing!" – Karissa
"I have made this sauce a couple times now, I must say that it's really really delicious!" – Jordan
Greek Yogurt Alfredo Sauce
Super creamy and rich alfredo sauce made with protein-packed greek yogurt! So amazing you'll ditch store-bought versions for good!

Ingredients
2

tablespoons

butter

1 1/2

teaspoons

garlic powder

1/2

cup

milk or water

(I used fat free half & half)

3/4

cup

plain greek yogurt

(I used 0% fat)

1/2 - 2/3

cup

shredded parmesan cheese

salt and pepper to taste

optional: 1/2 teaspoon dried parsley

(or 1 teaspoon fresh)

8

ounces

pasta noodles,

cooked
Instructions
In a medium sauce pan, melt butter over medium heat. Stir in garlic powder. Stir in milk (or water). Remove from heat and allow to cool for 2-3 minutes. Gradually whisk in greek yogurt.

Add parmesan cheese to sauce and stir until melted. (If the cheese doesn't melt completely because the sauce is too cool, return to stove on low for a couple of minutes) Add salt and pepper to taste and toss with your favorite cooked pasta noodles.
Notes
*Store any leftover sauce in the fridge in an airtight container such as a jar. The sauce tends to get very thick - almost solid - after being chilled, just add 1 tablespoon of water or milk and heat it up in the microwave, then stir til smooth and serve!
Recipe adapted from Eating Well Magazine