Greek Yogurt Waffles made with protein-rich greek yogurt for perfectly fluffy waffles!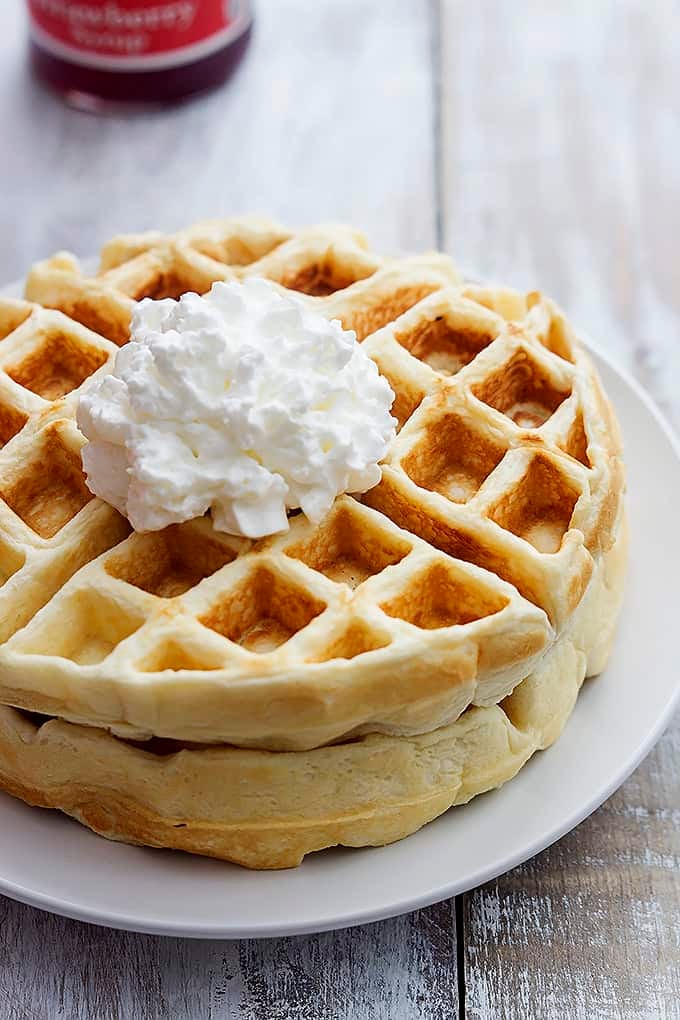 Hey there and Happy Saturday!
For those of you who actually read this blog or come here to party on a regular basis (bless your hearts) you may have noticed that about a month or so ago the post frequency dramatically decreased. Where I used to post 7 days a week like a crazy lady – it's just who I am – lately I've been posting about 3 times a week.
Worry not! This blog is not going anywhere. Me and my incessant cooking and recipe sharing are here to stay.
(Phew – I know you're relieved…)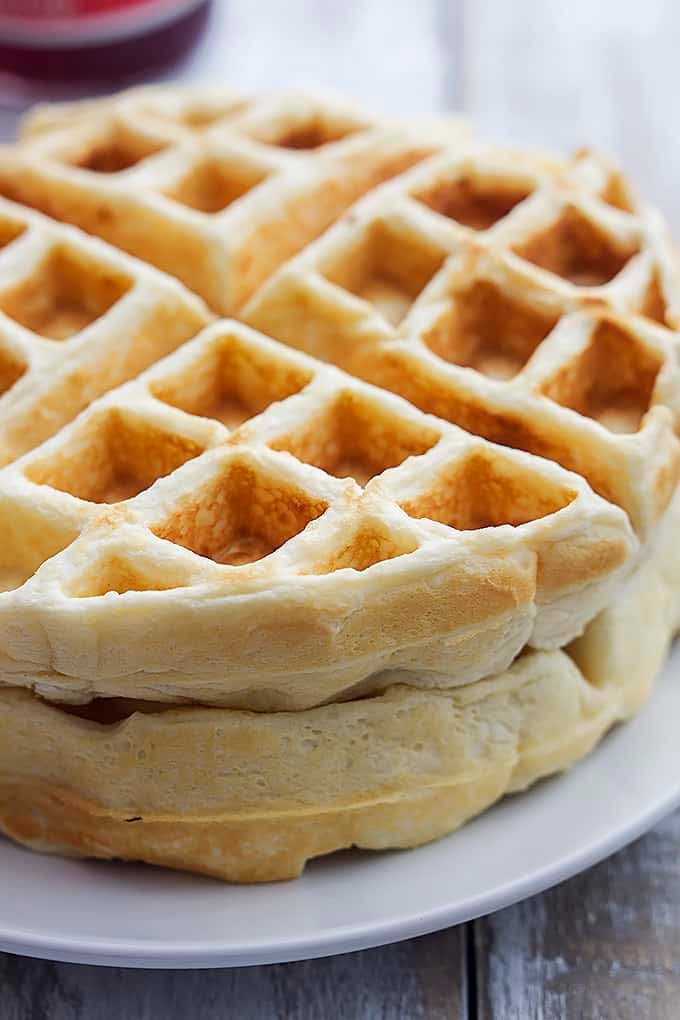 So why the sudden decrease in recipe posting here on Creme de la Crumb??
School.
Nasty dreaded drudgery school.
You might remember that I've been going to school full time during the life of this here blog and CDLC has kept me sane. It has also kept me insane. Just sayin'. But the really wonderful, totally amazing, can hardly believe it news is that I am graduating. At the end of April I will be a free woman.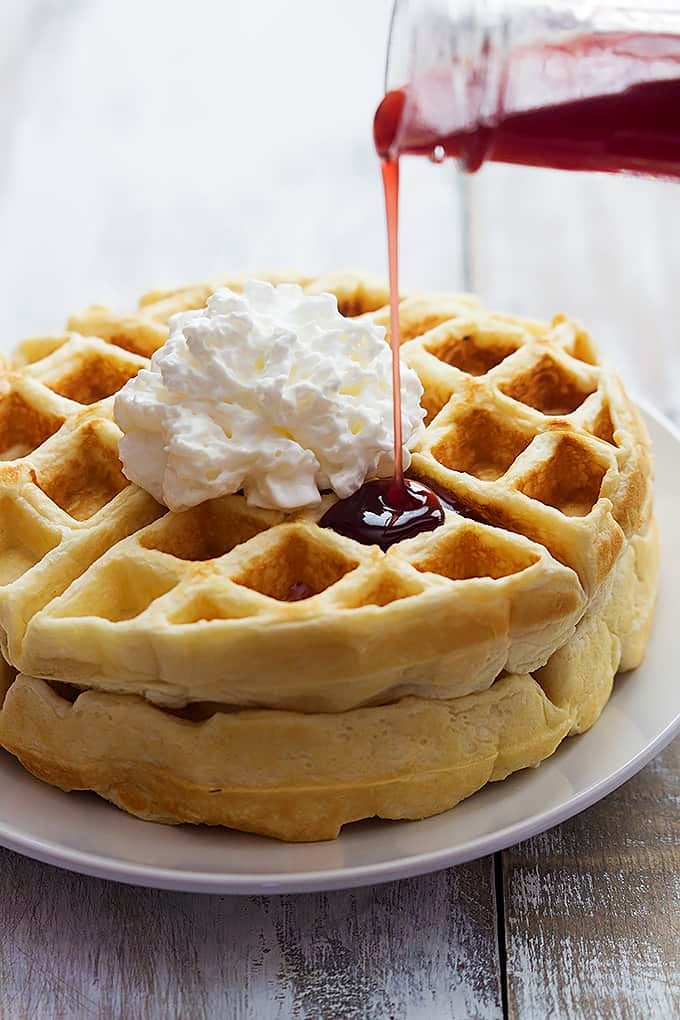 I've been drowning in the overwhelming work load of a senior thesis capstone project. AKA: research torture. That's why I've been a bit less than totally present the past little while – but I assure you, I'm still here. Treading water, but here. Cooking, eating, homeworking, cooking eating homeworking = my life right now. But very soon it will be a thing of the past and you shall have my full attention once again.
As long as I pass my oral defense in exactly one month's time…
Wish me luck y'all!
Oh and greek yogurt waffles!!!  EAT THEM. 🙂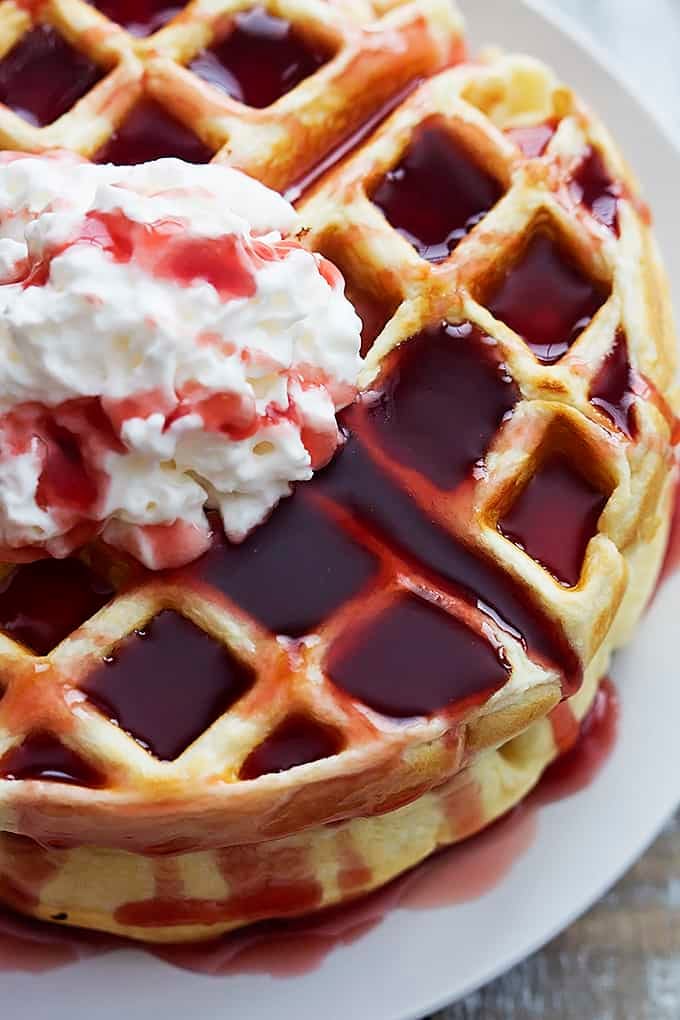 What people are saying about this Greek Yogurt Waffles
"OMG!! Thank you for the recipe!! I love making a big batch of waffle and freeze it so I can eat it anytime. So I can say your recipe is a saviour!! Greek yogurt?! Couldn't be healthier! This is a good way to force my husband to eat yogurt!" – Lys
"These are my go to waffles now. I add a little melted butter and vanilla to the batter and they are delicious every time." – Kellie
"These are amazing. Crispy outside, fluffy inside. My 17-month-old loves them! Planning to make a double batch this weekend so we have lots in the freezer. These freeze well and heat up perfect in the toaster." – Amanda
You'll also love these Greek Yogurt Waffles!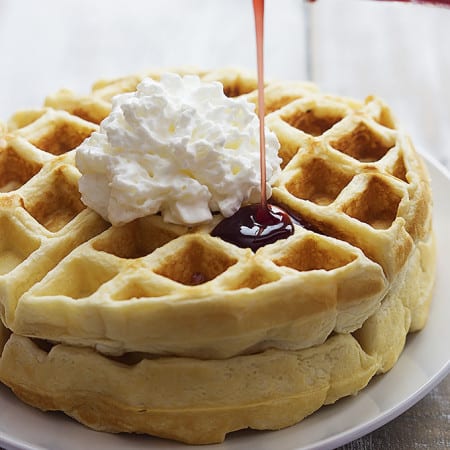 Greek Yogurt Waffles
Perfectly fluffy waffles made with protein-rich greek yogurt!
Ingredients
2

eggs

1 ¾

cup

milk

½

cup

plain greek yogurt

-

(I used 0% fat)

1

tablespoon

sugar

-

or maple syrup

2

cups

flour

1 ½

tablespoons

baking powder

¼

teaspoon

salt
Instructions
Preheat your waffle maker. In a medium bowl whisk together eggs, milk, greek yogurt, and sugar (or maple syrup).

Add flour, baking powder, and salt and mix until all ingredients are combined. (Most of the lumps should be gone but it doesn't need to be perfectly smooth).

Grease the waffle maker and cook waffles according to manufacturer's instructions. Serve with butter, syrup, fresh berries, whipped cream, or powdered sugar as desired.
Notes
Serve with your favorite toppings like syrup, powdered sugar, fresh berries, and whipped cream. 
Nutrition
Calories:
353
kcal
,
Carbohydrates:
58
g
,
Protein:
15
g
,
Fat:
6
g
,
Saturated Fat:
3
g
,
Trans Fat:
1
g
,
Cholesterol:
94
mg
,
Sodium:
710
mg
,
Potassium:
274
mg
,
Fiber:
2
g
,
Sugar:
9
g
,
Vitamin A:
293
IU
,
Calcium:
434
mg
,
Iron:
4
mg