Super fluffy and creamy JUST 4-INGREDIENT Dutch Cream Waffles!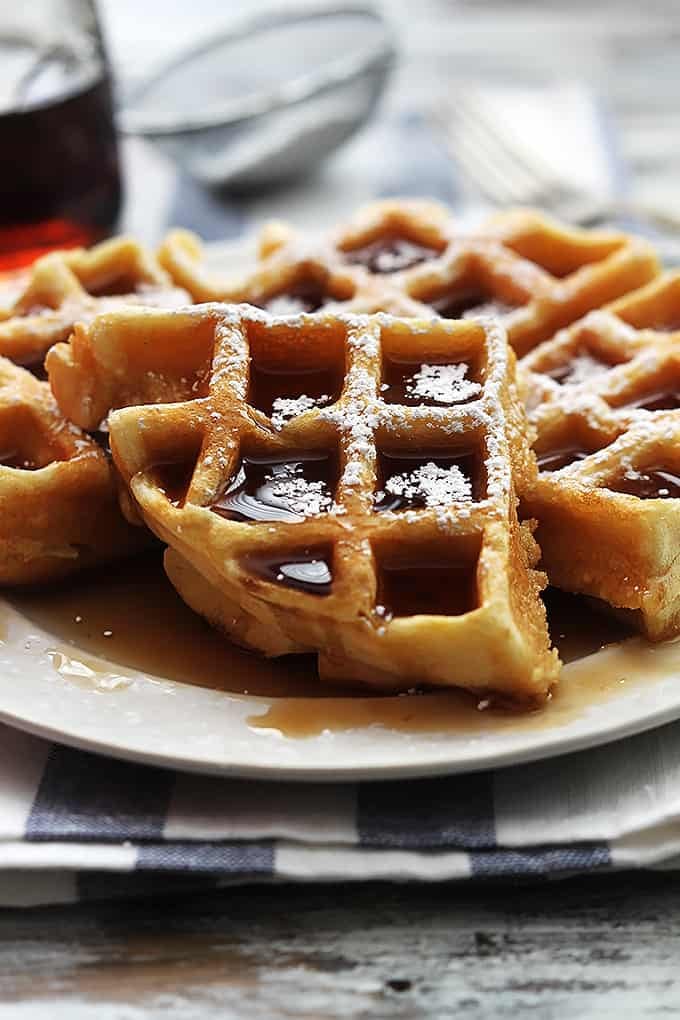 The master bedroom makeover saga continues. We spent the better part of our Saturday purchasing, transporting, and assembling the new dressers yesterday. After 10 stores (and plenty of web surfing) Ikea came through for us. Again.
We should get more Swedish stores. They have an organizing solution for everything at steal-of-a-deal prices with magical powers to turn sloppy clothes-under-the-bed people like me in to neat-freaks. Plus they serve giant cinnamon rolls.
They ROCK.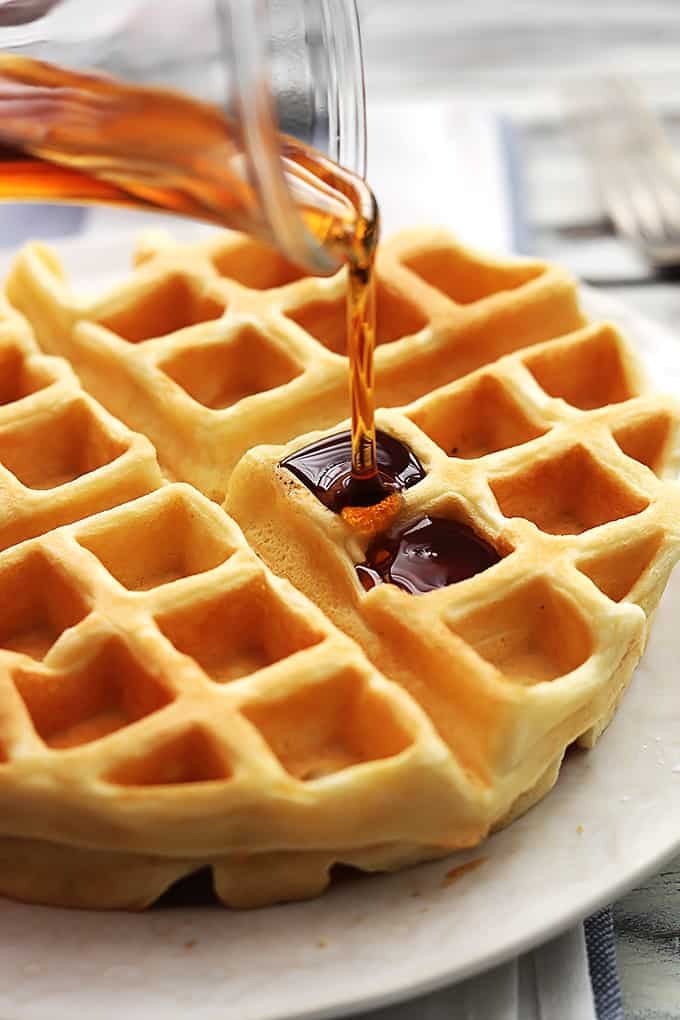 But, my earlier statement, it needs revision. When I say we assembled dressers, I mean that we assembled dresseR. One of four. And when I say we, I mean my husband did most of the assembling and I did the really important things like interpret the hieroglyphics in the instruction pamphlet and make cherry vanilla diet coke runs.
Somebody's gotta do the dirty work.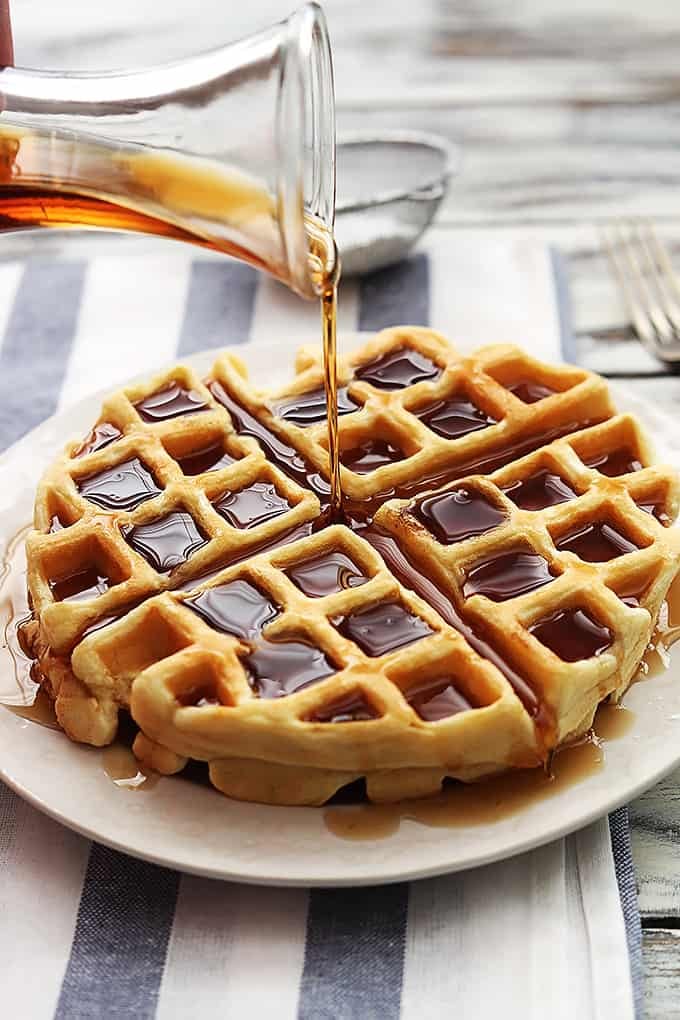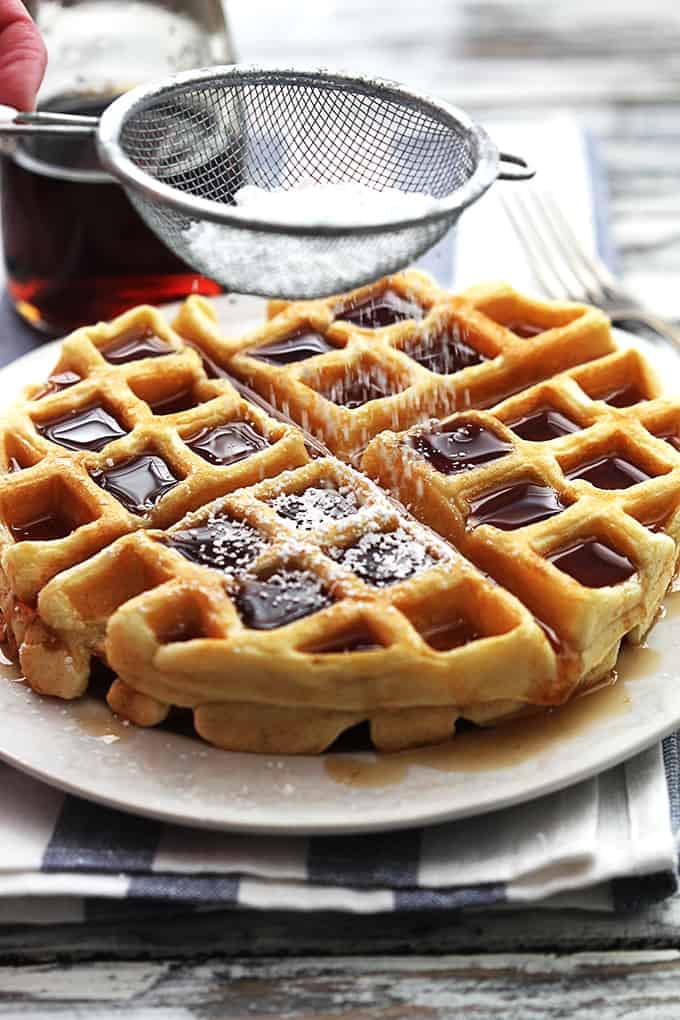 The one dresser took more than 3 hours from start to finish and we still haven't applied a top coat so I'm thinking we should have these babies finished, filled, and in the bedroom by, oh….. November?
Excellent.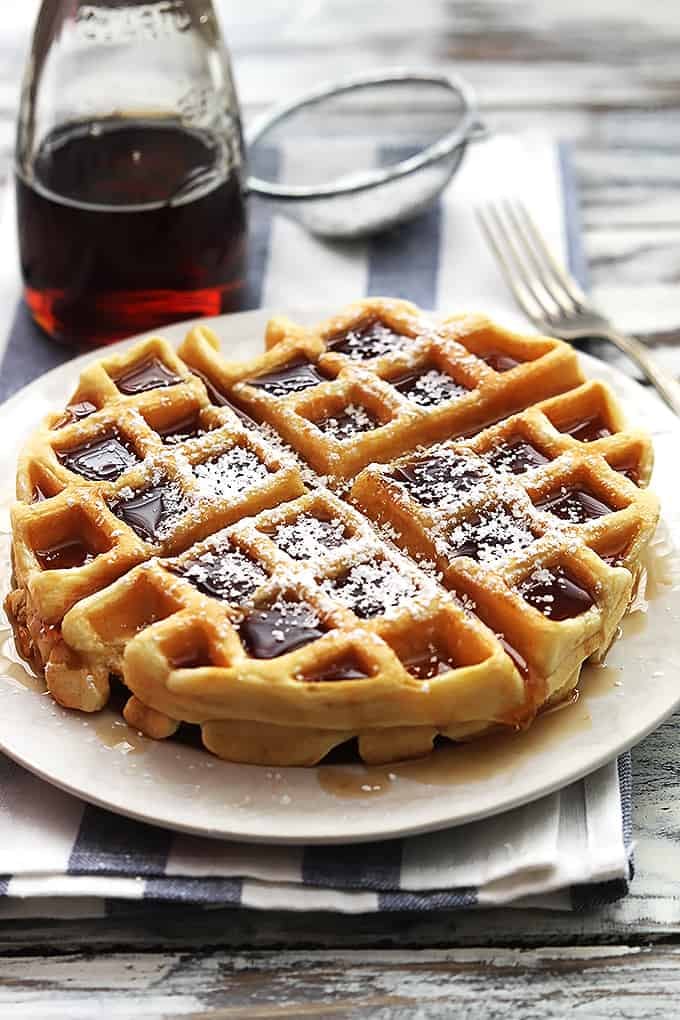 We didn't only work on dressers yesterday though, I also painted our ceiling fan. Yes, painted. Spray painted actually. It was a cherry grained wood and though I've never loved it, it was especially clashing with our room now that it's re-painted and somewhat furnished. So we removed the blades and I froze my britches off in the garage to spray them a gorgeous shade of gray called…. actually I can't remember. something Castle I think.
I was so excited with the finished product that I got a little bit ahead of myself and started reassembling the fan only to realize I was leaving finger prints all over the not-quite-dry paint.
OOPS. Ma-bad.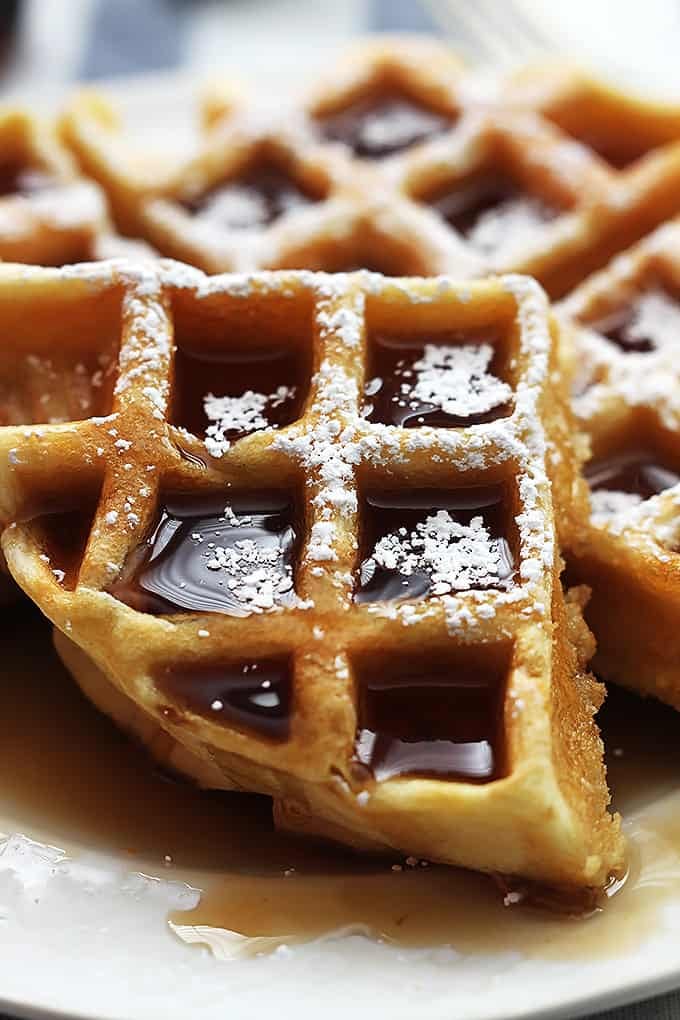 A bit of touch-up work is needed but in they end the fan will be gorg and I will be one happy girl.
In other news….  My life has been made a bit sweeter, a bit easier, and a lot more delicious by the discovery of dutch cream waffles. These waffles happened because after we got back from our Christmas-gift-cruise (thank you Santa) my husband's birthday was the next day and I made a big deal of promising days in advance that I would make him waffles for breakfast on his birthday.
7:00 am: wait, what do you mean we don't have any milk??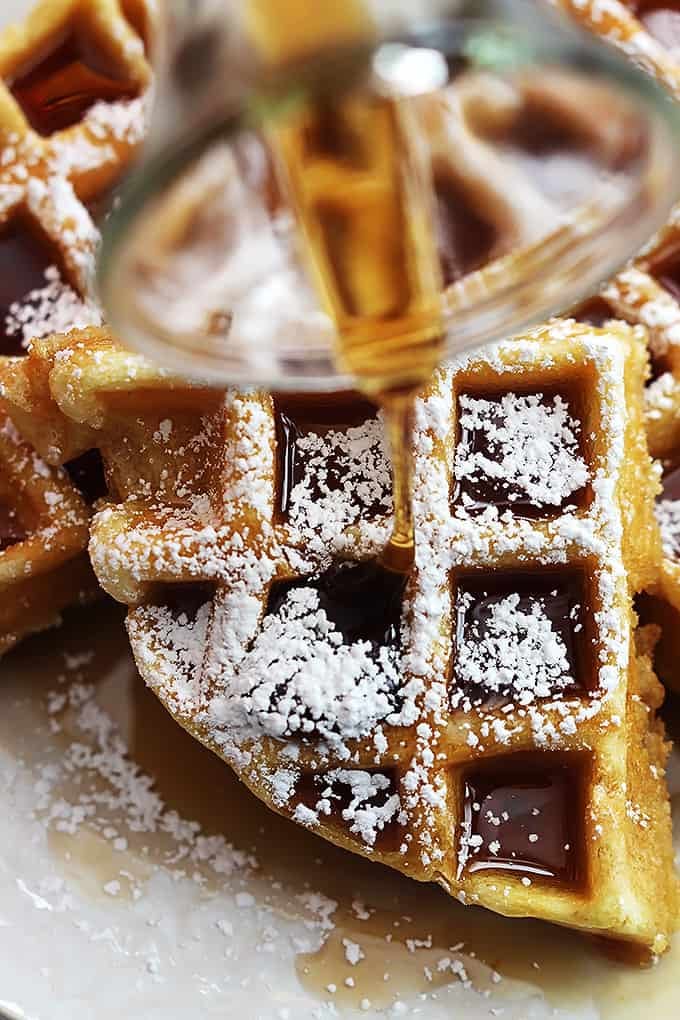 After a miniature panic session, a quick google search informed me that there is a type of waffle called a Dutch Cream Waffle which only requires 4 ingredients. One, two, three, four. 4. And can be made with heavy whipping cream – which oddly enough, I had even though I was out of any regular milk.
Whatevs!
Turns out these dutch cream waffles are the answer to my quest for the perfect waffle recipe. For the past couple of years I've been trying to find out what makes the difference between light and airy waffles and denser, thick waffles. I like my waffles semi-dense because when they are too airy, the syrup all soaks up into the waffle and that's just, ah, so wrong. When the waffle soaks up the syrup I just find myself using 4 times the amount of syrup, usually dipping each bite into a bowl of it just to make sure I can actually taste and feel the syrup on my tongue. Ridiculous.
The syrup needs to sit on top, fill every square and then just float there ready to be devoured in each and every waffle bite. And these waffles, they deliver. Oh baby do they deliver.
No soggy waffle sponges in this house!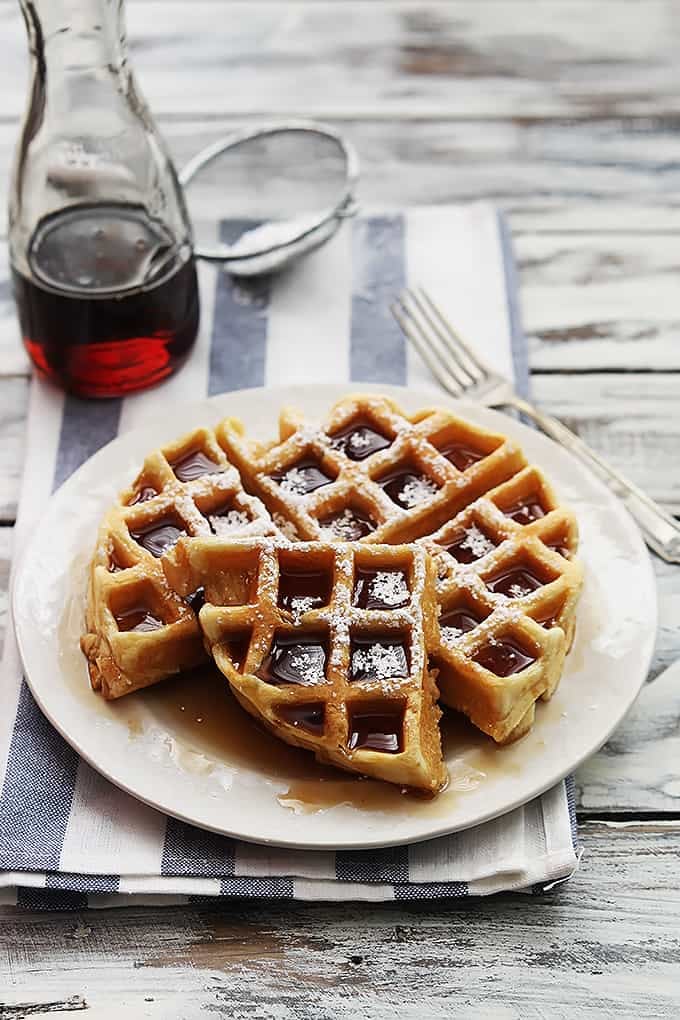 What people are saying about these 4-Ingredient Dutch Cream Waffles
"We tried these waffles for brinner this week and my kids and I loved them! We enjoyed them so much we made them again for our weekend breakfast. I shared this on my blog today. Thanks for a great recipe!" – Kati
"Absolutely delicious! This is the waffle recipe that I've been searching for. It's probably a bit more expensive then your average waffle recipe because of all the heavy cream at least here it's not cheap and it takes a little more time to. But it is totally worth it! I added vanilla and doubled the recipe because I have four to feed but there is plenty left over so I'm going to see how they freeze. Thank you so much I will never make another waffle recipe!" – Alicia
"These waffles are delicious! I used vanilla in the mix and added blueberries when making them. I also topped them with fresh whipped cream." – Cheryl
If you like this recipe, you're going to LOVE my Best Fluffy Belgian Waffles recipe too!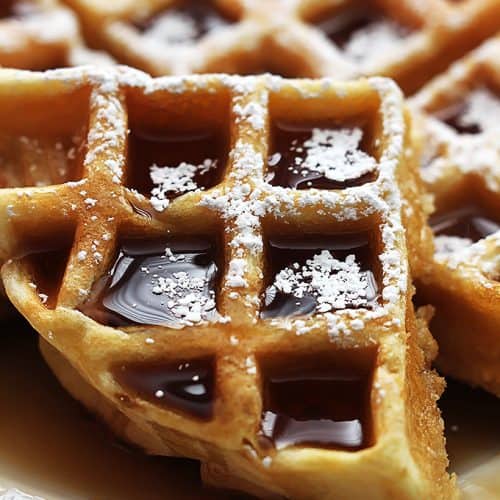 4-Ingredient Dutch Cream Waffles
Super fluffy and rich dutch cream waffles - JUST 4 INGREDIENTS!
Ingredients
1

cup

flour

¼

teaspoon

salt

3

eggs

-

separated

1

cup

heavy whipping cream

optional toppings: powdered sugar, syrup, fresh fruit, etc
Instructions
In a large bowl, combine flour and salt. In a small bowl, beat egg yolks on low speed. Gradually pour in cream and beat for 1 minute. Add wet ingredients to flour mixture and mix until smooth.

In another bowl (make sure your beaters are clean) beat egg whites on high until stiff peaks form. Gently fold into batter.

Bake in a preheated waffle iron according to manufacturer's directions. Serve warm with desired toppings.
Notes
*I love to add 1 teaspoon vanilla and 1/2 teaspoon ground cinnamon to the waffle batter for a fun flavor variation. Try it!
Nutrition
Calories:
488
kcal
,
Carbohydrates:
34
g
,
Protein:
11
g
,
Fat:
34
g
,
Saturated Fat:
20
g
,
Trans Fat:
1
g
,
Cholesterol:
272
mg
,
Sodium:
287
mg
,
Potassium:
165
mg
,
Fiber:
1
g
,
Sugar:
1
g
,
Vitamin A:
1404
IU
,
Vitamin C:
1
mg
,
Calcium:
83
mg
,
Iron:
3
mg
Recipe source: Taste of Home