Fluffy chocolate chip Greek Yogurt Banana Muffins made extra moist and packed with a protein boost from greek yogurt!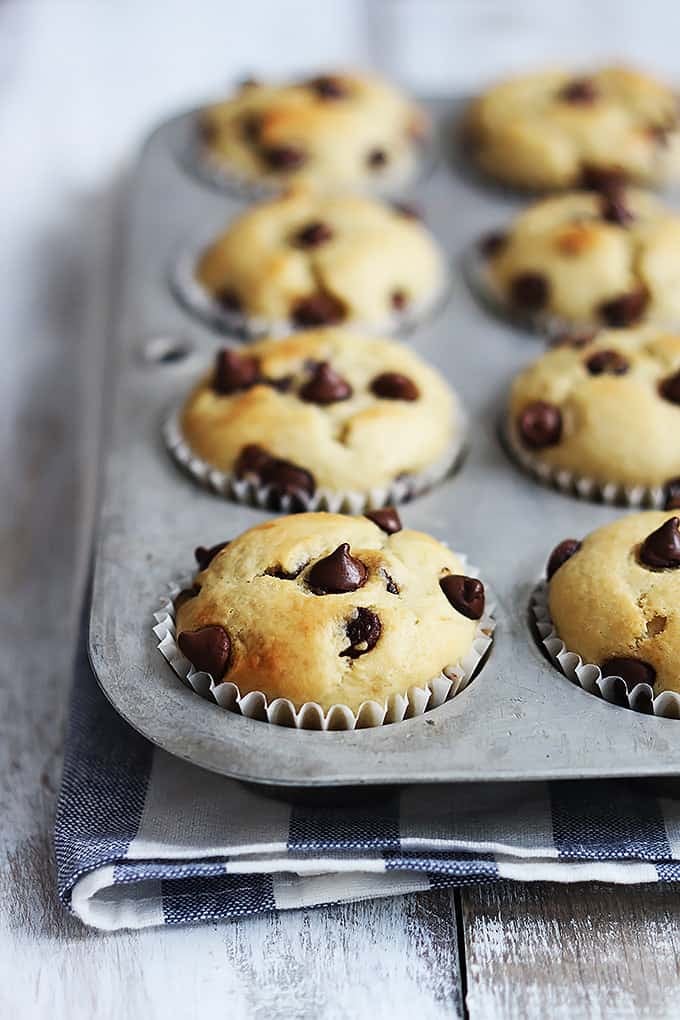 I was ***this close*** (imagine my index finger and thumb pinched with a teeny tiny sliver of air between them, thanks) to posting another soup recipe today. We've been having a lot of soup lately because it is more than a little chilly around here. And by chilly I mean freakishly cold. I know, I know, it's all relative. You North Dakota folks are rolling your eyes at me. I can tell you'd be those out-of-towners walking around in flip flops and short sleeves if you were visiting my neck of the woods.
But then you Floridians would be wearing three parkas stacked on top of your long johns.
Like I said. It's all relative.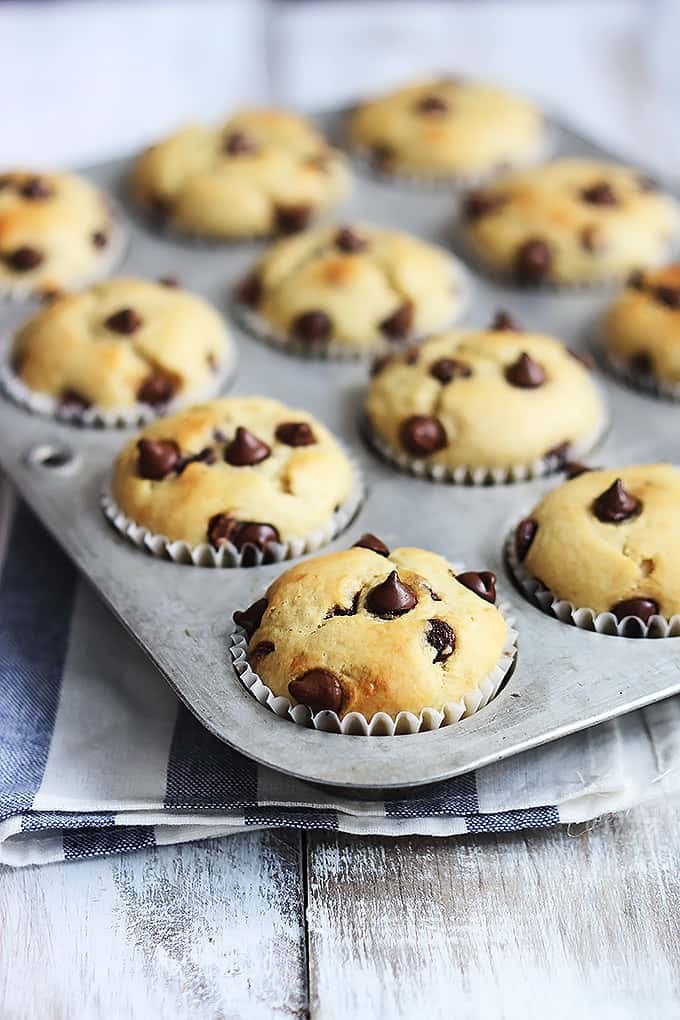 Anyway, back to the soup. I almost posted another soup recipe but decided to give you a teeny tiny soup break and share a really really yummy muffin recipe today instead. And I know this is a little contradictory but just hang in here for a minute… I actually don't like bananas. Read: I HATE bananas. My mother in law made a strawberry "fluff" jello stuff as a side for our lasagna and I could smell the banana chunks from a mile away. Uck – please, keep it away.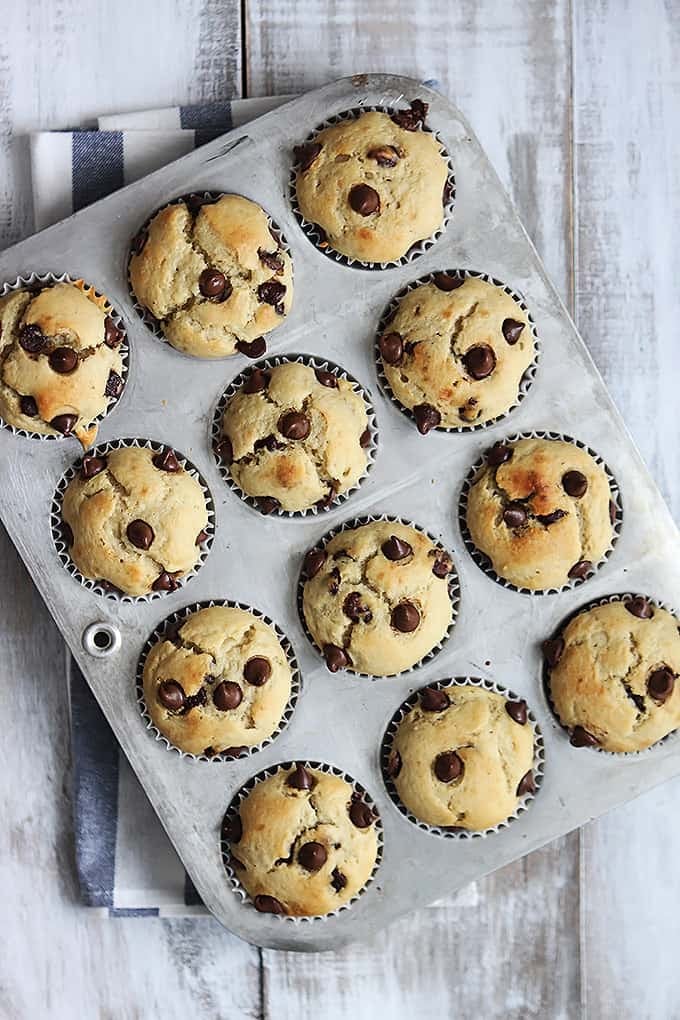 So I don't like fresh bananas. Or banana flavored candy. Or bananas in my smoothies. But… I have found that I can tolerate them in baked goods as long as they are loaded with chocolate chips. My mother in law actually makes killer chocolate chip banana cookies which were the first banana-including food I ever tried and enjoyed. Speaking of which, would you like that recipe? Because I might be able to sweet talk that one out of her if you're a banana chocolate chip fan??
Yes. You want it. I knew you would. Alright quit begging! I'm on it.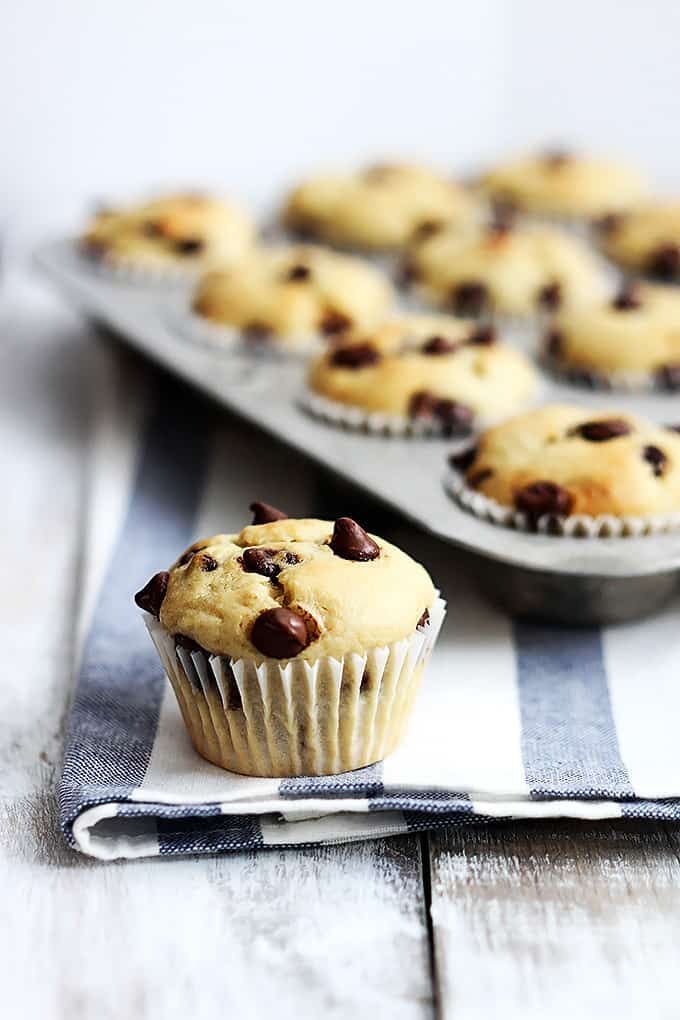 In the meantime, please take 30 minutes of your day to put those browning bananas on your countertop to excellent use – aka: greek yogurt banana muffins. Why the greek yogurt? I'm glad you asked! Greek yogurt makes them extra super moist – a must. (There's nothing worse than a dried out muffin, am I right??) The greek yogurt also adds a nice protein boost which turns a treat into a more-than-acceptable breakfast option.
Here, I saved this one for you…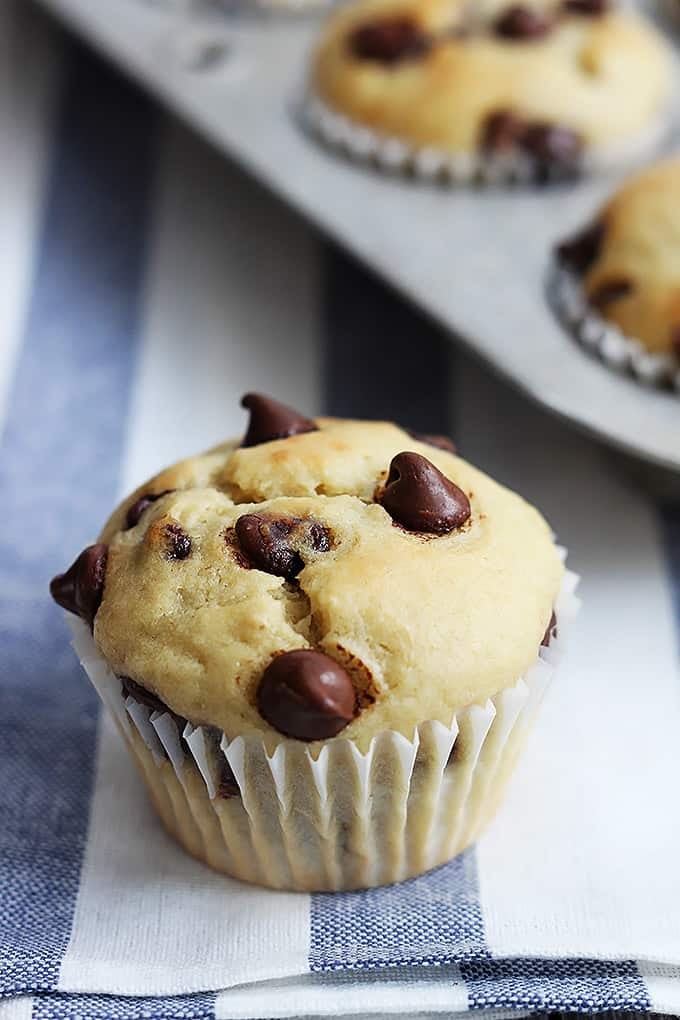 What people are saying about these Greek Yogurt Banana Muffins
"Wooooow… I can't believe I've just eaten them all! I've tried many recipes but THIS ONE… wins all the trophies!!! I made half [with] chocolate chips, half [with] blueberries. Thanks a lot for sharing! I will have to invite some friends if not… I will eat them all today!" – Lucia
"Made these this morning! I'm typically leery about homemade muffins because a lot of them have a grainy texture, but these were moist and spongy. They were good! Next time, I am going to try to add cinnamon and nuts instead of chocolate chips! The chocolate chips were delicious, but I loveeee nuts in my banana muffins!" – Taylor
"I stumbled across this recipe during the week and pinned it for later use… then last night found myself baking these. Let me just say, they turned out amazing! So fluffy and not at all dry – love them! I have even frozen some to use as work snacks for during the week. Thank you for sharing xo" – Katie
"Made this morning and it came out great!! I didn't have a muffin tin on hand, so I made a banana bread using the same recipe. I had to keep it in the oven for a bit longer but it was so worth it. I kept everything in the recipe except the chocolate chips, had to keep it a little healthier… I have a wedding dress to fit into!! Thanks for the recipe!!" – Devynne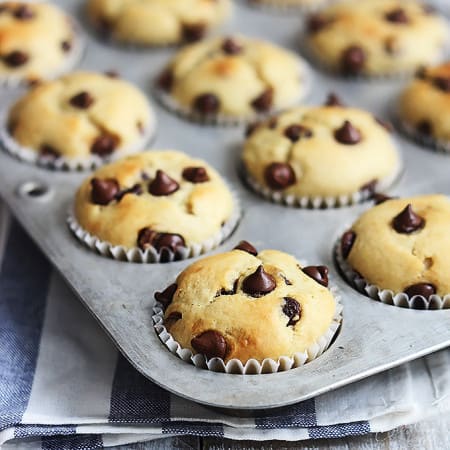 Greek Yogurt Banana Muffins
Fluffy chocolate chip banana muffins made extra moist and packed with a protein boost from greek yogurt!
Ingredients
2 ¼

cups

flour

1 ½

teaspoons

baking powder

½

teaspoon

baking soda

½

teaspoon

salt

4

tablespoons

butter

-

softened

¾

cup

sugar

¼

cup

brown sugar

3

medium

bananas

-

mashed (about 1 cup)

1

cup

plain greek yogurt

2

eggs

1 ½

teaspoons

vanilla

1

cup

chocolate chips

-

(optional)
Instructions
Preheat oven to 350. Line muffin tins (regular size, not jumbo, not mini) with baking cups/cupcake wrappers.

In a medium bowl whisk together flour, baking soda, baking powder, and salt. In a larger bowl cream together butter and sugars. Add mashed bananas, greek yogurt, eggs, and vanilla, and mix well. Add flour mixture to wet ingredients and mix until combined. Stir in chocolate chips if desired.

Pour about 1/4 cup of batter into each muffin cup. Bake for 15-20 minutes until tops are lightly golden. Allow to cool for a few minutes in the muffin tins before removing and allowing to cool completely. Serve warm or at room temperature, store in airtight container.
Notes
*If you have almond extract, I like to replace 1/2 teaspoon of vanilla with 1/2 teaspoon almond extract!
Nutrition
Calories:
152
kcal
,
Carbohydrates:
32
g
,
Protein:
4
g
,
Fat:
1
g
,
Saturated Fat:
1
g
,
Trans Fat:
1
g
,
Cholesterol:
21
mg
,
Sodium:
165
mg
,
Potassium:
134
mg
,
Fiber:
1
g
,
Sugar:
16
g
,
Vitamin A:
51
IU
,
Vitamin C:
2
mg
,
Calcium:
50
mg
,
Iron:
1
mg
*Recipe slightly adapted from Kraft.