Super moist and perfectly sweet and savory Greek Yogurt Banana Bread made with creamy yogurt, flavorful bananas and a hint of vanilla!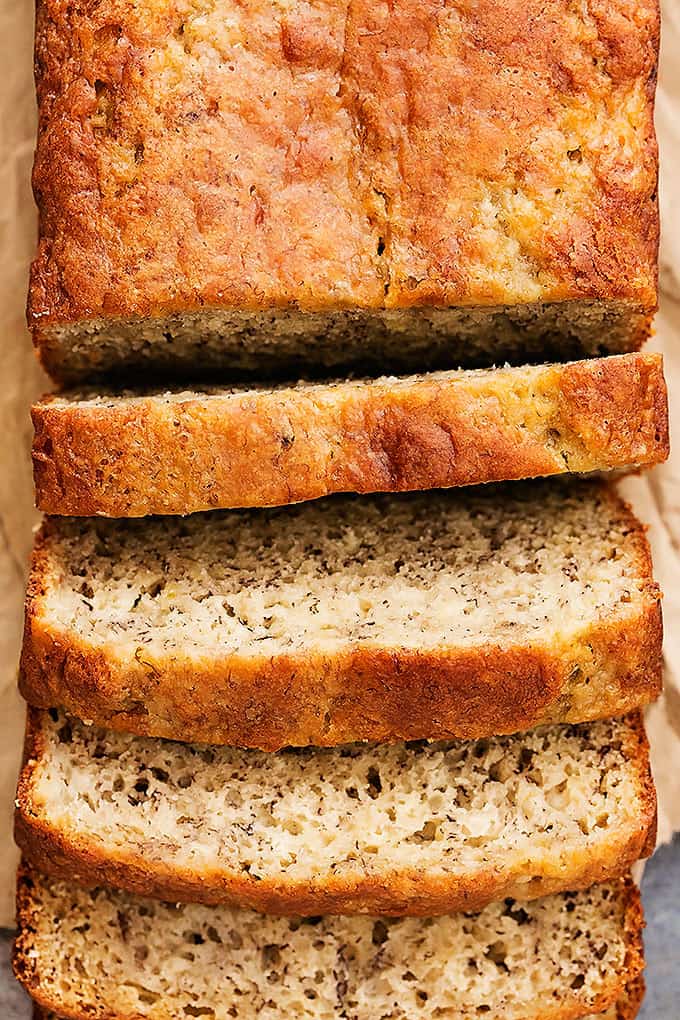 This is it people. This is my absolute favorite, perfect banana bread recipe. The perfect sweetness. The perfect moistness (moistness? a word? sure) The perfect texture. I've tried other recipes and none of them come close to this beauty. I've spent the last couple of weeks perfecting it, making it again and again and again – maybe even at one 0'clock in the morning.
Am I crazy? Maybe, maybe not.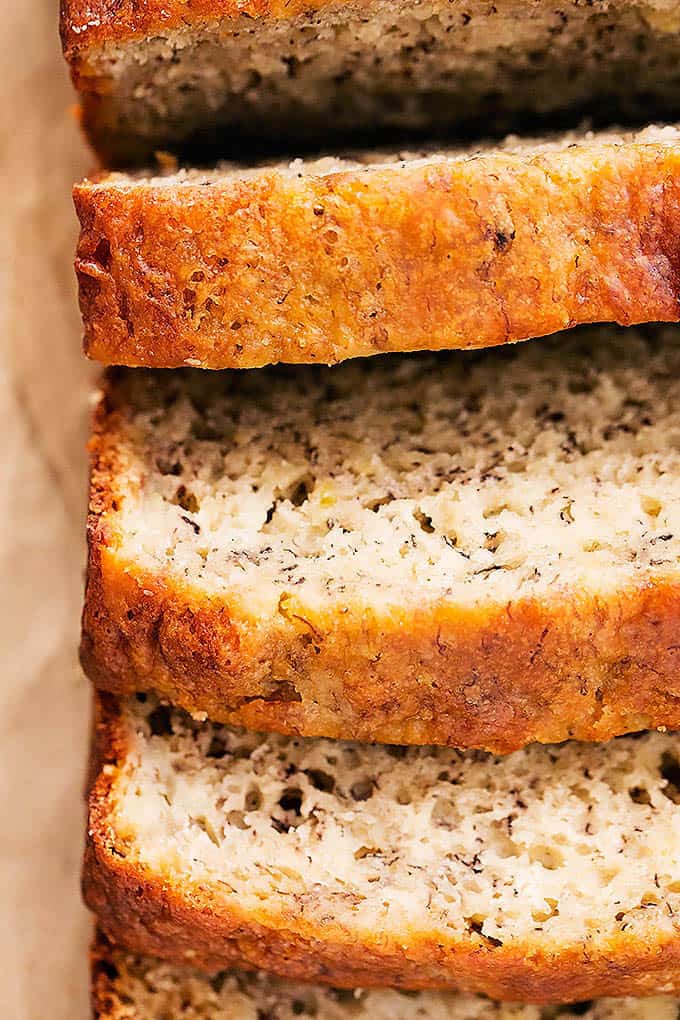 The only thing I know for sure is that this is my dreamiest of dreams banana bread. But before you make it, a few things to keep in mind…
I've made this banana bread with and without chocolate chips – both amazing though I think it breaks my husband's heart every time it doesn't have them. The man likes his chocolate, what can I say. If you're going for healthier banana bread, skip em. But if you are willing to indulge a little, throw those babies IN.
 The applesauce. You can swap out the applesauce for oil – vegetable or canola both work fine. The oil does intensify the flavor a bit, because hello – fats. That's what they do. But I love this great with applesauce OR with the oil – both incredible, I don't think my husband can even tell the difference. So if you want lots of moisture and great texture and aren't afraid to skip on the traditional oil, do yourself a healthy favor and go with the applesauce.
Do not – I repeat – DO NOT over mix the batter. Just mix until there are no more streaks of flour and no more than that. I you mix it too much, the end result will be a spongy dense bread – no bueno! When in doubt, mix by hand instead of using a mixer and if you do use an electric mixer (I always do) mix on low speed.
Annnnnnd that's pretty much everything you need to know about this best-ever, absolutely perfect Greek yogurt banana bread! Happy Sunday to you from me.
What people are saying about this Greek Yogurt Banana Bread
"This recipe is DYNAMITE!! OMG my family and I love it! Works great for a quick satisfying breakfast, a filling snack, or a healthy but sweet dessert! I substituted the sugar for 1/3 cup honey and it work fantastic! I definitely recommend trying this!" – Travis 
"Best banana bread I have ever made! Substituted coconut oil for apple sauce and used 2/3 cup sugar. Wish I had I made 2 loaves. Thank you so much!" – Linda
"I just want to say……if you guys are looking for THE TASTIEST, MOISTEST & HEALTHIEST option for banana bread…….this is the recipe! Husband approved– and we always use chocolate chips in our banana breads……did NOT miss the chocolate chips or oil! I even used less sugar and it was incredibly tasty. Add a little cinnamon for some extra sunshine in your mouth:) " – Ana
"This recipe is really yummy! I like that there isn't any butter or oil, and that the recipe is versatile enough to twist around a bit. I've made it twice. The first time I used puréed strawberries in place of the applesauce, and that was pretty good. But the second time, I used puréed blueberries in place of the applesauce, and that was even better! I haven't tried the chocolate chips yet, but it will happen soon for sure." – Becky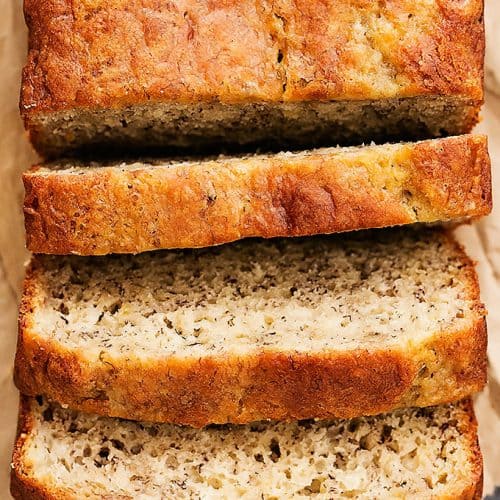 Greek Yogurt Banana Bread
Super moist and perfectly flavorful banana bread made with Greek yogurt!
Ingredients
3

bananas

-

mashed

½

cup

plain fat free Greek yogurt

½

cup

unsweetened applesauce

-

(see note)

1

cup

sugar

-

(see note)

1

teaspoon

vanilla

2

eggs

1 ¾

cup

flour

½

teaspoon

salt

1

teaspoon

baking soda

1

cup

semi-sweet chocolate chips

-

(optional)
Instructions
Preheat oven to 325 degrees and grease a 9x5 inch bread pan.

In a large bowl mix together mashed banana, Greek yogurt, applesauce, and sugar. Mix in vanilla and eggs.

Add flour, salt, baking soda and mix until just combined - DO NOT OVER MIX - just until there are no remaining streaks of flour. Pour into prepared pan.

Bake for 55-65 minutes, until top is browned and a toothpick inserted into the center of the bread comes out clean. Allow to cool completely on a wire rack before turning bread out of pan and slicing. Store in airtight container at room temperature up to 5 days.
Notes
In place of the applesauce you can sub an equal amount of oil (vegetable or canola) oil. The result will be equally moist, and a little more flavorful but also higher in calories - up to you!
You can use less sugar if you want for a healthier version of this bread. I you want to use less sugar I recommend making sure to use VERY ripe bananas - the riper the bananas, the sweeter the bread will be.
Nutrition
Calories:
397
kcal
,
Carbohydrates:
70
g
,
Protein:
7
g
,
Fat:
10
g
,
Saturated Fat:
5
g
,
Trans Fat:
1
g
,
Cholesterol:
43
mg
,
Sodium:
306
mg
,
Potassium:
361
mg
,
Fiber:
4
g
,
Sugar:
41
g
,
Vitamin A:
104
IU
,
Vitamin C:
4
mg
,
Calcium:
41
mg
,
Iron:
3
mg