Make this Classic Traditional Homemade Stuffing Recipe when you're looking for the easiest and tastiest Thanksgiving stuffing recipe. Made with sourdough bread, veggies, butter, and Italian seasoning, you'll never make another stuffing again. 
For more Thanksgiving dishes to make this holiday season, check out these recipes for Healthy Cranberry Sauce, Perfectly Flaky Buttermilk Biscuits, and Slow Cooker Buttery Garlic Herb Mashed Potatoes. 
Thanksgiving is a mere few weeks away and I cannot contain my excitement! Sure, I miss the summer as much as the next person…the warm weather, the cookouts, the pool, the sandals…but after summer I'll take the next best thing: the holidays! Give me all the turkey, the cranberry sauce, the mashed potatoes, the
desserts
, and OF COURSE the stuffing. What Thanksgiving is complete without traditional homemade stuffing? 
My mom used to save all the ends of sandwich bread in the freezer for a couple months ahead of Thanksgiving and use those as the stuffing's stale bread. I have to admit, it is a pretty genius idea. Plus, she saved any kind of bread ends, so you'd have mostly white, some wheat, maybe rye, sourdough, multigrain — you get the idea. 
While I have made stuffing like that before many times, I do have to say my preference is for a uniform bread taste, and in particular sourdough bread. It just gives a traditional stuffing recipe a little something extra, a tiny tang undertone that I just love so much. If you love sourdough (and Thanksgiving) as much as I do then I think you'll agree, this easy stuffing recipe is a keeper. (White bread works just as well too if you prefer it!)
HOW DO YOU MAKE CLASSIC TRADITIONAL HOMEMADE STUFFING? 
The first thing I do when making this dish is to cut up my sourdough (or white) bread into cubes and let them sit out on the counter for an hour to get good and stale and develop a bit of a crust. 
Next, I put the bread cubes in a single layer on a large, rimmed baking sheet. I put them in the oven before preheating and then turn the oven on to 350 degrees. When the oven beeps that we are at temperature, then I pull the bread out and put it in a large bowl. 
In a large skillet, I melt the butter over a medium-high heat, adding to it the celery and onions and cooking them down before putting the garlic into the skillet and cook until it's fragrant.

Take the butter and celery mixture and pour it over the bowl of bread cubes. In another bowl, whisk together eggs, seasonings, broth, and salt and pepper. Pour half of this over the bread and celery mixture and toss it to coat. Add the rest of the eggs and broth mixture and toss it all together again.

Take the whole bread mixture and put it back into the oven-safe skillet or a 9×13 baking pan that is oven safe if you don't have a skillet. Cover the skillet or baking pan with foil and place in the oven for 40 minutes. Take off the foil at this point and then bake it again for another 30 minutes or until the top is a nice golden brown. 
Serve right away or let it cool and put it in the fridge for up to five days. I recommend a reheat in the oven before serving.  
HOW DO I ADD SAUSAGE TO TRADITIONAL STUFFING? 
You'll see a lot of stuffing recipes that include sausage. If you prefer to make your stuffing this way, it's easy to add the sausage. 
I suggest pre-cooking Italian sausage before starting the rest of the recipe. If you bought it in link form, take it out of the casings and cook it until it's done all the way through. Add the sausage to the bread cubes with celery mixture during step 3. 
You'll only need about half a pound of sausage for this recipe, which is about a link or two, depending on their size. Traditional pork or beef Italian sausage is tasty but fresh Italian chicken sausage is delicious as well. 
WHAT CAN I USE IF I DON'T HAVE ITALIAN SEASONING?

No Italian seasoning? No problem! Making your own is a cinch.

Combine together 1 teaspoon each of: 
Dried thyme

Dried rosemary

Dried parsley 
Add this mixture when the recipe calls for an Italian seasoning blend.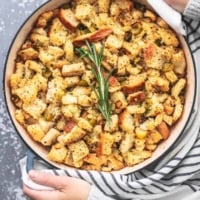 Classic Traditional Homemade Stuffing Recipe
Make this easy traditional stuffing recipe when you're looking for the easiest and tastiest Thanksgiving stuffing. Made with sourdough bread, veggies, butter, and Italian seasoning, this dish will soon become a holiday favorite!  
Ingredients
1

loaf day-old sourdough or white bread

-

cut into ½-inch cubes, dried, bread cubes should sit out in the open air for at least 1 hour beforehand

4

stalks celery

-

chopped

1

white or yellow onion

-

diced

1

teaspoon

minced garlic

6

tablespoons

butter

3

teaspoons

Italian blend seasoning

-

see note for substitution

2-3

cups

chicken broth

-

If you like more dry stuffing, use 2 cups broth

2

large eggs

½

teaspoon

salt

-

or to taste

¼

teaspoon

ground black pepper

-

or to taste
Instructions
Arrange bread cubes in a single layer (or as close to it as possible) on a large rimmed baking sheet. Transfer to oven and preheat to 350 degrees. Once oven has fully preheated, remove bread from the oven, transfer bread to the largest bowl you have, and set aside.

In a large skillet over medium-high heat, melt butter. Add celery and onions and stir for 2-3 minutes until celery is tender and onions are translucent. Stir in garlic and cook 1 minute longer until fragrant.

Add celery mixture to bread bowl. Whisk together eggs, Italian seasoning, broth, and salt and pepper. Pour half over the bread, toss to coat. Pour remaining half over the bread, and toss to coat once more.

Transfer bread back to the skillet OR if your skillet is not oven-safe or not large enough, you can transfer it to a greased 9x13 baking pan.

Cover with foil and bake for 40 minutes. Uncover and bake another 30 minutes or until top is golden brown. Serve fresh (for best results!) or allow to cool completely, then cover tightly and refrigerate up to 5 days.
Notes
*This recipe can easily be doubled, just bake it in a 9x13 inch pan or on an extra large baking sheet. 
*Italian blend seasoning can be subbed with 1 teaspoon each: dried thyme, dried rosemary, and dried parsley
Nutrition
Calories:
41
kcal
,
Carbohydrates:
4
g
,
Protein:
3
g
,
Fat:
2
g
,
Saturated Fat:
1
g
,
Trans Fat:
1
g
,
Cholesterol:
42
mg
,
Sodium:
408
mg
,
Potassium:
111
mg
,
Fiber:
1
g
,
Sugar:
1
g
,
Vitamin A:
88
IU
,
Vitamin C:
5
mg
,
Calcium:
32
mg
,
Iron:
1
mg