French Onion Potatoes are a new side dish you'll want to start making for every holiday from here on out. Packed full of diced potatoes, sweet caramelized onions, butter, broth, and creamy, smoky provolone, it's all the flavors you love in French onion soup with a twist! 
If you love everything with French Onion flavors, you'll be delighted to make these other delicious recipes for Slow Cooker French Onion Soup, French Onion Grilled Cheese, and French Onion Chicken.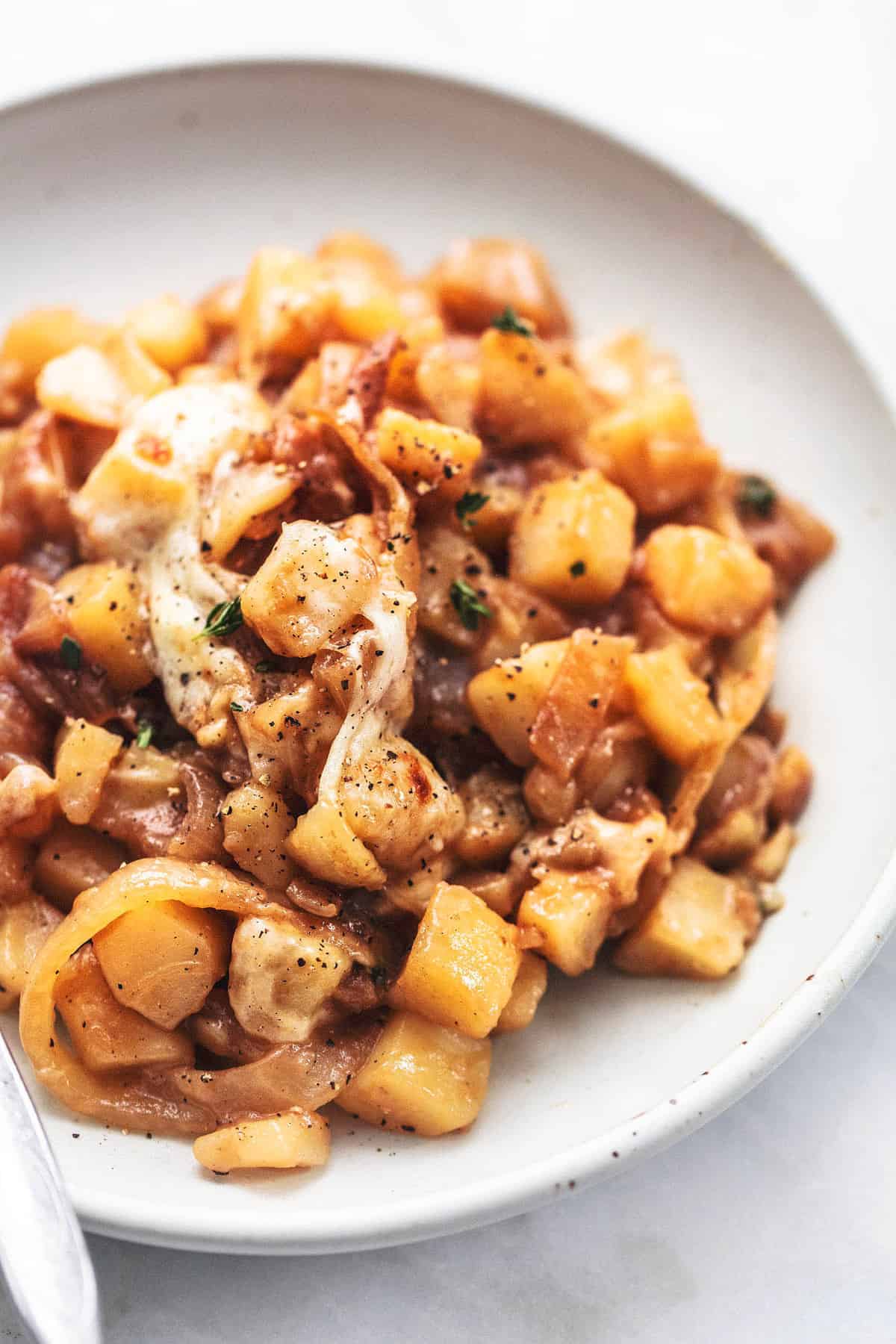 This post is sponsored by Simply Potatoes. All opinions are my own.
When I set about making this recipe for French Onion Potatoes, I had honestly forgotten my love for all things French Onion. You wouldn't think that would happen, what with all the recipes featuring this flavor combination over the years, like my French Onion Grilled Cheese. But happen, it did. 
When I was thinking about recreating a potato recipe for the holidays, my mind went right to French Onion flavors. Of course, I'll always serve mashed potatoes in any form, but I think it's good to have two potato options, just in case. Around my family anyway, no potato will go to waste! 
So, with this flavor palate in mind, I decided to test this recipe well before any family gathering. Turns out…it turned out! In spades! While we devoured it with dinner the other night and the kids and hubs are already asking if I can make it AGAIN before Thanksgiving. Odds are looking pretty good for that one, as it is as easy to make as it is good to eat, thanks to a little help from Simply Potatoes Diced Potatoes.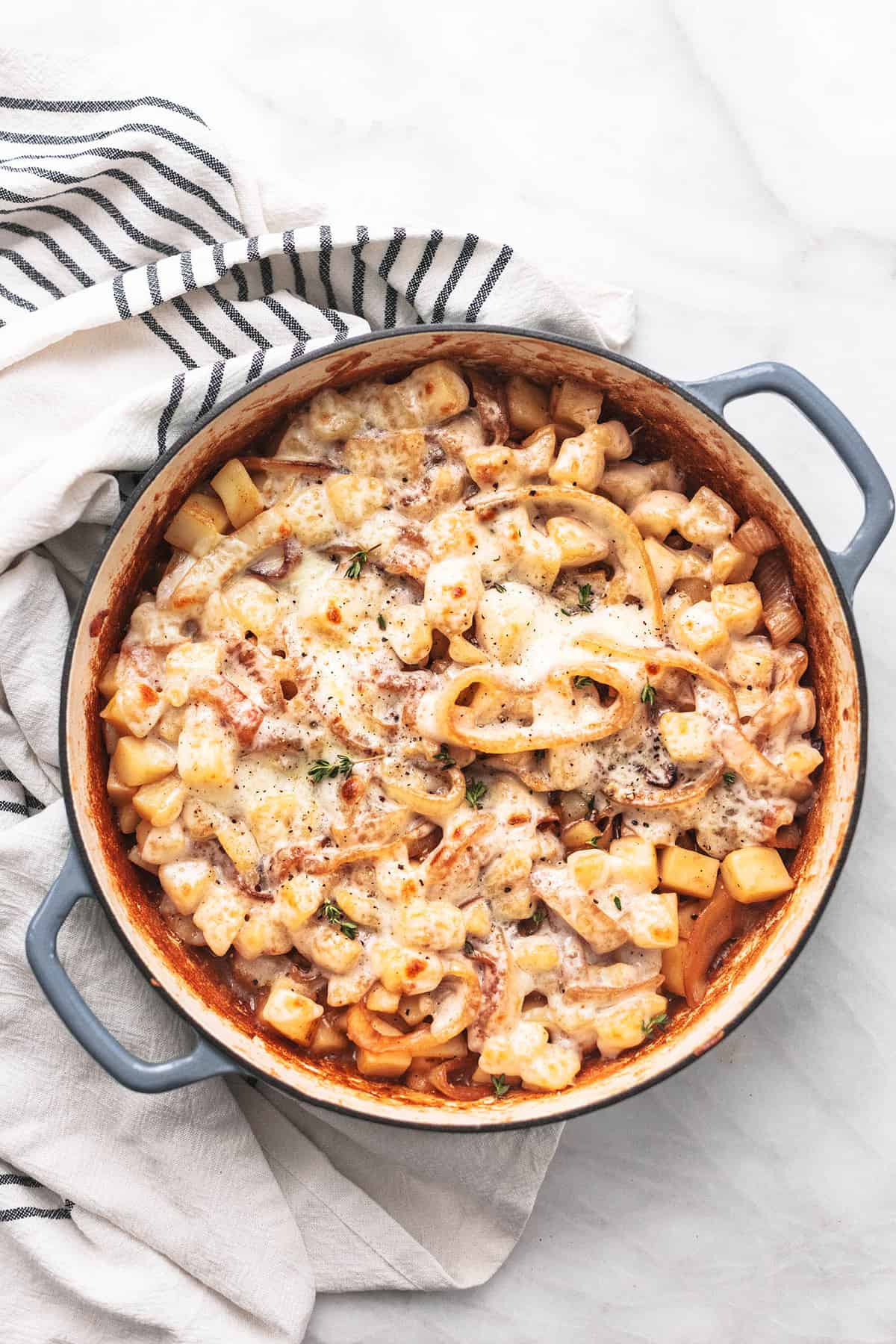 HOW DO YOU MAKE FRENCH ONION POTATOES?
Once you've gathered all your ingredients and sliced your onions, it's time to get down to the business of mouth watering food makin'.
Preheat your oven to 400 degrees or to a low broil if you have that option. Take the potatoes out of the package and place them into a large bowl. Cover the bowl with a paper towel and microwave it on high for 5 minutes. Take it out of the oven, stir up the potatoes, and put it back in the microwave for another 5 minutes.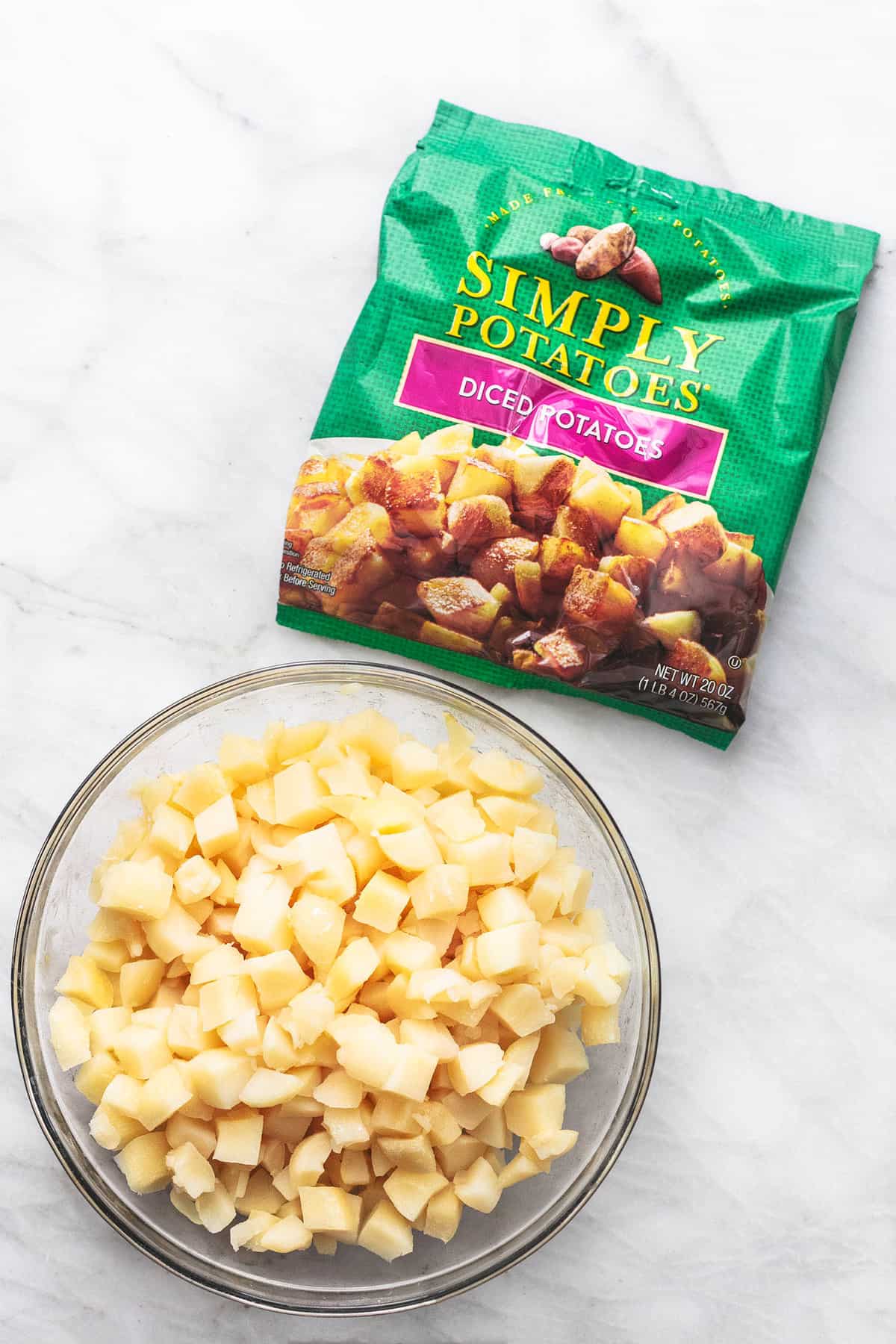 If you're like me and you can multitask like nobody's business, then while your potatoes are microwaving, you can go ahead and start to cook the onions. First, melt the butter in a large, oven-safe skillet over medium-high heat. Add the onions and a bit of broth and saute about 3-4 minutes or until they start to go all see-through and smell up the whole house (in a good way!). Keep cooking another 15 minutes until they start to caramelize and become super tender. Use tongs to transfer them to a bowl. Cover the bowl to keep those yummy onions all nice and warm. 
Turn your attention back to the pan and add in the oil and potatoes and cook them for about 5-8 minutes. The goal is to get all the potatoes warmed through and also crispy on the edges. When you achieve that, put them on a plate and cover them as well to keep them warm.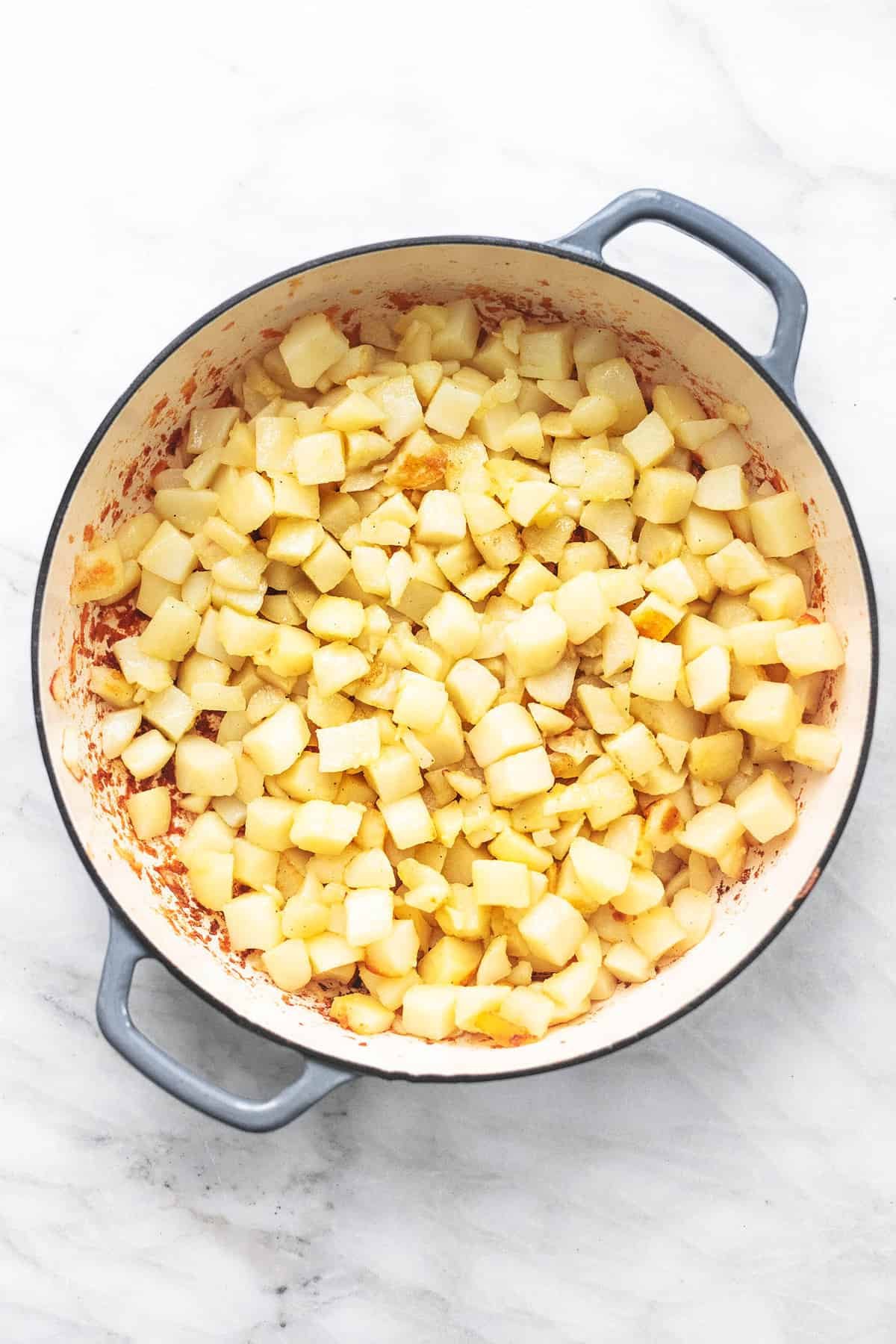 The onions go back in the pan, along with flour. Stir that a bit, then add in the beef broth, cooking and stirring until your mixture comes to a boil. Season with salt and pepper to taste. 
Potatoes now come back to the pan as well, stirring those in to get coated in the onions and gravy. Stir in Parmesan, top with Provolone slices and put the whole thing in the oven. Cook for 3-6 minutes until all that cheese is good and browned and melty and gooey and bubbly. Be sure not to burn it though if you've got it under the broiler. 
Pull it out of the oven, let it cool a bit, then add more cracked black pepper to the top and some crispy French fried onions if you like a little extra crunch.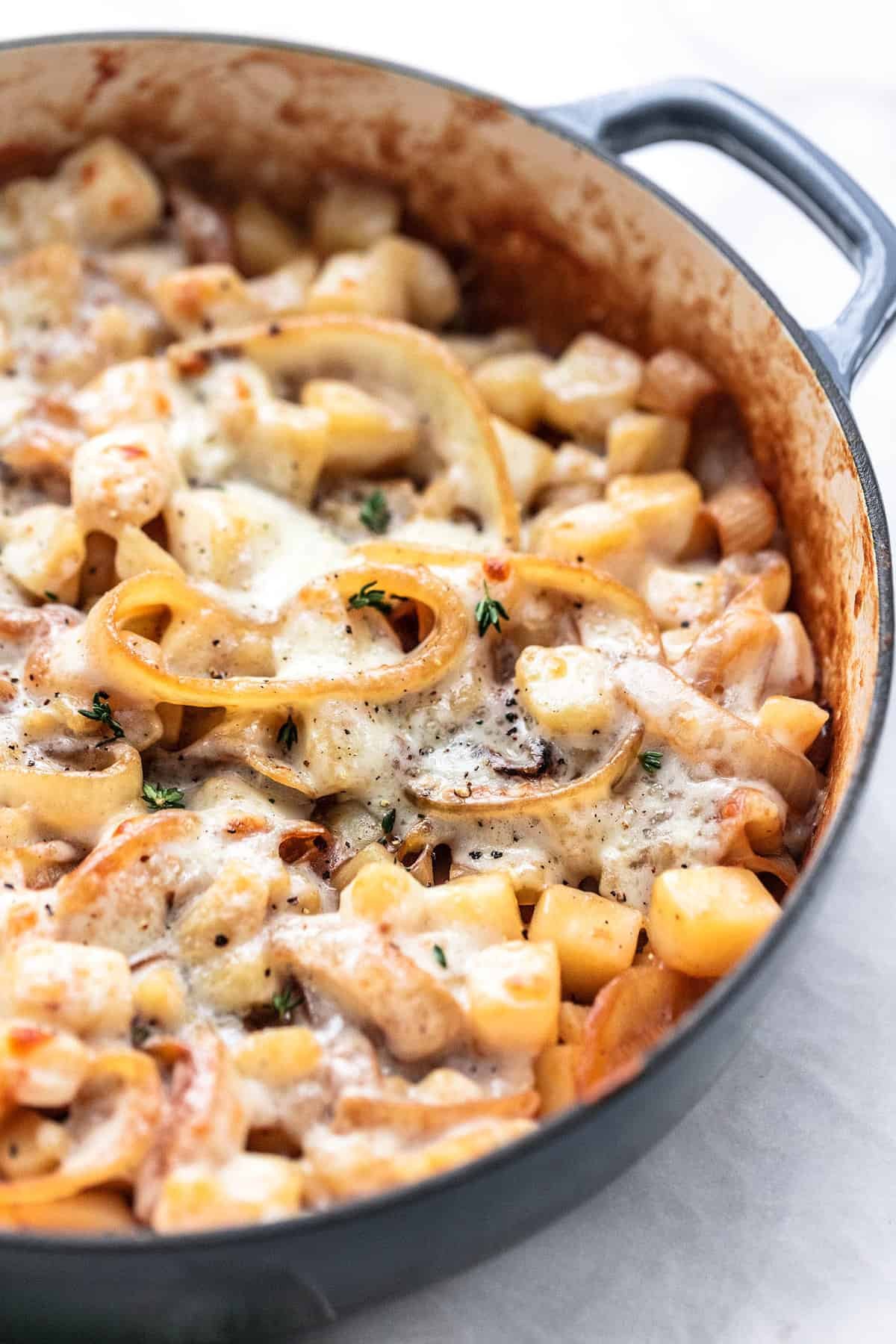 WHAT KIND OF POTATOES ARE BEST FOR BAKING?
Potatoes are a super adaptable tuber, and are easy to add to lots of different recipes, whether that calls for baking, frying, grilling, or steaming. You name it, a potato can take it like a champ. 
For baking, I like to use a starchy potato like a russet, or a waxy potato like those adorable little red skinned ones. Luckily, the fabulous chefs in the test kitchen at Simply Potatoes knew what they were doing because they use a combination of both russet and red potatoes in their magic bags of diced potatoes. So you know you're going to get a wonderful bite of potato in every mouthful. No mushy spuds here! 
If you're looking for a wonderful side dish for your holiday entertaining or a dish to bring to the potluck that will put all other dishes to shame, look no further! This French Onion Potatoes dish is it!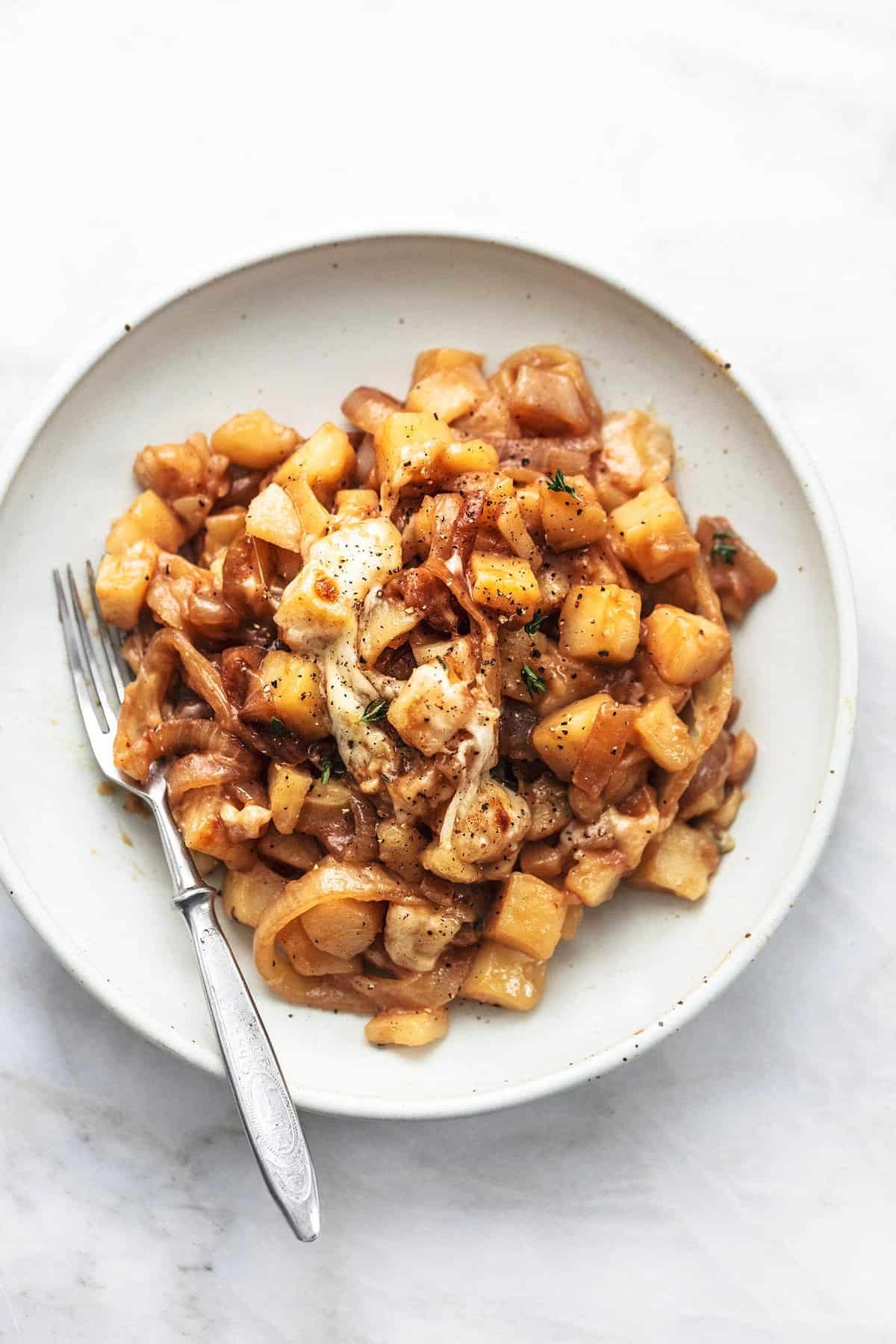 French Onion Potatoes
French Onion Potatoes are a fun twist on classic flavors with all of the wow and none of the extra fuss that typically comes with a great side dish recipe!
Ingredients
1

package

frozen diced potatoes

-

thawed

2

medium sweet yellow onion

-

thinly sliced into rings

3

tablespoons

butter

1

cup + 3 tablespoons

beef broth

-

divided

1

tablespoon

oil

2

tablespoons

flour

4

ounces

mozzarella cheese

-

sliced or shredded

¼

cup

shredded parmesan cheese

salt and pepper

-

to taste

2

tablespoons

crispy fried french onions

-

optional
Instructions
Preheat oven to 400 degrees OR low broil.

Melt butter in a large, oven-safe skillet, over medium-high heat. Add onions and 3 tablespoons of beef broth and saute 3-4 minutes until onions are translucent. Continue to cook, stirring occasionally so the onions don't burn, for about 15 minutes longer until browned and very tender. Use tongs or a fork to transfer to a bowl and cover to keep warm.

Drizzle the pan with oil, add the potatoes, and stir over medium heat 5-8 minutes until warmed through and crisp on the outside. Transfer to a plate and cover to keep warm.

Return the onions to the pan. Sprinkle with flour and stir for 1 minute over medium-high heat. Add beef broth and continue to cook, stirring throughout, until mixture comes to a boil. Season with salt and pepper to taste.

Return potatoes to the pan, stir to coat in the gravy. Top with mozzarella cheese and transfer skillet to preheated oven. Cook for 3-6 minutes until cheeses are melted and bubbly. (If broiling, watch carefully to be sure it doesn't burn) Allow to cool slightly. Garnish with freshly cracked black pepper and crispy fried onions and serve.
Notes
Flavor tip: add chopped and crumbled bacon!
Nutrition
Calories:
202
kcal
,
Carbohydrates:
10
g
,
Protein:
11
g
,
Fat:
13
g
,
Saturated Fat:
6
g
,
Trans Fat:
1
g
,
Cholesterol:
29
mg
,
Sodium:
563
mg
,
Potassium:
168
mg
,
Fiber:
1
g
,
Sugar:
3
g
,
Vitamin A:
265
IU
,
Vitamin C:
4
mg
,
Calcium:
243
mg
,
Iron:
1
mg