Slow Cooker French Onion Soup with loads of flavor, caramelized onions, and mounds of melty CHEESE!
This weather, it's messing with my head. I'm sitting here at my desk, doing my blog-homework-email-blogsomemore-takeacookiebreak-thang and all of this sunshine coming through the window is messing with my head. Because I really want to walk outside barefoot and lay on the grass in the sunshine but I know, deep down, that I would regret that. Because even though it looks sunny and yellow and bright outside, it is actually nasty-chilly.
I really want to lay on that grass because it's semi-greenish and not covered in snow, like it's supposed to be in January, and it's driving me craZy with a capital z. In fact it had me 99% deceived for a minute because after a rather pungent aroma of freshly caramelized onions permeated the upstairs and into our bedroom last night, I decided to put the crockpot out on the back porch to do it's slow cooking thing out where no one would be kept awake by the scent. And this morning when I went out to check on it in my sockless, long sleeveless attire, I took a look outside and thought woah it's so sunny – it must be warm!
Wrong-o.
It is most definitely not warm. Not even a little bit. And my toes haven't let me forget it.
So even though it's sun-shiney outside, I know that it's really miserably cold and that soup is in order – not popsicles. In fact all I want to do is curl up in a blanket and eat french onion soup all day long. But I've run out of stomach room so I think I'll settle for staring at 9hundredandseventeenmillion pictures of french onion soup.
Care to join?
You see all that cheese? It's ooey-gooey-melty-stretchy-awesomeness and I'm in love with it.
Wanna see it in action??
CHECK IT.
Allllllll thaaaaaat CHEEEEEESE.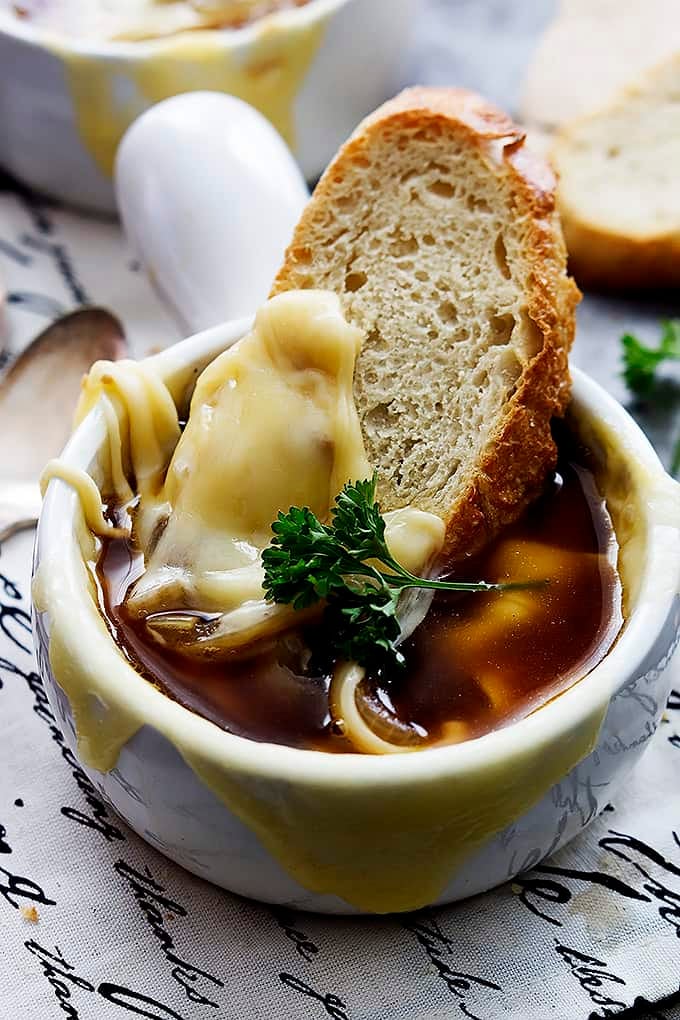 And while we are on the subject of cheese. I did my research while I was testing this recipe and it appears that the traditional cheese of choice for french onion soup is gruyere – which, if you don't know already, is totally 100% delicious. But if you haven't shopped for gruyere, then you might not know that a triangle smaller than my hand is somewhere around like, 11 dollars.
I'm acutely aware that 11 dollar fancy cheese is not in everyone's everyday soup budget so in honor of all you peeps who, like me, don't want to spend a small fortune on one ingredient for your dinner, I tried a little something different and went with SWISS. Yeah, swiss cheese. More budget-friendly and still scoring 11 out of 10 in the taste department.
So if you're a cheese connoisseur or just want to treat yourself because hey, it's Friday – then by all means get that gruyere and enjoy every little shred of it! If not, know that swiss is a more than acceptable substitute.
Oh my heaven I've overloaded you with words today. Gahhh! I'm just gonna shut my yap now.
Slow Cooker French Onion Soup
Slow cooker french onion soup – loads of flavor, caramelized onions, and CHEESE!
Ingredients
4

yellow onions

-

skins removed and thinly sliced into rings

4

tablespoons

butter

2

tablespoons

minced garlic

8

cups

beef broth

1

bay leaf

6

slices

crusty french bread

8-12

slices

gruyere or swiss cheese
Instructions
Add butter and onion rings to the largest pan/skillet you have and saute over medium-high heat for about 10 minutes or until onions are translucent and start to brown. Cover and cook about 5 minutes longer to let them caramelize a little more.

Transfer onions to slow cooker. Add garlic, broth, and bay leaf. Cover and cook on high 3-4 hours or on low 6-8 hours (or up to 10).

About 20-30 minutes before serving, preheat oven to 420 degrees. Place slices of bread in a single layer on a baking sheet. Place in preheated oven for about 5 minutes, then flip the bread slices over and return to oven for another 5 minutes or so until bread is dried and crunchy. Set aside.

Place oven-safe bowls on the baking sheet. Fill each with soup from the slow cooker. Place 2 slices of swiss cheese (overlapping) on top of the soup so the edges are hanging over the sides of the bowls. Bake about 10 minutes until cheese is melty. Serve with crusty bread and garnish with parsley if desired.
Notes
Wait to add the bread until the last minute so it doesn't get too soggy!
Nutrition
Calories:
500
kcal
,
Carbohydrates:
69
g
,
Protein:
28
g
,
Fat:
13
g
,
Saturated Fat:
7
g
,
Cholesterol:
33
mg
,
Sodium:
2364
mg
,
Potassium:
605
mg
,
Fiber:
4
g
,
Sugar:
8
g
,
Vitamin A:
311
IU
,
Vitamin C:
10
mg
,
Calcium:
390
mg
,
Iron:
5
mg