Crispy and spicy Baked Blooming Onion served with a creamy dipping sauce! 
All through high school I worked at a Chinese restaurant. First I was a hostess, then a cashier and take out girl, then a waitress. I stopped working there when I moved down to college, it was bittersweet. But a year later when I came back for a summer, I worked two new jobs. Law firm by day, restaurant by night. This time Chinese wasn't part of the deal. It was steak and blooming onions every night at Texas Roadhouse.
That's right, all you can eat famous Texas Roadhouse rolls and needless to say, I put on a few shameless pounds that summer. So worth it when I could have a blooming onion at the drop of a hat. Have you tried one?? Ahhhh, the sauce. I love the house dipping sauce, as well as a bucket of ranch dressing because really, I have addiction issues when it comes to ranch. My husband is totally 100 percent on the same page which means we usually have several very large cups of ranch at the table.
Anyway back to the blooming onion… I no longer work at Texas Roadhouse but since I've made this version at home, I don't feel the need to drive clear across town to order one. Plus it's baked so it's healthier than the restaurant version but just as delicious! The process of coating the onion petals may be a little bit tedious, but it is soooo worth it!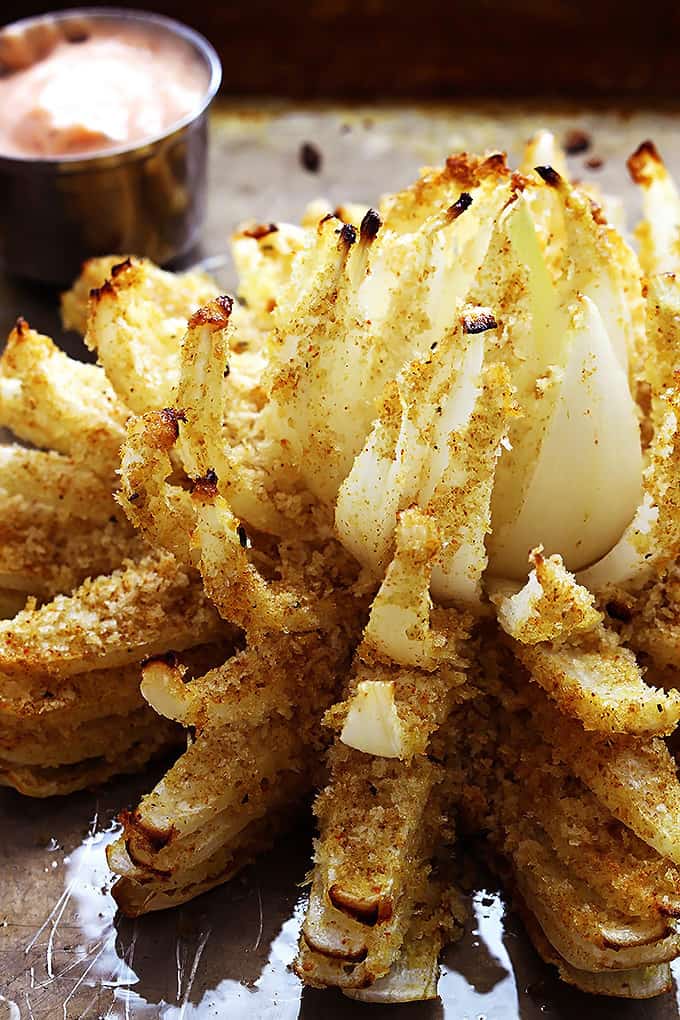 Baked Blooming Onion
Crispy and spicy baked blooming onion served with a creamy dipping sauce!
Ingredients
1

large

Vidalia onion

-

(or the largest yellow onion you can find)

2

eggs

2

tablespoons

water

⅔

cup

panko breadcrumbs

¼

cup

plain breadcrumbs

1

tablespoon

cajun seasoning

¼

teaspoon

salt
Sauce
¼

cup

mayo

¼

cup

plain greek yogurt

2

tablespoons

ketchup

2

teaspoons

horseradish sauce

2

teaspoons

cajun seasoning
Instructions
Use a knife to cut off the top ¼ inch of the onion. Leave the root intact. Peel the outside layer of the onion down all the way to the root and peel it off.

Next create the sections that will form the petals. To do this, slice the onion from the top down to about ⅛ of an inch from the root. Then halve that, and repeat until there are 16 sections. Once all of the cuts have been completed, use your fingers to spread apart the petals and open up the onion. If any of the cuts didn't go completely through, simply push down gently and they should separate or use a knife to cute those individual pieces a little further.

Whisk together eggs and water in a small bowl. In another bowl combine breadcrumbs, cajun seasoning, and salt. Brush each of the onion petals with egg the egg mixture. Sprinkle breadcrumb mixture all over the onion, being careful to spread the the petals apart and coat them with the crumbs. (This is easiest if you start from the bottom/outermost petals and work your way to the center.)

Place a large piece of tin foil on top of a baking sheet. Place the onion on top of the foil, then loosely wrap the foil around the onion to form a "tent". Bake at 400 for about 10 minutes, then open the foil and return the baking sheet to the oven for 10-15 more minutes until onion petals are tender and crumbs are crispy.

While onion is baking, whisk together all ingredients for the dipping sauce. Cover and chill until onion is ready. When onion is finished baking, serve with dipping sauce.
Notes
*Completely optional tip: soaking the onion in cold water over night will help the onion open up on its own!
Nutrition
Calories:
244
kcal
,
Carbohydrates:
23
g
,
Protein:
8
g
,
Fat:
14
g
,
Saturated Fat:
3
g
,
Trans Fat:
1
g
,
Cholesterol:
88
mg
,
Sodium:
480
mg
,
Potassium:
275
mg
,
Fiber:
3
g
,
Sugar:
8
g
,
Vitamin A:
1522
IU
,
Vitamin C:
5
mg
,
Calcium:
84
mg
,
Iron:
2
mg