Easy and insanely delicious Baked Onion Rings – a healthy version of an old comfort food classic!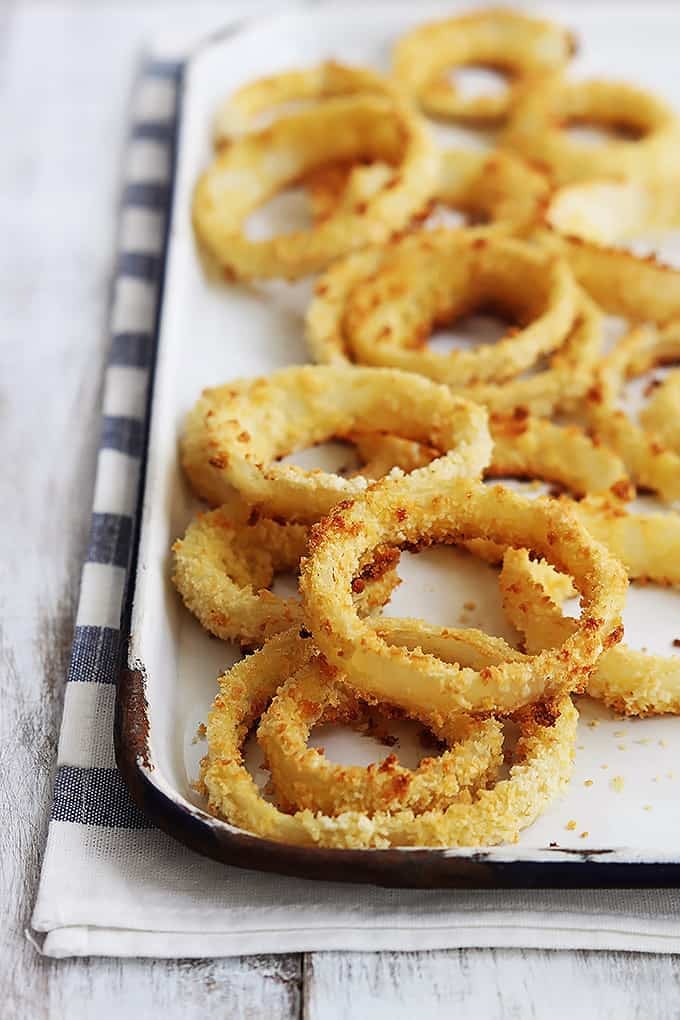 Gahhhhhhh! Few things make me more giddy than a lightened up version of a traditionally calorie-laden classic. Particularly (especially) when they taste as good if not better than the original less-than-healthy version.
And that is exactly why I'm so darn excited to present you with these baked onion rings.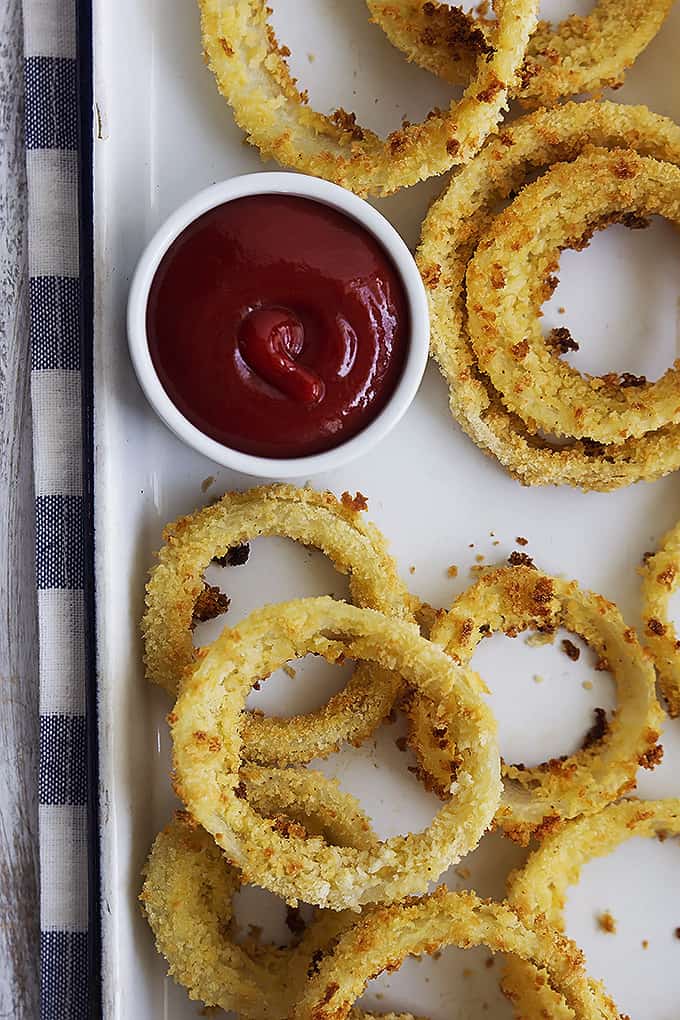 Just look at them and all of that golden crispy perfection. (If you have an iPhone or similar device with emoticons, please imagine the little yellow smiley face with hearts in place of eyes…. yeah that's me.)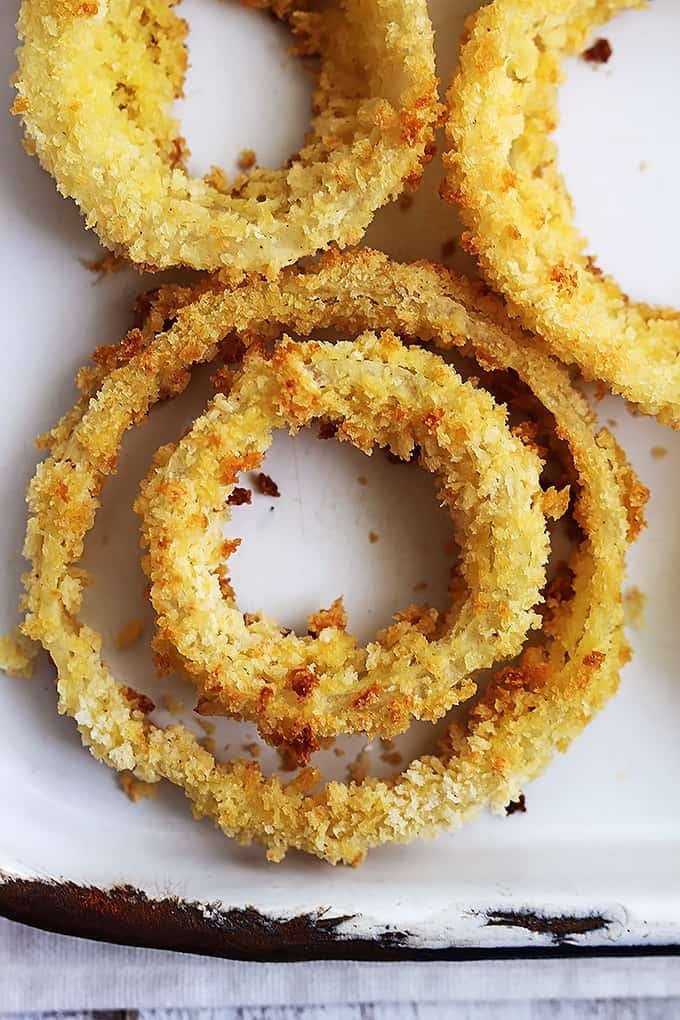 So what's the secret to these perfect onion rings without all the fat and calories of the typical Burger King order? Nothing. No secret needed. We are talking about big fat rings of yellow onion, tossed in a seasoned flour mixture, then dipped in a simple egg wash, and lastly dredged in panko breadcrumbs. Technically, yes, you can use regular bread crumbs but I highly recommend (read: beg of you!) that you use panko breadcrumbs because I think they yield a crispy onion shell that more closely resembles authentic fried onion rings.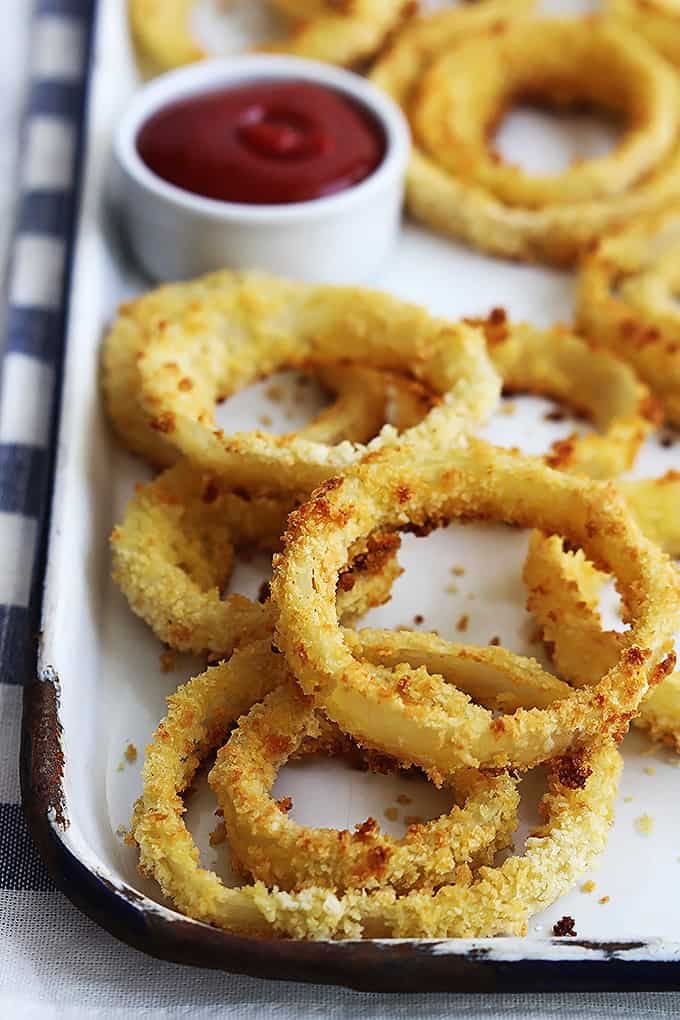 I guess if I had to say there was a secret to these, it would be the chili powder. You must add the chili powder to the flour mixture. It doesn't make your onion rings spicy, (which for me, is a bit of a disappointment, but for those of you who aren't spicy-food-fans this is a good thing) but it adds a bit of flavor you definitely do not want to miss.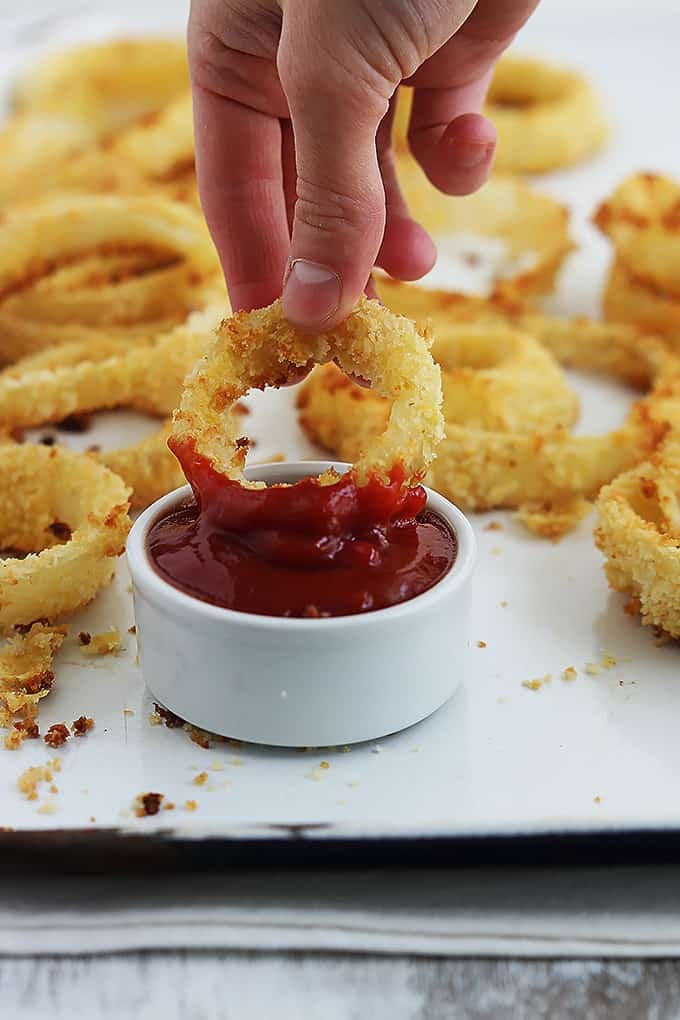 The only question is….
What favorite sauce will you be dipping these beauties in??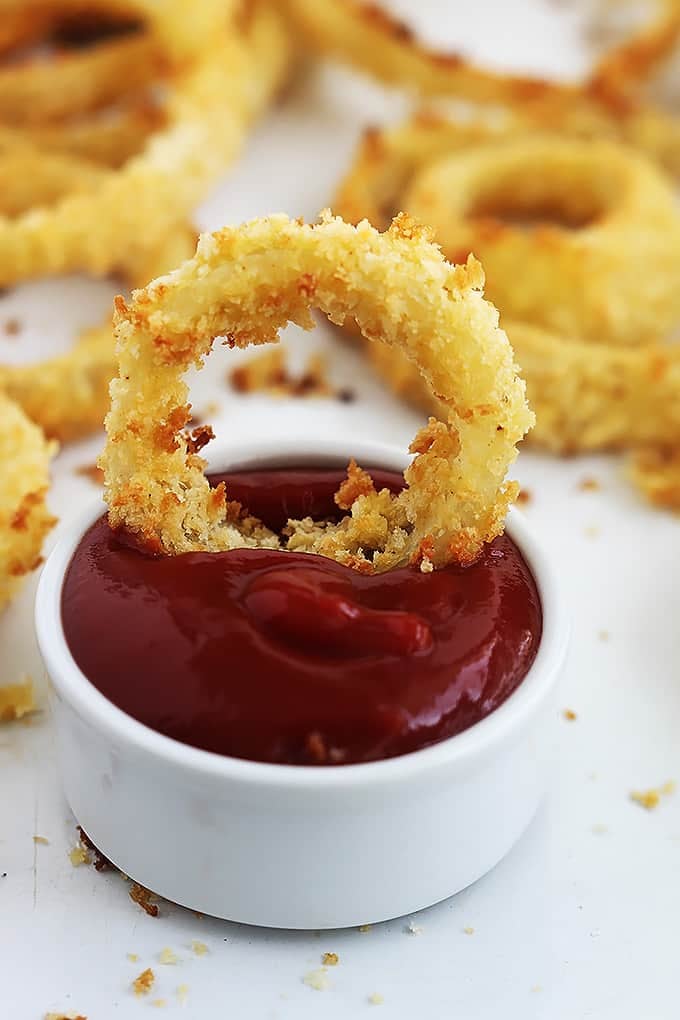 Baked Onion Rings
Easy and insanely delicious baked onion rings - a healthy version of an old comfort food classic!
Ingredients
1

large

yellow onion

⅓

cup

flour

1

teaspoon

seasoning salt

½

teaspoon

chili powder

2

cups

panko breadcrumbs

2

eggs

2

tablespoons

water

nonstick spray

dipping sauce of choice
Instructions
Preheat oven to 450. Line a baking sheet with foil and spray heavily with nonstick spray.

Peel off the outermost layer from the onion and discard. Cut off the ends (sparing as much of the onion as possible) and slice the rest of the onion into thick rings. Separate the rings and place in a bowl of water.

Place panko crumbs in a medium bowl. In a second bowl, stir flour, seasoning salt, and chili powder. In a third bowl whisk together eggs and water.

Take one onion ring and toss it in the flour, being sure to coat well. Next, dip it in the egg mixture, being sure to coat all side. Lastly, Toss the ring in the panko crumbs to coat. Place on prepared baking sheet. Repeat process with remaining rings.

Spray the rings with nonstick spray (optional, but it helps to get them crispy) Bake rings for 10-15 minutes until golden brown. Remove from oven and serve with your favorite dipping sauces. (ketchup, bbq sauce, sweet chili sauce, etc. My favorite is 1/4 cup mayo + 1/4 cup ketchup + 1 teaspoons sriracha sauce!)
Notes
Serve with your favorite dipping sauce like ketchup, ranch, or my personal favorite - equal parts bbq sauce and mayo! 
Nutrition
Calories:
204
kcal
,
Carbohydrates:
33
g
,
Protein:
8
g
,
Fat:
4
g
,
Saturated Fat:
1
g
,
Trans Fat:
1
g
,
Cholesterol:
82
mg
,
Sodium:
838
mg
,
Potassium:
160
mg
,
Fiber:
2
g
,
Sugar:
4
g
,
Vitamin A:
194
IU
,
Vitamin C:
3
mg
,
Calcium:
79
mg
,
Iron:
2
mg