Easy BETTER THAN TAKEOUT one sheet pan chicken fried rice is made all on one pan for easy prep and cleanup. It's baked – not fried! – and ready in just 20 minutes.
Wondering what to pair with this One Sheet Pan Chicken Fried Rice? Try Slow Cooker Broccoli Beef, Honey Sriracha Chicken, Best Ever Baked Teriyaki Chicken, or Sticky Chinese Lemon Chicken.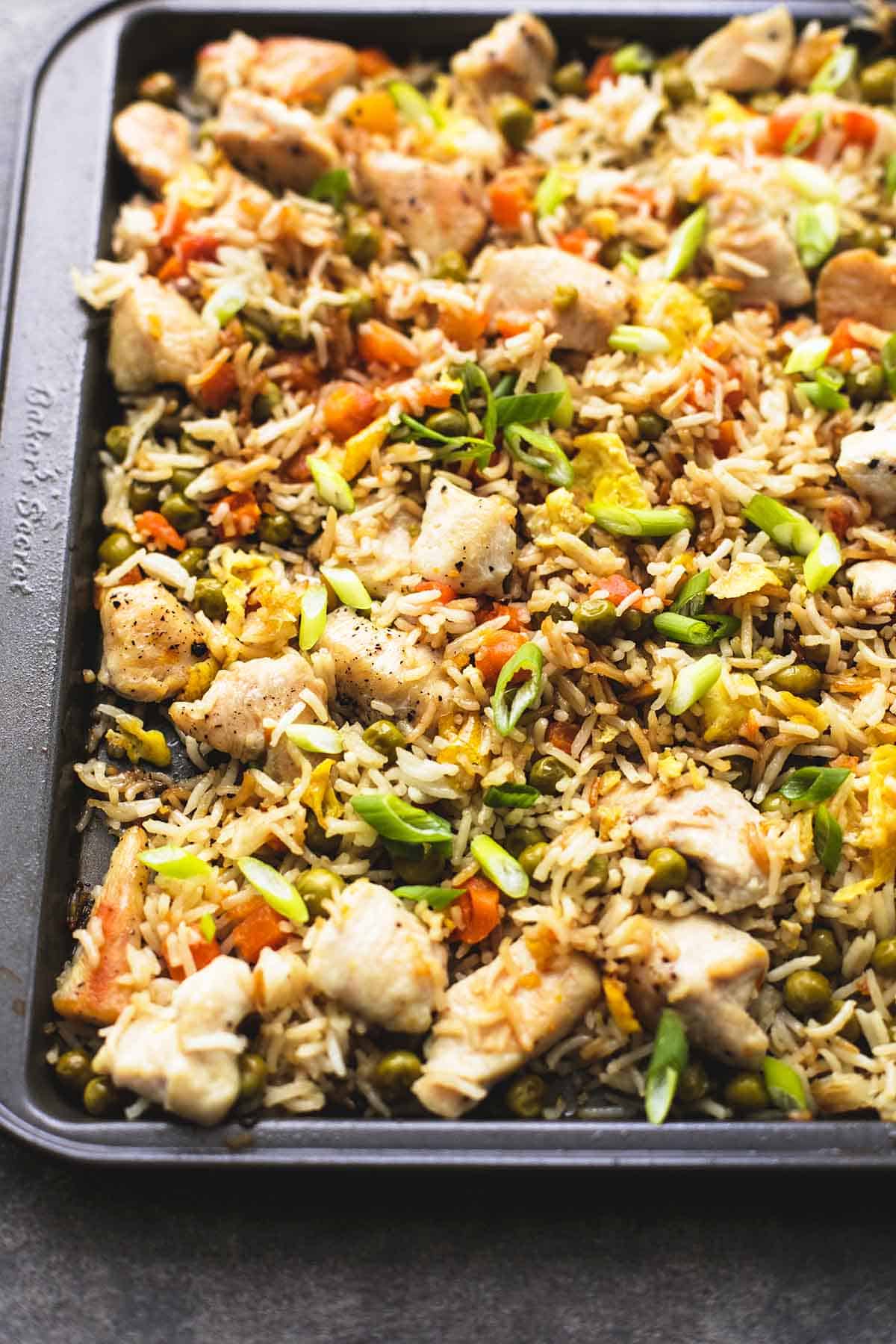 I'm the kind of person who can – and does – sit down and eat a whole bowl of chicken fried rice all by itself. If it's good chicken fried rice – or any fried rice, like veggie or shrimp – I don't need anything else to fill me up, I'm a happy camper just with that rice bowl. But it has to be really good fried rice and this dish here, this one sheet pan magic we are talking about today, is definitely entree-worthy.
And if you are whipping up a batch of Sticky Chinese Lemon Chicken or Honey Walnut Shrimp, this chicken fried rice makes the perfect side dish.
Now just to be clear, the name is just slightly misleading because it's called chicken "fried" rice, but this dish is actually baked. So it's healthier than true fried rice – SCORE – but tastes the same, maybe even better. This easy, better than takeout chicken fried rice will become your go-to side dish for all of your favorite Asian dishes.
What people are saying about this One Sheet Pan Chicken Fried Rice
"This is brilliant. I made it tonight and it was so tasty and so quick. It'll be getting added to my list of quick week day recipes." – Chris
"Really easy and very tasty. As long as you remember to boil rice the day before you plan to make it, it really is a 20 minute meal, perfect if you live alone." – Sherin
"I made this last night with brown rice. The taste was pretty similar to take out. My chicken did get pretty dry, and i overcooked the eggs by accident – so watch carefully!" – Mia
"5 STARS! First time making this. Had leftover jasmine rice, which worked perfectly. Added cashews at the end for crunch. Will leave off salting chicken next time…plenty of salt in soy sauce. May try adding shrimp next time for a tasty and fast dish!" – Anita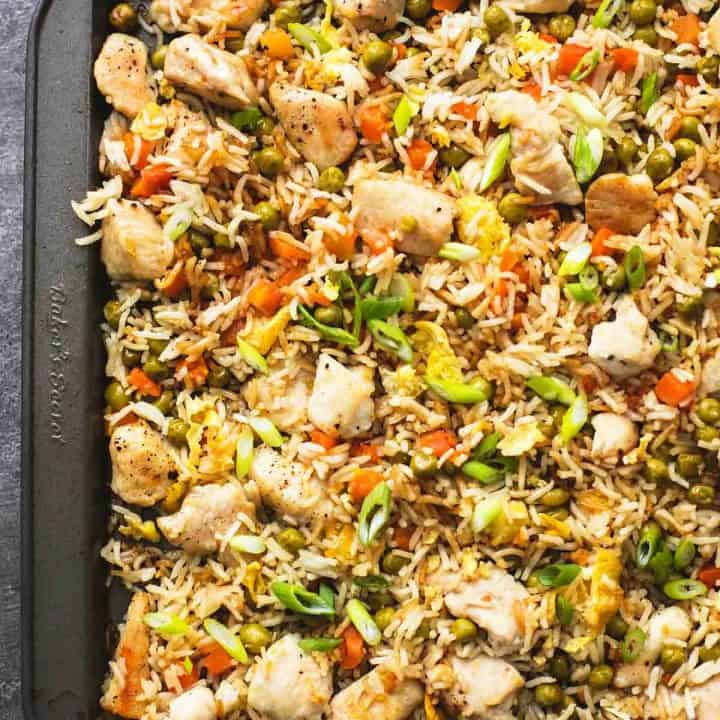 One Sheet Pan Chicken Fried Rice
Easy BETTER THAN TAKEOUT one sheet pan chicken fried rice is made all on one pan for easy prep and cleanup. It's baked - not fried! - and ready in just 20 minutes.
Ingredients
2

boneless skinless chicken breasts, cut into 1 inch pieces

salt and pepper, to taste

1

15-ounce can

peas and carrots, drained

(may sub 1 cup frozen/thawed peas and carrots, or 1 cup steamed fresh peas and carrots)

1/2

white onion,

diced

2

eggs,

whisked

2

cups

steamed white rice

(you can use 2 packages ready rice like Uncle Ben's for even less prep work)

3

tablespoons

sesame oil

1/3

cup

soy sauce

finely chopped green onions
Instructions
Grease a large baking sheet and preheat oven to 375 degrees. Arrange chicken pieces on pan in a single layer so they aren't overlapping and season with salt and pepper to taste. Bake for 5 minutes.

Remove pan from oven, pour whisked eggs around the chicken pieces directly onto the pan. Return to oven for 3-5 minutes until egg is fully cooked. Use a fork or spatula to "scramble" the egg so that it breaks up into small pieces.

Add rice and peas, carrots and white onions to pan and toss all ingredients so they are evenly distributed. Drizzle sesame oil and soy sauce over everything and toss again. Sprinkle chopped onions over the top.

Bake for 5 minutes longer. Chicken should be cooked through and rice should begin to brown on the bottom of the pan.

Toss all ingredients one more time and serve immediately.