Oodles of noodles, veggies, and a terrifically tasty, slightly sweet, slightly spicy sauce come together in a flash in this easy, one-pot chicken chow mein meal.
For more quick one-pot meals, go to my posts for Chicken Parmesan Pasta, Creamy Tuscan Garlic Spaghetti, and Curry Chicken and Rice.
One-pot meals are life, am I right? Summers are our busiest time, mostly because we love to go, go, go as a family. Utah offers a million places to hike, bike, and swim and we try to get to as many as possible when the weather allows. When we arrive back home tired and starving it's meals like this chicken chow mein made in
one pot
that saves us time and time again.
Made with easy-to-find pantry ingredients plus any veggies you like, I predict this Asian noodle recipe will become a go-to favorite for hangry families everywhere.
Why This Recipe Works

My simple summary of why this recipe works for us — and will for you, too!
Flavor — These chow mein noodles are covered in a quick sauce that hits all the right notes: sweet, spicy, salty, savory.
Customizable — Use the veggie ideas listed here, use whatever you have on hand, or add to the ingredients list with any of your favorite diced vegetables to pack this chicken chow mein full of nutrition.
Fast — This one-pot recipe takes less than 30 minutes to come together, even faster if you use pre-cooked chow mein noodles.
Great leftovers — I like to eat any leftover noodles cold, straight from the container, sometimes for breakfast. If cold noodles aren't your thing, they reheat in a jiffy in the microwave.
Pantry staples — Even if you don't consider oyster sauce a pantry staple, you will after making this Asian chicken dish. Buy it once and use it forever, as a little goes a long way and will be so worth the purchase!
Here's How You Make It

Prepping the sauce

1. Get a small bowl out or mix together right in a large, liquid measuring cup the following sauce ingredients: chicken broth, oyster and soy sauces, sesame oil, sugar, corn starch, and red pepper flakes or Sriracha. Whisk until the cornstarch is completely dissolved.
Making the chow mein
Drizzle oil into a large skillet set over medium-high heat.

Add the chicken pieces and cook for about 3-4 minutes until browned on all sides and cooked through. Remove them from the skillet with a slotted spoon and transfer them to a dish. Cover to keep warm.

Add the veggies and garlic to the same pan and saute for 1-2 minutes or until the veggies start to become tender. 

Add the chicken back to the pan with the veggies, then add the noodles, and pour the sauce over. Give it a good stir to combine everything into the sauce.

Keep the chicken chow mein cooking for another 1-2 minutes to thicken, then add the sliced green onions. Serve immediately.
What is Chicken Chow Mein?
"Chow mein" translates to "stir fry noodles," and the chicken, well, that speaks for itself. The recipe is generally created as a soft noodle dish that incorporates chow mein noodles, chicken, and then a sauce that's all tossed together and eaten hot.
What is the Difference Between Chicken Chow Mein and Chicken Lo Mein?
Although both of these dishes are quite similar, the biggest difference is that when making chow mein, the noodles are "fried" or cooked a bit more crispy. Lo mein noodles are typically boiled and present softer in the dish.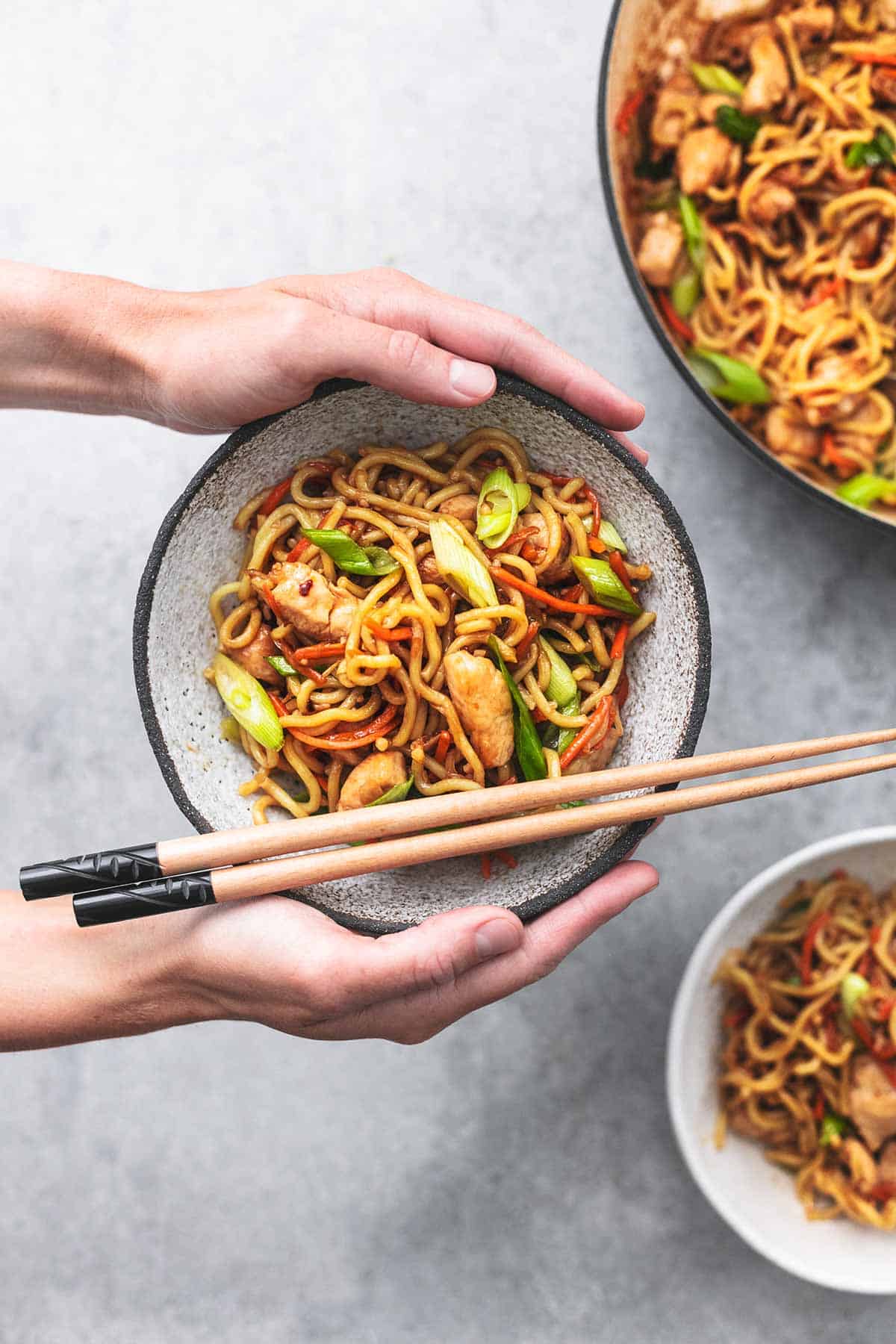 What Can I Add to a Stir Fry?
Here are some of my favorite ingredients to add to my stir-fry dishes, in no particular order:
Shredded cabbage

Baby corn (or roasted corn cut off the cob)

Broccoli or cauliflower

Snow peas or sugar snap peas

Shredded carrots

Onions

Bell peppers

Water chestnuts

Bamboo shoots

Mushrooms

Zucchini

Garlic

Ginger

Fresh cilantro
Expert Tips
I like to purchase cooked chow mein noodles whenever possible, but if you can't find them, then I'll just buy uncooked noodles

. They cook very fast, just follow the instructions on the package and complete the task prior to the beginning of the recipe.

Although

oyster sauce is commonly found in the Asian section

of grocery stores, your store may not have it. In that case, substitute soy or hoisin sauce.

I find that

using tongs

is the easiest way to toss the noodles, veggies, chicken, and sauce together, but you can also use a wooden spoon or another utensil you have on hand. The bonus of using tongs is that it makes one less thing to wash because you can

toss and stir in the pan

, then serve right away with the same utensil. One pot, one serving tool, so much less to clean up!

If you

love spicy food

(and don't have picky people in your house) then may I suggest adding even more red pepper flakes (about ½ a teaspoon at a time) or pile on the Sriracha if you like! Another option would be to add sliced jalapenos to the veggies while you cook — depends on how brave you are I suppose.

If you are adding a variety of veggies to the chicken chow mein, the best way to cook them is to

saute the thickest vegetables first

(think broccoli, peppers, sugar snap peas) and let those cook for a minute or two before adding the faster-cooking veggies like cabbage, mushrooms, and zucchini.
More Asian-Inspired Recipes
Did you make this recipe? Please rate the recipe below!
Chicken Chow Mein
Oodles of noodles, veggies, and a terrifically tasty, slightly sweet, slightly spicy sauce come together in a flash in this easy, one-pot chicken chow mein meal. 
Ingredients
1

pound

chicken breasts

-

or tenderloins, cut into 1/2-inch pieces

2

tablespoons

sesame oil

-

or other cooking oil

1

cup

chopped cabbage

½

cup

shredded carrots

1

tablespoon

minced garlic

2

packages chow mein noodles

-

see note

4

green onions

-

chopped
chow mein sauce
½

cup

water

-

or low sodium chicken broth

¼

cup

oyster sauce

¼

cup

soy sauce

4

tablespoons

sesame oil

1

tablespoon

sugar

1

tablespoon

corn starch

¼

teaspoon

crushed red pepper flakes

-

or 1/2 teaspoon sriracha sauce
Instructions
prepare the sauce
In a bowl or liquid measuring cup, whisk together all of the sauce ingredients until the corn starch is dissolved. Set aside.
make the chow mein
Drizzle oil into a large skillet over medium-high heat.

Add chicken and saute 3-4 minutes until browned and cooked through. Use a slotted spoon to transfer chicken to a dish and cover to keep warm.

In the same pan, saute cabbage, carrots, and garlic for 1-2 minutes until veggies are tender.

Return chicken to the pan and add the noodles and sauce. Give it a good stir to coat the chicken and noodles in the sauce.

Allow the sauce to thicken up for 1-2 minutes, then stir in the green onions. Serve and enjoy!
Notes
The noodles: if using uncooked chow mein noodles, simply follow the instructions on the noodle package for cooking the noodles prior to beginning the recipe. Chow mein noodles cook in just a few minutes so this won't add much time to your recipe! Oyster sauce: oyster sauce is easy to find in the Asian section of grocery stores, but if you are looking for a substititute you can use hoisin sauce or soy sauce.  Make it spicy: add an additional 1/2 teaspoon crushed red pepper flakes or 1-2 teaspoons sriracha sauce for a spicy kick!  Add vegetables: easily add your favorite chopped vegetables like broccoli, zucchini, baby corn, or bell peppers along with the cabbage and carrots. 
Nutrition
Calories:
319
kcal
,
Carbohydrates:
7
g
,
Protein:
16
g
,
Fat:
25
g
,
Saturated Fat:
5
g
,
Cholesterol:
57
mg
,
Sodium:
865
mg
,
Potassium:
205
mg
,
Fiber:
1
g
,
Sugar:
3
g
,
Vitamin A:
222
IU
,
Vitamin C:
7
mg
,
Calcium:
26
mg
,
Iron:
1
mg