One Pot Chicken Parmesan Pasta is the easiest and most incredibly tasty one-pot pasta dish you'll ever make in 30 minutes.
Who said weeknight dinners had to be hard to put together? For more one-pot pasta meals, try my One Pot Creamy Pesto Chicken Pasta, my Easiest One Pot Lasagne, and my One Pot Creamy Tuscan Garlic Spaghetti.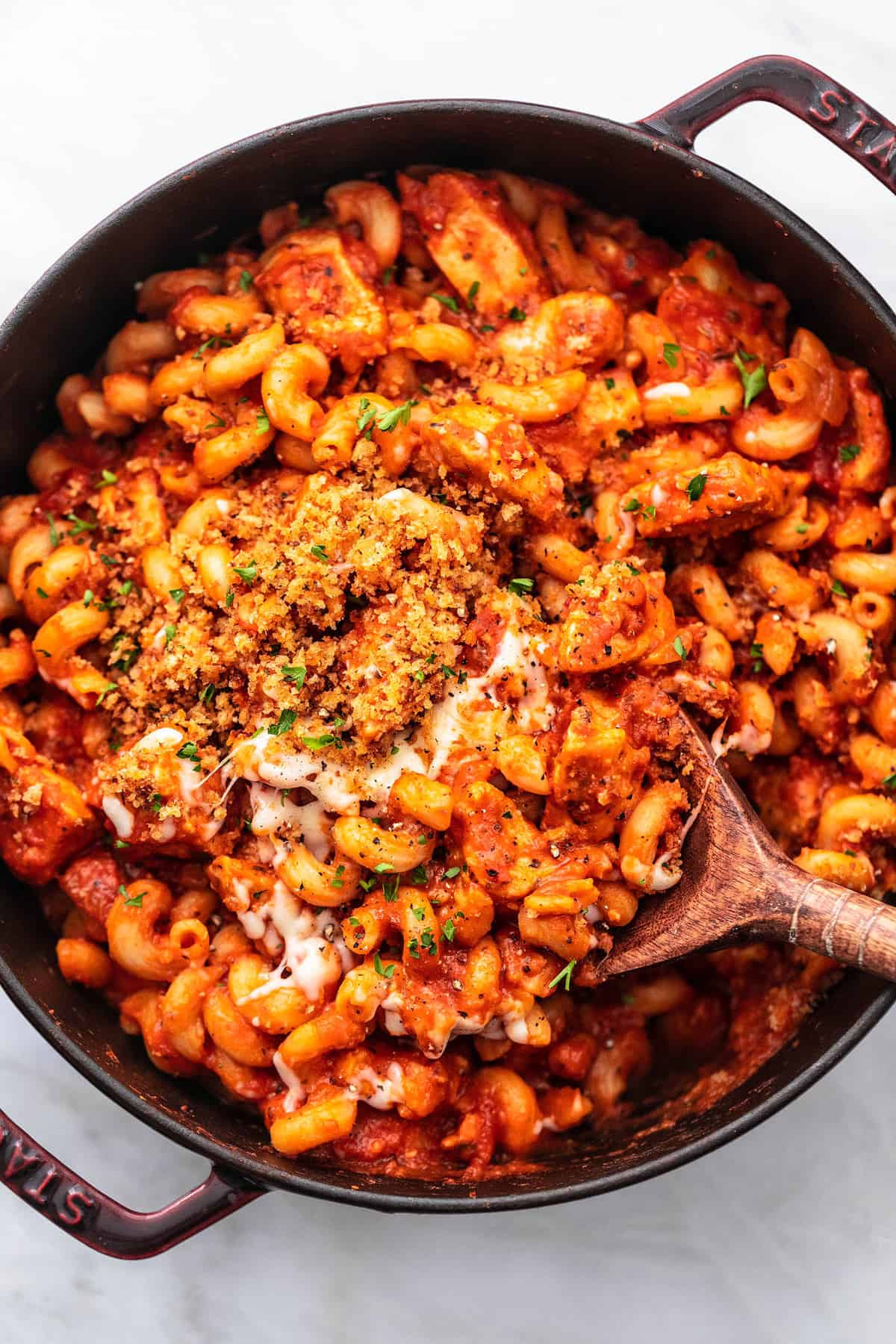 I assume you were surfing my blog looking for the best chicken pasta recipes you could find right? Or were you sent here while you were looking for another recipe? Or were you just browsing pretty food photos? No matter, you're here now. And I'm so glad! Whatever brought you here, welcome!
If you're still reading then let me tell you a little about this wonderfully tasty, filling, delicious, easy-to-make One Pot Chicken Parmesan Pasta. In my house we all cannot get enough pasta dishes. With meat, without, red sauce, white sauce, pesto, you name it, we'll all eat it. (For pasta with meat, try my Chicken Cordon Bleu Pasta Bake, for pasta without meat, One Pot Creamy Tuscan Garlic Spaghetti, with red sauce, Creamy Red Pepper Pasta, for a white sauce dish, Easy White Chicken Lasagna with Spinach, and for pesto, Creamy Chicken Pesto Pasta Recipe.) In fact, the husband was just asking me the other day when we were going to have pasta again. Well, today's his lucky day! 
The inspiration for this chicken parmesan penne pasta dish comes from my mom. As you all know, she is one heck of a cook (and baker). She was always whipping up pasta dishes growing up and they had to be easy because there were so many of us, she didn't have all the time in the world to make dinner. Even though I only have three kids I feel the same way! I wanted to put together the easiest pasta dish I could think of at the time while using up some ingredients I already had in my pantry. Don't think you need to make everything from scratch. A lot of my recipes use jarred marinara sauce. Just pick your favorite, any of them will do just fine.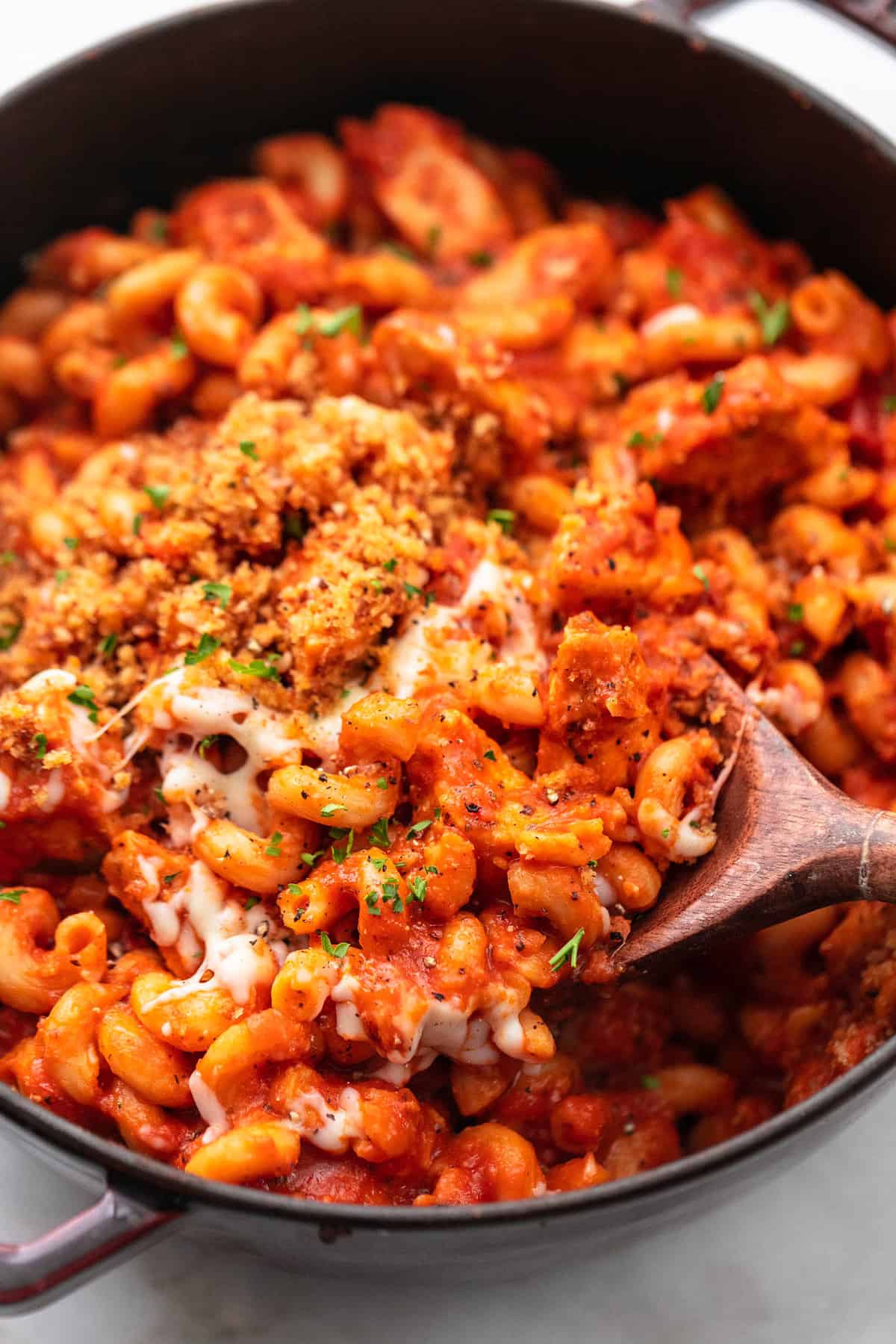 WHAT IS A GOOD SIDE WITH PASTA?
Now that you are all set to go off and make this easy chicken parmesan pasta dish, it's time we start thinking about my second favorite dinner dish: sides!
We all know how well salads go with pasta, so why not make one? You don't have to use a recipe, though I have

a few

you might enjoy. Use whatever lettuce or greens you have in your fridge and a few other veggie (or fruit) toppings and your favorite dressing (or make a simple one with olive oil, vinegar, salt and pepper).

Garlic bread

is a necessity around this house. It's as though you cannot enjoy pasta without it. I have to say I agree almost all of the time!

Roast up some asparagus

on the side for an easy, nutritious side dish.

Not a fan of asparagus? How about some

roasted, cheesy green beans

?

Or, better yet, though

Brussels sprouts

are usually the underdog, I've found most people become fans after trying my version with parmesan and balsamic.

If you don't want garlic bread but you still want a bread side, consider a hunk of baguette, French bread, or even make your own

dinner rolls

.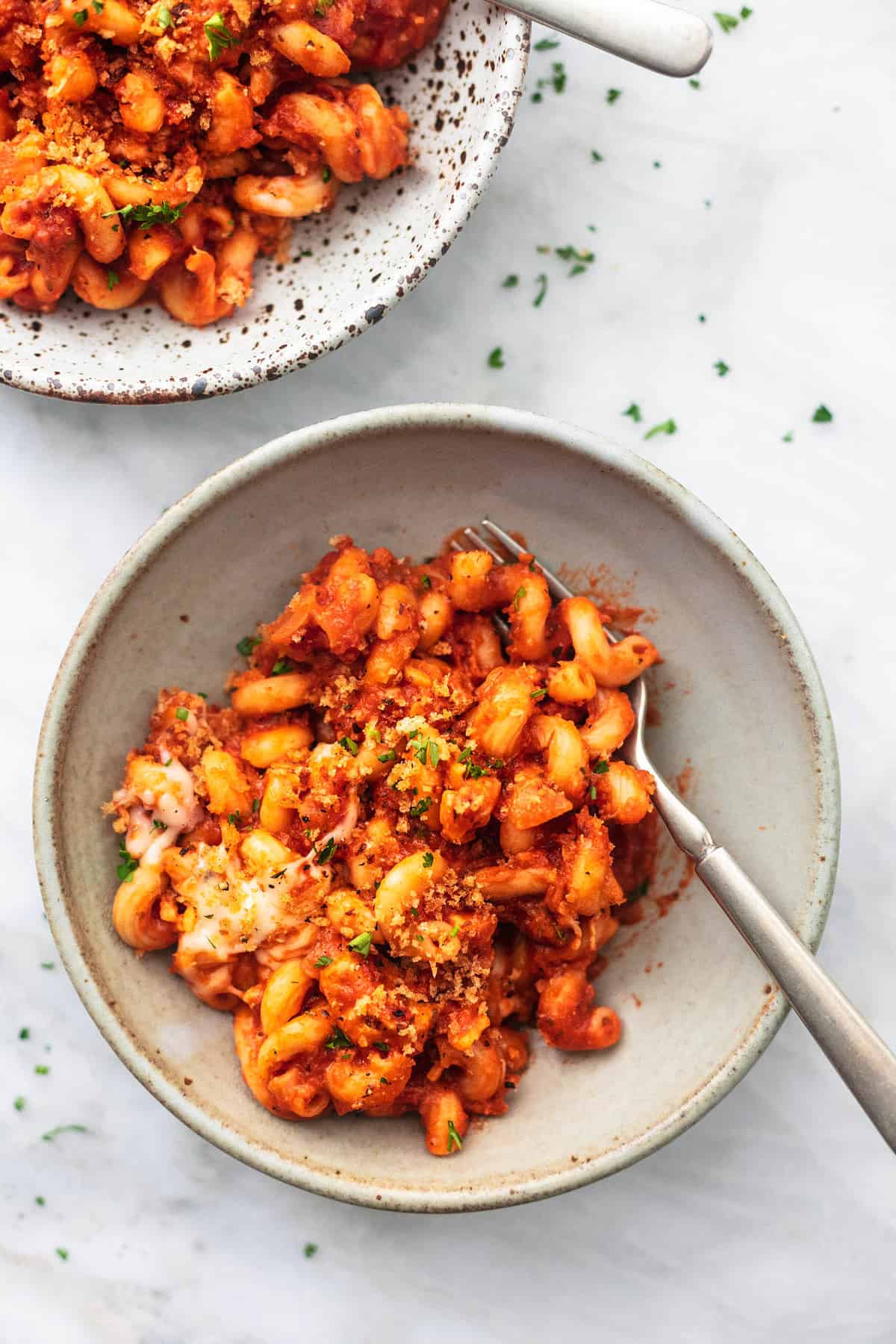 HOW CAN I CUSTOMIZE ONE POT CHICKEN PARMESAN PASTA?
If you'd like to mix up this dish a bit to suit your tastes, try:
A different kind of marinara sauce than you're used to. Maybe a vodka sauce, alfredo, or a spicy variety is more appealing to you.

Add in cooked broccoli or cauliflower to the dish before you add the cheese to melt in step 5. That's an all-in-one dish right there!

Substitute chicken sausage for chicken breasts. Take the sausage out of the casesings and cook, or slice it up into 1-inch rounds and cook as directed in steps 1 and 3.

Make your pasta dish a spicy one by using spicy sauce, red pepper flakes, or hot sauce during cooking or when you're ready to eat it, or all of the above!

Mix up the cheeses, use only mozzarella, or swap parmesan for asiago. Whatever is your cheese of choice, feel free to use it up!

To make this meal meatless, consider swapping chicken for chickpeas or another white bean. Simply add them to the dish in step 3.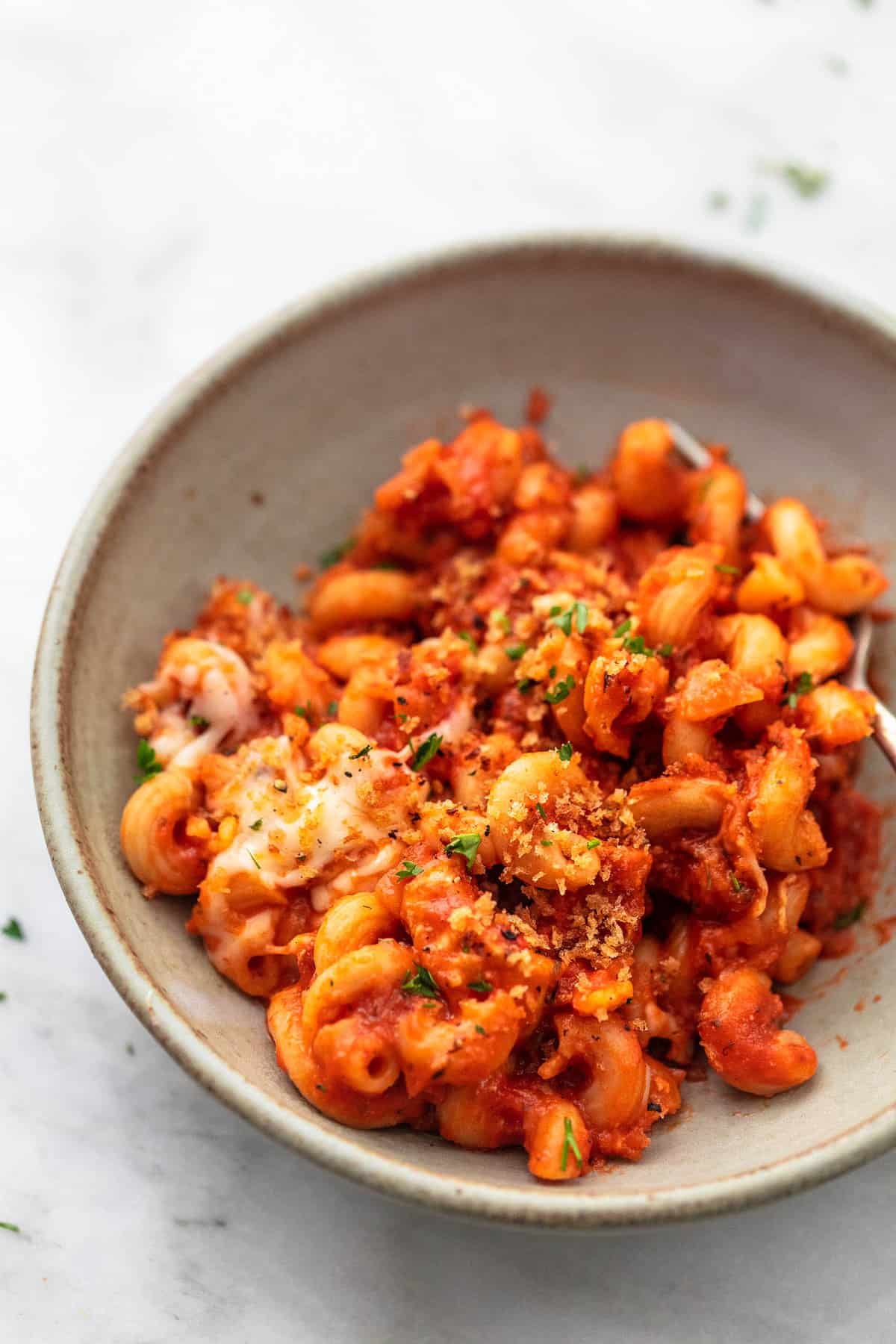 WHAT KIND OF POT WORKS BEST FOR PASTA?
Since this is a one-pot deal (i.e. no straining necessary), you don't have to worry about using a pot with a strainer in it. I like to use my medium-size pasta pot (it just makes it easier to get down in it for stirring purposes if it's not too high up on the sides) but even a deep skillet would work.
You could also use a Dutch oven or any larger, deeper pot that you have that also has a lid (for smothering that cheese and making it all gooey and melty).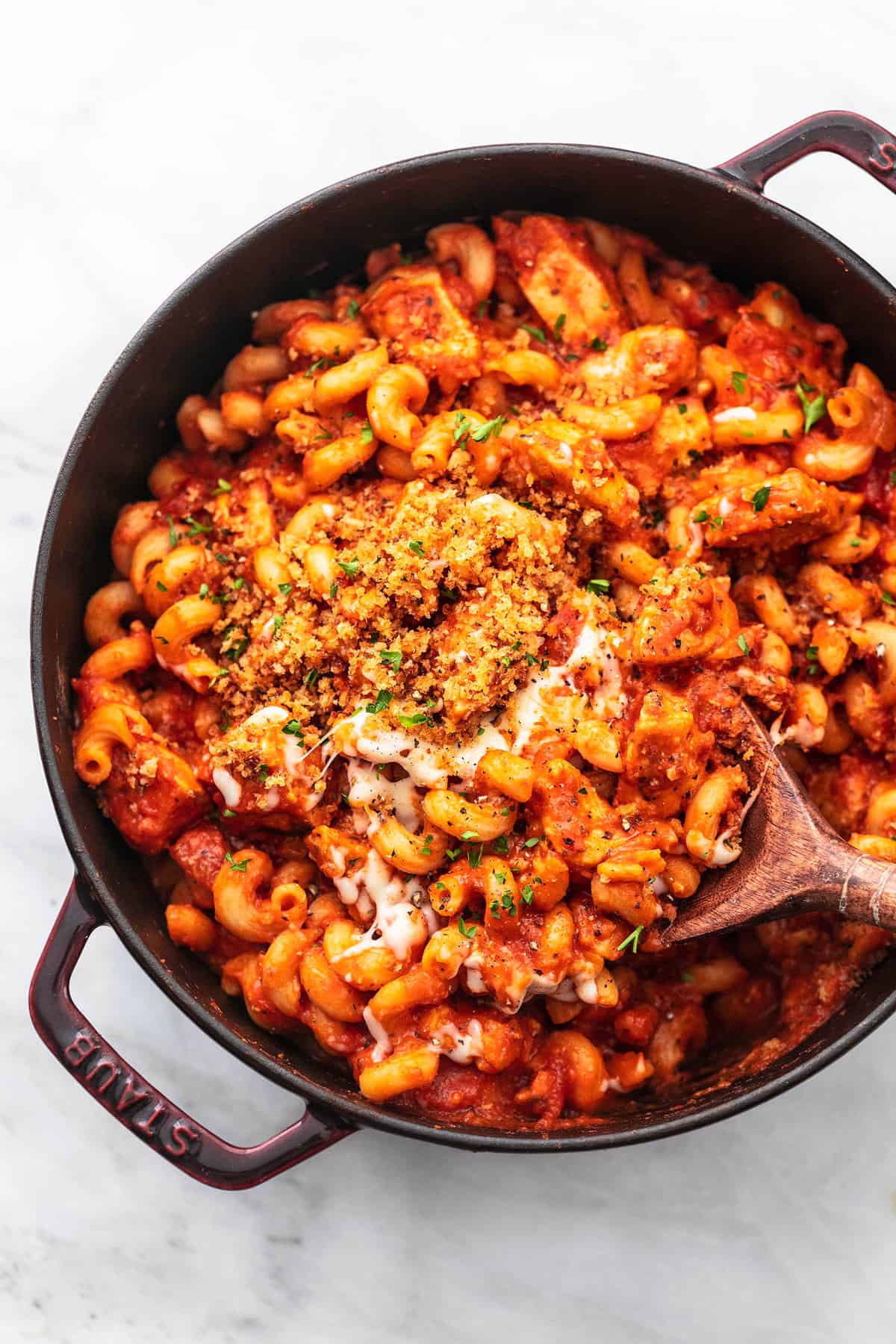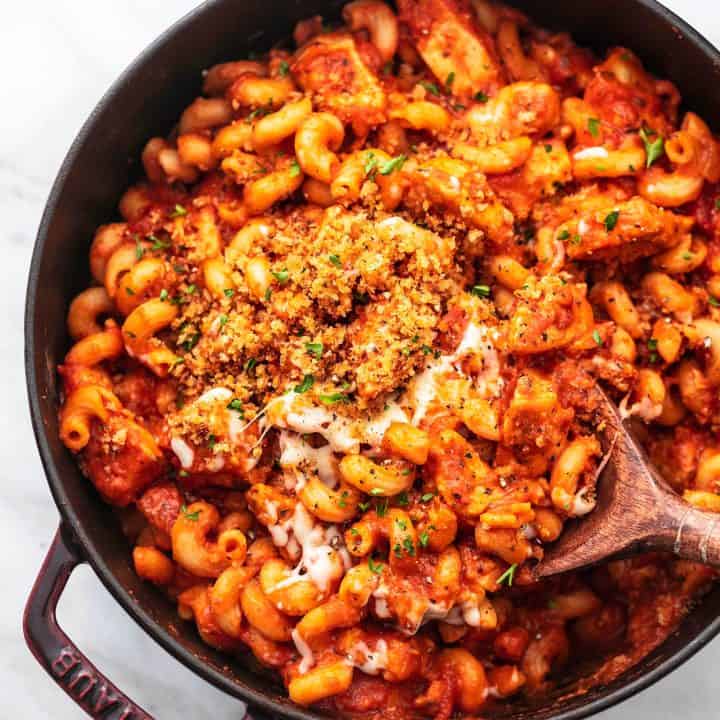 One Pot Chicken Parmesan Pasta
One Pot Chicken Parmesan Pasta is the easiest and most incredibly tasty one-pot pasta dish you'll ever make in 30 minutes. 
Ingredients
2

tablespoons

olive oil

3

boneless skinless chicken breasts

-

chopped into 1-inch pieces

2

teaspoons

Italian seasoning

-

divided

1

teaspoon

garlic powder

3

teaspoons

minced garlic

16

ounces

short pasta noodles such as penne, ziti, or cellentani

30

ounce

jar of your favorite marinara sauce

3

cups

water

1 ⅓

cups

shredded mozzarella cheese

-

divided

½

cup

shredded parmesan cheese

salt and pepper

-

to taste

3

tablespoons

butter

-

melted

½

cup

Italian style breadcrumbs

-

or regular bread crumbs + 1/2 teaspoon dried Italian seasoning

optional: fresh parsley, basil, or thyme for garnish
Instructions
In a large pot or deep skillet over medium-high heat, drizzle with olive oil, then add chicken pieces. Sprinkle 1 teaspoon Italian seasoning and garlic powder over the chicken. Stir over medium-high heat for 5 minutes. (Chicken will not be completely cooked through at this point) Transfer to a plate and cover to keep warm.

Add garlic to the pan and saute for 1-2 minutes until fragrant. Stir in marinara sauce and water and bring to a boil, then reduce heat to a high simmer.

Stir in remaining 1 teaspoon Italian seasoning, salt and pepper to taste, uncooked pasta noodles, and chicken and give it a good stir.

Cover and cook for 10-15 minutes until pasta is tender. Stir in parmesan cheese and half of the mozzarella cheese until melted.

While pasta is cooking, combine butter and breadcrumbs in a bowl and stir to coat.

Top pasta with remaining mozzarella cheese and cover until melted. Sprinkle with breadcrumb, transfer to oven and broil for 1-2 minutes until breadcrumbs are toasted. *If you are not using an oven-safe pot or skillet, you can toast the breadcrumbs in a pan over medium heat, stirring throughout, for 3-4 minutes before sprinkling over pasta.

Garnish with fresh herbs and cracked black pepper if desired and serve.
Notes
Flavor tip: With the other cheese, stir in 4 ounces softened cream cheese for an extra-rich and delicious pasta! 
Nutrition
Calories:
687
kcal
,
Carbohydrates:
73
g
,
Protein:
46
g
,
Fat:
23
g
,
Saturated Fat:
8
g
,
Trans Fat:
1
g
,
Cholesterol:
99
mg
,
Sodium:
1300
mg
,
Potassium:
1126
mg
,
Fiber:
5
g
,
Sugar:
9
g
,
Vitamin A:
1150
IU
,
Vitamin C:
12
mg
,
Calcium:
294
mg
,
Iron:
4
mg