White Chicken Lasagna with Spinach is the creamiest, dreamiest, cheesiest white lasagne you'll ever have the pleasure of eating. Perfect for the family, dinner guests, or for keeping all to yourself.
If you love comforting, tasty pasta dishes like this white chicken lasagne, then you're going to go ga-ga for this Greek Tortellini Pasta Salad, this Spicy Tomato Garlic Shrimp Pasta, or this Chicken Cordon Bleu Pasta Bake.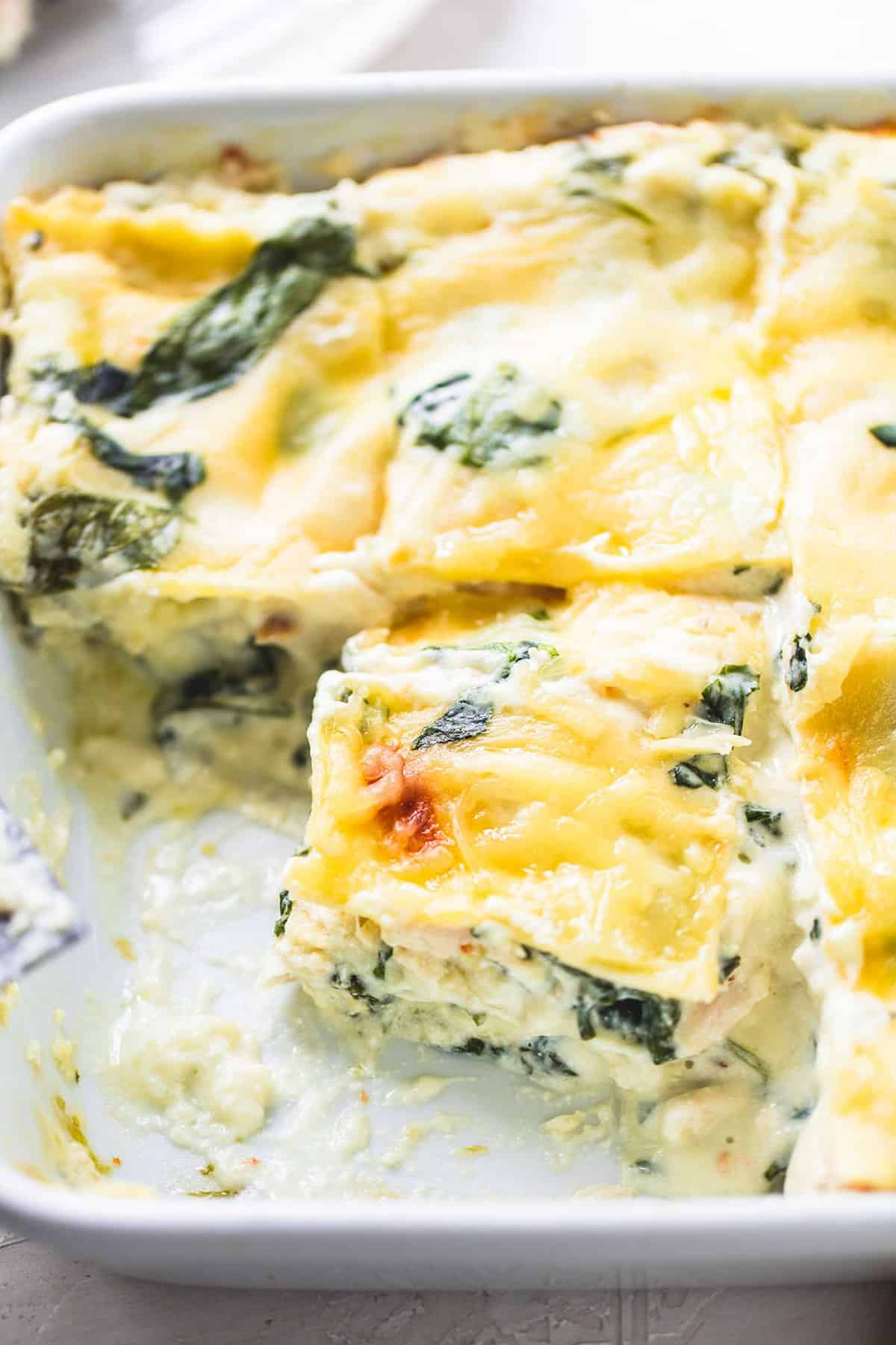 I love all things pasta. Luckily my husband and all my siblings, AND all my extended family members love it too, or they'd all be in big trouble if they came over to eat at my house or to a family potluck. We don't fight about who gets to bring the pasta salads, bakes (for a great bake, try my Chicken Cordon Bleu Pasta Bake), and other hardy pasta dishes, such as my Lemon Artichoke & Asparagus Pasta. No. We argue about who HAS to bring the salad or the veggie dish, you know, so we don't feel like a bunch of gross gluttons, stuffing ourselves with carbs, not a veggie to be found. Someone eventually draws the short straw and begrudgingly brings something healthy. Whether we eat it or not is another story — but at least it's there, should we feel the need for a healthy morsel or two.
I've made this White Chicken Lasagne before for other family get-togethers. But this time, I decided to sneak in some spinach. Call it taking my turn, I guess, to add in a little bit of green into an otherwise delightfully starchy, cheesy meal. No one can accuse me now of worming my way out of bringing the veggies!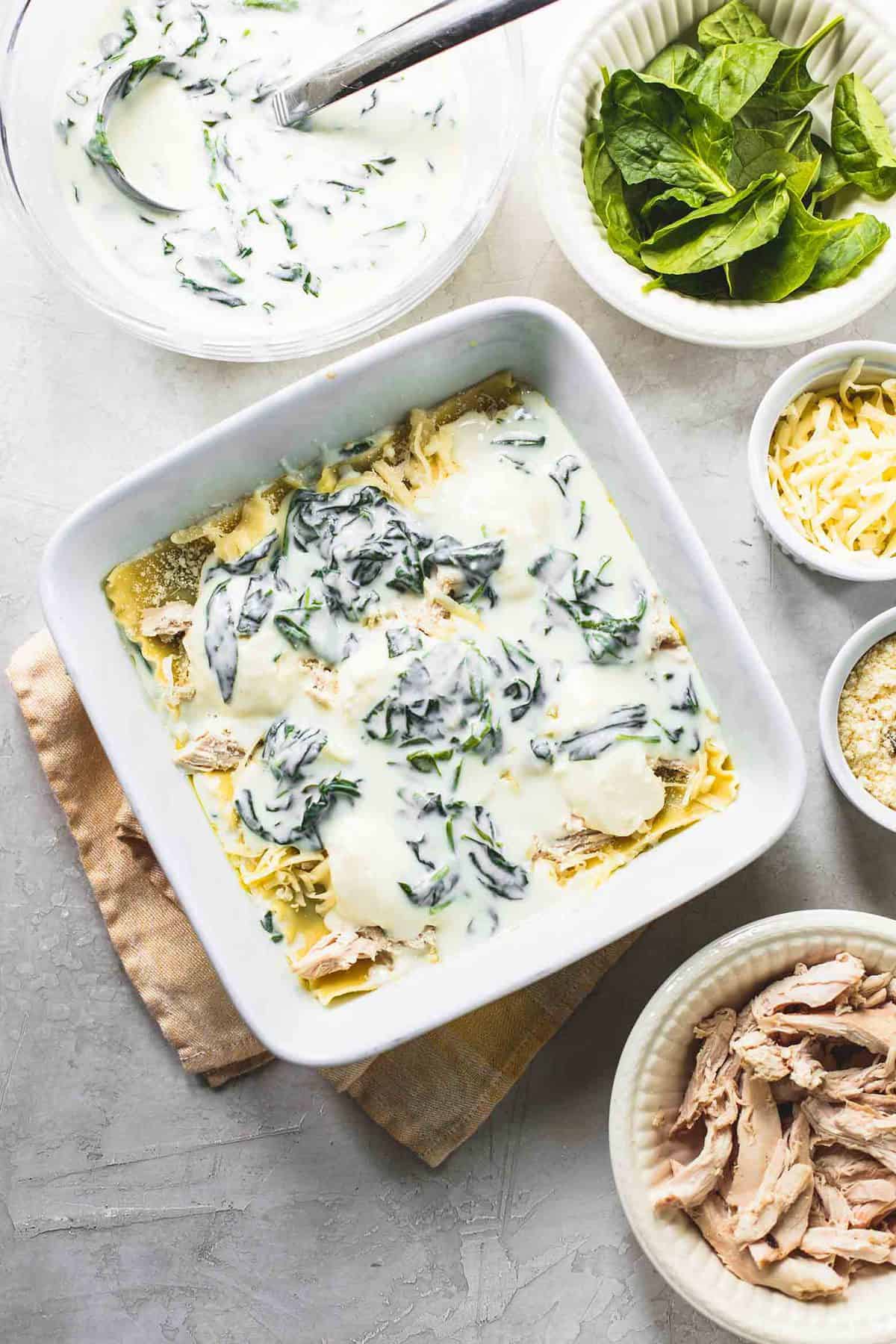 WHAT VEGETABLES CAN I USE IN A WHITE CHICKEN LASAGNA?
For this recipe, I went ahead and stirred the spinach right into the sauce to save a step. You can do this step using spinach, kale, or another hardy green. But don't stop there — if you want to add more veggies to this dish, these are the ones I'd recommend, but with one caveat: Unless you are adding something quick-cooking, make sure your veggies are cut thinly and cooked first before adding to your spinach.
Mushrooms like portabella, white button, or baby bellas all work great.

Squashes like zucchini or summer squash are yummy in lasagne — cut into thin rounds or shave into ribbons before layering.

Finely chopped broccoli or cauliflower will add a nice texture to this dish, but be sure to cook it first before adding to the noodles and sauce.

Red, yellow, or orange bell peppers will add a lovely sweetness to the lasagne. Or, consider using jarred, roasted red peppers instead.

Kalamata or black olives mixed with the red peppers and mushrooms give this White Chicken Lasagne a Mediterranean flair.

Marinated artichoke hearts or hearts of palm add a fun, surprising twist to this dish.

Shaved Brussels sprouts (again, cook or roast them first) can add a little bitterness to the otherwise savory pasta.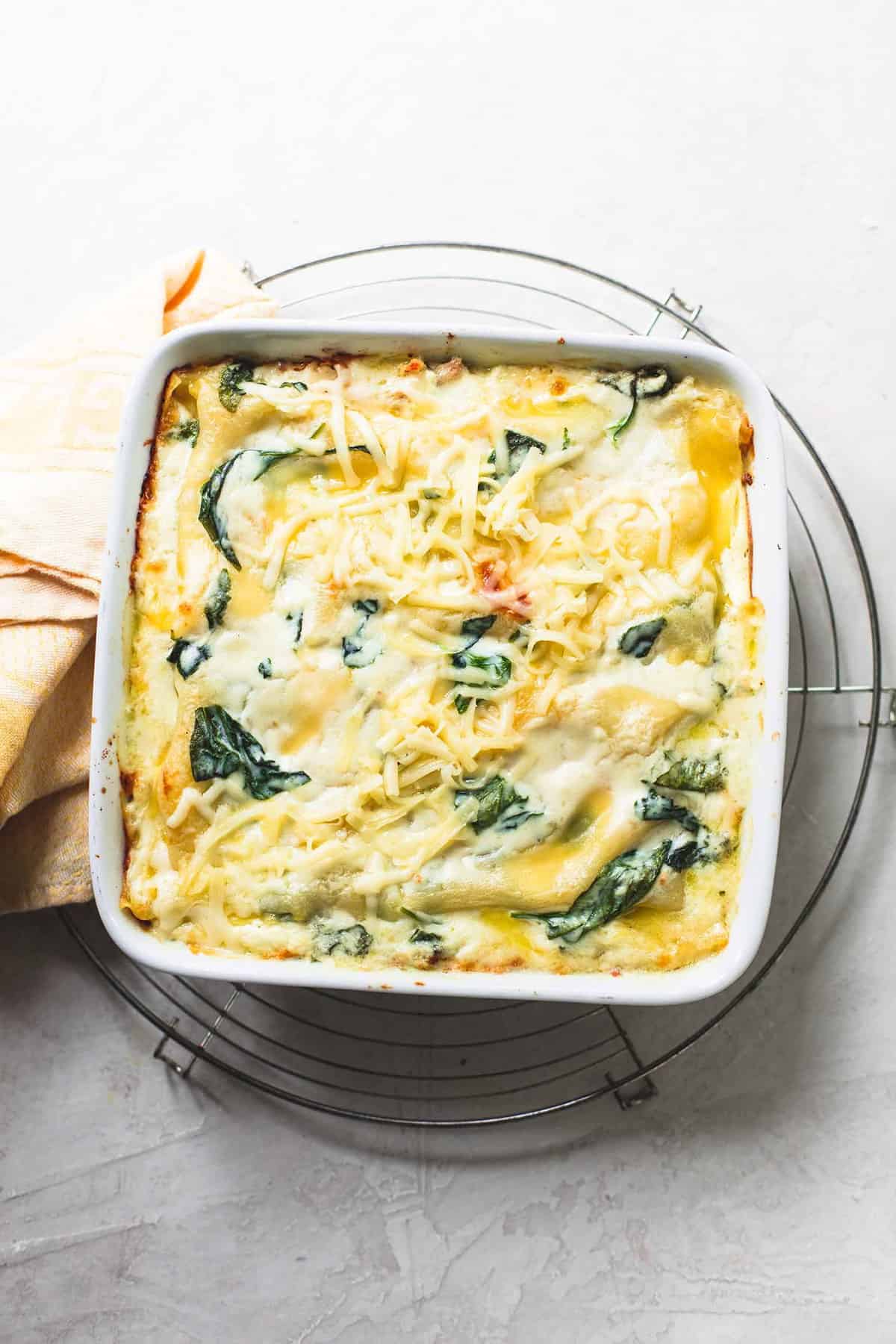 HOW DO YOU MAKE A ROUX?
First of all, you should understand what a roux is. A roux is a paste made of a fat and a flour. It's cooked until the ingredients thicken together and then it's used as a base for many sauces. It's what makes sauces thick, like when you're making mac 'n cheese.  
It's important to make a roux whenever you're making a sauce. I always use one when I'm making a cheese sauce, especially. The cheese needs a carrier element if you will. Otherwise, it's just melted cheese in your pasta or whatever you're making and not at all…saucy.
Like once, when I was first married, I tried to make my husband macaroni and cheese using just — macaroni and cheese. Then, I baked it because I must have known that you bake it all together. I bet you can guess what I pulled out of the oven: A hardened mess of cheese and dried pasta. Yum! This mistake taught me though to learn the error of my ways and, well, that's how I learned to love and appreciate the roux!
For this dish, I melted butter down, then stirred in the garlic and flour with the butter (the fat) and added the flour and stirred, stirred, stirred, until the mixture thickened up and my base, or roux, came together. THEN and only then should you add your cheeses and stir some more, till you have your lovely white sauce base.
WHAT CAN I SUBSTITUTE FOR CHICKEN?
Personally, I love lasagne with chicken. But you can also use a thinly sliced, cooked Italian sausage (chicken, beef, pork or a mixture is fine). Or, take that sausage out of the casing and cook it to crumbles instead of slicing it thin (my preferred method).
Ground chicken, turkey, or pork can be substituted in a pinch as well.
One other option is to go vegetarian with this dish — use a combination of the veggies above and none of the meat for an all-vegetable lasagne. It is super tasty and pleases both vegetarians and meat-eaters alike for its delicious sauces and flavors. No one will even miss the meat!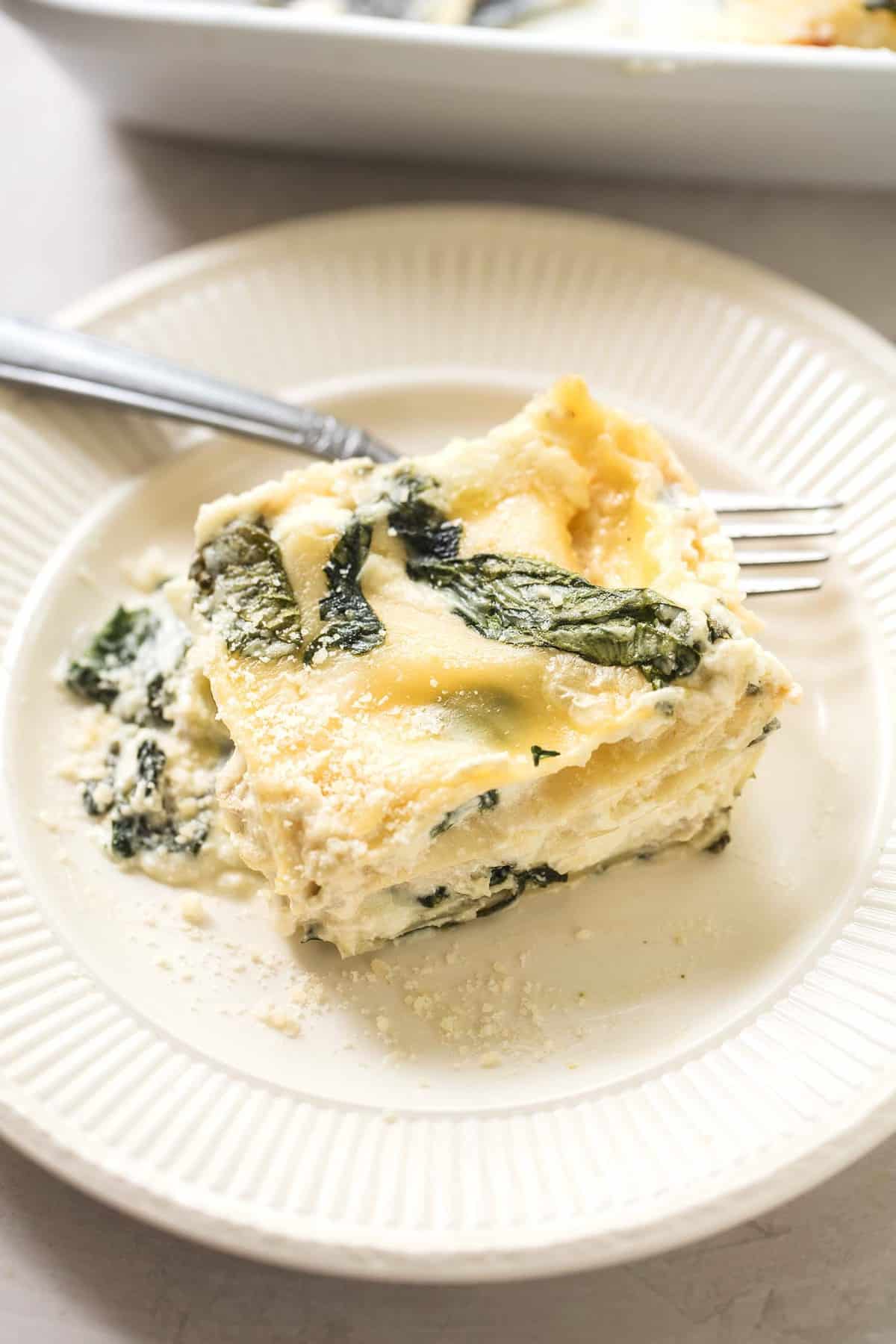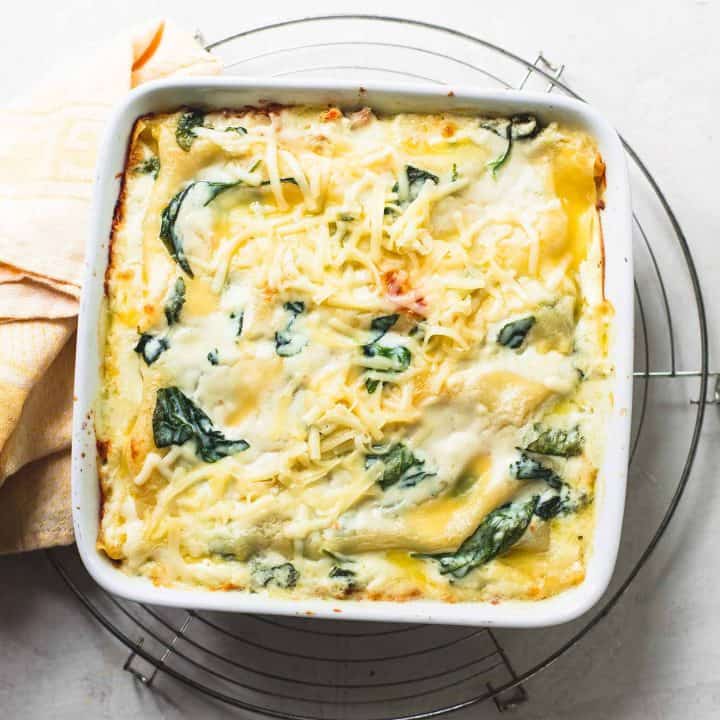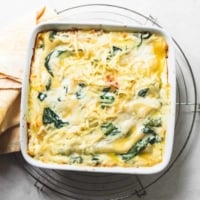 Easy White Chicken Lasagna with Spinach
White Chicken Lasagna with Spinach is the creamiest, dreamiest, cheesiest white lasagne you'll ever have the pleasure of eating. Perfect for the family, dinner guests, or for keeping all to yourself.
Ingredients
sauce
3

tablespoons

butter

2

teaspoons

minced garlic

3

tablespoons

flour

2 ½

cups

whole milk

-

or half and half

salt

-

to taste

¼

cup

grated parmesan cheese

4

ounces

cream cheese

-

softened
lasagna
¾

cup

ricotta cheese

1

egg

8

dried lasagna noodles

-

cooked according to package instructions

2

cups

cooked chicken

-

cut into bite size pieces

2

cups

shredded mozzarella cheese

¼

cup

grated parmesan cheese

4

cups

baby spinach leaves
Instructions
make the sauce
Place a saucepan over medium heat. Add the butter and when it's melted and no longer foaming, stir in the garlic and flour. Cook 30 seconds, then gradually whisk the milk into the pan. Bring to a simmer and cook until the sauce is thickened. Remove from the heat and add the Parmesan, cream cheese and spinach. Stir until the spinach is wilted.
assemble the lasagna
Whisk the egg and ricotta in a small bowl until blended.

Spoon about 1/4 cup sauce on the baking dish and top with 2 lasagna noodles, followed by ¼ cup of the ricotta, 2/3 cup chicken, 2/3 cup mozzarella, 1 tablespoon Parmesan and ½ cup of the sauce. Repeat the layers twice more and pour the remaining sauce and Parmesan over the top layer of noodles.

Bake uncovered 20-25 minutes, until the sauce is bubbling.

Let the lasagna cool for 15-20 minutes before serving.
Notes
Leftover or rotisserie chicken work great for this recipe!
Nutrition
Calories:
578
kcal
,
Carbohydrates:
40
g
,
Protein:
38
g
,
Fat:
29
g
,
Saturated Fat:
16
g
,
Trans Fat:
1
g
,
Cholesterol:
146
mg
,
Sodium:
562
mg
,
Potassium:
557
mg
,
Fiber:
2
g
,
Sugar:
8
g
,
Vitamin A:
2821
IU
,
Vitamin C:
6
mg
,
Calcium:
523
mg
,
Iron:
2
mg